Your Clear Guide to Choosing a Right Massage Bed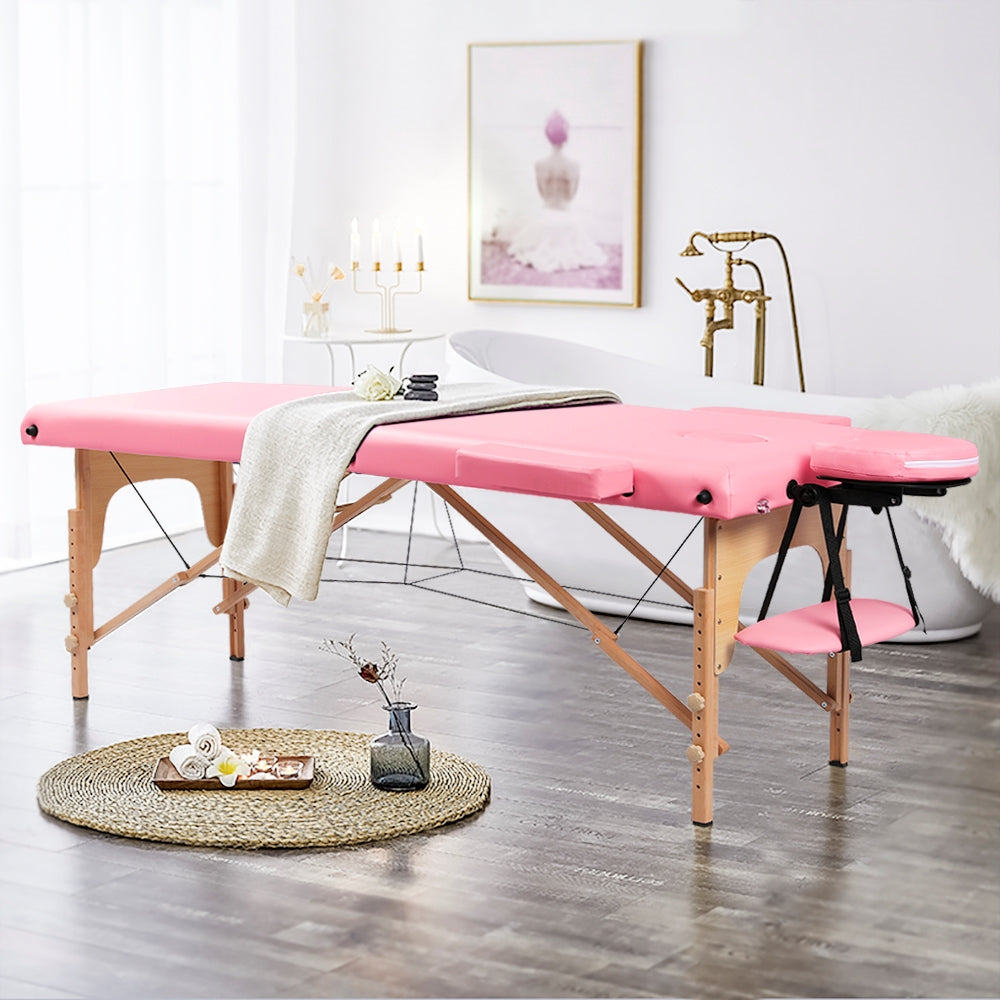 When it comes to being a massage therapist, your talent and skill are vital, but having the right massage table is equally important. The right table can enhance your work quality and provide your clients with the high-quality experience they desire. With the wide range of massage tables available, it can be challenging to find the perfect one.
What is Massage Table?
A massage table is utilized by massage therapists to properly position the client for a massage session. These tables are specifically designed with the client's comfort and the therapist's ergonomic needs in consideration. They typically feature a heavily padded surface that can be easily cleaned, as well as a face cradle that enables the client to breathe comfortably while lying face down.
Purpose of Massage Table:
Relaxation

Enhanced Blood Flowing

Alleviated Numbness

Lower Back Pain Relief

Relief from Discomfort Caused by Pains

Sleep Better

...
The structure of the massage bed:
ost portable massage beds are convenient to use and carry around. They usually have wooden stands or aluminum stands with PU leather bed surfaces.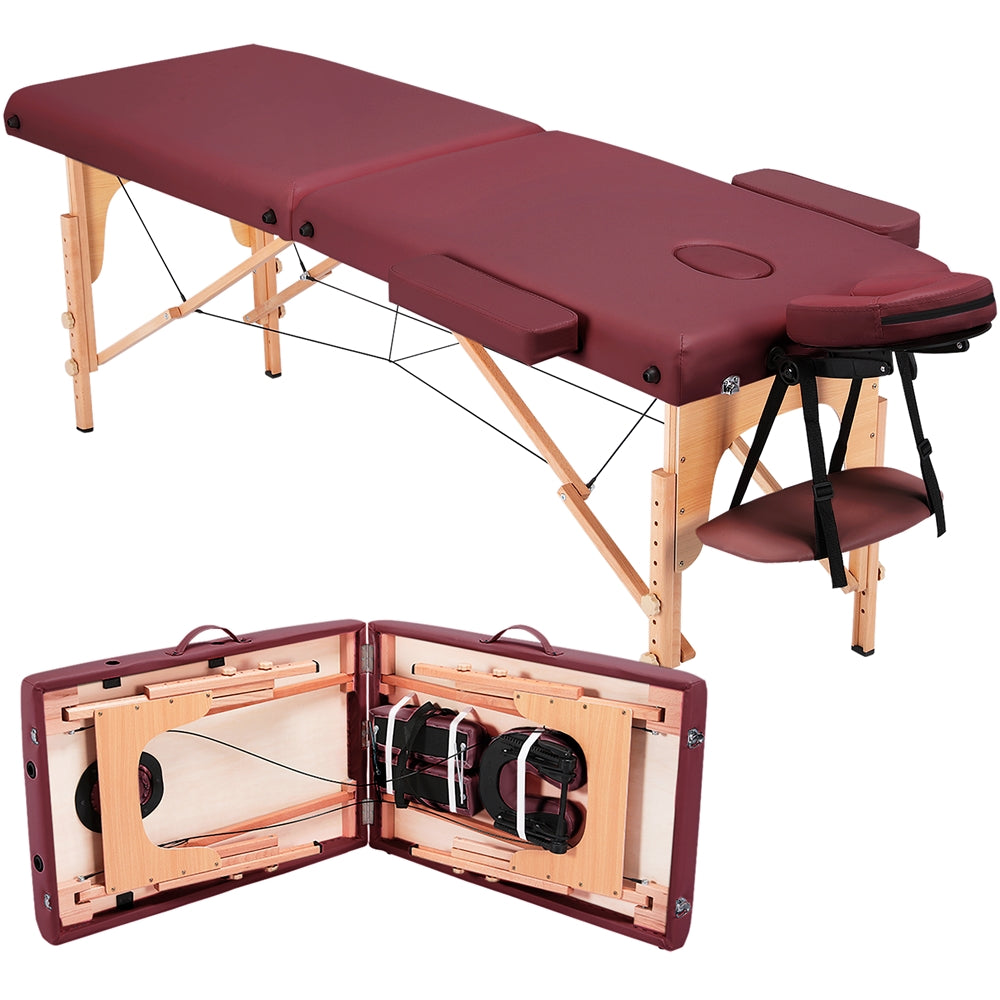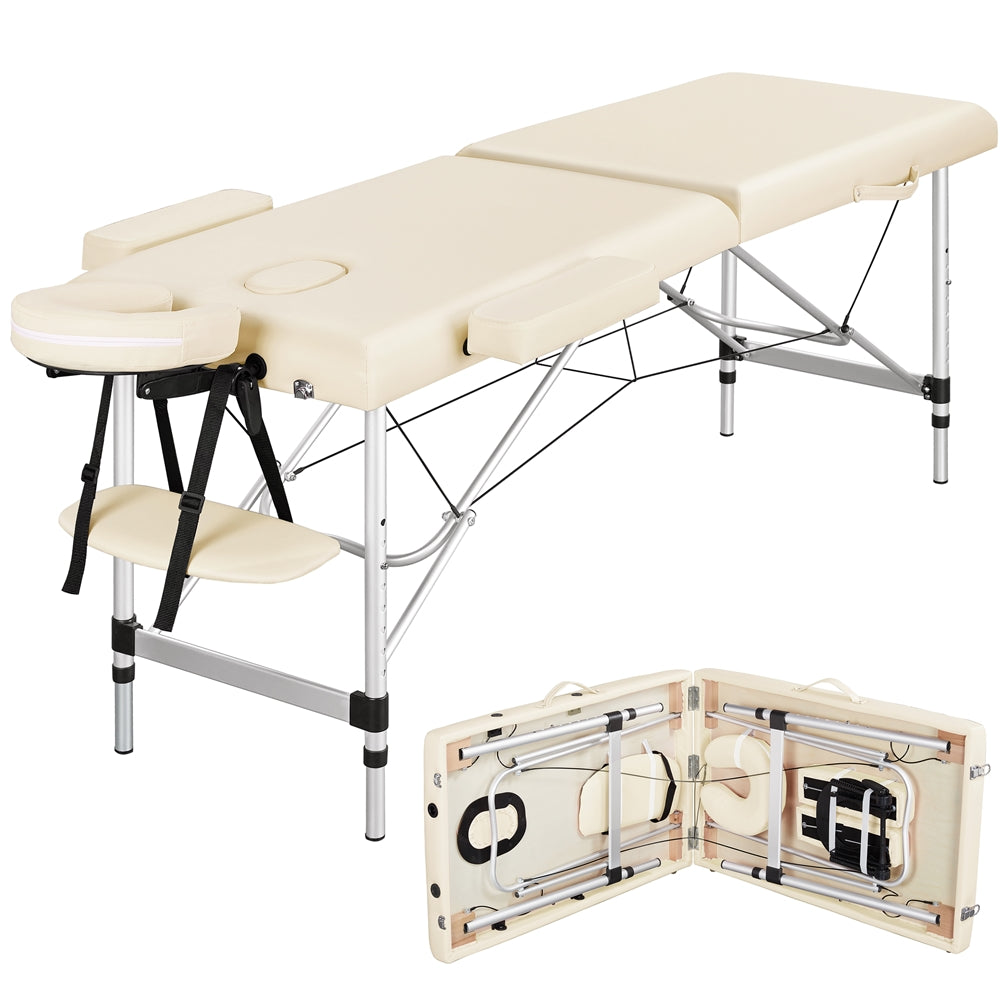 The basic portable spa bed usually comes with an adjustable headrest, a swinging hand pallet, and two armrests. When lying face down on the massage table, you can place your hands on the hand pallet or rest your arms on the armrests. There is a small hollow designed as a breathing hole, which is considered for individuals with smaller and thinner figures.
Benefits of Massage Therapy:
Massage therapy has the immediate advantage of inducing a profound sense of relaxation and tranquility. This is achieved through the stimulation of endorphins, which are neurotransmitters in the brain responsible for generating feelings of contentment and satisfaction.

Some Popular Types of Massage:
Full-body Massage
Facial Procedures
Lower Limb Massage
 

Acupuncture

Beauty Treatments

Foot Massage
Hot Stone Massage
Head Massage
Sports Leg Treatments
Shiatsu Massage
Eyelash Extension
Reflexology
Aromatherapy Massage
Dental Treatments
Thai Foot Massage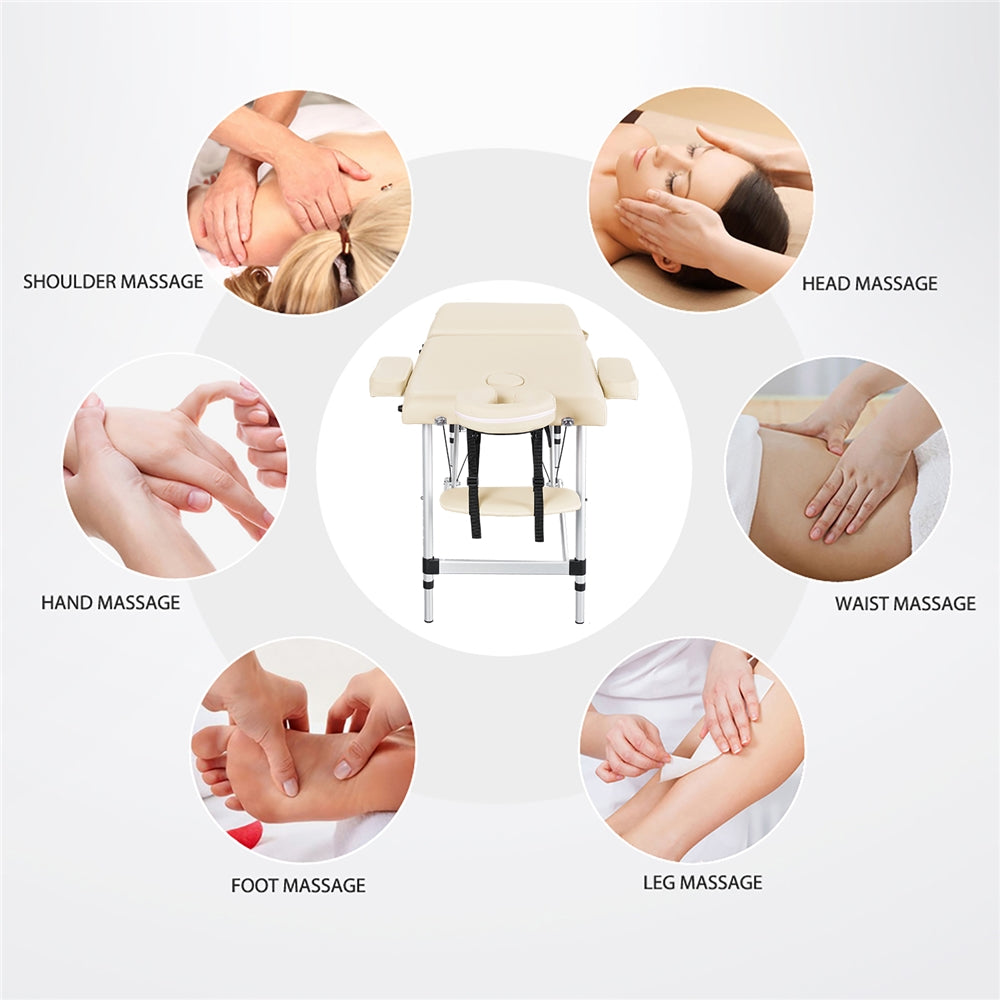 Q&A of Some Practical Massage Beds:
Below, you will discover a curated assortment of massage beds along with their fundamental specifications and frequently asked questions from other purchasers.
1. 2-Section Folding Massage Table (Wood Legs)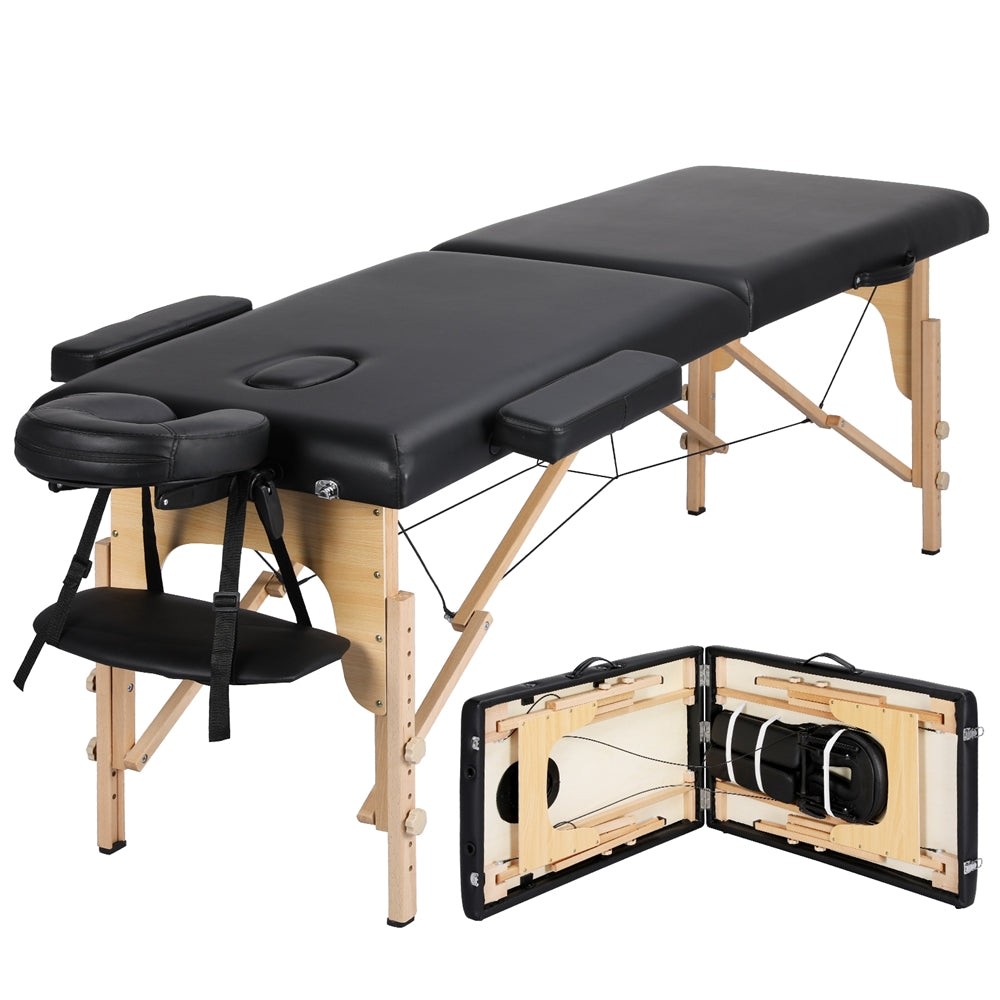 Specifications:
Color: Black
Materials: Beech Wood Leg + Composite Board + Cushion (Plywood + Non-woven Fabrics + Foam + PVC)
The Thickness of Foam: 5cm/2inch
Unfold Size: 213 x 82 x 64-85.5cm/84 x 32.3 x 25.2-33.7inch (L x W x H)
Folding Size: 92.5 x 60 x 18.5cm/36.4 x 23.6 x 7.3inch (L x W x H)
Headrest Size: 28 x 26.5 x 7.2cm/11 x 10.4 x 3inch (L x W x H)
Armrest Size: 35 x 11 x 5cm/14 x 4.3 x 2inch (L x W x H)
The Thickness of foam: 5cm/2inch
Max. Load Bearing: static, 250kg/551.2lb; dynamic, 102kg/220lb
Shipping Weight: 15.2kg/33.5lb

Q&A:
Q: Does the bed come already assembled?
A: Yes. You simply unfold it and it's ready to use.

Q: What is the width of the bed without arms?
A: The width of the massage bed without arms is 60cm.

Q: I weigh 250 will this work? It was recommended by my physical therapist.
A: Max. Load Bearing: static: 551.2lb; dynamic: 220lb

Q: Does the bed come already assembled?
A: Yes. You simply unfold it and it's ready to use.

Q: What is the width of the bed without arms?
A: The width of the massage bed without arms is 60cm.

Q: Does it come with a portable bag to be mobile with?
A: Yes, it does.

Q: Can the wooden bit near the legs be removed?
A: For adjusting the height? Yes!

Q: What is the difference between 2 sections and 3 sections? I only need an adjustable bed height for the client to sit up.
A: The 3 sections massage bed has a liftable backrest. The 2 sections massage bed does not have this function.

2. 2-sections Adjustable Massage Bed (Aluminum Legs)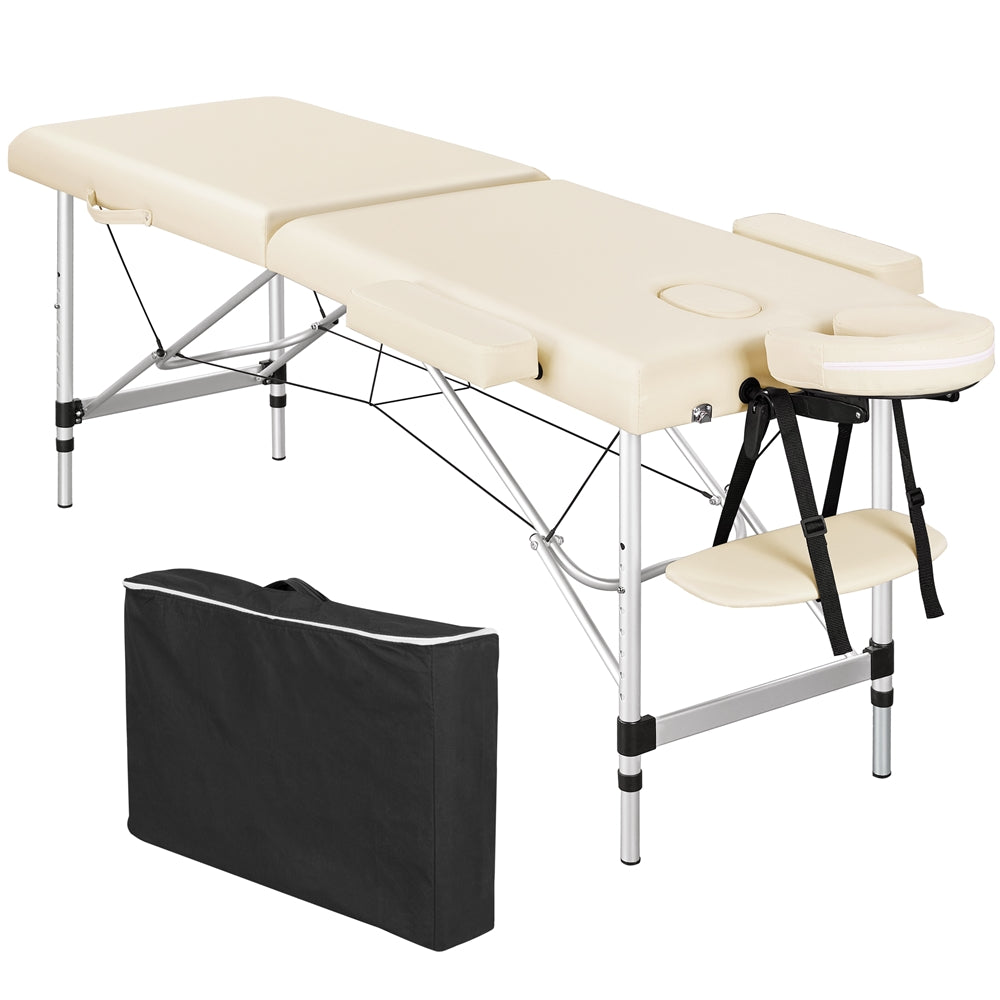 Specifications:
Color: Cream
Material: Aluminum alloy, plastic, cushion (plywood + non-woven fabric + foam +PVC leather)
Unfold size: 213 cm L × 82 cm W × 67.5-88cm H / 84″ L × 32.3″ W × 26.6-34.6″ H
Folding size: 92.5 cm L × 60 cm W × 18.5 cm H / 36.4″ L × 23.6″ W × 7.3″ H
Max. Load Bearing: static, 250 kg / 551 lb; dynamic, 102 kg / 220 lb
Item Weight: 11.8kg/26lb

Q&A:
Q: Does it require assembly when first delivered or is it ready to use?
A: It is fully assembled. All you need to do is unfold it.

Q: How much does this massage bed weigh? (15kg? 20kg?)
A: The weight of this Portable Massage Bed is 12kg.

Q: Can the headrest be removed? If I didn't want to use it.
A: The headrest is removable. You can assemble or remove it in terms of your needs.

Q: Can you detach the face cradle?
A: This professional massage bed comes with a headrest, a pair of armrests, and a hand pallet. These accessories can be removed if you do not need them.

Q: Is the bed sturdy enough?
A: The whole bed body is supported by Aluminum Alloy and beech wood. The legs of the massage bed are connected by welding together to provide much extra sturdiness.

Q: Does this come with a carry case? To protect the bed?
A: The whole massage bed will become a carrying case after well folded. We offer a non-woven cover along with the product. The cover can protect the massage bed from dust.
 
3. 3 Folding Adjustable Massage Bed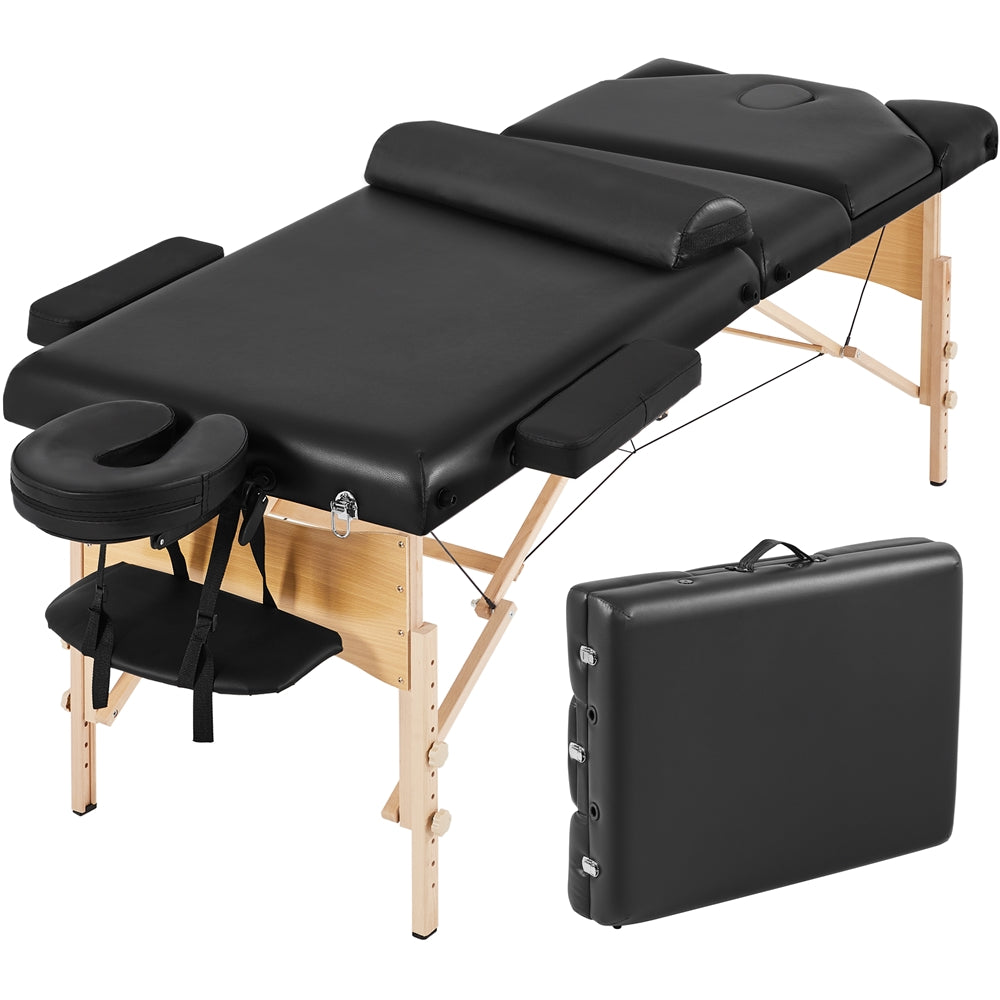 Specifications:
Color: Black
Material: Engineered Wood Frame, Beech Wood Legs, Faux Leather & Foam Cushion
Assembled Dimensions (w/ armrests): 213 cm L × 91 cm W × 64-86.5 cm H / 84″ L × 36″ W × 25-34″ H
Folding Dimensions: 92.5 cm L × 71 cm W × 21.5 cm Thickness / 36.5″ L × 28″ W × 8.5″ Thickness
Headrest: 28 cm L × 27 cm W × 7.2 cm H / 11″ L × 10.6″ W × 3″ H
Armrest: 36 cm L × 11 cm W × 5.8 cm H / 14.2″ L × 4.3″ W × 2.3″ H
Bed Thickness: 10.5 cm / 4.1″
Max. Load Bearing: 272 kg / 600 lb
Item Weight: 19.1 kg / 42 lb
Shipping Weight: 21.1 kg / 46.5 lb
Package Includes:
1 Massage Bed
1 Headrest
2 Armrests
1 Hand Pallet
1 Half Moon Bolster Pillow
1 Carrying Bag

Q&A:
Q: How wide is the table with AND without the arms?
A: The width of the massage table without arms is 23.6″. The width of it with arms is 32.3″.

Q: How Long is a table without headrest?
A: It can hold a 6ft person.

Q: How can it be adjusted?
A: With an adjustable 3-section and 8 height options ranging from 25″ to 34″, this table can be customized to meet your specific needs.

Q: Is the cushion thick enough and comfortable?
A: Yes. The cushion is 10.5cm/4.1″ thick, which brings you a soft and comfortable massage experience.

Q: Is this massage bed sturdy and safe to use?
A: Super portable and lightweight to carry but strong enough to handle weight safely.

Q: Can it be used on the floor to exercise?
A: This folding massage couch can be put on the floor and can be used for multiple purposes, such as home massage, spa, physical therapy, acupuncture, beauty salon, clinic, etc.

Q: Are you able to remove the headrest?
A: The headrest just goes in and out it all store's inside when you fold up the armrest all of the pads.
Something you should confirm before purchasing:
Do you need a lifting backrest on your massage table?

How tall are you / How tall is your client?

What body size is your client's average base

?

What's your budget?
Having a massage bed at home enhances the experience of in-home massages. It provides a full-sized foldable option that is convenient and flexible to carry outside when needed. For specific size and thickness requirements, you can refer to recommended styles above and compare them.