Hanging Chair, A Home Essential, or Tasteless Ribs?
Hanging chairs stay in many people's minds as resort exclusive. Every time mentioned, it seems that they would naturally exist in hotels, dormitories, or porches that the guys who want to have a hanging chair in their home would hesitate whether it would eventually descend to a redundant dusty decoration. Additionally, the hanging chair's safety, cheap or not appearance design, and comfort level also lie as significant factors for people who are still wait-and-still.
Here is the truth: people living in a space with and without a hanging chair would have a totally different experience, I mean both mentally and physically. Although just like a sofa, stool, or chair, all provide people with a specific place to sit down, a hanging chair is not even similar to any of them.
Next, let's talk about whether a hanging chair is a home-living necessity in terms of security design, appearance design, using experience, and whether it benefits the human body. After reading this, we believe you can determine whether it is worth the investment.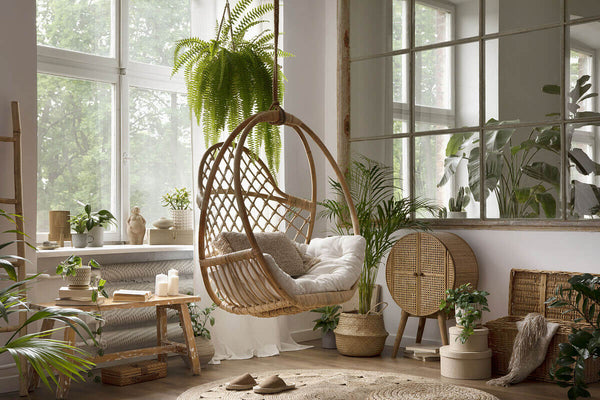 I.Secure or not?
The security issue is one of people's biggest concerns.
First of all, the basket or the seat of the hanging chairs is usually not too high above the ground that your legs can reach the floor when you sit, which is unlikely to cause fall damage. However, to be mentioned, young children are not suggested to play or sit unsupervised. Actually, one major reason that causes harm is the overweight problem. Before you make the final decision, never forget to check the max weight capacity of the chair.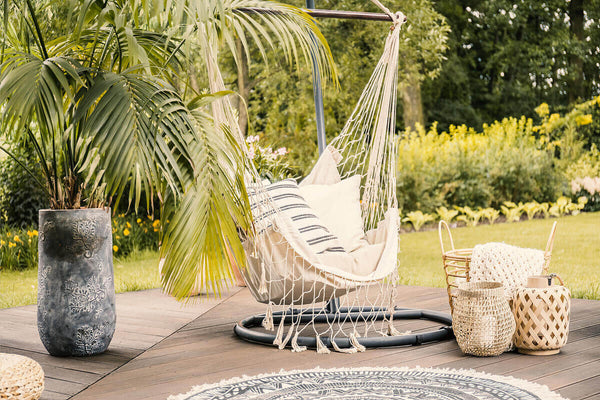 Materials matter. Avoid cheap hanging chairs, as those made of less robust materials may cause unexpected accidents and losses. If your budget is limited, consider the less expensive hanging chair type, such as a hanging bag.
Other reasons that may cause hurt is the incorrect installation method and improper places to hang the chair, such as a tree branch or weak beam. One solution is to choose a hanging chair with a stand that doesn't need to find a specific place to hang the chair or buy an extra stand which is very common in the market.
II. Multi-style and cozy, enjoy both indoor and outdoor
Someone thinks the hanging chairs look cheap to pair with the well-furnished interior space, which is one of the most significant misunderstandings.
Hanging chairs is just a joint name. The fact is you can have at least four different options with different designs and prices.
Egg Chair 
An egg chair is ubiquitous, which features an egg-shaped hanging basket. People like it because it provides a cozy, semi-enclosed space that makes users feel safe to hide. They come in various colors and materials, generally more suitable for modern and contemporary styled rooms.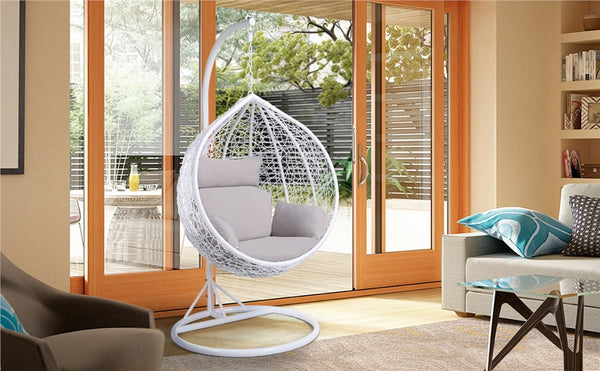 Bean Bag Chair
A bean bag chair is a hanging chair filled with soft, supportive material such as foam or beans. The foam one provides a lighter-weight option, which is better for hanging. They're fab because they conform to your body and provide a comfortable place to lounge or relax.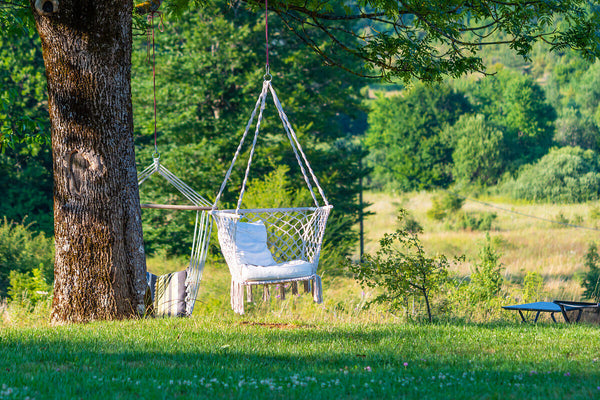 Wicker Chair 
A wicker chair which is also my favorite is a hanging chair that is crafted from woven natural materials like rattan or bamboo. Some outdoor use variations, such as PE rattan, are even made with resin wicker. These chairs bring natural beauty to any indoor or outdoor area and offer a cozy spot to sit and relax, perfect for the private space of a plant enthusiast or a wooden-style room.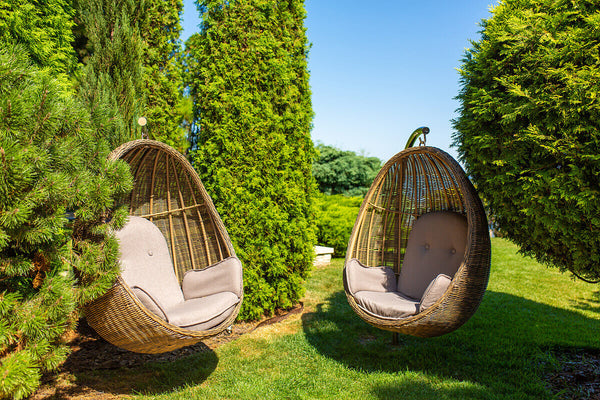 Hammock Chair
A hammock chair is a hanging chair crafted from woven fabric and suspended from the ceiling or a stand. They can be quite fashionable, especially when made from vibrant and patterned fabrics. 
On the other hand, some hammock chairs come in elegant neutral tones like whites and creams, 
which gives off a bohemian or coastal vibe.

III. Healthy or not?
You may feel hard to imagine the above mentioned features are not even the most significant advantages of a hanging chair. Where this furniture is most valuable is its excellent health benefits. Much research data and literature show hanging or swing chairs benefit mental and physical health. Here we simply list some significant ones:
Mental
Help Improve Concentration
The hanging chairs improve concentration by stimulating the brain's cerebral cortex. This helps with reasoning, learning, memory, and emotions. Sitting on a hammock swing chair can be beneficial for tasks that require complete concentration, such as reading. This chair effectively improves cognitive abilities and the ability to focus.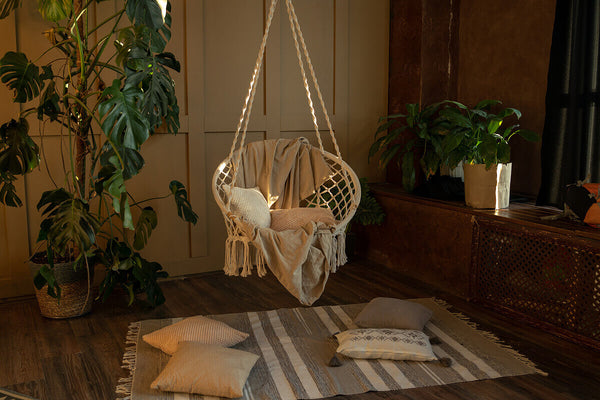 Relax and Improve the Mind
Hanging swing chairs relax and improve the mind. To have a relaxed mind, a flexible body is essential. Sitting on a hammock swing chair relieves muscles and pressure points, offering comfort. It is a better alternative to sitting on the floor or rigid materials. For a comfortable sitting posture during yoga or meditation, hammock swing chairs wrap around the body, relieving tense muscles and pressure points. You can achieve this position with a hammock swing chair to fully unlock yoga and meditation's mental and physical benefits.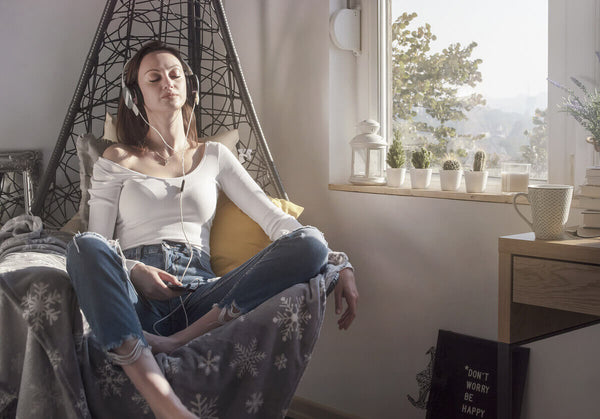 Improve Sleep
Swing chairs, especially hammock swing chairs, are perfect for a good night's sleep after a long day. It provides a rocking motion that helps you fall asleep faster and sleep better. It is also great for your back, unlike a rigid mattress or couch. It improves sleep for adults, children, and toddlers and cradles infants to sleep comfortably. Getting more sleep has numerous health benefits, including improved body and brain functionality. If you struggle with insomnia, the hammock swing chair can alleviate symptoms and help cure it. Simply snuggle inside and be cradled to sleep like a baby.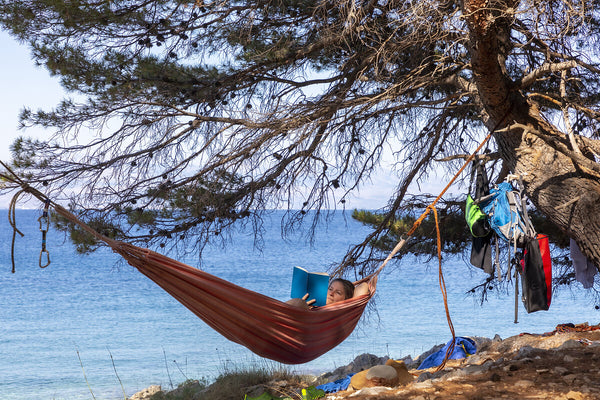 Physical
Improve posture, and relieve body pressure and pain
Sitting on a hanging or swing chair is very helpful for improving your posture. It is not hard to imagine when you sit on an unfixed seat, your body would naturally keep upright to stabilize yourself, right? And this posture needs the engagement of all your core muscles, which effectively avoids your back strain caused by slump sitting.
More than that, sitting on a swing can also help reducing body pain and relieve muscle stresses especially back and neck as the soft seat material or cushion can gently support each inch of your body to evenly distribute the pressure of your tense muscles, which is helpful for sports strain, pregnancy pain, or loin diseases. That's why swing chairs are usually recommended by physiotherapists.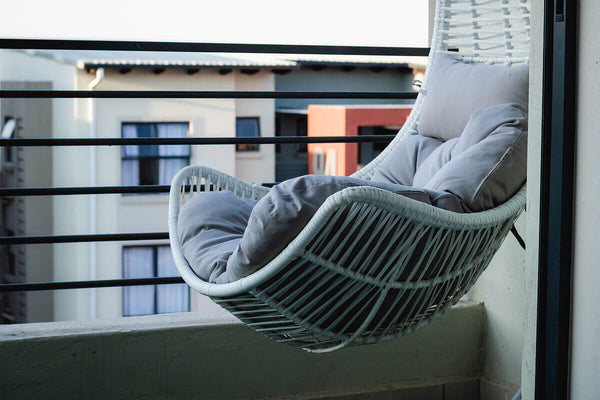 Off course, the above mentioned features and functions are not all of the advantages of hanging chairs. The best way to help you make the final decision is to experience it yourself. Welcome to share your sitting experience, opinion and suggestion~