A Win for Pet Lovers: Celebrating Yaheetech's Recognition as One of America's Best Petcare Brands 2022
We are delighted to announce that Yaheetech has been named as one of the best petcare brands in the United States for 2022 by Newsweek and Statista. In the category of cat trees & scratchers, Yaheetech ranks first among the five selected brands, and in the category of bird cages, Yaheetech ranks second among the three selected brands.
According to the collaboration between Newsweek and Statista, a survey was conducted on more than 20,000 households with pets. The purpose of the survey was to collect their feedback on various brands in 68 different categories of pet products and services.
After being reviewed across 5 different aspects like Trust, Quality, Transparency, Innovation and Value for Money, Yaheetech Cat Trees and Yaheetech Bird Cages came out with the top and second highest overall score in their respective categories.
We are honored to be listed alongside many renowned brands in the pet supplies industry, such as Go Pet Club, Armarkat and A&E Cage Company. This recognition acknowledges Yaheetech's long-standing commitment to providing high-quality pet supplies and inspires us to keep offering well-crafted and affordable products to more pet families.
What Makes Us Special
Founded in 2003, Yaheetech is an international e-commerce brand with product research & development, big data marketing all under one roof. We specialize in offering a wide range of pet supplies that are essential for every pet owner. The main categories include cat trees, bird cages, dog playpens, pet swimming pools, small animal cages, grooming tables, and cat litter box enclosures. Our aim is to enhance the comfort and well-being of both you and your beloved furry friends.
All of our pet furniture items are designed to prioritize the safety, longevity, functionality, and aesthetic appeal for your beloved babies, including dogs, cats, birds, rabbits, and many others. We firmly believe that our furry and feathered friends deserve nothing but the best.
We prioritize the inherent needs of pets and value customer feedback.
Our pet furniture is created by a group of dedicated pet enthusiasts, with a strong focus on pets' needs and preferences. Based on our analysis on pet daily behaviors, we also take into consideration a series of factors such as comfort, safety, and applicability for different types and sizes of pets. In addition to that, our products also fully consider the needs of pet owners, such as easy cleaning, portability, and convenient installation.
To improve our products, we regularly gather user feedback. We collect issues and innovative ideas, and incorporate solutions into our design. In our team, we have several special "product inspectors" to give the functionality of our products a final check on behalf of their fellows. For example, Luna, our cat tree tester, was adopted by our staff and became an integral part of our design team.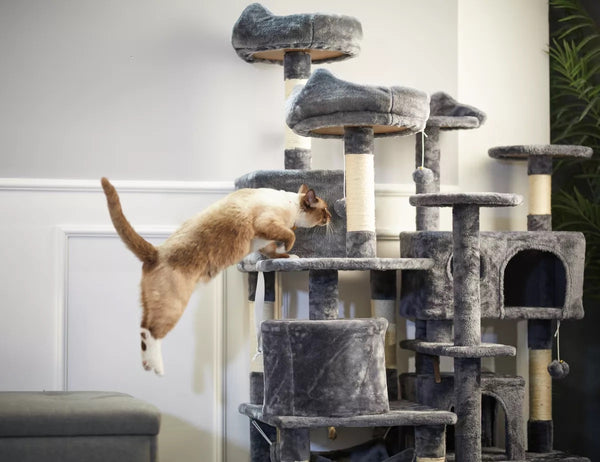 Luna is testing the stability of the cat tree.
We use materials that are safe for pets, long-lasting, and simple to clean.
We utilize high-grade, pet-safe, and textured materials that are not only durable and suitable for household use, but also soft-to-the-touch, ensuring optimal comfort for your little angles.
Our soft plush fabrics are superior in weight compared to those of other companies, making them tear-resistant, strong, and longer-lasting. The P2-compliment MDF boards are crafted using advanced machines to guarantee a dust-free smooth surface, which is harmless for your furry companions. The pet cages and playpens are constructed from sturdy metal material with increased wall-thickness and a protective anti-rust coating, ensuring stability, durability, and easy maintenance on a daily basis.
We design pet furniture that blends well with your living space and lifestyle.
Yaheetech not only brings highly functional pet supplies that are healthy, comfy and durable, but also provide visually attractive products that elevate the aesthetics of your indoor or outdoor space.
For instance, our birdcage collection offers trendy and youthful color options, such as teal blue and almond. Our cat tree collection introduces a range of unique-designed products inspired by elements from nature, such as cacti, ocean, and flowers. This breaks away from the drawbacks of mass produced cat trees that are homogeneous and limited in color, injecting a vibrant and lively touch into your home.
Currently, Yaheetech's cat tree series has gained high recognition and positive reviews not only on major online retail platforms such as Amazon, Walmart, Wayfair, and Target but also on popular pet websites like Petco and Chewy. Furthermore, Yaheetech's cat trees have been introduced in many Walmart physical stores. In addition, a growing line of approximately 75 models of bird cages with a variety of different sizes, styles and colors to bring safety and happiness to your feather friends.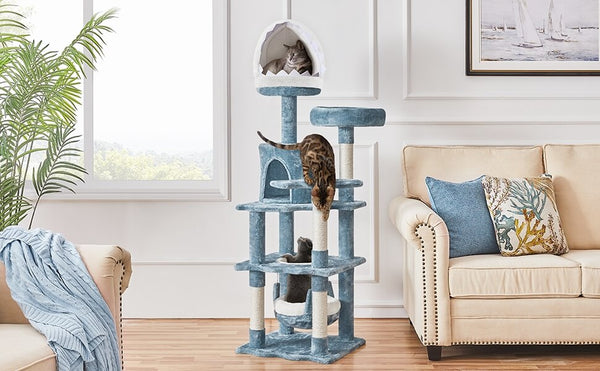 What We Supply?
Yaheetech Cat Trees & Condos
We have various types of cat trees and condos waiting for your cute cats. Our cat trees are made from cozy and durable materials supported by a sturdy structure, which makes sure your cats will enjoy playing, resting, scratching, lounging, and jumping. Different shapes and sizes meet your cat's curiosity and joy; and unique design themes and varied colors go well along with your furniture. Quality materials and well-designed structure, Yaheetech cat trees, and condos are worth your choice!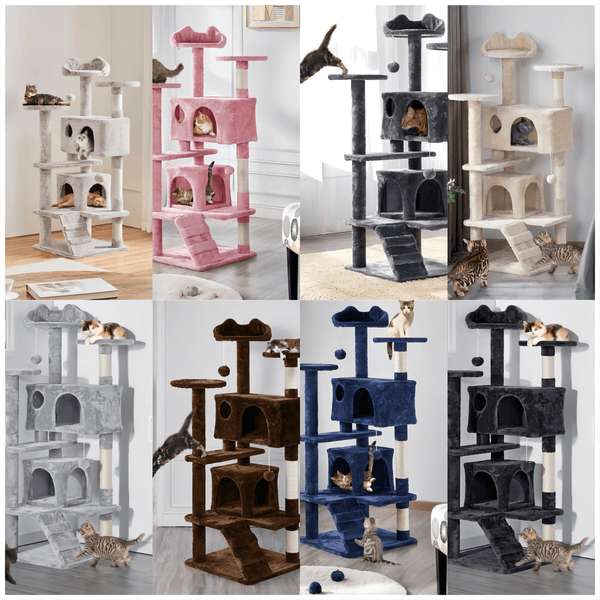 Key Features
6-level cat tree is designed for more than 1 kitten, small or medium-sized cat to play at the same time, with 2 fur balls for them to enjoy.
Crafted with harmlessmaterials including P2-gradeparticle board, soft plush and sisal-wrapped posts.
Cat tree can hold up to 44 lbs. and a large, secure baseboard helps avoid wobbling or tipping.
2 fluffycondos offer private, warm spots to lounge, while 3top perches let 3 furry friends survey their kingdoms.
3 sisal-wrapped posts at different heights let your kitties indulge their natural scratching instincts and keep sharp claws off your furniture.
Specifications
Color: beige/light gray/dark gray/navy blue/brown/black/brown white/pink
Material: manufactured wood, plush, sisal
Overall dimension (approx.): 19.5 x 19.5 x 54'' (LxWxH)
Big condo (approx.): 19.5x10x9.5'' (LxWxH)
Small condo (approx.): 11.2 x 11.2 x 9.5'' (LxWxH)
Round platform dia.: 12''
Maximum load: 44 lb
G.W.: 31.2 lb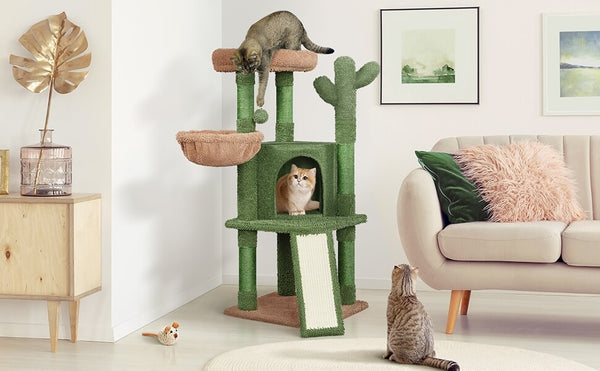 Key Features
A cozy top platform with padded foamis the perfect lookout spot.
Crafted of CARB P2-compliant particle board and soft moppy covering.
The bottom ramp works as a ladder and a scratching board to help your kitten climb into the cat cave and train their muscles.
The comfy basket and condo provide privacy and a safe space to relax.
The unique and cute design of the cactus adds a fun and fresh touch to your living space.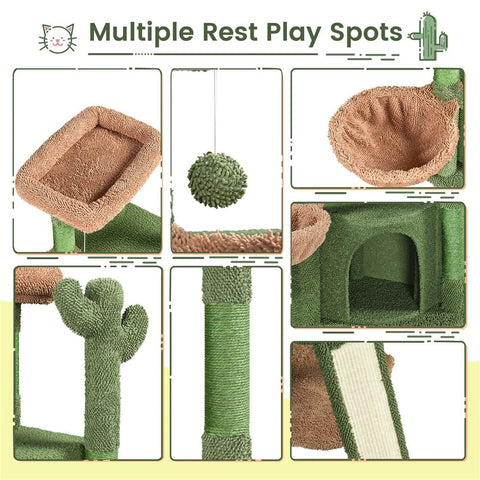 Specifications:
Materials: Particleboard, Moppy Fabric, Plush, Sisal
Color: Green & Brown 
Overall Dimensions: 17″ L × 17″ W × 42″ H
Baseboard: 17″ L × 17″ W
Condo: 12″ L × 12″ W × 12″ H
Top Perch: 18″ L × 13″ W × 3.5″ H
Scratching Board: 15.6″ L × 6″ W
Basket Diameter: 12″
Maximum Weight Capacity: 33 lb
G.W.: 21.6 lb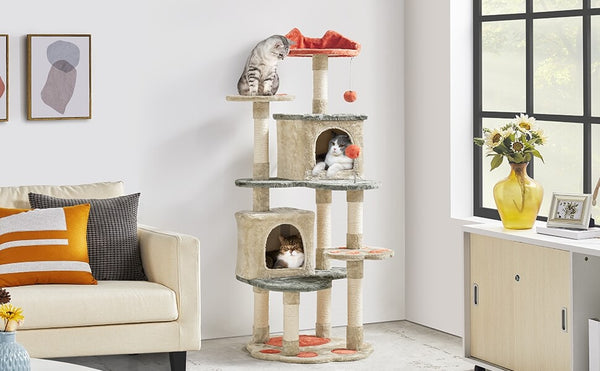 Key Features
Each tier contains CARB P2-compliant particle board construction, and is covered with soft plush fabric.
Includes 2 plush top perches fashioned as cat ears and paws, 2 roomy fan-shaped cat caves, and multiple extended platforms for cats to unwind and observe their surroundings.
Features a delightful combination of beige, orange, and gray colors, along with cute cat claw-shaped details for a vibrant and lovely look.
7 sisal-coiled scratching posts at different heights and 2 toy balls for added fun.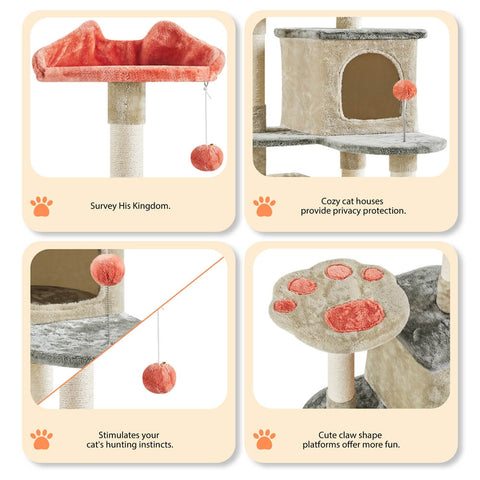 Specifications:
Materials: Particleboard, Plush, Sisal
Color: Beige
Assembled Dimensions: 23.5″ L × 22″ W × 57.5″ H
Baseboard: 23.5″ L × 22″ W
Condo: 12.2″ L × 12.2″ W × 11.2″ H
Heart-Shaped Platform: 22.6″ L × 22″ W
Top Cat-Ear-Shaped Perch: 15″ Dia. × 5″ H
Cat Paw Shaped Platform: 12.6″ L × 12.2″ W
Maximum Weight Capacity: Condo: 22 lb; Platform: 11 lb
Shipping Weight: 35.9 lb
Yaheetech Bird Cages
Our birdcage series are various in many different types, sizes and colors to provide a spacious and comfortable home for your lovely feathered friends. The materials we use are non-toxic, rust-resistant, and long-lasting. Many of our large birdcages come with free toys, feeders, perches, ladders, and a swing, providing a fully furnished experience for the birds. Convenient features like a pull-out litter tray and 360° swivel wheels make life easier for bird parents. With premium quality materials and practical functions, Yaheetech aims to ensure a comfortable life for you and your bird babies.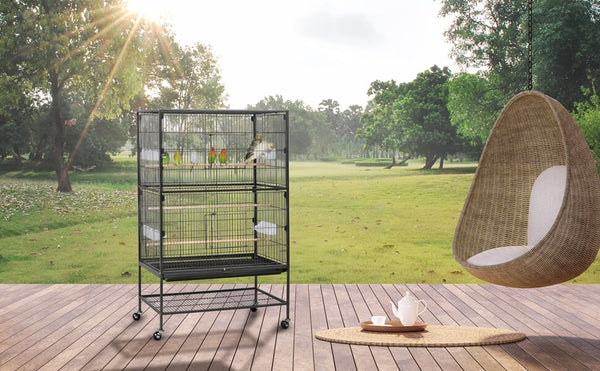 Key Features
Deluxe bird cage with thick wires is designed for accommodating several small/medium-sizedbirds and the larger keets.
Constructed of powder-coated hammered paint metal forgreat performance in water and oxidation resistance.
Equipped with secure latches on the front doors.
Includes 3 polished wooden perches and 4 plastic feeders.
A slide-out tray covered with waterproof paint can be removed and cleaned with water, making cleaning a breeze.
Easy to move around with 4 heavy-duty casters.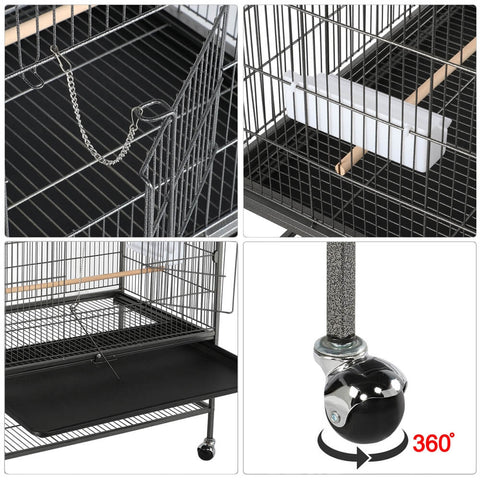 Specifications
Color: hammered black
Bar spacing: 0.6"
Door sizes: 10.7x8.1"(LxW)
Overall dimensions: 31.1x20.4x52"(LxWxH)
Cage dimensions: 31.1x20.4x37.2"(LxWxH)
Weight capacity: 44lb for cage, 44lb for storage shelf
Material: powder coated steel cage + PP wheel + solid wood perch + plastic feeder + PP slide-out tray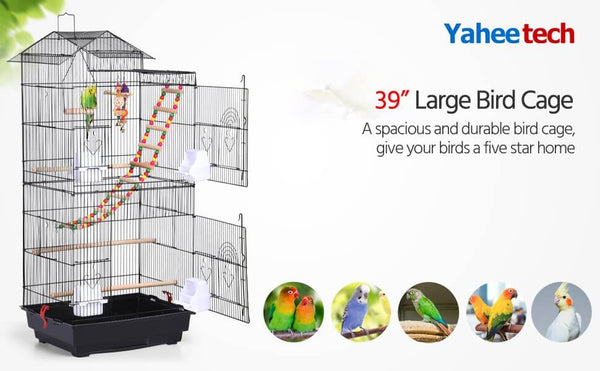 Key Features
Built for small birds like budgies, canaries, lovebirds and finches.
Measuring L18" x W14" x H39", this birdcage offers a large enclosed living/playing space.
Constructed with a corrosion and rust-proof, non-toxic painted frame.
Features a slide-out tray and detachable mesh grate for convenient cleaning.
Equipped for easy feeding with lockable feeder doors that are accessible from the outside.
Comes with a ladder, a swing and toys for extra fun.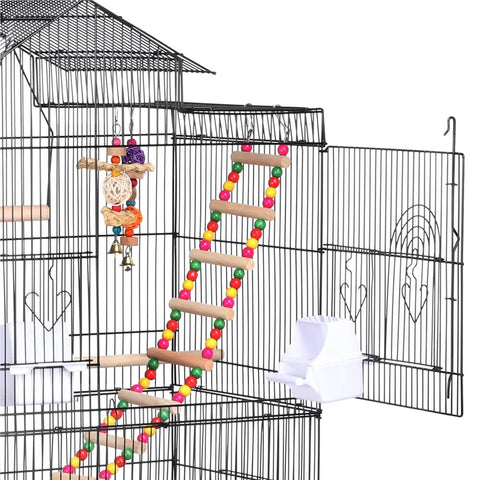 Specifications
Color: Black
Materials: painted metal, pp, wood
Overall dimension: 18 x 14 x 39"(LxWxH)
Bar spacing: 0.4"
Large door size: 11.8 x 11.4"(LxW)
Plastic bottom size: 18 x 14 x 4.3"(LxWxH)
G.W.: 13.2 lb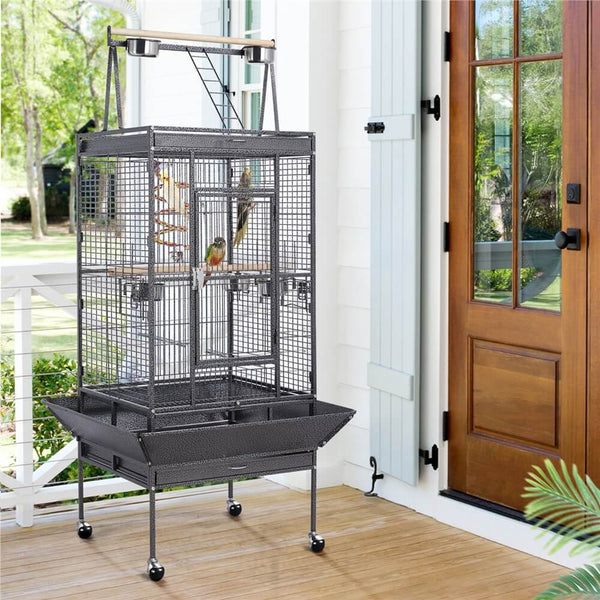 Key Features
Built with wrought iron with water- and oxidant-resistant finish for high strength and improved durability.
The play top contains a ladder, a wooden dowel, two feeders for birds to perch and stretch their wings outside the cage.
Founded atop four industrial casters, this large play top birdcage can be moved effortlessly wherever you want.
Equipped with a metal grill on the bottom and a slide-out tray for hassle-free cleaning.
Easy-to-use lock securely keeps your smart birdies safe inside their house.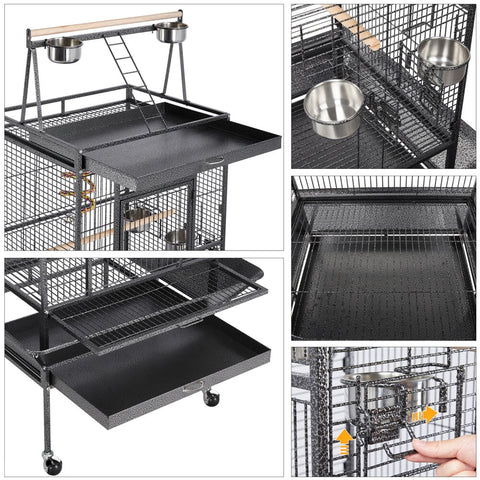 Specifications
Color: hammered black
Material: painted steel, wooden, stainless steel, PP plastic
Overall dimension: 32.1 x 30.3 x 68.5"(LxWxH)
Cage size: 24 x 22 x 35"(LxWxH)
Entrance size: 11.8 x 21.6"(WxH)
Tray size: 22.6 x 22 x 1.8"(LxWxH)
Bar spacing: 0.6"
G.W.: 55.7 lb
Yaheetech Dog Playpens
Yaheetech dog playpen series aims to offer a safe and fixed place for your puppy's entertainment. Unlike playpens made of plastic or wood, our playpens are made of sturdy metal tubes with a thicker diameter, ensuring they won't easily collapse if your pets knock them over. You can choose multiple panels to create a dog pen in various sizes and shapes, suitable for both small and large dogs. The foldable and portable design makes it easy to transfer from your home to your vehicle, making it a great option for RV camping or traveling with your pets.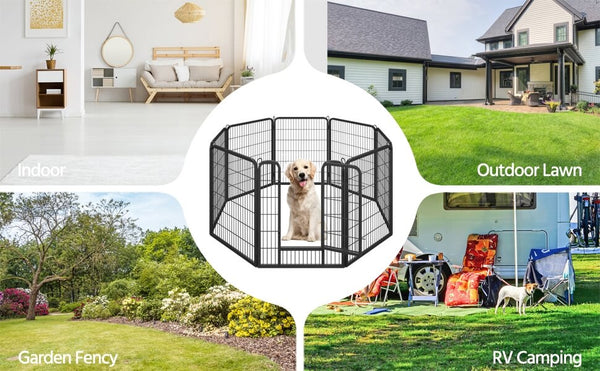 Key Features
Open Playpen: Creates an open-top enclosed area for pets to play and exercise.
Safe and Secure: Appropriate bar spacing and latch on the door can keep your pets safe in the exercise pen.
Convenient To Store: Can be disassembled into a flat and compact size for easy storage when not in use. Flat packing size is also convenient to transport.
Creating Different Shapes: Can be flexibly built in different shapes in different sizes by adding or removing panels.
Easy To Clean: Can be washed directly with water and then dried in the sun or a wet rag will be enough in the later cleaning process.
Wide Applications: Suitable for small or medium pets, such as toy poodles, corgis, puppies, rabbits, ducks and bunnies.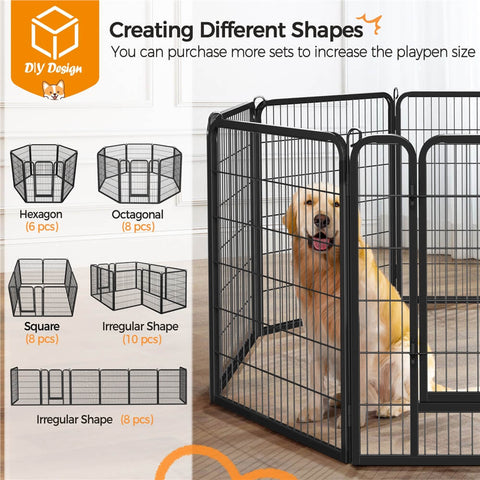 Specifications
Color: Black
Material: Electrophoresis Steel
Dimension for Each Panel: 32″ W × 40″ H
Door: 31.7″ L × 15.2″ W
Bar Spacing: 1.5″
Gross Weight: 43.7 lb
Quantity:
7 x Panels
1 x Panel with Door
8 x Anchor Stakes
Yaheetech Folding Pet Pools
Introducing Yaheetech folding pet pools, the perfect place for your beloved pet to have fun or bathe. Our pet pools are made with extra-tough PVC and high-strength MDF sideboards, ensuring durability. The anti-skid bottom helps prevent your pets from slipping. With sizes ranging from 39.5 to 71 inches in diameter, these pools are suitable for both small and large dogs or even multiple dogs. Available in black, blue, gray, or red, they add a vibrant touch to your backyard. The foldable design allows for easy storage and portability, and the side plug makes draining effortless after playtime.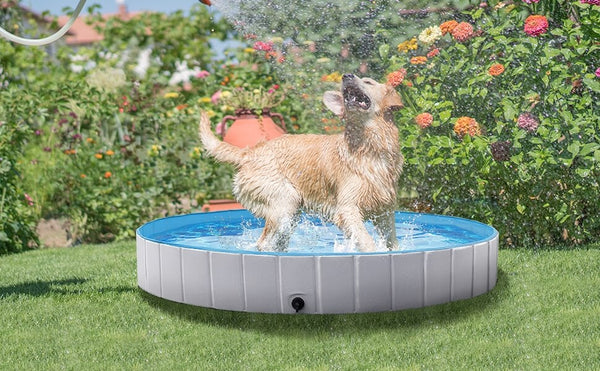 Key Features
Made of P2 MDF boards, harmless, strong and durable.
The thickened bottom with nonslip texture can prevent your pets from slipping.
Marked attention line indicates the highest recommended water level.
No inflation or air pump needed.
Includes a brush and 4 PVC covers in case of damage.
Comes with a plastic drainage valve.
Can be folded into a small sizefor easy transportation and storage.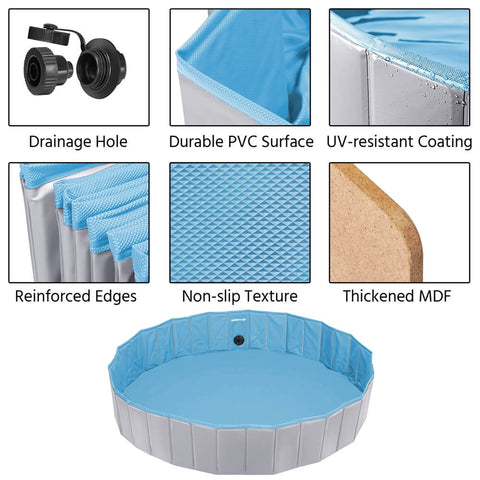 Specifications
Material: PVC and MDF
Color: Gray
Overall size: 63 x 12inch (Dia. x H)
G.W.: 15.7lb
Yaheetech Small Animal Cages
Our small animal cages come in different types and sizes for small animals like a chinchilla, guinea pig, ferret, rabbit more to lounge, rest, play, and hide away. Many of our cages feature multiple levels, ramps, shelves, a water bottle, and a food bowl to keep your pet entertained and content. Cleaning is made easy with removable platforms, ramps, and a slide-out tray. Some cages are equipped with caster wheels for convenient portability, allowing you to move the crate from room to room. Rest assured that our cages are constructed with durable, powder-coated steel for a reliable and long-lasting pet home.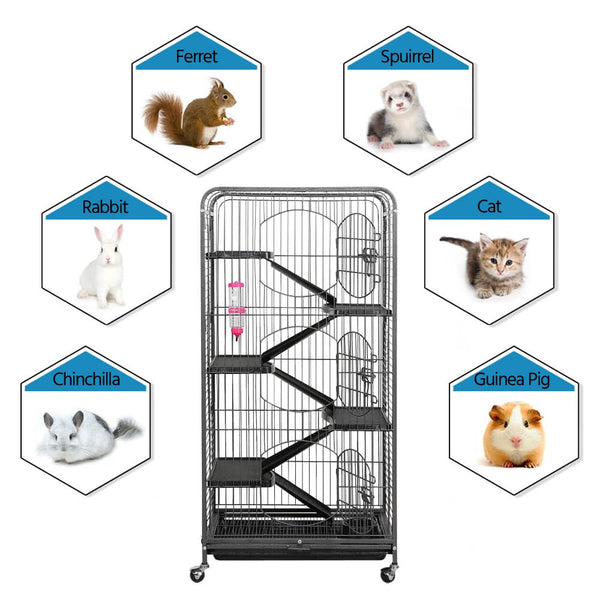 Key Features
Painted metal frame with round corner design to keep you and your furry babiessafe.
3 front doors provide easy access and allow for easy cleaning.
6tiers provide extra vertical spacefor your furry friends to climb and rest.
Arc-style ramps are designed to increase friction and prevent your pet from slipping when they climb.
Four heavy-duty casters can be rotated in all directions for convenient moving.
Includes a water bottle, food bowl and slide-out tray.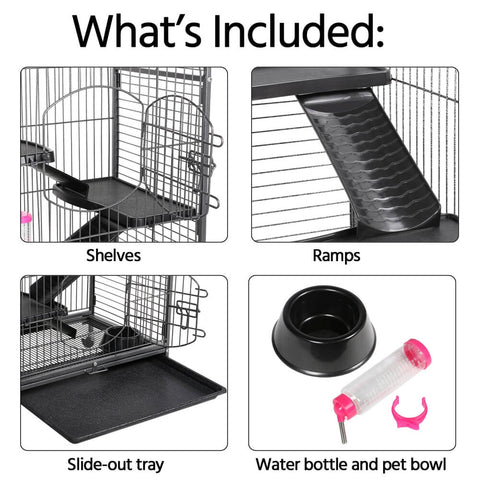 Specifications
Material: Powder Coated Steel + PVC Plastic Ramp + Plastic Tier Panel + Rubber Wheel + ABS Plastic Slide-out Tray
Overall Dimension: 25 x 17 x 52'' (LxWxH)
Bar Spacing: 0.9''
Entrance Size: 11 x 9.8'' (LxW)
Tier Panel Size: 17.1 x 8.9'' (LxW)
Ramp Size: 12.4 x 5.2'' (LxW)
Maximum Weight Capacity: Tier Panel: 12.3 lb; Bottom Grate: 28.7 lb
N.W.: 34.4 lb
G.W.: 40.5 lb
Color: Hammertone Black/White
Free Accessory:
1 x Pet Bowl
1 x Pet Water Bottle
Yaheetech Grooming Tables
Made from high-quality MDF boards, covered by non-slip PU leather, edged with aluminum, and supported by iron tubes, our grooming tables are durable for long-term use and very easy to maintain. Adjustable grooming arms also give you the flexibility to groom pets of various sizes and breeds. The folding design of the table legs makes it convenient for storage and transportation. Yaheetech grooming tables, a practical and sturdy choice for both home and pet store uses.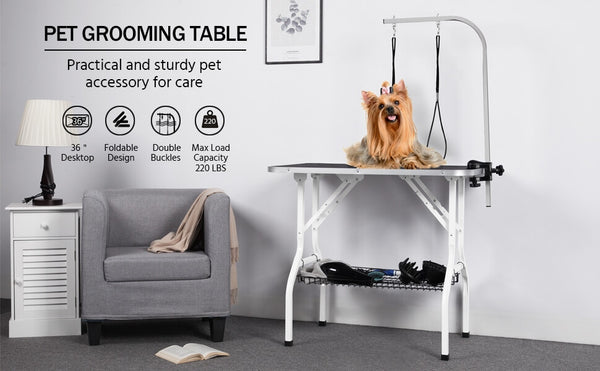 Key Features
Has a detachable 22lb loading capacity tool shelf for convenient storage.
Made of durable MDF, electroplated arm, quality plastic/metal clamps, powder-coated iron frame, and tool shelf.
Adjustable arm design fits for different pets.
Two adjustable grooming loops can keep your pet in placeduring grooming.
Water-resistant/antiskid soft PVC texture helps pets stand securely.
Foldable designallows for easy transportation and storage.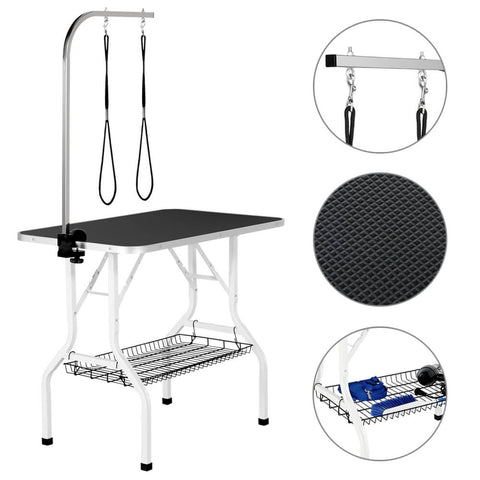 Specifications
Material: MDF, PU, aluminum, iron
Color: as shown in the product images
Overall dimension (LxWxH): 35.8x24x62.6''
Tool shelf dimension (LxWxH): 25.9x14.8x1.5"
Load capacity (max.): Grooming table: 220.5lb; Tool shelf: 22lb
G.W.: 33.5lb
Yaheetech Cat Litter Box Enclosure
Bring both privacy and comfort to your cats with Yaheetech litter box furniture. It has a sleek wooden appearance and comes in white, gray, black, and rustic brown, making it suitable for modern spaces. The spacious interior can accommodate most small to medium sized litter boxes. The enclosures are well ventilated with 9 holes on the back panel. The round arched-shaped entryway is large enough for even big cats to pass through. Our litter box enclosures are made of non-toxic P2-grade MDF boards, making them lightweight, easy to clean, and safe for your cats.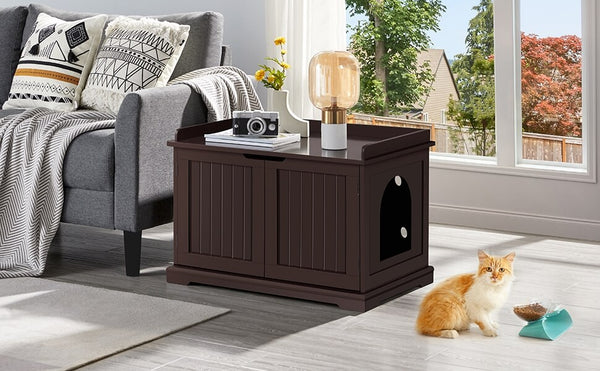 Key Features
Harmless P2 MDF with paint coating, waterproof and easy to clean.
Has 2 adjustable sections that are ideal for housing medium-sized litter boxes and small cat beds.
The backboard has ventilation holes to keep air flowing inside.
The side arched door allows free entry for cats.
The enclosure design of the tabletop creates a perfect space for pets to lounge or play.
Fixed door clips make it easier to open and close the door.
Specifications
Material: Coated MDF and metal accessories
Color: Espresso
Overall size: 30x20x21in (LxWxH);
Left section inner size: 18.5x17.3x16in (WxDxH);
Right section inner size: 8x17.3x16in (WxDxH);
Door size: 8.8x10.2in (WxH);
Max. weight capacity of the tabletop: 88.2lb
G.W.: 42lb
Our Passion for Pets and Pet Lovers
Our mission is to create a comfortable and secure living environment for pets through well-crafted products, thereby reducing pet owners' everyday hassles and fostering a more harmonious relationship between pets and pet parents.
Hence, we take practicality, aesthetics, safety, and comfort into account and show them as much as possible in our pet supplies. We will keep on researching, designing, and manufacturing new pet products to improve the quality of life for your beloved furry and feathered companions.
(Source: https://www.instagram.com/thehawkins.onthehill/)
Trusted by Our Partners