3 Basic Things You Need Know about Outdoor Furniture
If your home possesses a terrace or courtyard, it is strongly advised to establish a serene and comfortable oasis. Consider furnishing the space with a collection of outdoor furniture, playing soothing music during leisure time, and indulging in a cup of tea while reading a book to unwind physically and mentally.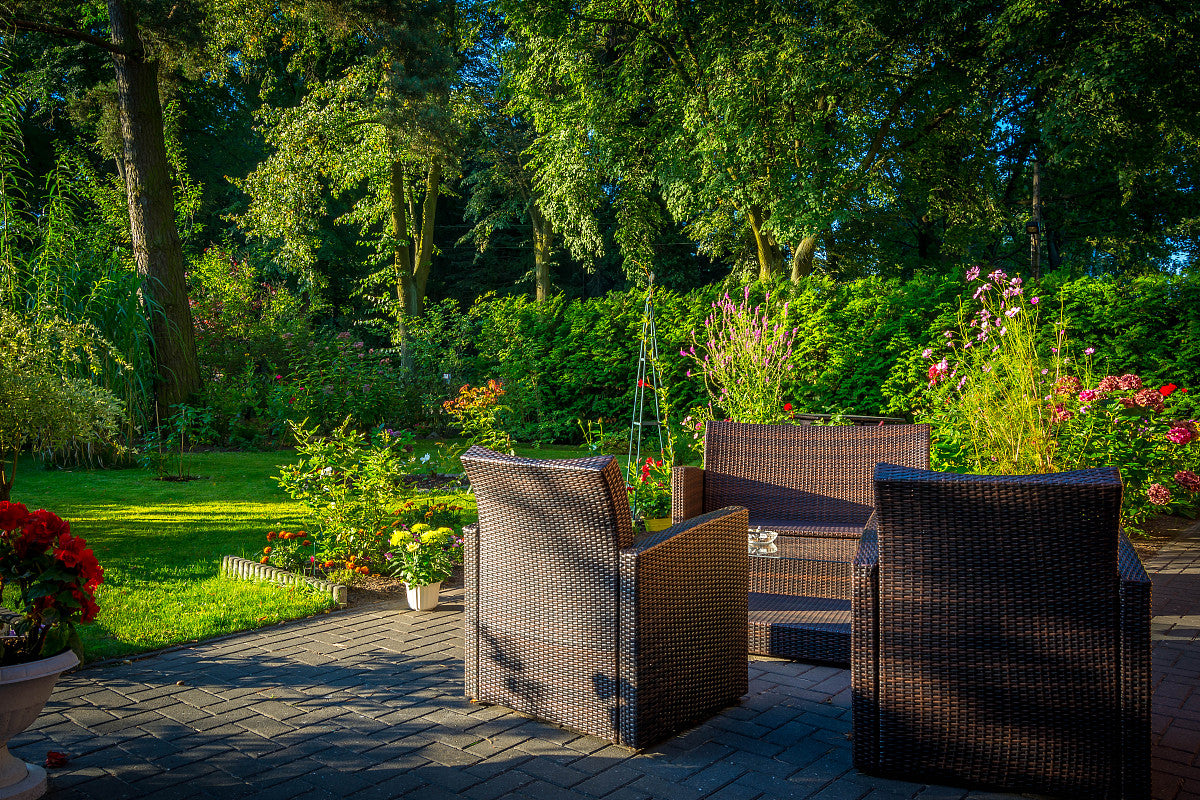 The selection of outdoor furniture reflects one's outlook on life and aesthetics, making it an opportunity for personal growth to choose a set of exquisite and top-notch furniture. When selecting quality outdoor furniture, you need to know the following tips about it.
Three Types of Outdoor Furniture According to Functions:
Immovable Outdoor Furniture
This type of outdoor furniture is primarily immovable and designed to withstand wind and rain, such as gazebo swings, awnings, and umbrellas in gardens or courtyards, or outdoor workspaces. Typically, this type of furniture should have corrosion resistance, be easy to clean and maintain, and have a relatively heavy weight.
Mobile or storage outdoor furniture is lightweight and designed to save space when not in use. For instance, rattan, aluminum alloy, and cast aluminum sunshade rattan outdoor furniture can be stacked together and easily placed anywhere. Additionally, this type of furniture is corrosion-resistant, resistant to damage, easy to clean, and resistant to deformation.
The popularity of outdoor camping is rising, with many campers now opting to bring portable rattan outdoor furniture such as small tables and dining chairs. These outdoor furniture items are lightweight, easy to transport, and perfect for outdoor travel. Many people enjoy dining outdoors, especially during barbecues, and compact and convenient outdoor equipment like barbecue grills.
Five Kinds According to the Material:
Plastic wood is a novel composite material that has gained popularity both domestically and internationally in recent years. It is created by combining plastics and wood fibers to imitate solid wood. The resulting material closely resembles solid wood in appearance and is aesthetically pleasing. Plastic wood undergoes a unique processing method, resulting in a composite material that combines the characteristics of natural fibers and common plastics.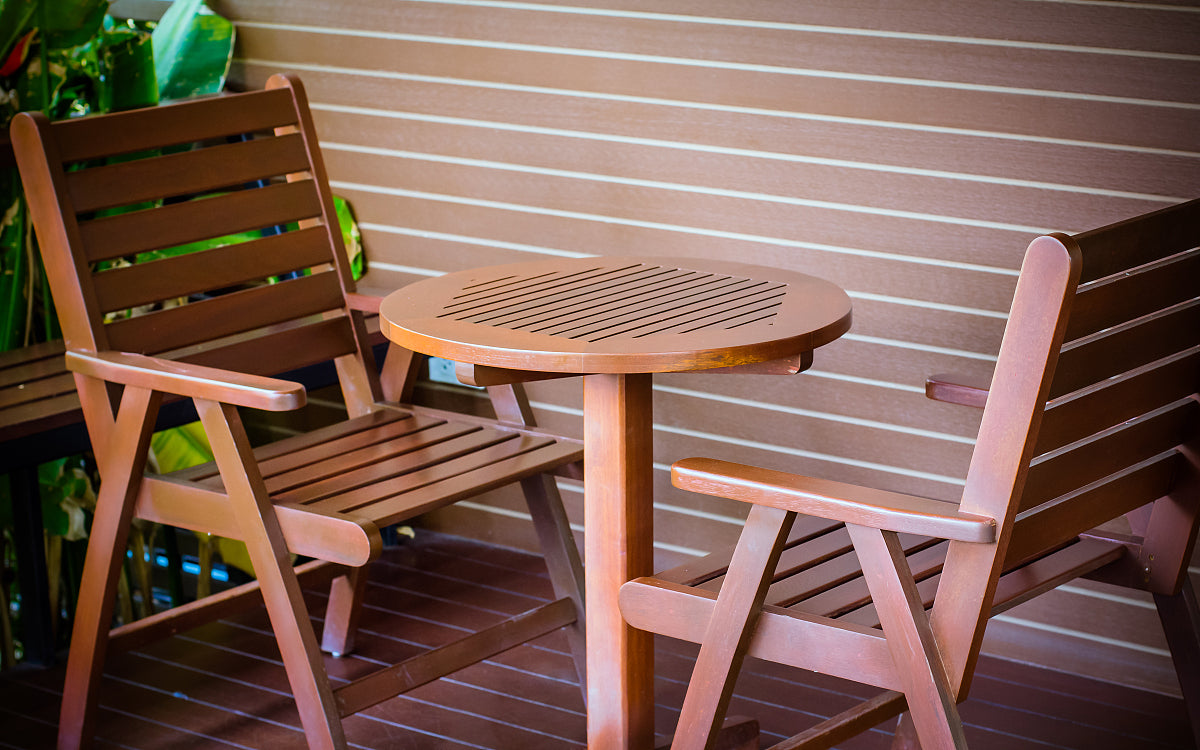 ADVANTAGES: Plastic wood is known for its excellent water resistance, low water absorption, and resistance to corrosion and abrasion. It is highly resilient and less prone to fracture, making it ideal for outdoor furniture such as tables, chairs, and park benches. Additionally, one of the advantages of plastic wood is its affordability compared to solid wood due to its composition.
Aluminum casting is a classification under aluminum alloy, which is a kind of craft product. Mainly pure aluminum or aluminum alloy ingot according to the standard composition ratio preparation, after artificial heating, will become aluminum alloy liquid or molten state and then cast to the professional mold after cooling to form the required shape of aluminum parts.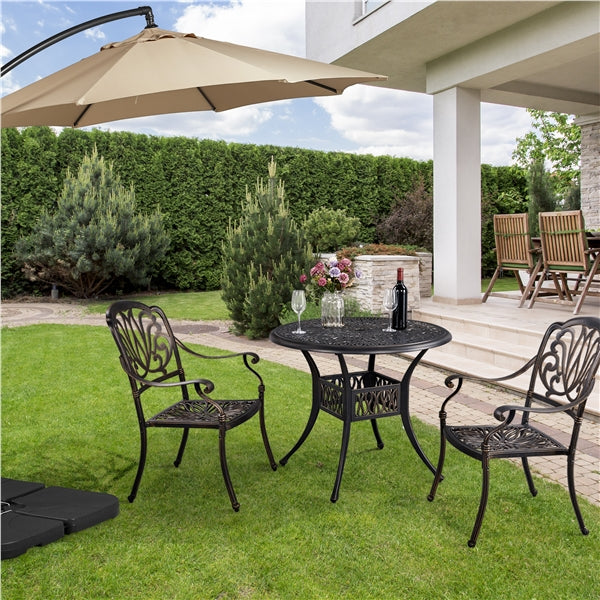 ADVANTAGES: Compared with metal, cast aluminum is light, long-term placed outdoors without too much care, not easy to corrosion and rust, and very suitable for outdoor furniture.
MAINTENANCE: If the surface stains, please wipe with water, do not use heavy acid alkaline cleaner.
Imitation wood is a commonly used outdoor furniture material. Imitation wood can be false in appearance, and the naked eye is difficult to distinguish. To imitate wood, the widely used material is cement concrete, and then special molds and special cement coatings are used to create the imitation wood effect.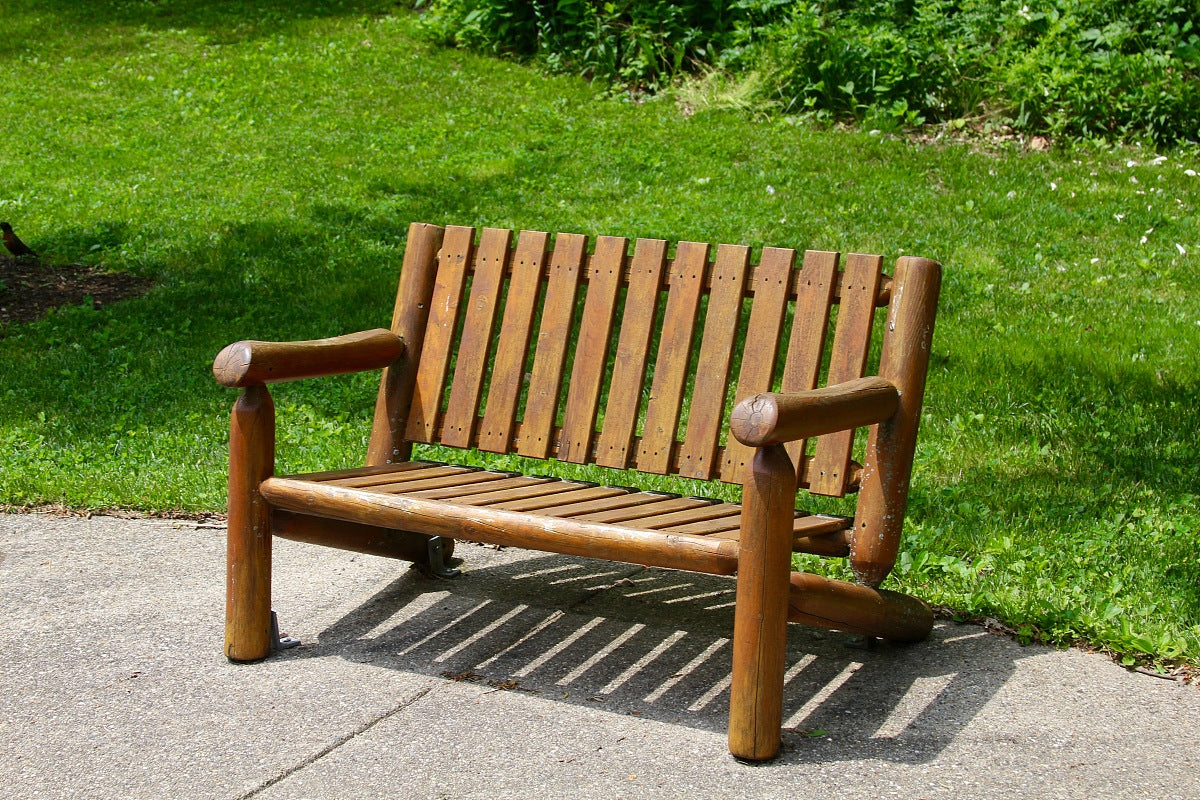 ADVANTAGES: The service life of imitation wood is much higher than natural wood. Long-term outdoor use will not cause rust and discoloration, will not have moths, both environmental protections, and can be used as a substitute for wood, such as railings, park seating, landscaping, and so on.
Rattan belongs to an ancient traditional craft, the use of rattan plants to prepare a variety of furniture, such as rattan chairs, rattan sofas, rattan tables, etc., of which rattan chairs are the most popular category of outdoor furniture, the sitting feeling of comfort comes with a sense of seniority, all year round are applicable.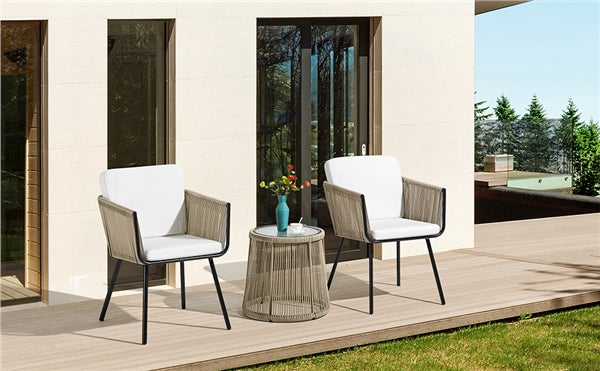 ADVANTAGES: Rattan outdoor furniture types of up to 600 kinds; in addition to the natural rattan, there is a very commonly used environmentally friendly material PE rattan, which life longer than real rattan; not afraid of rain, sun, and mildew, breakage, really can do sunscreen dust mildew moisture, many people like to buy PE rattan as a raw material for rattan furniture.
 MAINTENANCE:
You can use a brush or rag to clean rattan furniture.
It should be prevented step collisions and knife-tip hard objects from scratch.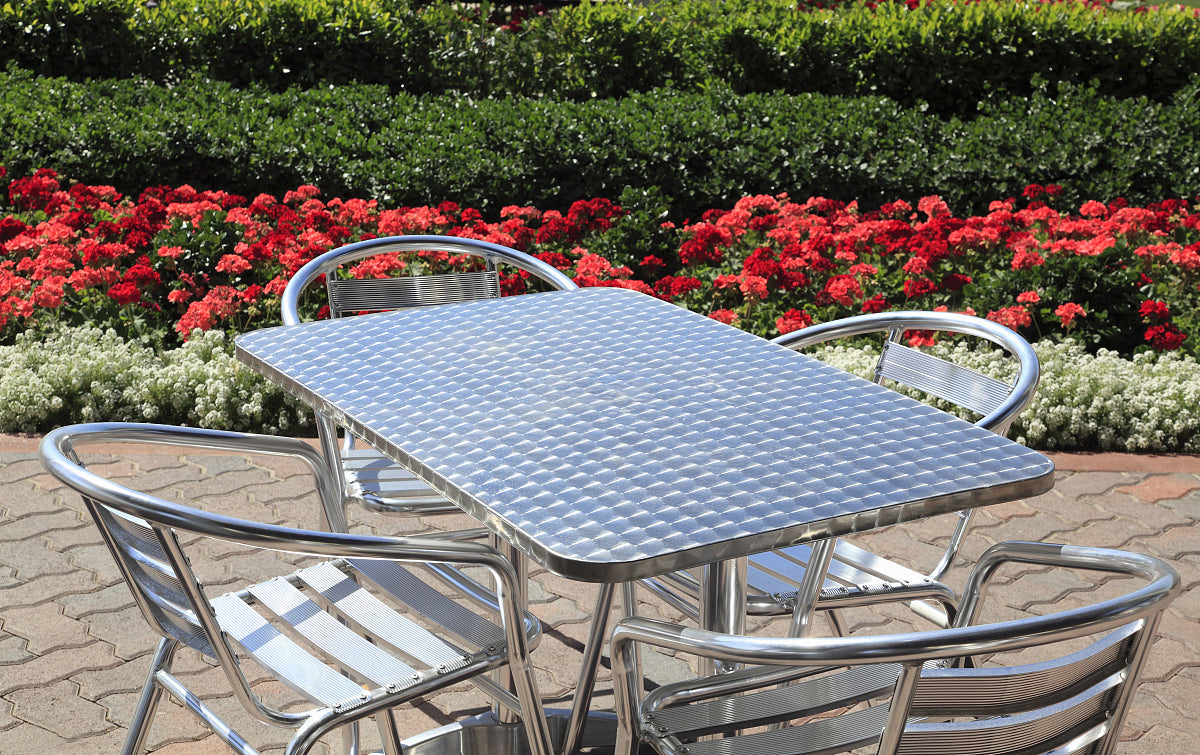 ADVANTAGES: Aluminum alloy is mainly used for leisure gazebos. Compared with solid wood, aluminum alloy is more fireproof and moisture-proof. It can withstand the fire test because aluminum alloy and cold rolled steel plate have been specially treated to withstand high temperatures and reduce wear and tear. Aluminum alloy furniture is processed to meet all aspects of functional needs. Now, choose an aluminum alloy gazebo that is more secure and stable without too much maintenance compared to solid wood.
MAINTENANCE: If the surface stains, please wipe with water, do not use heavy acid alkaline cleaner.
Iron round tables and chair is a common outdoor furniture material. Compared with other materials, it is wear-resistant and has a longer life. It pays more attention to the performance of the shape, color, and line, which will be much richer than other materials furniture. Also, it can make the outdoor space full of a romantic and fantastic atmosphere and is therefore favored by many people.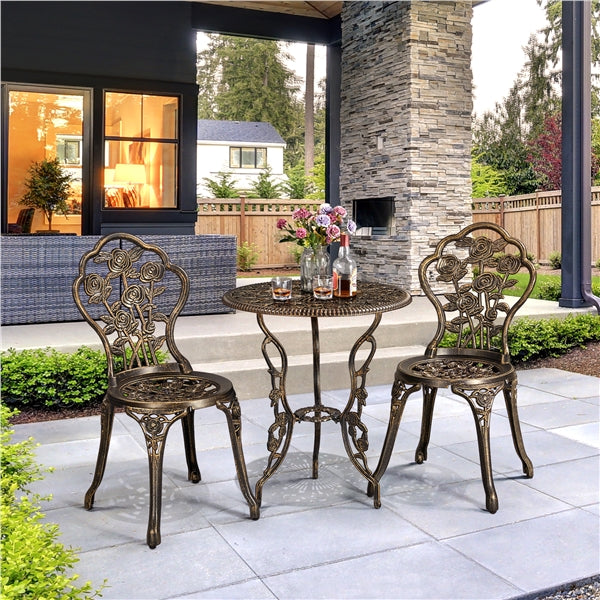 ADVANTAGES: Sturdy, durable, stylish, and versatile styling ideal for windy areas.
DISADVANTAGES: They are prone to rust and challenging to move; they are hot when it's hot and cold when it's cold, requiring more maintenance.
MAINTENANCE:
Metal in the handling to avoid bumping and scratching the surface of the protective layer;
Do not stand on top of the folding furniture to not fold parts of the deformation and affect the use.
Only occasionally, with warm soapy water scrub, do not use acidic and alkaline detergent cleaning not to damage the surface paint layer and make it rust.
ADVANTAGES: This polymer-wrapped fabric, while maintaining soft and lightweight characteristics but also tear-resistant, is not easy to deform under high tensile strength.

MAINTENANCE: Use a rag to scrub with water.

8. Plastic

Plastic is a kind of polymer, also known as a macromolecule or polymer material, which is a versatile and general-purpose material, mainly including general-purpose plastics, engineering plastics, and special plastics.
ADVANTAGES: Plastics can produce a variety of colorful and peculiar outdoor furniture by injection molding and adding colored solvents.

MAINTENANCE:

Generally, lighter, acid, alkali, corrosion resistance, sound insulation, and thermal insulation, but poor hardness should prevent collision and knife tip of the ancient object scratches.

It can be washed with ordinary detergent, do not touch hard objects, and metal brush scrubbing.
Conclusion

These are the 7 most common materials used in outdoor furniture, which will help you understand basic outdoor furniture knowledge. You can also directly enter keywords to pick your favorite products on our website.