Ideal Indoor & Outdoor Exercise Equipment for Family in 2020
Health is the very basis of your life, work, fortune, and everything. That's to say, building up your body is guarding all the fruits of your hard works. But people tend to feel a little bit lonely and less encouraged while exercising alone, especially when the result is not as good as they expected in the early of their workout plan. Therefore, having sports partners will efficiently boost your confidence, perseverance, and for sure, lead to a better outcome. Family members are your most faithful partners and supporters, or you can say, cheerleaders. Exercising with family can not only improve your families' physical fitness but also improve family relationships and increase unity. With all the merits of working out with your family, without further ado, let's check out what exercise you can do in the house or in the backyard, and what equipment you need.
Indoor Exercise Equipment
#1 Dumbbell Set & Barbell Set
Comparing with other gym exercises that require special equipment, dumbbell and barbell exercises require simple and relatively inexpensive equipment, which make them suitable for beginners. Besides that, the advantages of dumbbell and barbell exercises are plentiful. If you want to build up your upper body muscles for example abdominals, obliques, chest, shoulders, biceps, triceps, back and suchlike, a weight-adjustable dumbbell or barbell set is the very equipment you can't miss. You can do weighted crunch, straight-arm pullover, palms-in shoulder press, biceps curl, triceps extension, etc. with a simple dumbbell/barbell set.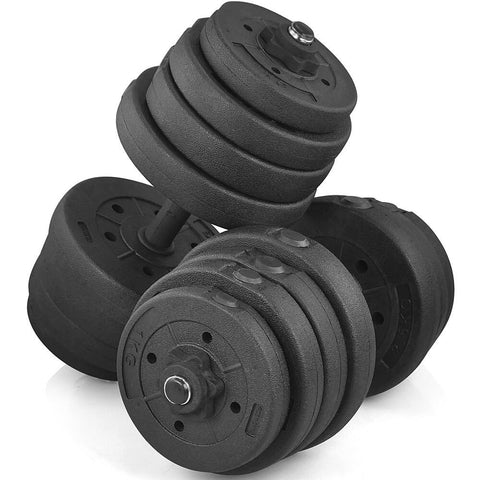 Key Features
A must-have strength training set. Helps tone and sculpt your arms, shoulders, back and also strengthen your muscles
Quality cement weight plates and plated iron bars are sturdy to use. Antirust and wear-resistant plating makes for a long service life
16 weight plates in 4 different weights, 4 pieces for each weight, and 2 spinlock collars make the adjustment easier.
Features a hard plastic handle with diamond knurled texture on each bar to increase friction
Specifications
Material: concrete, plastic, chrome finish iron
Dumbbell bar: 49.7 x 2.9 cm/ 19.6 x 1.1in (LxDia.)
Barbell bar length: 100.2cm / 39.5in
Diameter of 2.5kg plate: 20.5cm / 8in
Diameter of 2kg plate: 19.5 / 7.6in
Diameter of 1.5kg plate: 18.5cm / 7.2in
Diameter of 1.25kg plate: 17.5cm / 6.8in
Weight plate hole diameter: 3cm / 1.2in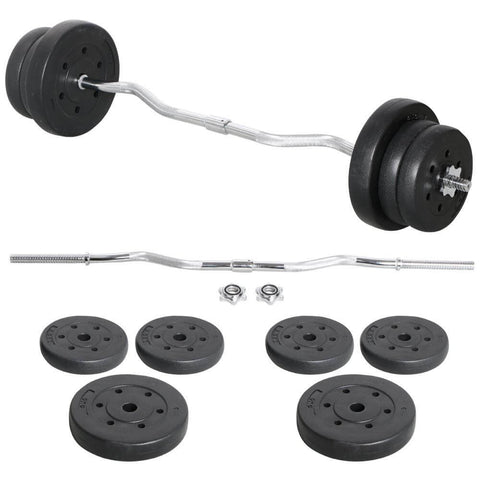 Key Features
Constructed of quality metal with glossy chrome finish and durable plastic shell covered cement weight plates
The full curl bar set includes a standard curl bar, four 2.5kg/5.5lb weight plates, four 5kg/11lb weight plates, and two metal spin-lock collars from one deal.
This curl bar set targets your muscle groups of arms, shoulder and back, increase endurance and promote metabolism by doing bench presses, back squats, overhead presses, bicep curls, lunges, power cleans, etc.
Two spin-lock collars included securing the weight plates on the bar for enhanced safety
To increase the friction between your hands and the bar, this barbell bar is designed with non-slip knurled handles for grip, which can effectively avoid accidents caused by hand-slip.
Specifications
Package includes: standard curl bar x 1, 2.5kg/5.5lb weight plate x 4, 5kg/11lb weight plate x 4, spin-lock collar x 2
Material: chrome finish iron, cement, plastic
Assembled length: 119.8cm/47.2''(L x Dia.)
Curl bar net weight: 4.6kg/10lb
G.W.: 25.8 Kg/ 56.9 Lb
Color: Black
#2 Adjustable Bench Press Rack/ Squat Rack
If you want to take your workout to the next level, a multifunctional squat rack is the piece of equipment you are going to need. Though the name may imply its usage, a squat rack is not just for squats. You can use it for deadlift, overhead presses, barbell lunges, bench press, barbell bent-over row and suchlike to tune and strengthen your overall body.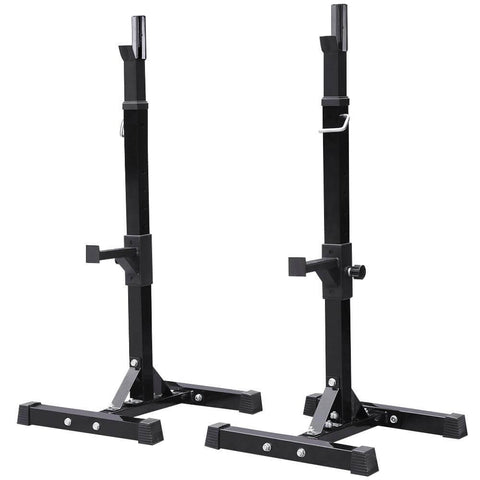 Key Features
Guaranteed sturdiness: Constructed of heavy-duty metal with water- and rust-resistant surface treatment, this solid squat rack with the ability to support up to 200 kg / 441 lb gives you a safe workout.
Multipurpose: There are two types of barbell holders for different purposes in this squat rack. The top holders are prepared for exercises like barbell lunges, overhead press, which requires the barbell to be held in a higher position; and the lower barbell supports are for workouts that need to keep the barbell low, for example bench press and bent-over row.
Adjustable height: The overall height can be adjusted from 114cm/45 inches to 179cm/70.5 inches in

5

cm/

2

'' increments

. The lower barbell holder height is

49-74cm / 19.3-29.1''.
Non-slip end caps: The end cap can not only protect your hard floor from scratches, and avoid slipping during the workout, but also can prevent the metal tube from inner oxidation, thereby extending the service life.
Easy assemblyrequired: Simple structure as seen. All necessary hardware and detailed instruction manual are enclosed for quick and effortless setup.
Specifications
Material: painted iron
Overall size (approx.): 54.5 x 50.5 x (114-179) cm / 21.5 x 20 x (45-70.5)" (LxWxH)
Height of barbell holder for bench: 49-74cm / 19.3-29.1''
Height increment: 5cm / 2"
Base size: 54.5 x 50.5 cm / 21.5 x 20" (LxW)
Support tube size: 5 x 5 cm / 2 x 2" (LxW)
Maximum weight capacity: 200 kg / 441 lb
#3 Magnetic/Fluid Indoor Bike Trainer
When the bad weather tries to stop your cycling training, or somehow you just don't feel like leaving the house and driving to the studio to get in your daily spin classes, then the indoor bike trainer is a handy and practical solution to your worries.
Yaheetech Indoor Bicycle Trainer

Turbo Type

Magnet

Magnet

Fluid
Main Material
Carbon Steel, Aluminum
Carbon Steel, Aluminum
Carbon Steel, Aluminum

Overall Dimension

(WxDxH)

54.5x60.5x37.5cm/ 21.5x23.8x14.8''

54.5x62x40.5cm/

21.5x24.5x16''

54.5x62x40.5cm/

 21.5x24.5x16''

Manually Adjustable Resistance

No
Yes
No
Suitable Wheel Type
26'' to 28'' or 700C; quick release wheel required
26'' to 29'' or 700C; quick release wheel required
26'' to 28'' or 700C; quick release wheel required
Max. Weight Capacity
120kg/264.6lb
120kg/264.6lb
120kg/264.6lb
 Unique Features

Less expensive than a fluid trainer;

Basic type and cost-efficient choice for the average cyclist who wants to simply log miles

6 resistance adjustments by the handlebar-mounted adjuster;

Features extra noise reduction resistance wheel helps cut out the spinning sound

More road-like in feel thanks to the automatic progressive resistance;

Markedly quieter than magnetic trainers;

More challenging due to the automatic progressive resistance always suppress the riders' power
Key Features
Constructed of corrosion-resistant aluminum roller and powder coated high carbon steel
Built with a wide base and low stance, our bike trainer provides you with the most solid and unshakable indoor bike training method. Sturdy mounting system and front-wheel support for added safety.
The foldable design renders this magnetic bike trainer rather simple to store without occupying much space when not in use.
Secured by four non-slip feet caps, prevents the trainer from displacing or damaging the floor during a workout. On each gear-like cap, the "teeth" are varied in thickness. You can rotate the cap and choose the right thickness to level the trainer.
#4 Dance Pole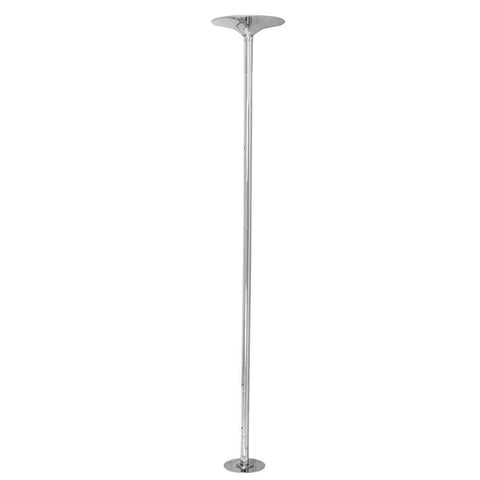 More Info
For ladies, a professional dance pole is rather a viable option. Pole dancing can quickly burn down calories, increase metabolism, tone muscles, improve balance and body flexibility, and build up core strength. Besides all these physical merits, pole dancing also brings benefits to mental health. It helps people gain confidence and embrace their inner sexiness. Yaheetech dance pole makes pole dance practices convenient for ladies who are too busy to go to the class. With a simple setup, they can practice in their living room.
Key Features
Selected material with fine workmanship: This dancing pole is constructed of seamless steel tube in glossy chrome finish, featuring smooth surface to ensure the safety of your every move.
Water & Rust resistant: High-quality chrome finish treatment guarantees excellent water and corrosion resistance of our dance pole extension, providing you with long-term use.
Friction fit setup: This dancing pole doesnot require bolting to either the ceiling or floor, which will not leave irreversible drilling marks. Easy to set up and can be conveniently moved around the house or disassembled if needed. Once properly assembled, this dance pole can hold up to 200 Kg / 441 Lb.
Adjustable length: 5-108.3 inches to accommodate different ceilingheight.
Two exercise modes:The amazing design of Yaheetech dance pole is that you can switch spinning mode and stationary mode through a twist on one screw.    
Specifications
Material: chrome-plated Steel
Dimension: 38.5 x 38.5 x 275 cm / 15.2 x 15.2 x 108.3'' (LxWxH)
Adjustable Height: 235-275 cm / 92.5-108.3''
Pole Dia.: 45 mm / 1.77''; Thickness: 2 mm / 0.08''
Max. Weight Capacity: 200 Kg / 441 Lb
 Outdoor Exercise Equipment
#1 Disc Golf Basket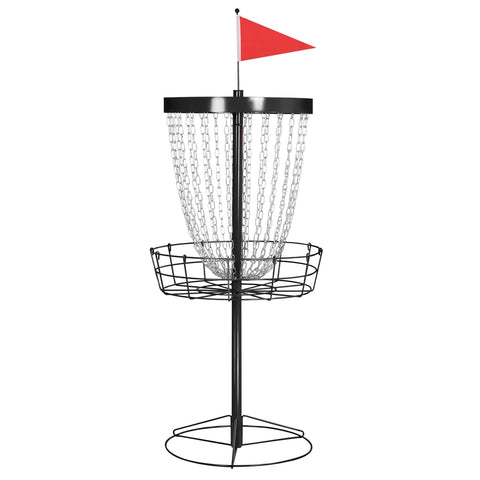 More Info
For its fun and low requirement for players, disc golf is one of the most suitable outdoor exercises that you can enjoy with the whole family. Every family member can join the game as long as he/she knows how to throw a flying disc. The basic demands for players are not high, but disc golf still involves techniques since it aims to throw the disc into the disc golf basket. Therefore, people can practice upper and lower body, aerobic exercise, and mental stimulation during the interesting playtime.
Key Features
Standard size: This disc golf target is measured 64x64x133.5cm/25.2x25.2x52.6'' and built to standard PDGA height and size regulation.
Heavy-duty & Anti-rust: This disc golf basket is constructed of powder-coated metal frame and galvanized chains. Excellent rust and weather resistance make this basket a durable disc sports accessory for outdoors
Stable & Sturdy: Solid basket contains 24 strands of heavy-duty chain for better catching; welded joints and big base frame strengthen the stability of this basket, no need to worry about tipping over by the hit from the disc or wind
Portable & Easy-to-store: Built in a lightweight yet sturdy structure, convenient to move and transport; can be simply disassembled into a flat and compact size when not in use, a water-resistant carry bag made of 600D polyester is provided for a better storage solution
Thoughtful design: Features with a 64 cm / 25.2'' basket for catching and storing the disc; comes with an eye-catching yellow flag on the top to help improve the accuracy of your throw; a durable carry bag that worth $49.95 is included for free for your convenience
Simple assembly: Simply-structured basket comes in 6 pieces (base, base rod, basket, top rod, chain belt, and cap), which only takes you a few minutes to set up under the detailed instructions
Specifications
Material: powder-coated Iron frame & galvanized chains
Dimension (flag not included): 64 x 64 x 133.5 cm / 25.2 x 25.2 x 52.6'' (LxWxH)
Basket size: 64 x 17.5 cm / 25.2 x 7 '' (Dia.xH)
Ground clearance: 59 cm / 23.2''
Base diameter: 55.5 cm / 21.9''
#2 Basketball Hoop System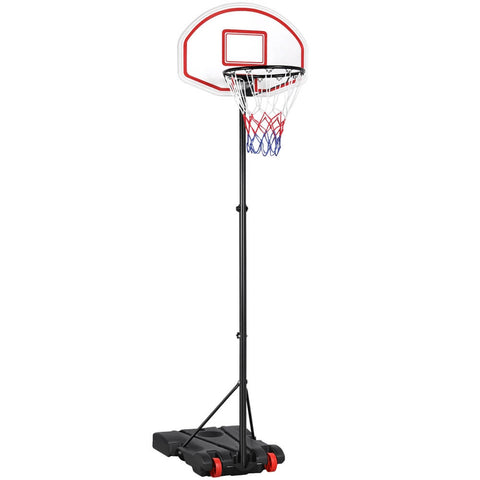 Do your kids like basketball? Why not set up an exclusive basketball hoop system in the backyard for them? Yaheetech height-adjustable basketball hoop system for children use provides a professional way to practice basketball skill and have fun.
Key Features
Built-to-last: Constructed of non-toxic antirust painted round iron post measured 3.8cm/1.5inch in diameter, strong PE backboard and base, and durable thickened synthetic fiber nets, this basketball hoop system adapts quality materials to ensure lightweight and good durability as well.
Water/Sand-filledbase with wheels: The base measured 73.5x55cm/29x21.7''

can be

filled

 with water or sand to guarantee good stability and safety for your every shot.

Equipped with two 10cm/4'' big wheels for effortless moving even when the base is weighted by stuffing.
Height-adjustable: The

telescoping post

features 6 adjustable

height

s

, 

easily adjusted from

159cm/5' to 214 cm/7'

 in 11cm/4.3'' increments.

 The adjustment system contains 2 hand knobs to fix the post, making

adjustment simple and easy for users

.

Collapsible design: When not in use or for transport, our basketball hoop system can be disassembled into flat pieces, which onlytakes up very little storage space in your garage or truck.
Play with it in everywhere:

This height-adjustable basketball hoop can be set at 7' high for the courtside play or lowered to 5' for kids and poolside or indoor basketball game.

Recommended for 5-13 years old children/teenagers whose height ranging from 3.3ft-4.6ft to use.

Molding storage area: We provide two slots for holding posts and the round recess between the slotsfor placing your basketball. 
Specifications
Materials: iron, PE plastic, synthetic fiber
Overall dimension: 73 x 73.5 x (196-251) cm / 2.4 x 2.4 x (6.4-8.2) ft (LxWxH)
Adjustable height between rim and ground: 159-214 cm/ 5-7ft
Backboard size: 73 x 49 x 1.6 cm/ 28.7 x 19.3 x 0.6'' (LxWxThickness)
Basketball rim diameter: 42 cm/ 16.5''
Base size: 73.5 x 55 x 13.5 cm/ 29 x 21.7 x 5.3'' (LxWxH)
Wheel diameter: 10 x 3 cm / 4 x 1.2'' (Dia.xH)
Maximum base weight (filled with water): 33kg / 73 lb
#3 Baseball/Softball Practice Net
More Info
If your family is a big fan of baseball/softball, this Yaheetech durable practice net is your best pick. It works well for professionals, baseball/softball fans and first learners. Whether you intend for adults or kids, it will be great for ball batting and pitching drills. Also, it has been treated to resist against scattered showers/winds so that you can use it either outdoor (e.g. backyard) or indoor (e.g. garage). Besides individual practice, a strong construction makes it a pretty fitting backstop for team training sessions in terms of hitting and fielding.
Key Features
Durable construction: This heavy-duty hitting screen net is constructed of a stable frame and rigorous mesh net. Its solid base structure has iron rods to support the net for holding your heaviest baseball/softball hits/pitches with good stability. The net side poles are made of glass fiber which provides the net with added flexibility and strength for your practice. The net itself is firmly attached to the base and side rods with cloth attachments at sides and strong rope ties on four corners for extra durability.
Universal measurements: Our 7'x7' baseball net has overall measurements of L: 253cm/8', W: 111cm/4' and H: 216cm/7'. The big net measures 226x216cm/7x7' (LxW) while the sock net takes up an area of 141x120cm/5x4' (LxW). Based on our R&D's substantial studies for years, these specifications (with ±5cm differences due to manual measurements) can best meet your training needs in baseball/softball exercises. 5kg/12lb net and 6kg/13lb gross weight make it easy for any grownups (even some kids) to carry around.
All-weather materials: This instant portable baseball net applies all solid materials. The powder-coated rods boast water-resistant features for your use in rainy sessions. The fiberglass rods are flexible enough to help the net better absorb heavy-hitting force and meanwhile withstand windy weather conditions. The knotless net mesh is mainly made of ultra-strong polyester and can take your hardest throw for years of use. Besides, the attachment cloth and assembly fittings are designed with high solidity for your long-term use as well.
Portable design: This collapsible baseball trainer comes with a carry bag for your convenience. With 2 well-sewn handles and a durable zipper closure, the 200g bag is made of 600D black oxford fabric for add-on durability and your carry comfort when you load it from one place to another on travel. Its black color goes well with the trainer net, and the 116x30cm/4x1'(LxW) size is specially designed to fit in the net. You can easily store the net and take it around as you like.
Easy setup: No tools are needed to set up our baseball practice aiding net. All the parts that require your hand assembly have been lessened and improved to the least for your benefit. All you have to do is follow the easy instructions and put things together with quick hook and loop fasteners and corner rope hooks. If you plan hardest hits for the net or use it in windy weather, our recommendation is you put 4 net pegs into the ground to fasten four net corners for better stability. All the assembly work can be done within a few minutes.
Specifications
Material: powder-coated iron, matt fiberglass, polyester
Diamond mesh net hole size: 4 x 4 cm / 1.6 x 1.6"(LxW)
Overall dimension: 253 x 111 x 215.5 cm / 8.3 x 3.6 x 7' (LxWxH)
Sock net size: 141 x 120 cm / 4.6 x 3.9' (LxW)
Big net size: 226 x 215.5 cm / 7.4 x 7' (LxW)
 Summary
To achieve the purposes of building up body and improving the family relationship, workout with family is a viable and effective option. For an indoor home gym, out of the space-saving and keep-the-room-neat requirements, you can prepare some basic yet functional equipment that can incorporate to exercise the whole body's muscle groups. For outdoor sports activities, the material, surface treatment, mobility and the ability to withstand the elements of equipment should be taken into considerations.
In this passage, we have recommended 8 pieces of cost-efficient and reliable workout equipment for indoors and outdoors. We expect you will soon embrace the healthy and cheerful life with your family pleased with the result and convenience of our products.
We hope this passage may do a little help! Yaheetech is a leading brand dedicated to making every family comfortable. Follow us on Facebook, Twitter, Instagram, LinkedIn and YouTube for more updates.