3 Tips For Upgrading Your Living Space With Accent Chairs
Have you ever felt that although much thought and money has been put into your space decorating and designing, there is still something almost interesting compared with those well-designed, tasteful houses? Chances are that too much of your effort goes into accumulating those fantastic elements and details; however, the unity of the color configuration, material mixing and matching, and style orientation are ignored. In other words, you miss a crucial element to coordinate your space and stress your style.
Now, let's talk about the matter of accent chairs. First, let me reveal a secret that only interior designers, especially those luxurious hotel designers, would know. If you want to improve the class or add luxury to a space, carve out a little room for cozy sitting. Accent chairs are always on their top list.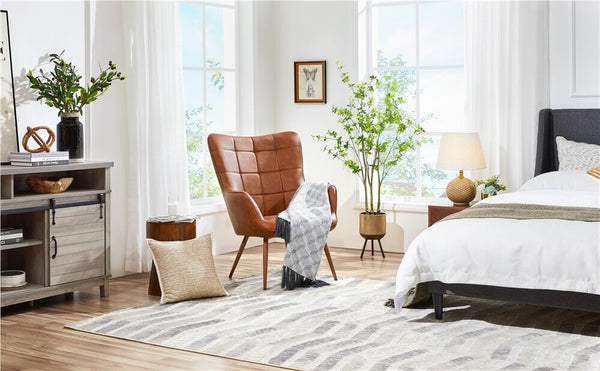 But what is an accent chair? Don't they look like an armchair or a single sofa? Yes and no. Accent chairs do have the same function as an armchair or single sofa, but that is not what they are all about. Accent chairs complement the decor in a space, creating a focal point, an echo of color or elements, or a contrast in a monotone room. They're the perfect solution to coordinate the details and stress the taste and personality of a space.
Here are three tips for giving full play to accent chairs' value for improving your living space aesthetically and practically. Just read on to make your efforts twice as effective.
I. Choose An Accent Chair
Master this essential design formula: Color & Pattern & Material complementary principle.
Whether an accent chair is suitable or not shall not just based on your preference. Here is a straightforward way to judge if an accent chair can fit into or improve your space.
Observe your space first. Check the color, texture, pattern, and materials of each part of the space where you want to place an accent chair, such as the wallpaper, floor, curtain, sofa set, window frame, and the visual central furnishing, saying, a TV stand, or even the lamp base.

Next, target the element you are most satisfied with, like the wallpaper color, the material of the fabric sofa, or the coffee table's wood material. You can also judge if adding another color can coordinate or balance your space.
If the accent chair you fancy contains any of the above-mentioned elements, there is a big chance it is the right choice. For example, if you are primarily satisfied with the warm orange color of your curtain or the chocolate-like, rich, deep oak bookshelf, then the accent chair with the same elements can stress and echo those elements. If you think your space's color is too pale, an accent chair in the saturated color of the same scheme can complement such color vacancy and add a stylish visual highlight.
Now, choose your accent chair!
Next, let's look at your chair options based on your understanding of this basic, essential interior design formula. An accent chair is a general term for several armchairs, single chairs, and single sofas that integrate excellent outlook design and seat function. Each of them has slightly different functional emphases. Here, we propose three practical options.  
 
Winged Accent Chair
Winged accent chairs like this Yaheetech Mid-century Armchair featuring upholstered high backs with "wings" extending from the backrest to the armrests. Sitting in them can give you a feeling of being safely caught from the back, making you can't help relaxing in cozy postures.
The tall back and wings provide a cozy and enclosed feel, offering a sense of security, which is perfect for curling up with a book or enjoying an afternoon snooze.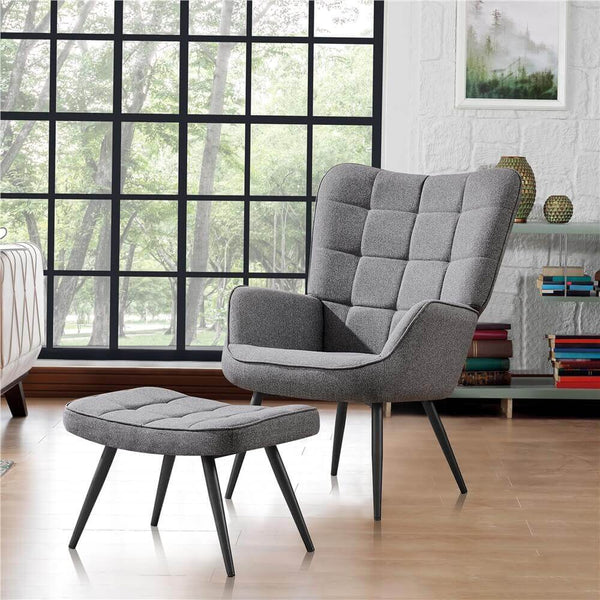 Club Chair
A club chair or a smoking chair, like this Yaheetech PU Leather Club Chair, is upholstered in textured leather with deep, wide seats, armrests, low back, and padding. Club chairs started to dominate not until the 1700s when people turned to the comfort, lounging, and style of chairs instead of pure practicality. Club chairs offer a sense of age, good taste, a luxury outlook, and super relaxation and comfort, making them ideal for leisurely lounging and improving the space class.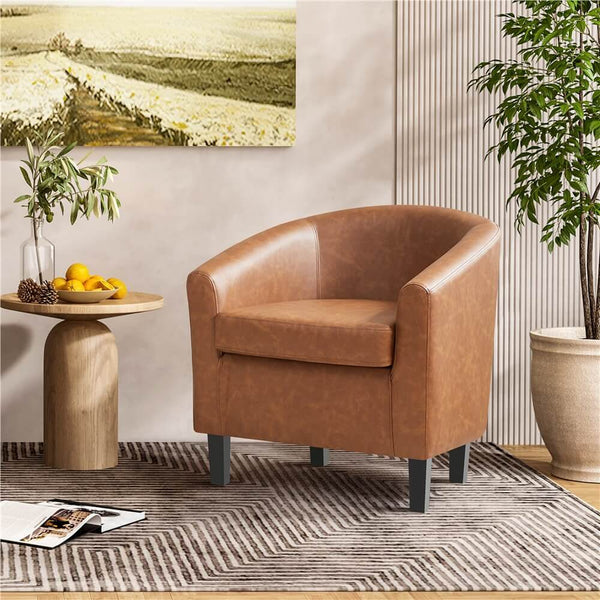 Lounge Chair
The design of loungers, such as the Yaheetech Modern Upholstered Lounge Chair, distinct from the other accent chairs, returns to the essence of a chair, prioritizing the scientific, ergonomic support for offering relaxation and comfortable sitting based on chic design, which is typically featured by a more reclined posture, deeper seating, and cushioned or thickly padded surfaces.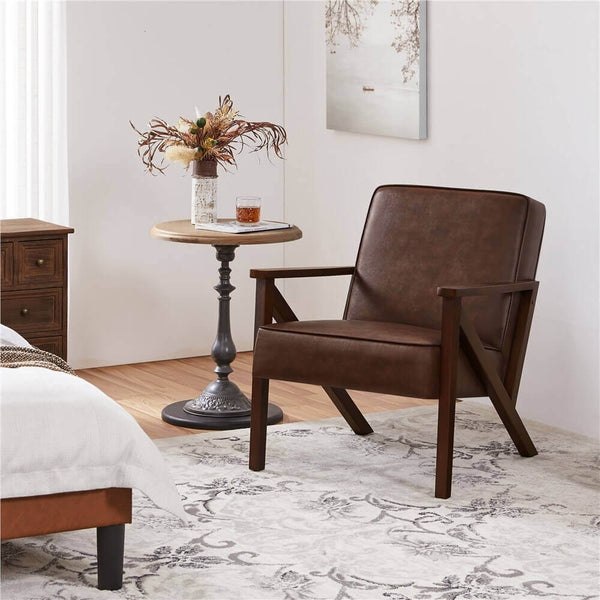 II. Placement & Arrangement
Now that you have targeted your satisfied accent chair let's find a perfect space to arrange it in your house. Here, we also have some classic, foolproof formulas for you.  

Take the Corner Advantage
Make the best of the corners in your room. Using your beautiful accent chair, you can take natural advantage of the half-surrounded corner space to create a cozy, undisturbed reading corner. An accent chair, a little coffee table, a lush green plant, a soft, snug blanket, and a soft-light floor lamp can create a romantic resting place for your living room, study, or bedroom.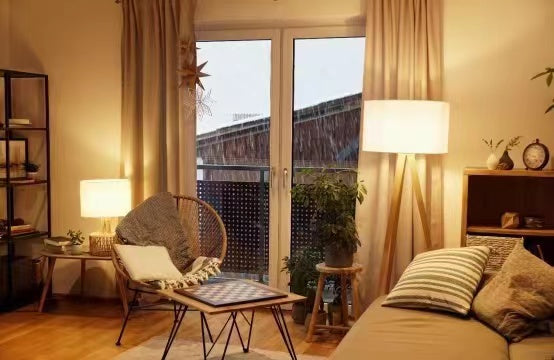 Never-went-wrong Symmetrical Arrangement  
The symmetrical spatial arrangement, most of the time, will not go wrong as the presence of a pair of wide, soft armchairs placed on either side of an end table would set a harmonious balance and create a cohesive and well-organized look that brings visual comfort. Besides, placing two identical chairs on two sides of an end table or a coffee table would release a formal and welcoming vibe to your guest, which is why such a layout usually occurs in the well-designed, luxurious reception room. Additionally, a symmetrical layout is common for interior designers to create a central focal point. More specifically, if a designer wants to stress out a firepit, he can place a pair of accent chairs in front of it to highlight and enhance it as the central point of the space.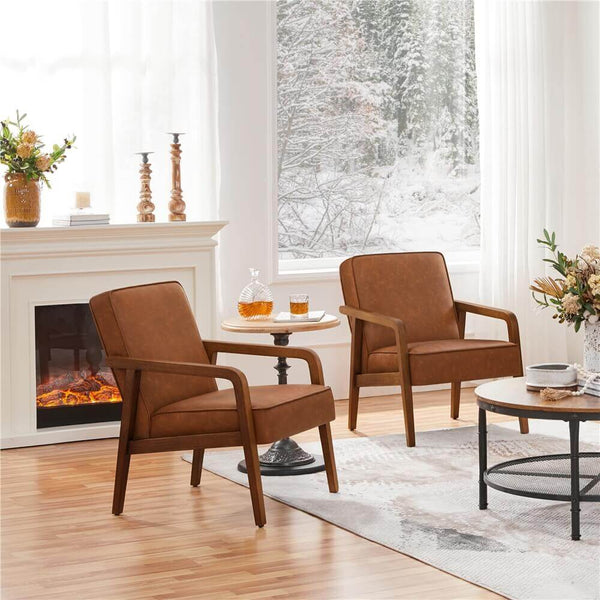 Statement Arrangement
If you get a bold-designed or gorgeous accent chair, it is strongly recommended to make it a captivating focal point of your living room by arranging it in direct line of sight from the entrance, making eyes automatically drawn to it upon entering your space.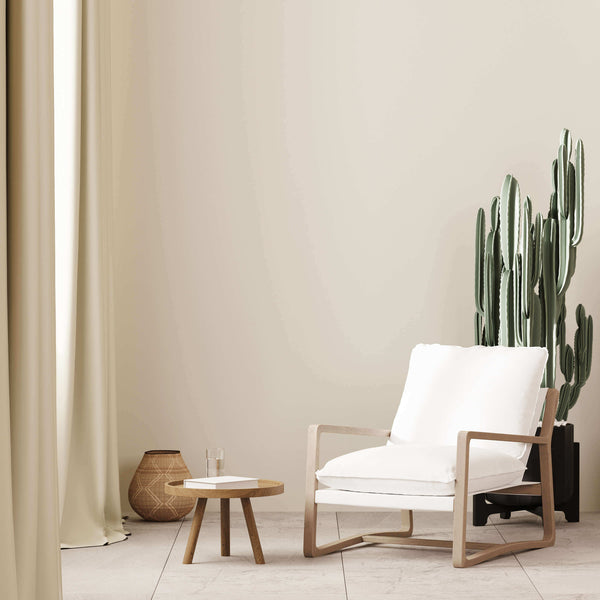 III. Interior Design Requires Longtermism
As a resident of a specific space, you would be wrong if you think that excellent interior design is a quick fix. The room is just like a plant that requires pruning now and then. As for the interior design, an accent chair is not a trump card——everything is fine once in position. It is more like a key conclusion idea that once identified. You will have a more precise and reasonable strategy to décor or improve your space without wasting too much time and money. In other words, you also need to fill the room with other decorative elements based on your daily getting along with your room. For example, add a bonsai to pair your end table or change beddings to match your fabric accent chair and the season's switch. In a word, keeping your space tasteful and cozy is a long-term project.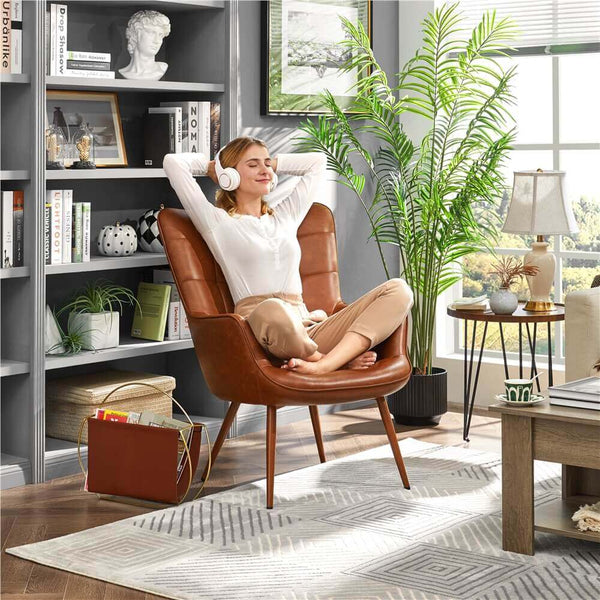 Crafting a tasteful, cozy living space requires specific design tips and skills. The accent chair solution we mentioned today is just one of them. We have a lot of practical solutions to craft your dream house. If you are interested, follow us; the sharing will continue.