Style 101: Incorporating Boho Living at Home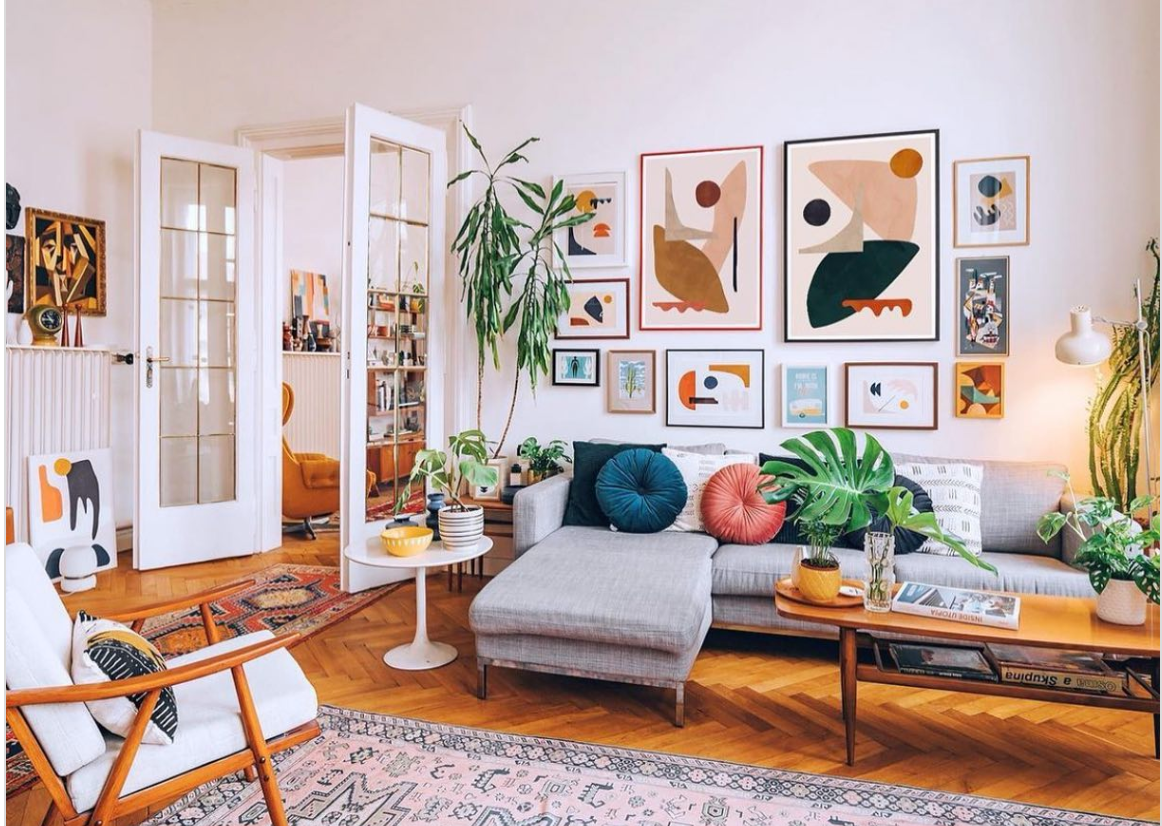 Welcome to the complete boho living guide! Do you love the bohemian style but have no idea where to start?
This comprehensive guide will cover the origins of this incredible design style, the perfect paint colors, unlocking the expressive potential of walls, ideal furniture choices, accessories to consider, examples of well-designed rooms and much more.
In case there's a certain topic you're eager to learn, below is what's covered in the blog:
What are the origins of the boho living style?
How to design the perfect boho living area
Popular boho themes: calm boho, bold boho, global boho & more
Inspirational interiors to ignite your inner bohemian
Before we examine how to create beautiful boho spaces that adopt this free-spirited and textural aesthetic, let's take a moment to learn the origins of bohemianism and how this influenced the trending boho living style we see in the world today.
What are the origins of the boho living style?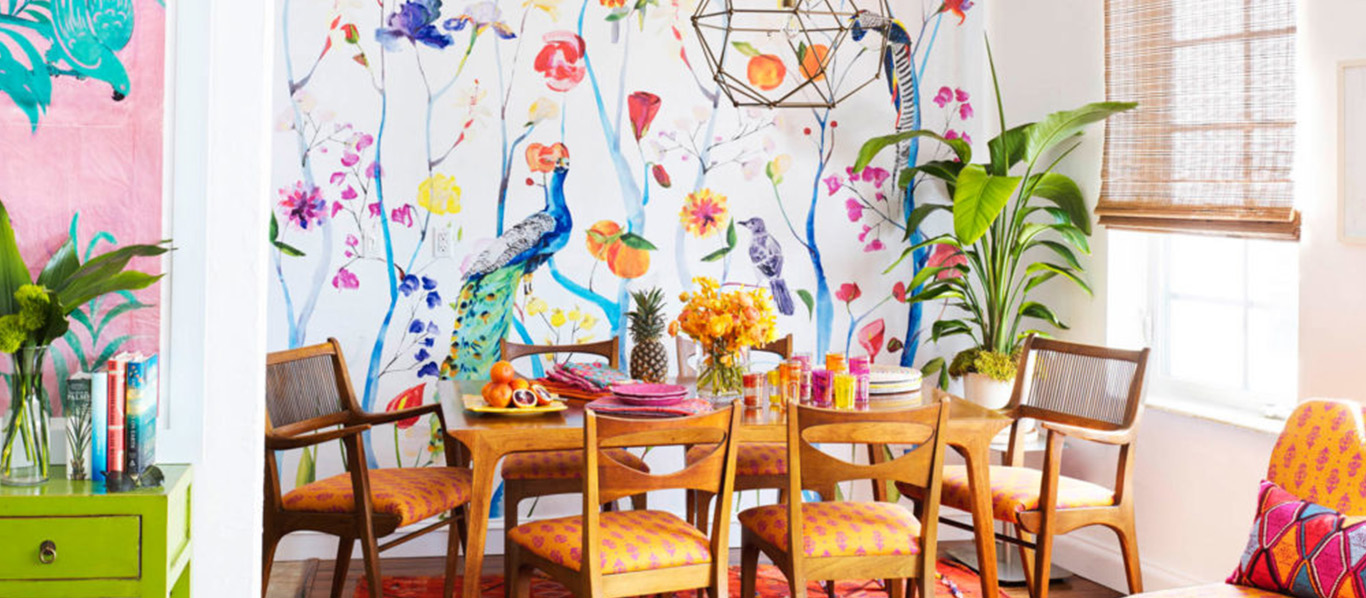 The term bohemianism first emerged in the late 19th century in France, during a time when creatives, artists, writers and musicians alike began to populate the lower-rent and lower-rate parts of Romani, France. These artists were frustrated by the constraints of middle-class living, which focused on propriety and conformity. They were enticed and inspired by the carefree and spirited nature of the Romani people.
Turning against the cultural and social restraints of the time, artists began to rebel, live flamboyantly, and romanticized this new freedom of self-expression and unconventional lifestyle. The artists began embracing new forms of music, art, spirituality, and literary works.
People began to liken these artistic types to wandering gypsies, and so the Bohemian counterculture was born. It became not an identity based on nationality but rather on lifestyle.
The boho living style in homes today has become a free-spirited aesthetic that takes an eclectic mix of cultures and artistic expressions and blends them into a style that can embrace bright colors, warming natural tones and textures, contrasting materials & artistic influences, and much more. All these different tastes from around the world meld into a welcoming yet unconventional theme.
Boho at its core breaks the mold of stagnant, sterile spaces in favor of warm, bright and inviting rooms, where each area has a point of interest and comfort.
Having explored the roots and enduring influences behind the boho living trend, it's time to delve into incorporating this captivating style into our homes. Embracing boho design provides the ideal choice for those who crave a stand-out living space adorned with expressive and distinctive decor.
How to design the perfect boho living area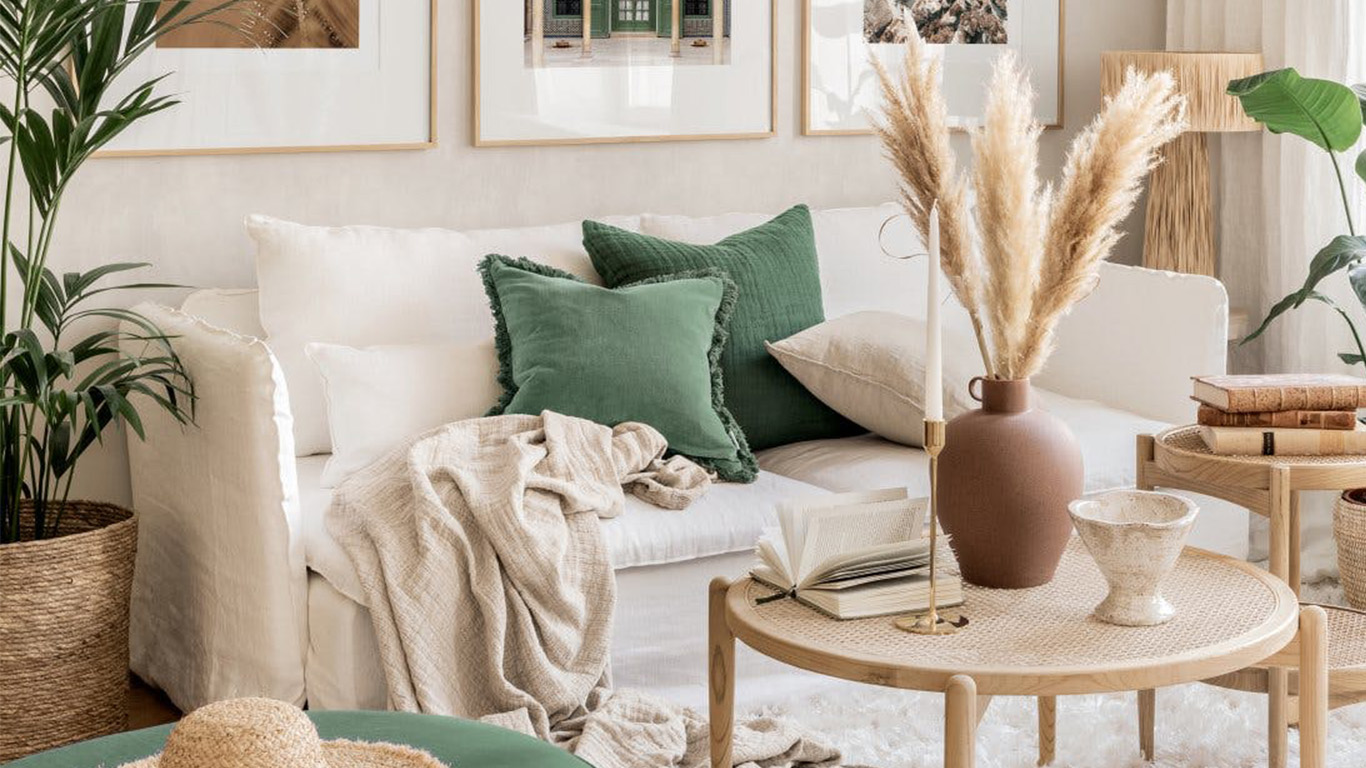 Creating the perfect boho living area is simpler than you think. The key: let loose. Allow yourself to be brave and explore the harmony of clashing patterns and colorways. Choose different types of furniture in varying styles and colors. Or go for a more boho chic style by choosing a more muted and calming colorway with plants and textural accents such as layered throws and cushions.
Regardless of the bohemian style you decide to embrace, always infuse your own personality and incorporate elements into your space that reflect your individuality, whether that's, for example, a set of colors you're fond of or a handful of meaningful artistic or global trinkets.
To get started, let's cover the 6 basic elements of boho design and the most seen themes within boho living areas.
Selecting the perfect boho color palette
Patterns and textiles
Natural elements
Layered and casual styling
Global & cultural influences
Artistic and personalized touches
Selecting the perfect boho color palette
Before looking at specific boho color palettes, let's first examine useful tools for planning your interior.
 The color wheel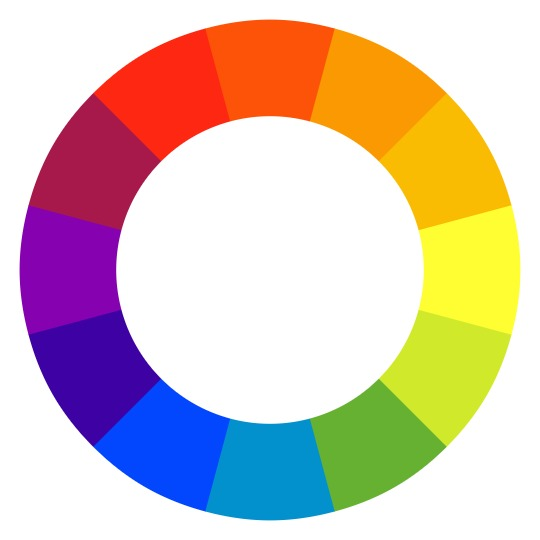 When designing one's interior, or really anything requiring color for that matter, it can be helpful to think of the color wheel. It instantly provides a visual representation of the color spectrum. And you can adjust how bright it is to get more interesting hues that are aligned with your ideas.
To effectively use the color wheel, one important concept to understand is complimentary colors. Essentially, they're just colors from opposite sides of the color wheel. But employed effectively, they're a surefire way to make an interior blend together. For example, you could choose: red and green, yellow and purple, blue and orange, and so on.
How many different colors you want in your interior is ultimately up to you. If you follow some basic guidelines, like choosing complimentary colors or a predesignated palette for the desired aesthetic, you'll be much more likely to create the space you envision. But the question remains: how do you ensure that a color in your eyes is the same as in someone else's?
Pantone color book
The Pantone color system is like a language of color. It helps designers, artists, print shops, and more all guarantee they're using a precise color.
Imagine this scenario. You say to an interior designer "I want rich, wine-red pillows and bright, sky-blue fabric for my couch". The definitions of "wine-red" and "sky-blue" are pretty general. Wine and the sky could look vastly different to other people. So how do we specify? With a Pantone swatch.
Using the swatch, you can coordinate with great precision the exact colors that you want. The Pantone reference materials will eliminate guesswork and provide the clarity necessary to accurately craft the space you imagine.
Now that we've covered some tools to help you create your desired interior, let's look more closely at specific boho styles. Here are several of our favorite color combinations to get your boho living transformation off to a great start.
Boho Chic Color Palette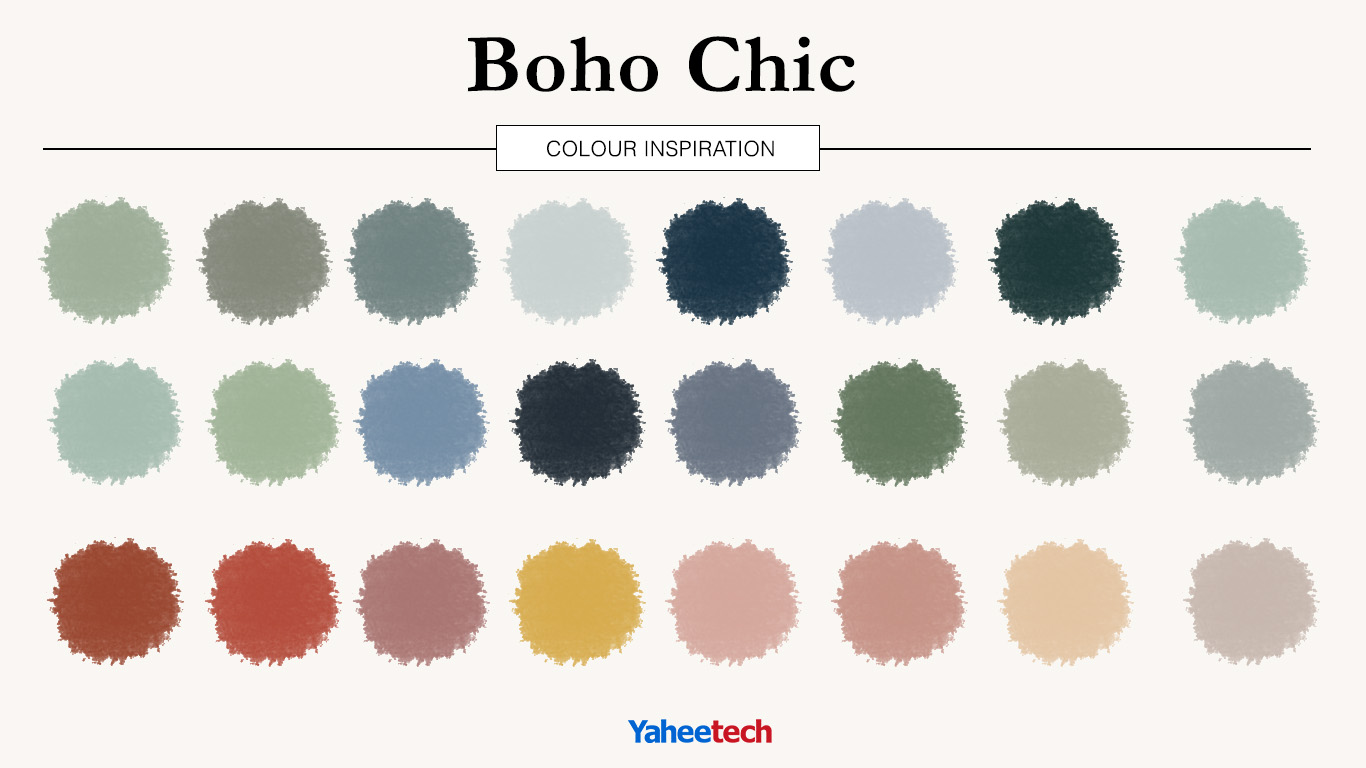 The essence of boho chic is incorporating aspects of the bold and neutral tones seen in boho interiors. This style is a mix of both chic and neutral that doesn't lose the fundamental boho vibe.
Neutral Boho Color Inspiration
Creating a neutral boho style involves combining the laid-back and eclectic elements of bohemian design with a neutral color palette. This style is more suitable for a serene, relaxing atmosphere.
Bold Boho Color Inspiration
Bold boho living is a vibrant, energizing take on the traditional boho chic style. It incorporates bold colors, patterns, and eclectic elements to create an energetic, stimulating and visually striking living space.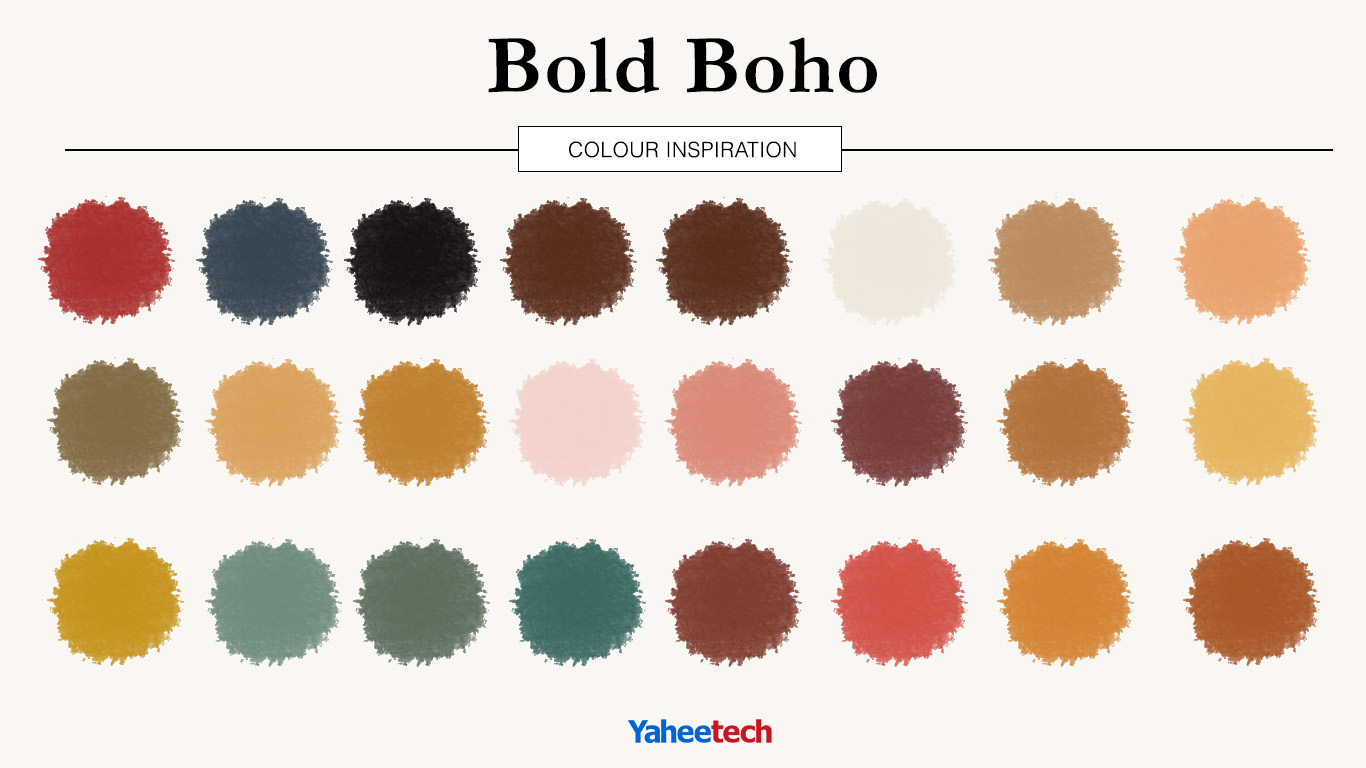 Now with an understanding of some of the colors in the boho aesthetic, let's look at the next steps for designing the perfect boho living space that will help get your creative juices flowing and ignite your inner bohemian!
Patterns & textiles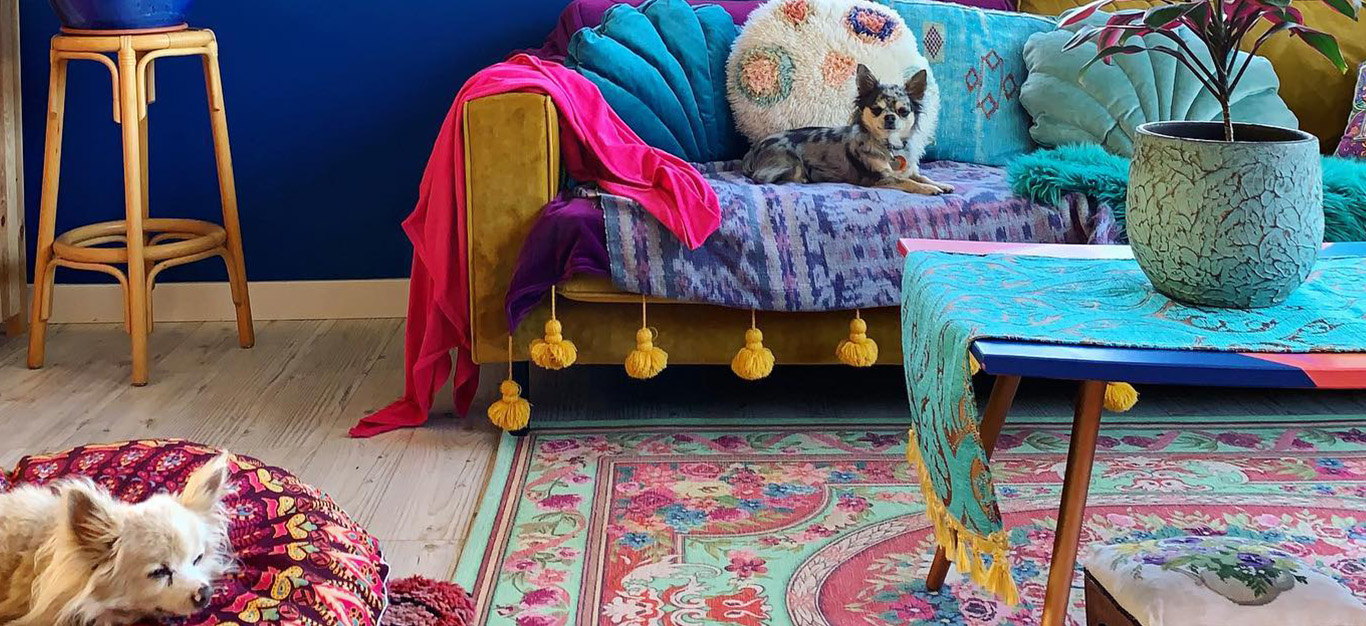 Mixing and layering various patterns is a hallmark trait of the boho living style. There are many vibrant and diverse patterns to consider for inspiration such as ikat, paisley, tribal prints, and Moroccan motifs, to name a few. But you may be wondering, what to layer?
Textiles, in particular, play a crucial role when designing a boho living space. They're a great candidate for layering. The textiles might take the form of tapestries, kilim rugs, embroidered fabrics, or macramé banners.
When applying multiple patterns, there are a few tips and tricks to consider. Try choosing patterns within a similar color group to ensure a harmonious feel while being consciously non-coherent in certain ways. One way to think about mixing styles is to stick to the design rule of three: 3 varying tones, 3 varying patterns and 3 varying sizes.
Selecting various patterns is not merely a matter of randomly picking three different fabrics and hoping they magically complement each other. For these patterns to harmonize, they must have a common thread, something that unites them.
Fabric designer Smith Höning aptly remarks, "Imagine a mix of black and white prints in various scales. Or a harmonious blend of turquoise, pink and green – in a large-scale floral, a medium stripe and tiny check." This is a great tip from Honing when selecting your fabric choices and sticks to the rule of three mentioned earlier.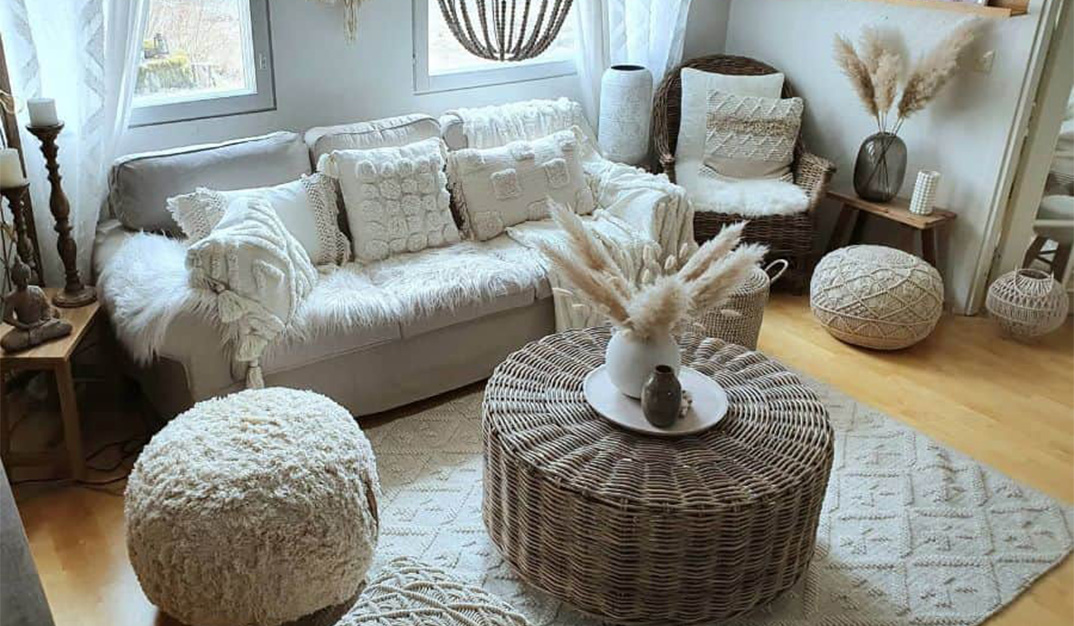 Let's say maximalist boho is not your vibe and you want a more serene and neutral boho living style as your design aesthetic. Consider using different textiles with neutral patterns rather than bold color combinations. Mix faux fur, soft leather, rattan, natural sisal, and sumptuous velvet with diverse cotton and chunky knit throws to create an inviting minimalist boho chic style.
The careful layering of different textiles throughout your home, whether in vivid colorways or muted tones, will create a relaxed and carefree atmosphere, which is a key characteristic of boho design.
Natural elements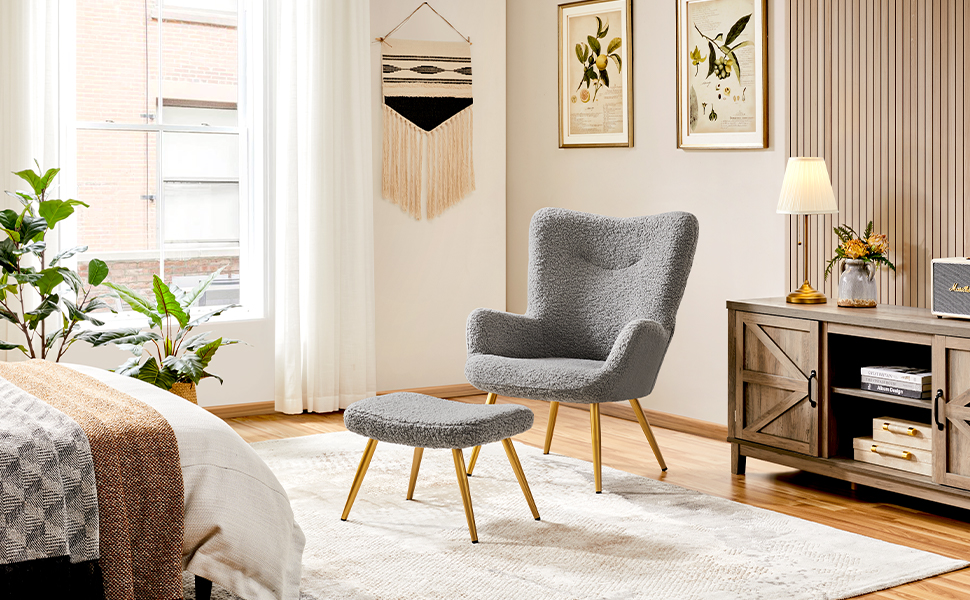 You've chosen your colors, theme and textural elements. Hooray! Next up let's invite nature into our spaces and embrace natural materials. Whether you lean towards a maximalist or minimalist style, integrating these elements into your home is quintessential for creating a beautifully designed bohemian living space.
Frequently used materials include:
wood
rattan
bamboo
jute
sisal
You can also inject natural elements into the accessories used within your living space, from fresh or faux plants, to Macramé wall hangings, to jute rugs and/or linen tapestries. These are just a sample of ideal choices for those looking for a classic and natural bohemian vibe.
Now let's get the inspiration flowing by exploring some of our favorite natural furniture & décor selections to complement any boho interior.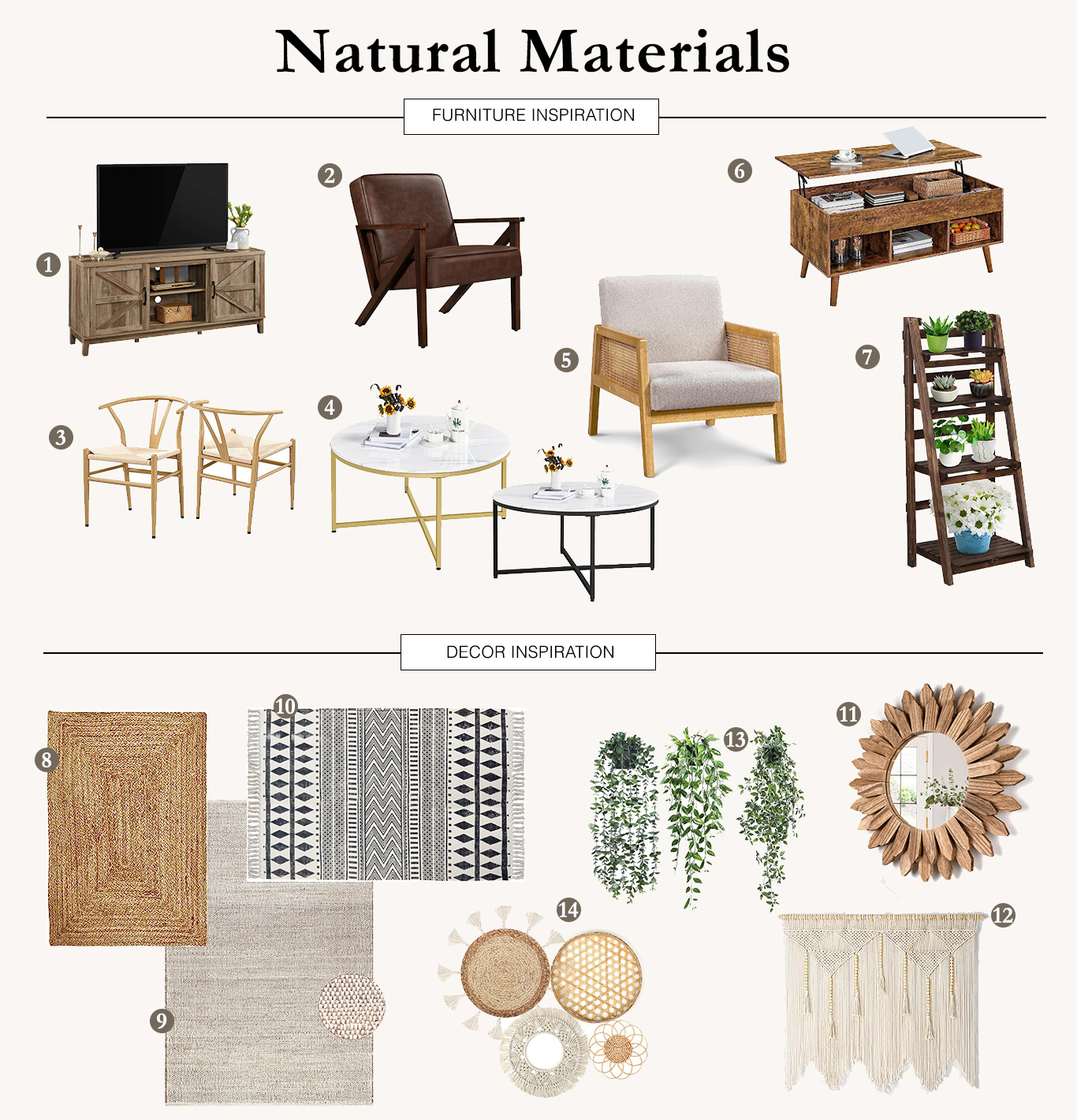 Layered and casual styling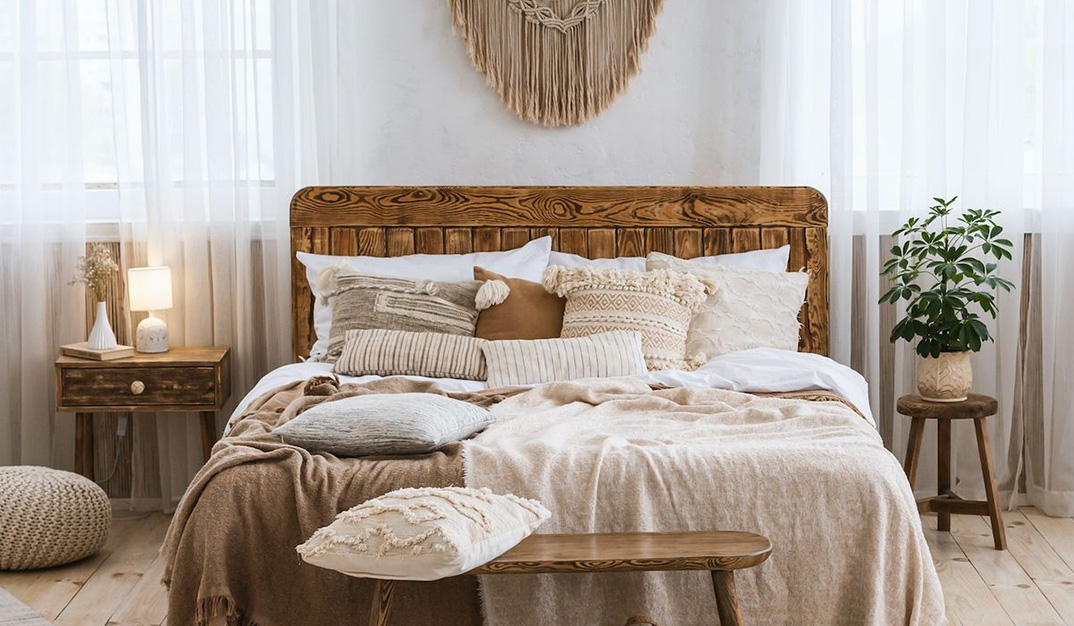 Creating layered and casual styling within boho living interiors involves incorporating a mix of textures, patterns, and elements that create a relaxed and inviting atmosphere. Let's look at a few ways you can achieve this layered aesthetic in your own living spaces.
One way is to mix and match textile types. By layering different fabrics, you'll add complexity and coziness to your space, and this is exactly what we want to achieve with boho interiors. Combine patterned rugs, throw blankets, and cushions in various textures like macramé, velvet, and knits. The key is to have a wide-ranging selection of pieces that complement each other.

Additionally, you can invest in floor cushions and pouffes as additional seating options. These low seating arrangements not only create a casual vibe, but add a functional and cozy touch to your boho living space.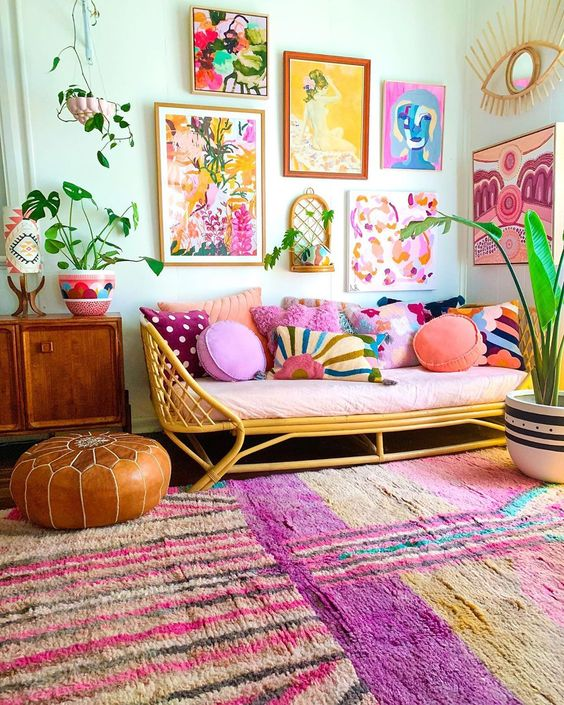 Maybe consider purchasing layered window treatments, such as combining sheer curtains with heavier drapes to achieve a textured window aesthetic. This not only adds depth to the room, but also allows you to control natural light and privacy in boho fashion.
Remember that layering goes beyond the application of fabric and can be achieved by your home décor selections. Arranging a gallery wall with an assortment of artwork, photographs, and prints using a mixture of frames in different styles adds to the layered and casual look.  
For instance, creating a gallery wall with symmetrically placed frames of the same type, shape, and size may create a sense of conformity, which goes against the boho living spirit that embraces relaxed and free-spirited placements. In contrast, in a boho interior, we aim for a more laid-back  feel.
The reference picture above serves as a great example of a boho interior. We can observe how the use of diverse frames and prints still maintains a cohesive theme, with consistent use of yellows, pinks, greens, and blues. This color scheme is also reflected in the fabrics, paint colors, and accessories within the room. Despite the room having an array of different textures, colors, and patterns, they all blend harmoniously, avoiding a chaotic appearance. Achieving this kind of synergy is precisely the goal of a vibrant boho living space.
Global & cultural influences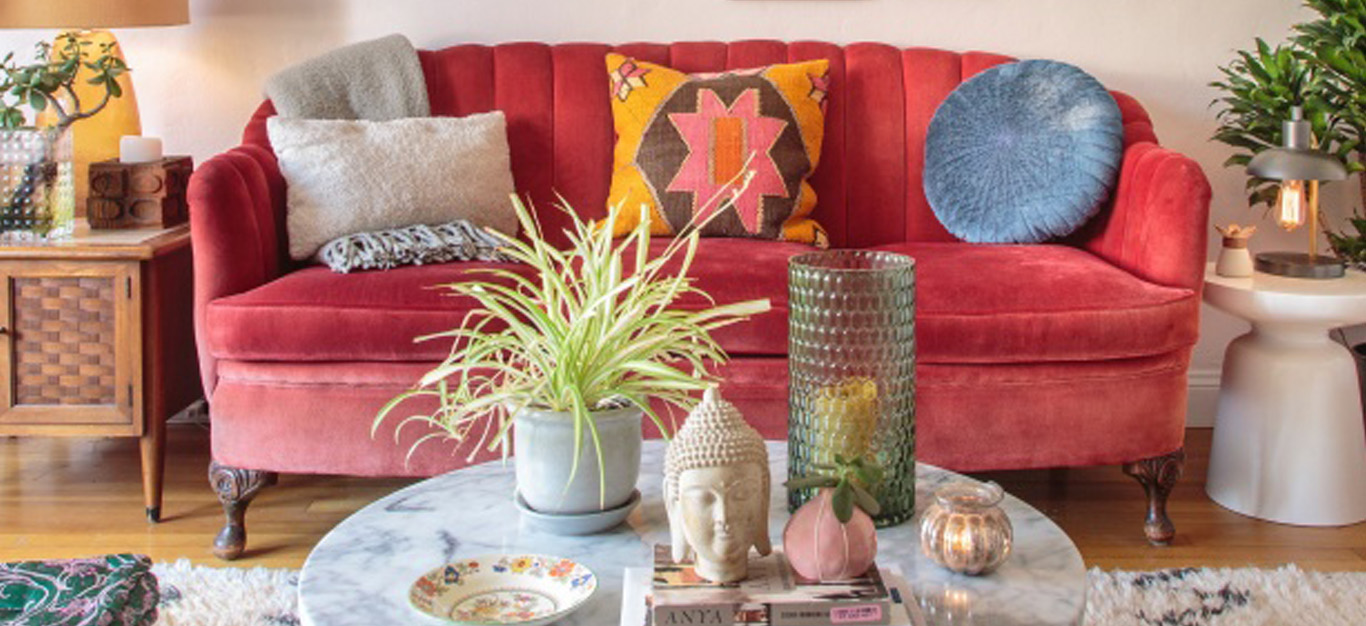 Boho living is highly influenced by travel and cultural diversity. It incorporates elements from different regions and styles, such as Scandinavian, Moroccan, Indian, African, and Southwestern design. This fusion of cultural influences contributes to the varied nature of the style.

Start to draw inspiration from the color palettes of different cultures. Rich jewel tones from India, earthy tones from Africa, or vibrant hues from South America can infuse your boho living area with a global influence (refer to the color palettes earlier in this article for further inspiration).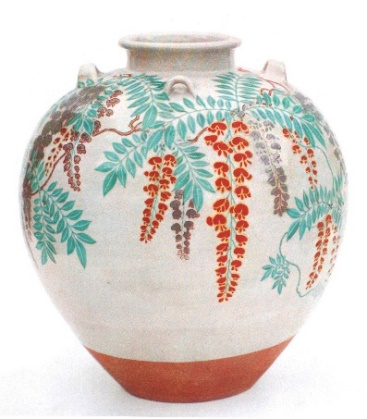 Incorporate artifacts and decorative pieces collected from your travels or sourced through thrifting, or even from online platforms like Amazon or Etsy. There is a plethora of decorative accessories readily available, catering to those seeking the boho vibe without being frequent international travelers. Consider items like African masks, Indian brass figurines, or Japanese ceramic vases, which can act as unique focal points and conversation starters.
To further enhance the ambiance, introduce greenery native to different parts of the world, such as tropical plants, cacti, and palms. This addition will evoke a sense of the exotic and create a lush natural atmosphere that beautifully complements any boho style.
Use traditional patterns and motifs from various cultures in your textiles, such as ikat, paisley, or geometric designs. These patterns can be featured on cushions, curtains, or upholstery.

Finally, carefully consider your choice of lighting. Choose ambient lighting fixtures inspired by global cultures, such as Moroccan lanterns, Japanese paper lanterns, or Indian-inspired pendant lights. These unique lighting options add a diverse touch to your boho decor.
Artistic and personalized touches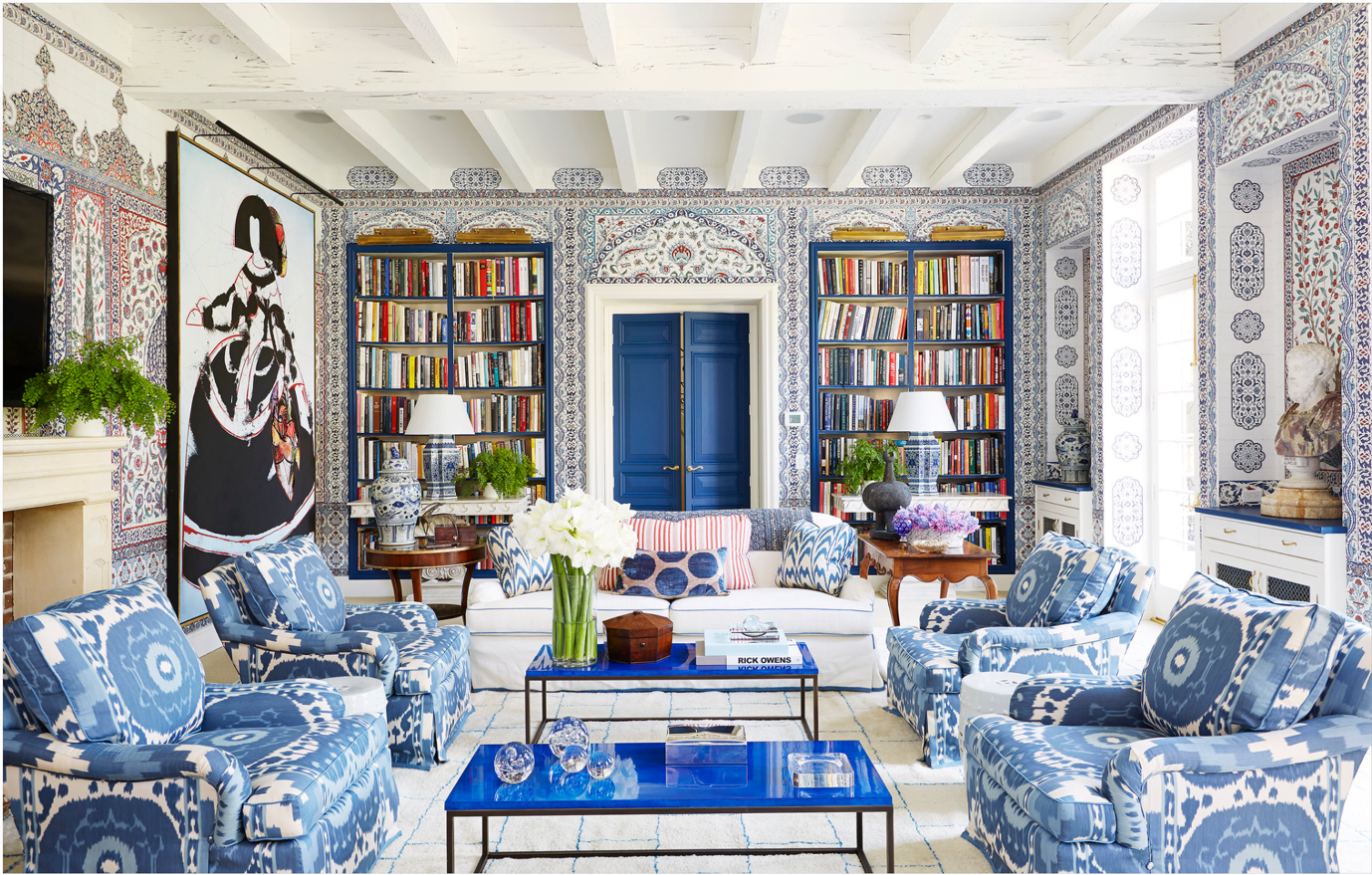 As we delve deeper into the various elements that blend to infuse bohemian style into your home, you'll notice more of the free-spirited nature of this aesthetic. This provides you with the freedom to curate a collection that not only revitalizes your space but also authentically represents your unique style, personality, and taste.
Here are a few ways to add a little "you" to your home, boho style.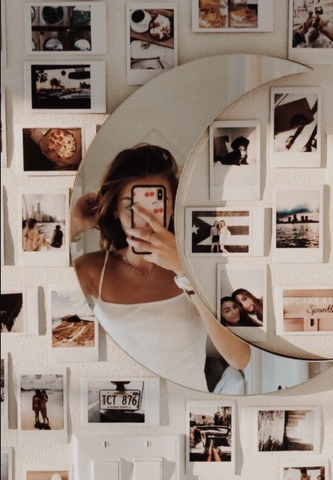 Why not create a gallery wall with a mix of artwork, photographs, and prints? Alternate frames and styles to add an eclectic and artistic touch. Or, you could create a Polaroid photo collage in the shape of a heart, square, or some other shape that better suits your plan. 
And on the topic of photos, you can consider displaying them on shelves or side tables, too. These could include snapshots from travels, adventures, or special moments. You can also put memorable quotes or words of affirmation in the frames, or even on your walls if they mean that much to you.
Another option is to inject artistic influence into your space by crafting your own personalized home décor items. You can make macramé wall hangings, hand-painted ceramics, or custom artwork to add a one-of-a-kind flair to your space. Alternatively, consider investing in handcrafted baskets, pottery, or textiles. These distinct pieces provide a personal touch to your boho decor while supporting local artisans.
Be sure to not overlook showcasing your collections or treasured items. Whether it's a handful of faded photos, seashells from a long-ago holiday, arts-and-crafts from your children, or whatever other meaningful group of mementos, showcasing your collections is a sure way to add a personal touch to your boho living space.
Finally, consider incorporating your hobbies into the space. If you're a musician, hang musical instruments on the wall as decorative elements. If you love gardening, incorporate plants and botanical decor throughout your space.
How you choose to adorn your walls is ultimately up to you, but what's most important to remember is to curate a theme from your personality. It's helpful to reference other boho interiors, no doubt. But boho interiors thrive on personality, and to be satisfied with your own, it's essential to embrace the freedom to express yourself and create a living space that truly reflects your unique taste and style.
Popular boho themes: calm boho, bold boho, global boho & more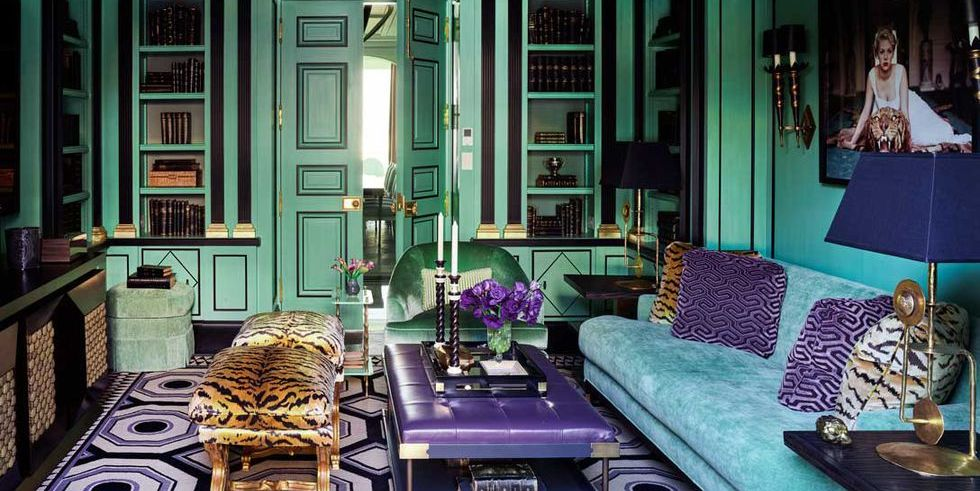 Having covered the top 6 elements commonly featured within bohemian interiors—ranging from colors, layering, global inspiration and more—it's time to delve deeper into their combined application. This will assist you in choosing the style that best suits you and your home while providing all the inspiration you need to craft a bohemian paradise.
Remember, bohemian design is:
Relaxed
Warm
Comfortable
Eclectic
"Lived in"
Colorful
Boho decor avoids:
Sterility
Perfection
Matching decor all over
No color
Calm and neutral boho living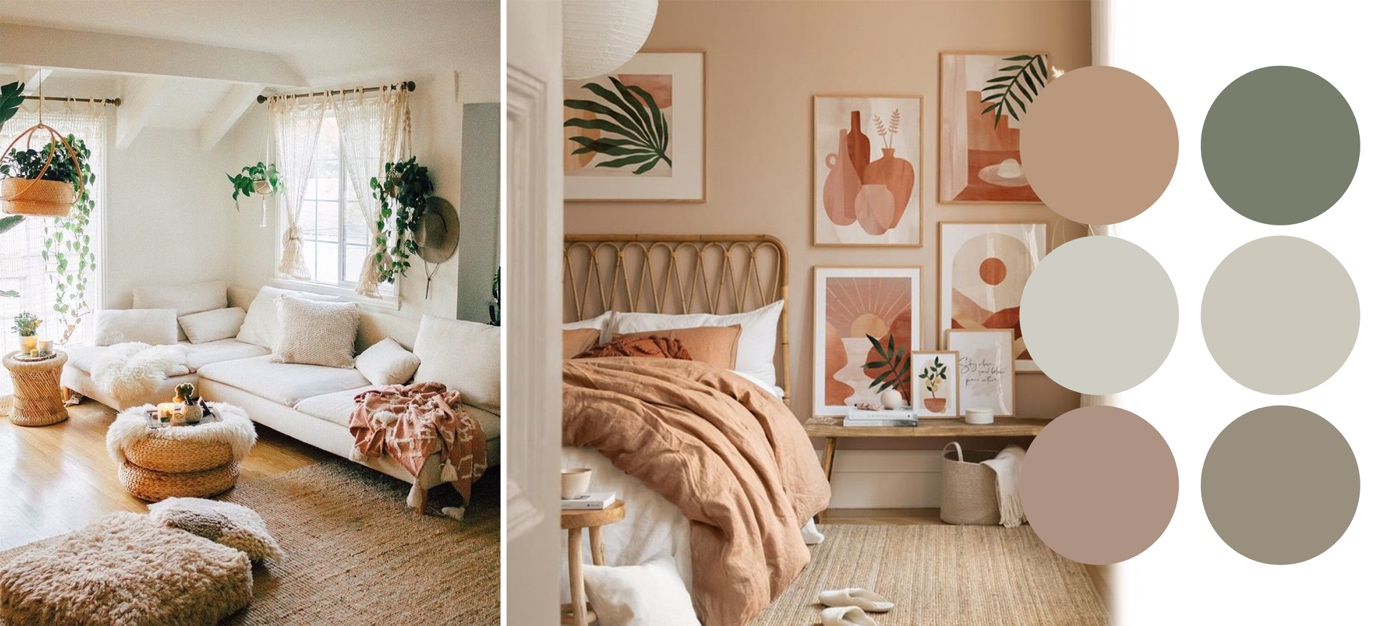 When you think calm and neutral boho living, you think carefree, comfy and, so, so relaxed. A thrown-together (yet carefully curated) space that's inviting and totally cozy!
Choosing from a neutral color palette is key. Introducing these neutral colorways across the fabric, upholstery and wall treatments will combine in harmony to evoke a truly calming and cushy style. For a little contrast, pops of color from plants, Aztec throws, rattan elements and artwork will help to add bohemian touches across your space.
The perfect place to start is by refreshing your walls with calming neutral colors to create a light, relaxing and airy vibe. Consider gentle color combinations such as: warm blush pinks, whites, serene greens and earthy terracotta for your backdrop. For more color combinations, refer to commonly used color palettes as seen earlier in this article.
Start to add decorative and soothing pieces such as gallery walls, neutral macramé wall hangings and soft and ambient lighting into your space to create a tranquil atmosphere. Add floor lamps with fabric shades or string lights for gentle illumination during the evenings – consider globally influenced lighting such as Moroccan or Japanese lanterns.
Include a mix of different sumptuous, calming and inviting fabrics, layering patterns and textures. Consider how you can implement texture with comfortable seating and neutral upholstery such as boucle chairs. Opt for plush and comfy sofas in soft, earthy tones. Layer with throw cushions in subtle patterns and textures for added style and coziness.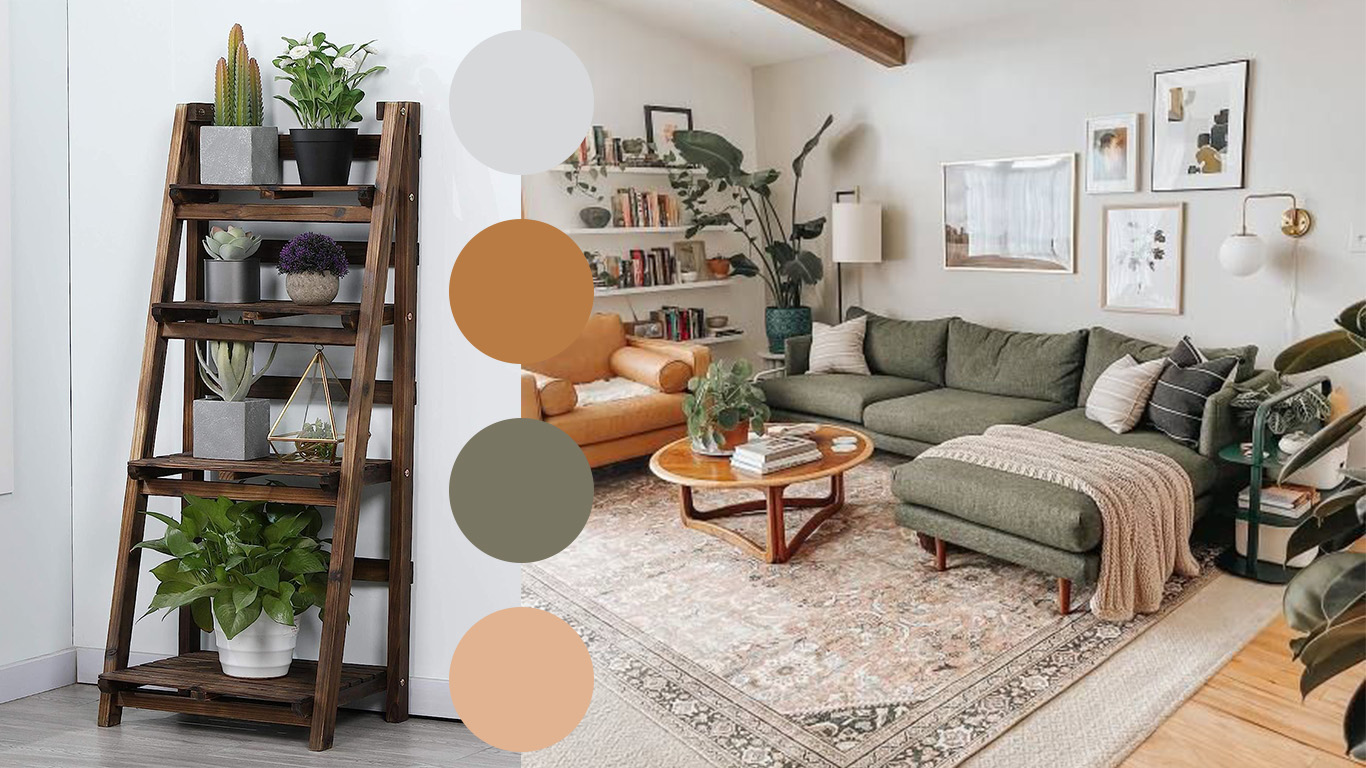 Bohemian interiors are inspired by nature and global accents. If you're a lover of plants, fresh or faux, add greenery to your home by placing plants on shelving or hanging baskets and planters to invite nature inside. Choose open and airy shelving in natural materials to complete the look.
Also consider introducing ottomans and pouffes for relaxed low-level seating options and additional layering. However, remember to embrace a minimalist mindset when decorating your relaxed boho living room. Avoid clutter and unnecessary adornments, focusing on a few key pieces that create a serene and uncluttered space.
5 tips to keep in mind when creating a calming and neutral boho living space include:
Stick to a soothing and neutral color palette
Mix and layer neutral patterns and fabrics
Stay minimalist – keep things basic
Choose relaxed and comfortable seating options
Use ambient lighting
Add personality through prints, plants, décor and collections
Bold and daring – contrast is key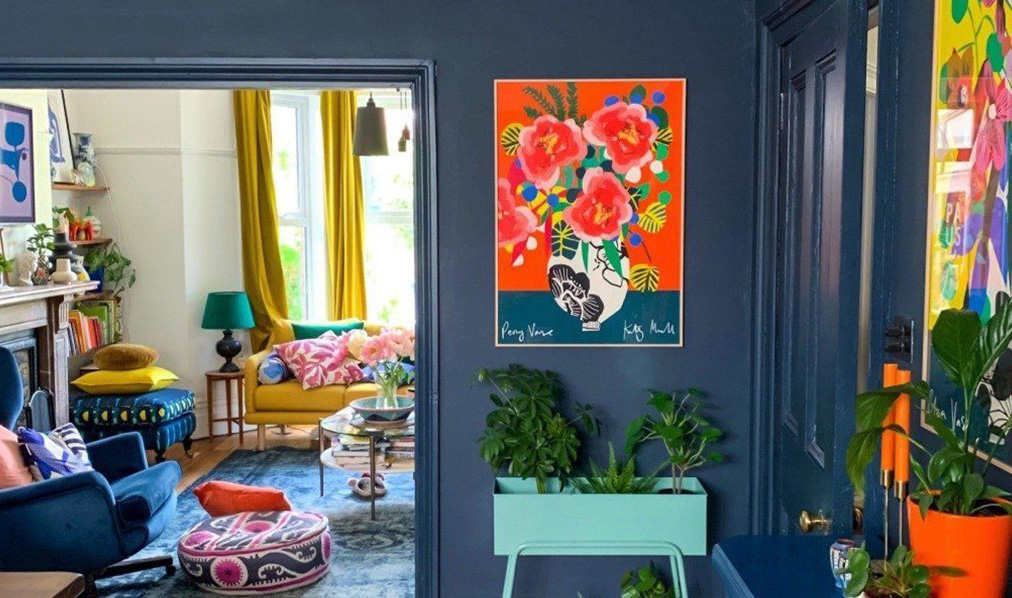 Imagine a more traditional boho interior adorned with striking color combinations, abundant layering, varied collections, and a truly inviting, one-of-a-kind living space. Now, the question arises: how can you bring this captivating style into your own home?
One of the key pillars of bold boho interior design is to create playful mixes of boho elements. Unlike the minimalist approach we discussed previously, a bold and more traditional bohemian interior is unapologetic with its vividness. Due to its playful nature, the bold bohemian fuses varying styles together, all while maintaining a casual tone.
For example, it's a rustic side table with mismatched chairs and African baskets on the wall in the dining room. Or a modern sofa with a hand-woven macramé wall hanging above kilim throw cushions in the living room. Maybe a collection of Polaroid prints right next to a light pink boucle chair, all in the presence of white fleece throws. While these combinations are just a few examples, they represent the exciting and surprising potential of bold boho.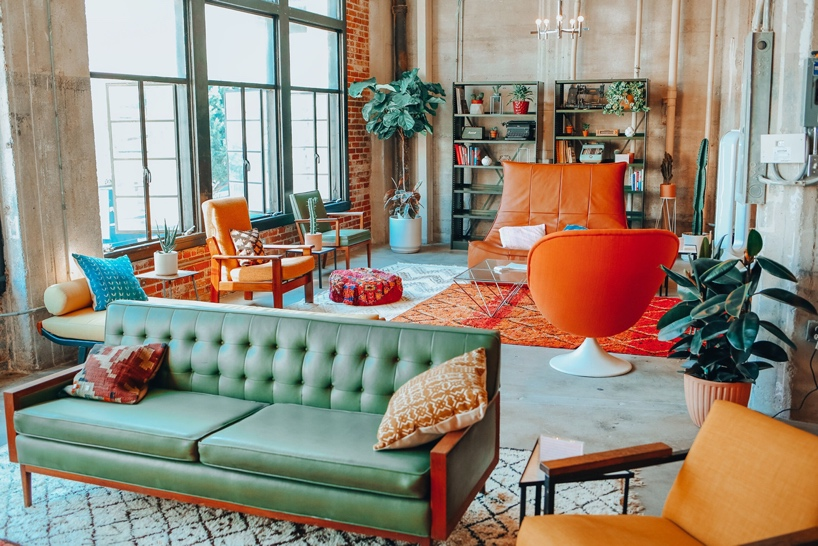 Worth mentioning too is that bold boho interiors embrace thoughtful maximalism, where you can truly add and express yourself through clashing colorways, bold wall and window treatments, and playful layering of colors and textures.
However, it's still important to be considerate with your choices to realize bold boho. You need to ensure each piece has a purpose, embodies your true individual taste, and matches the color guidelines you've got in mind.
Choosing a color palette for a bold boho interior comes back to those eclectic combinations discussed earlier in the article.
When we think of boho living spaces we gravitate towards the iconic colors within this design style, such as earthy greens, fiery oranges, electric blues, or saturated purple tones. But you're not limited to just these options. You can also consider bold tones from opposite sides of the color wheel. Remember, however, that you need to apply these hues across the entire space through your textiles, home furnishings, wall color and décor selections.
Implementation
The secret lies in choosing diverse patterns in a similar hue or those that share a common thread. As seen in the example above with the two contrasting rugs, the colors may differ significantly, but the patterns complement each other seamlessly. The colors found within the soft furnishings resonate throughout the paint colors, accessories, and exposed brickwork, beautifully connected by the presence of natural wood and lush plants. This common thread enables a bold and harmonious design achieved through thoughtful layering.
With your color palette selected and the basic principles in mind, you might feel uncertain about where to begin with a more maximalist interior. But remember, with boho style, the rule is there are no rules! It can be challenging to let go of the conventional organizational approach with one focal point, typical of more sterile decorating styles. However, bearing this in mind, a fantastic way to style a room in any aesthetic is to start with your statement piece and build around it.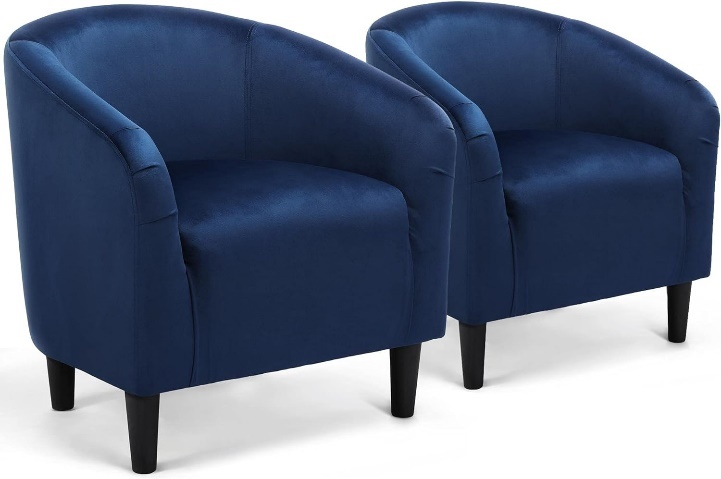 This principle applies wonderfully to boho living too! Choose your key pieces; it could be a unique piece of antique furniture, an eye-catching accent chair, a captivating mural, a picture wall, or striking wallpaper. By selecting your key pieces, you create a focal point and a foundation around which to design your boho living space. Embrace this freedom of expression and let your creativity flow!
Bold boho living has endless opportunities to experiment with color combinations and the careful curation of a layered aesthetic that is daring, unique and designed with your personal taste in mind. Embrace freestyle arrangement and organization. Avoid overly structured, perfectly sysmetrical layouts and allow yourself to place decor items and furniture in a visually appealing way that reflects your personality.
Here are our 5 top tips to keep in mind when creating a bold boho living space:
Go bold! Invite rich tones into your home (like with Yaheetech's blue accent chair, pictured above)
Choose clashing colors and unexpected combinations
Thoughtful maximalism is encouraged
Display collections with enthusiasm
Be considerate with your choices – but anything goes!  
Inspirational interiors to ignite your inner bohemian
We have covered the basic principles that combine to create stylish, relaxing and iconic boho living areas as well as the main aesthetic styles seen within boho interiors today. Now let's look at some beautiful boho living spaces to provide the final inspiration you need to start curating your interior.
Global bohemian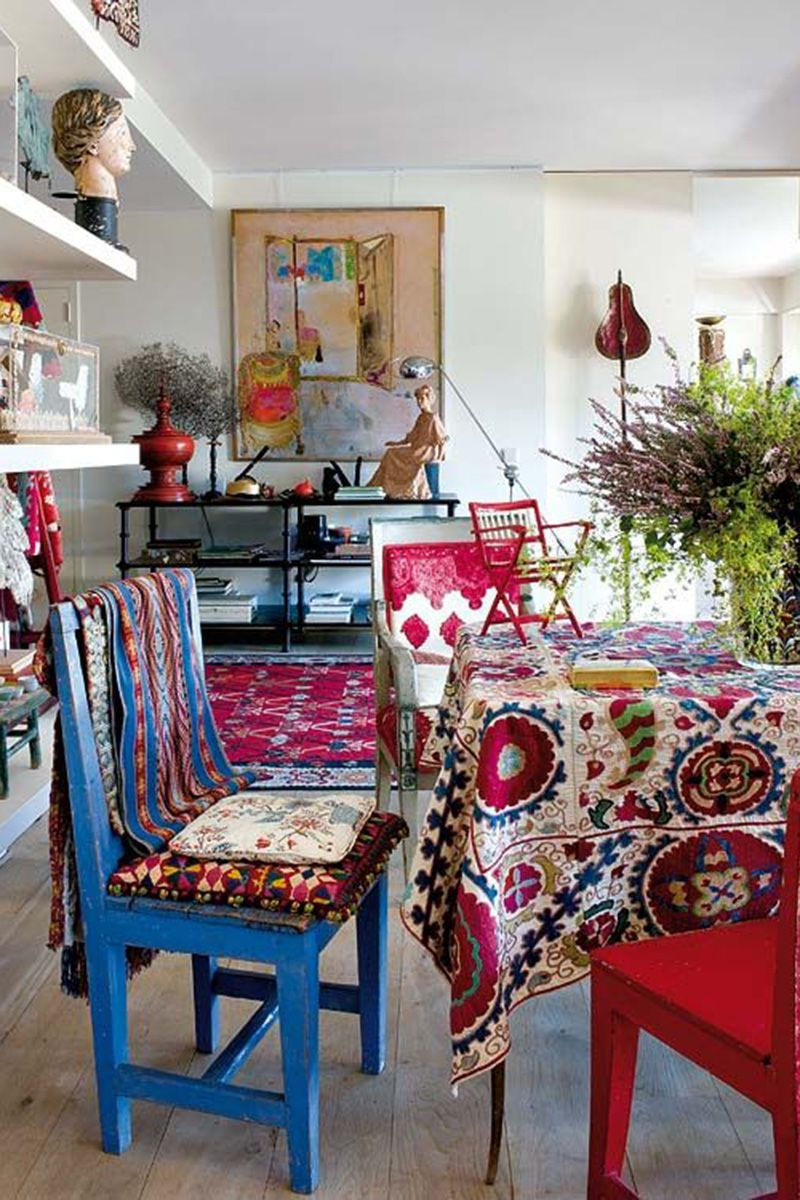 Taking inspiration from your travels around the globe, your plans to do so, or a culture you find fascinating, this bohemian chic style allows you to showcase your items that can serve as great conversation-starters.
In the world of boho living, you have the freedom to embrace minimalism or maximalism, but both paths can lead to an internationally inspired style adorned with culturally influenced pieces. This enchanting fusion creates a living space that speaks volumes about your unique taste, interests, and adventures.
Take this chic and diverse boho interior as an example. The collections take center stage and the wall treatments are kept simple and clutter-free, allowing the eye to be naturally drawn to the captivating and bold pieces that adorn the room.
A mesmerizing tapestry of deep red and blue tones weaves its way throughout the space, acting as a common thread that ties together the furniture, accessories, fabrics, and one-of-a-kind pieces. This harmonious interplay of colors and cultural elements infuses the room with character and soul, making it a truly eye-catching living space.
A collector's paradise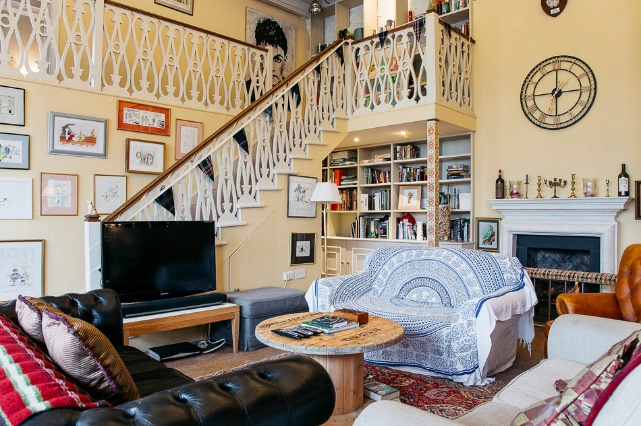 In this apartment-style living space, the relaxed and collective boho takes considered layering to the extreme.
A neutral color palette forms the backdrop, while the interior boasts a delightful fusion of patterns and textures. Gallery walls adorned with an artful mix of frames, an array of textiles, and diverse furniture pieces in varying fabrics and styles gracefully come together to create an inviting and relaxed ambience. The seamless blending of these materials and elements crafts a harmonious and welcoming interior that exudes charm, character, and comfort.
Calm and neutral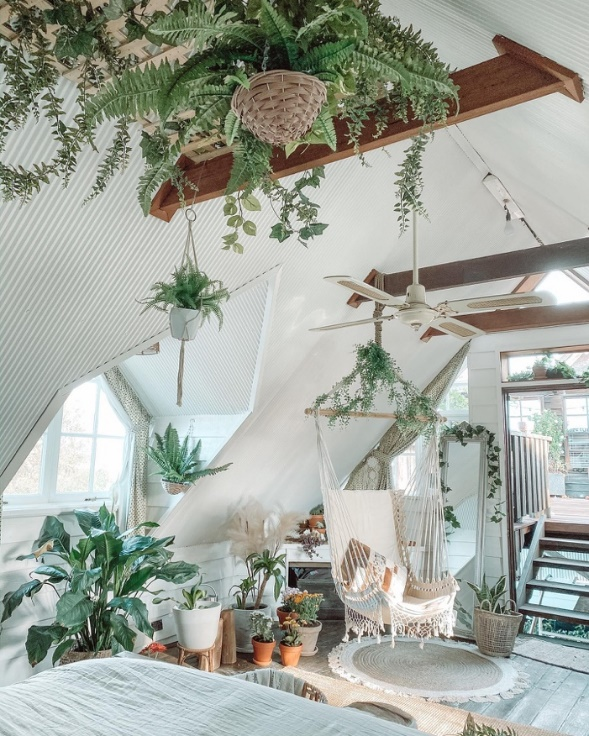 Step into this relaxing, almost forest-like boho living space, where light floods in and the high ceiling creates an inviting, airy atmosphere.
The abundance of lush greenery adds a touch of natural serenity, blending seamlessly with subtle patterns and wooden accents. The hanging baskets and planters overflow, bringing the outdoors inside and infusing the space with an enchanting botanical charm.
To complete the carefree and laid-back ambience, a beautiful hammock-inspired swing in a natural material beckons you to unwind.
This boho living area captures the essence of tranquility, making it the perfect sanctuary to escape the hustle and bustle of everyday life.
The Maximalist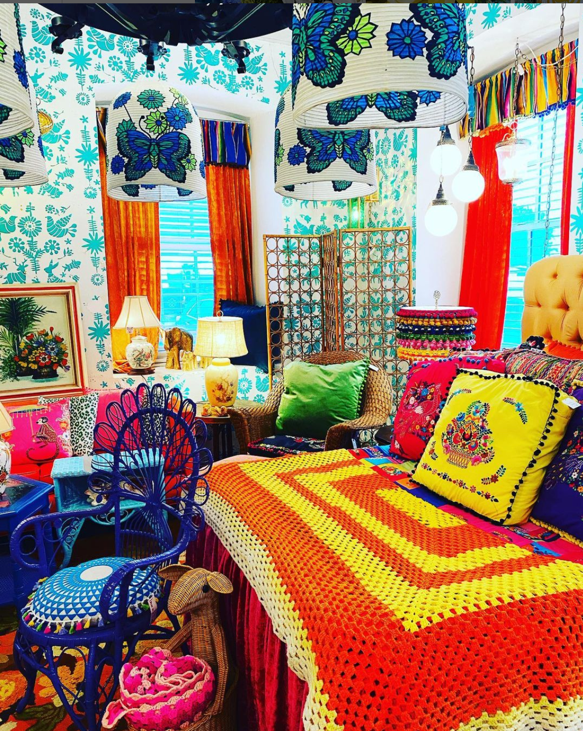 Introducing the maximalist boho interior, where rules are left behind and vibrant sensory experiences take center stage. This quintessential style thrives on clashing colorways and striking choices, forming a free-spirited and self-expressive explosion of creativity.
In the realm of boho interiors, no two spaces are alike, and the maximalist exemplifies this to the fullest. If you cherish patterns, adore colors, and revel in the freedom to wildly mix and match, then the maximalist style may be your boho living dream.
In our example, electric blues and vibrant tangerine oranges burst from the room, while reds, greens, and pinks grace the soft furnishings with scattered allure. Rattan accents and patterns aplenty add to the joyful tapestry of this maximalist boho paradise.
Dare to be bold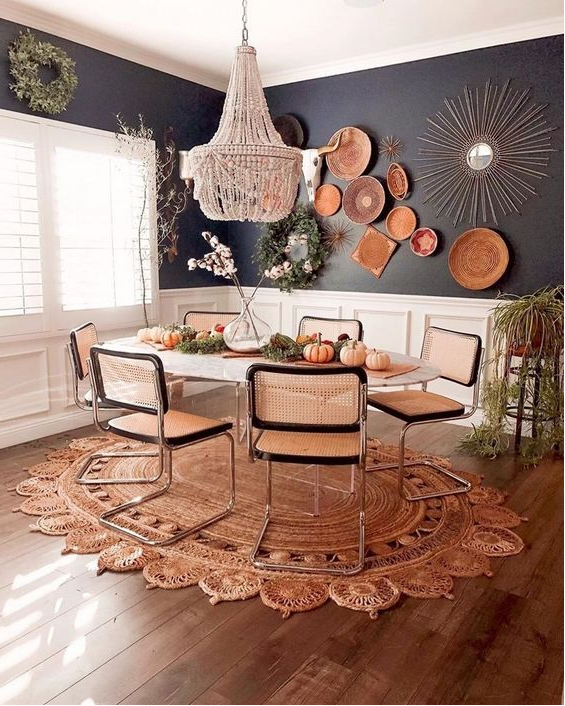 One of the most popular design aesthetics within boho is bold bohemian, which we covered earlier. In this example, this chic interpretation of the bold bohemian design centers around a rich & sumptuous deep blue wall treatment complemented by a natural layering approach throughout the space.
Various natural materials, like the inviting jute rug, rattan-style dining chairs, and Africa-inspired decorative plates contribute to the mesmerizing, layered look. Abundant and strategically placed  plants enhance the curated ambience even more, lending their organic charm to the setting.
To elevate and complete this exquisitely curated space, a large jeweled empire pendant light bestows an added touch of character and sophistication in the center of the room.
Comfy & Cozy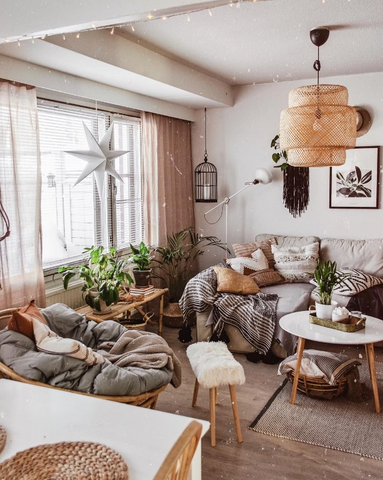 In our last interior example, we present a comforting and super laid-back boho design, where carefully layered fabrics and neutral elements come together with soft furnishings and relaxing furniture choices.
This example embraces the layered approach, embodying a more neutral bohemian style by incorporating culturally influenced decor selections. From the Asian-inspired woven bamboo pendant to the African-style macramé wall hangings and the tropical plants adorning the room, the space is a delightful blend of diverse influences.
Varied throws, sheer and layered window treatments, and mismatched patterns harmonize beautifully, creating a living space that warmly welcomes you and exudes a sense of serenity.
Conclusion
Throughout this article, you've discovered a myriad of expressive and diverse boho living styles. It's challenging to encapsulate the entire essence of boho living into one standardized look since its very nature revolves around individual self-expression. This uniqueness is what makes each boho living area truly one-of-a-kind.
But now, after discovering the core principles of boho living and seeing examples of how to incorporate this free-spirited design style, you're equipped to implement boho design yourself. Whether you prefer the subdued elegance of a neutral boho chic style or the vibrant allure of a maximalist aesthetic, both paths lead to a boho living space that reflects your personal taste and flair.
With the guidance found in this article, you'll be able to transform your home with ease. And remember: with boho living, the rule is… there are no rules! Have fun and let your inner bohemian loose!
If you're looking for some boho-inspired furniture selections for your space, Yaheetech has a fabulous range of natural wood pieces, boucle chairs, bright contrasting furniture & more to choose from and inspire your décor. Check out our range here: Yaheetech Home.
Is there anything else you'd like to know about boho living? Be sure to let us know in the comments!
P.S. If you've got any Yaheetech products in your newly styled boho living spaces, be sure to let us know! Tag us on Instagram @yaheetech_official and @yaheetechuk! We'd love to see and share your home and unique style!