Yaheetech Dog Supplies Wholesale in the U.S.
If you are a retailer or a drop shipper of dog supplies, you can contact us via sales@yaheetech.shop for a discount of wholesale orders or you can visit Yaheetech Shop for more information.

About Yaheetech
Yaheetech is an e-commerce company specializing in the sale of heavy goods, mainly covering Furniture, Outdoors & Gardening Supplies, Pet Supplies, Home Gym Supplies, and Health & Beauty. To meet customers' needs and market development, we have professional large-scale factories to provide quality products with affordable prices and warm service for you.
Just-in-time Delivery

Yaheetech has seven US-based warehouses located in Chicago, NYC, Atlanta, Huston, and LA to guarantee adequate inventory and just-in-time logistics efficiencies for various retailers and customers from all over the U.S.. Our logistics carriers, UPS and FedEx, promise to provide 2-5 workdays shipping service to you.
Yaheetech Dog Supplies

Pet supplies are one of our key products. If you are interested in the products for dogs, we have various dog supplies for you to choose from. They all are made from quality durable materials to provide dogs comfort and safety. Plenty of types, shapes, and sizes are available.

Lists of Yaheetech Dog Supplies
#1 Yaheetech Foldable Pet Swimming Pool Red Blue L XL XXL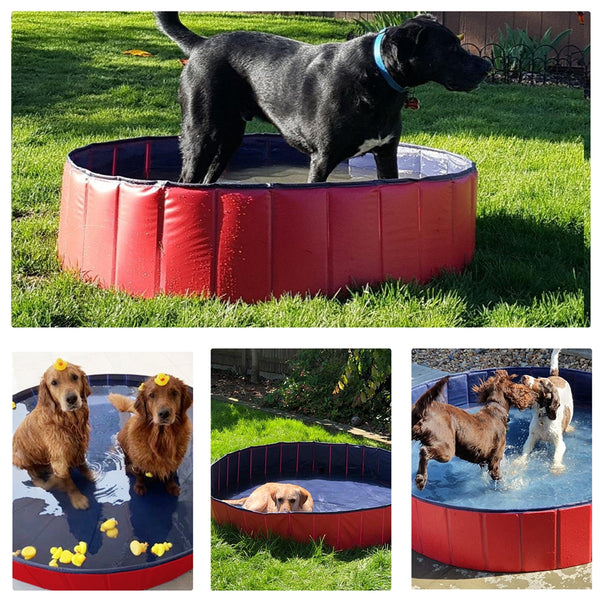 Key Features:
▷Durable PVC Material: The pet pool is made well of high-quality PVC and MDF boards. This dog swimming pool can work well for everyday use without leaking and collapsing, durable for a long time.
▷Waterproof & Non-slip: The dog swimming pool is covered by durable PVC material to provide a high-quality swimming place for your pets in the garden or on the beach. In addition, the anti-skid bottom of the swimming pool can prevent your pets/kids from slipping when they are splashing around in the pool.
▷Convenient Waterline: There is an attention line for the highest water level marked on the pool for your convenience when you pour the water. To ensure the normal use, please place the pool on the flat and smooth ground without sharp objects.
▷With a Drainage Valve: The dog bathtub comes with a plastic drainage valve at the lower position. It helps you drain the water away fast and conveniently.
▷Portable & Foldable & Space-saving: The dog/cat bathing tub featuring foldable and portable can be folded into a small portable size, easy to store and carry with for camping or traveling. It is not only easy for you to take out, but also space-saving for storage at home.
▷Simple to Use: Due to the simple structure, this pet swimming pool is very easy to use. No air pump needed. It is super simple to put the pool up and put away. After pets' bath, just open the plug to let the water drain and dry out, then fold it up.
▷Usage Scenario Indoors/Outdoors: The PVC bathtub is widely suitable for kids, cats, dogs or other pets that enjoy paddling or playing in the water. The waterproof and durable materials make sure that the pool can be used indoors and outdoors.
▷Various Sizes: We have various sizes for you to choose. Size L is suitable for dogs under 40inches like Beagles; size XL is suitable for dogs under 50inches like Saint Bernards, and size XXL is suitable for large breed dogs under 60inches, or for two small dogs together. It is for reference only. We recommend that you measure your pets and refer to the specifications before ordering.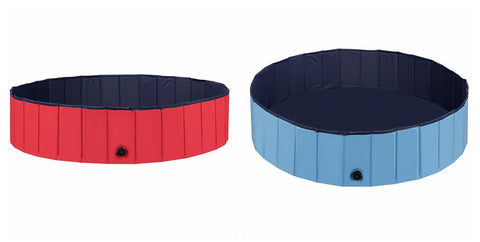 Specifications:

Material: PVC + MDF
Size L: 120x30cm/47.2x11.8in (Dia x H)
Size XL: 140x30cm/55.1x11.8in (Dia. x H)
Size XXL: 160x30cm/63x11.8in (Dia x H)
The size of each MDF board: 27.5x12x0.5cm/10.8x4.7x0.2inch (L x W x Thickness)
Color: Red/Blue
#2 Yaheetech Dog Playpen 8 Panels 16 Panels 32 Panels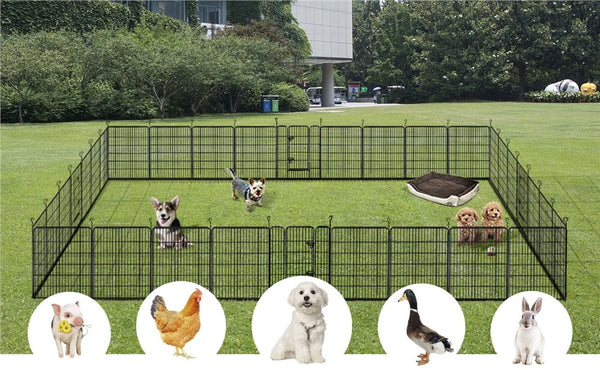 Key Features:
▷High Quality Material: This puppy playpen cage is made of strong and high-quality iron material, sturdy and durable to use, which ensures safe and long-term use
▷Safe & Secure: Latches on the door can keep your pets safe in the exercise pen. Upper rounded edges protect pets from injury.
▷Decent Size: This tall panel is ideal for small animals like puppies, rabbits, bunny, piggies, guinea pigs, ducks, small non-active dogs to play in; perfect for both indoor and outdoor use. We have different types, 8 panels, 16 panels and 32 panels and different sizes for you to choose.
▷Convenient to Store: This playpen can be disassembled into a flat and compact size for easy storing when not in use. Flat packing size is also convenient to transport. 
▷Easy to Apply: The modular fence is easy to set up within a few minutes under the detailed instructions. No tools required. Panels are connected by metal bars, which allow this dog playpen to be flexibly built in different shapes like octagon, square, and rectangle in different sizes by adding or removing panels.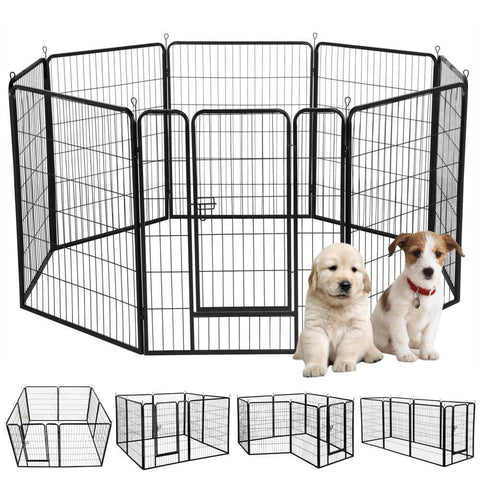 Specifications:

G.W.: 46 Lb / 20.85 Kg
Material: Premium Iron Black Finish
Overall Size (Rectangle): 96.1x32.7x40''/ 244x83x100 cm (LxWxH)
Each Panel (Approx.): 31.5x40''/80x100 cm (WxH)
Bar Spacing (Approx.): 5.7x1.5'' /14.5x3.7 cm
Door (Approx.): 15x32.3''/38x82 cm (WxH)
Tube (Approx.): 0.6x0.6'' / 1.5x1.5 cm
Wire Diameter: 0.1'' /3.5 mm
Color: Black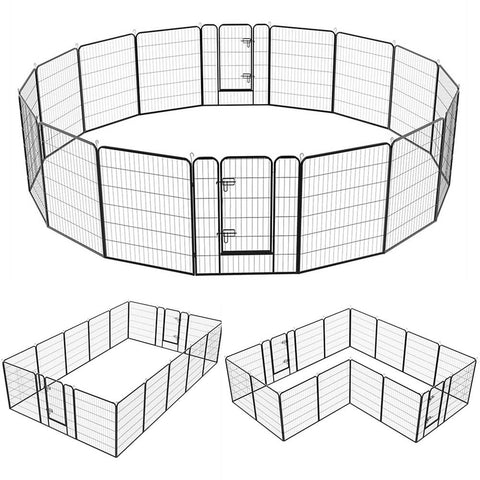 Specifications:

Overall Size (Rectangle): 96.1x32.7x39''/ 244x83x100 cm (LxWxH)
Each Panel (Approx.): 31.5x39''/80x100 cm (WxH)
Door (Approx.): 15x32.3''/38x82 cm (WxH)
G.W.: 42.6Kg / 93.7Lb
Color: Black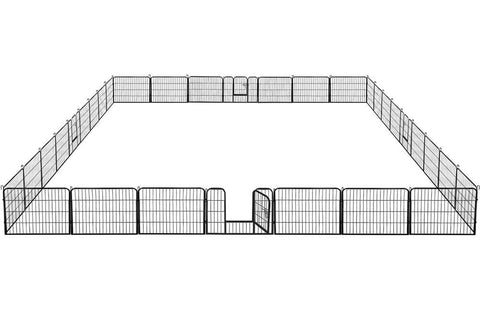 Specifications:

Material: Iron
Dimension for Each Panel: 80x60.5x1.6 cm / 31.5x24x0.6'' (W x H x Thickness)
Dimension for Each Panel w/Door: 80x60x1.6 cm / 31.5x24x0.6'' (W x H x Thickness)
Door Size: 41.6x38.2 cm / 16.4x15'' (H x W)
Mesh Size: 14x4 cm / 5.5x1.6'' (L x W)
Anchor Stake Size: 61x0.39 cm / 24x0.15'' (L x Dia.)
G.W.: 58 kg / 128 lb
Color: Black
#3 Yaheetech Rolling Dog Crate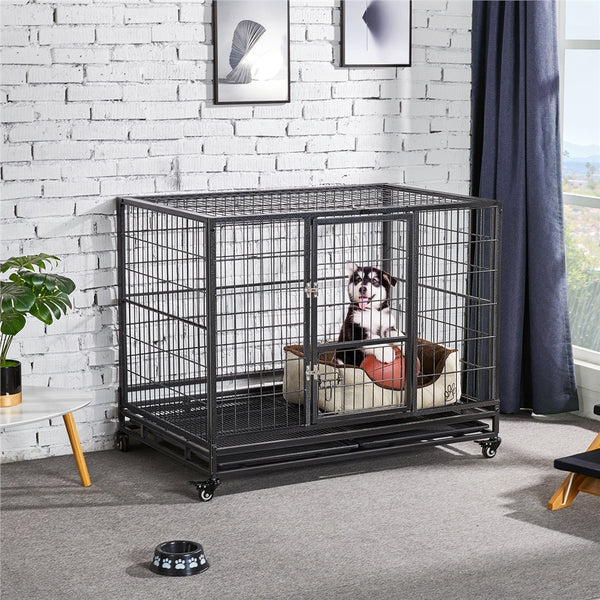 Key Features:

▷Suitable dog breeds: Our large dog cage is recommended for a large dog like German Shepherd, Golden Retriever, Rottweiler, German Shorthaired Pointer, Alaskan Malamute and medium dogs such as Labrador Retriever, Bulldog, Poodle, Siberian Husky, Australian Shepherd, Shiba Inu.
▷Safe latching system: We applied a 2-step lock to avoid your little talents opening the doors, which can effectively secure your pets when you can't be there to supervise them.
▷Make cleaning a breeze: Two separated slide-out pans beneath the cage can be removed and easily washed with water and mild cleanser; the grate between pets and pans prevents pets from walking/lying directly on the litter pans, ensuring your pets' hygiene and the tidiness of the crate.
▷Simple assembly required: This dog cage is delivered in a flat package. It only required a few minutes of easy assembly under the illustrated manual and a sturdy metal dog cage is ready for use! Necessary hardware and tools are included.
▷Foldable design: Our dog crate can fold down into a compact size for storing in slim and narrow areas when not in use, and of course, sets up within seconds for easy use.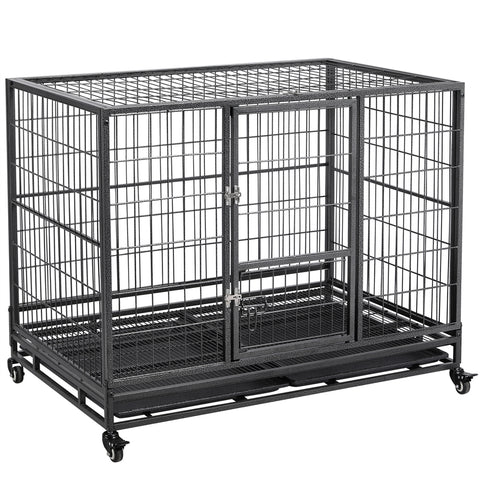 Specifications:

Color: hammered black
Material: painted iron, ABS plastic 
Overall dimension: 110x72.5x88.5 cm / 43.5x28.5x35" (LxWxH)
Folded dimension: 110x72.5x15.5 cm / 43.5x28.5x6" (LxWxH)
Cage size: 109x72.5x81.5 cm/ 43x28.5x32" (LxWxH)
Door size: 37.3x65.7 cm / 14.7x26" (WxH)
Feeding door size: 32x20.5cm / 12.6x8" (LxW)
Bar spacing: side panels: 3.5cm/1.4", 4.2cm/1.7"; base panel: 1cm/0.4"
Metal wire diameter: 3.3mm/0.1", 4.6mm/0.2"
Max. load capacity: crate top: 12 kg / 26.5 lb; crate: 53 kg / 117 lb
G.W.: 27.2 kg / 59.7 lb; N.W.: 23.4 kg / 51.5 lb
#4 Yaheetech Pet Grooming Table 32inch 36inch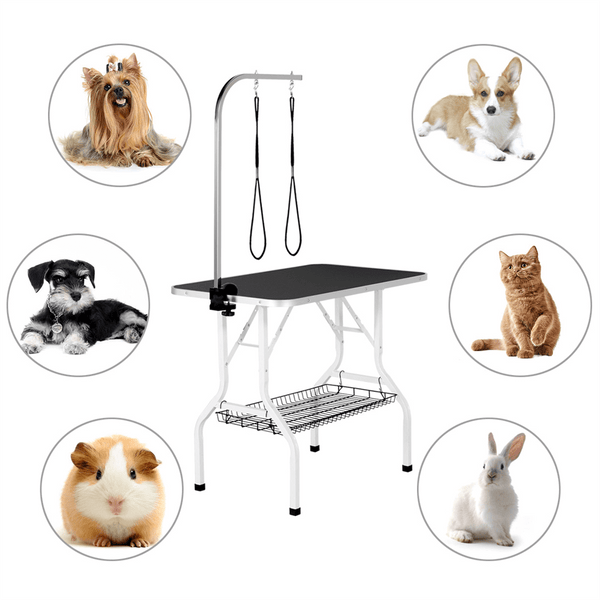 Key Features:

▷Pet-friendly Materials: This heavy-duty pet grooming table is made of E1 MDF board, electroplated arm, quality plastic/metal clamps, powder-coated iron frame and tool shelf. It features an easy-to-clean PU covered tabletop with antiskid texture to make sure your pet feels comfortably secured while being groomed. All these ensure that the whole table doesn't produce any substances or odor emissions that would be harmful to your pet's health.
▷Multifunction Arm: The grooming arm height can be adjusted by the clamp so that you can adjust it to what fits different sizes of your pets. Also, it sits on the arm clamp which can be detachable, so you can clamp the arm on other matching tables if necessary. In addition, two grooming loops are attached to the arm to help you keep the pet in place on the table when you bathe, dry, brush, clip or trim them.
▷Strong Load Capacity: A sturdy construction designed to support a load capacity up to 100kg/220.5lb, this heavy-duty pet grooming table can be basically used for most pet breeds from small to medium-large sizes. No matter you need one for home use or pet store/salon work, this well-priced grooming table will be a great fit for you!
▷Easy Assembly: Don't worry about the assembly! This dog grooming table is almost pre-assembled when arriving at your door. Unfold the legs, simply follow the easy-to-read user's guide, install the grooming arm to the place that works best for your pet, and the work is done! It takes you no more than 5 minutes to put it in use!
▷Folding Design: This portable pet salon table has goal post style molded legs that can be folded up in the center. The whole lightweight piece is very suitable for distance transportation. There is an attached strap at the bottom of the table to make it easy for you to carry the whole piece from one place to another.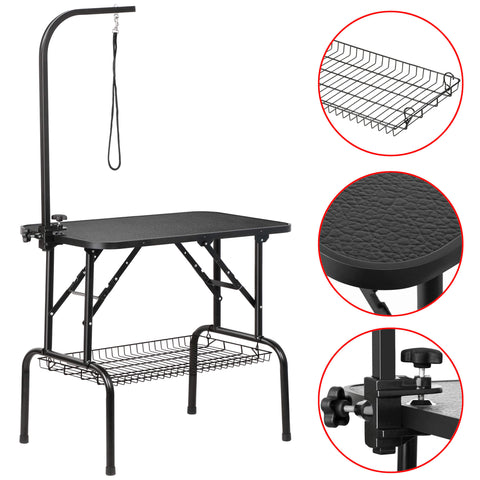 Specifications:

Dimension: 32x18x30 inch (L x W x H)
Mesh Tray Size: 26x15 inch (L x W)
Adjustable Arm Height: 31inch
Weight Capacity: 220lb
G.W: approx 24lb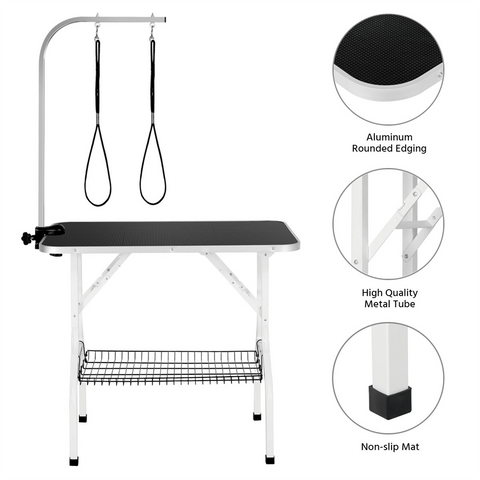 Specifications:

Material: MDF, PU, aluminum, iron
Color: as the product images shown
Overall dimension (L x W x H): 91x61x159cm/35.8x24x62.6''
Tool shelf dimension (L x W x H): 65.7x37.5x3.7cm/25.9x14.8x1.5"
Load capacity (max.): Grooming table: 100kg/220.5lb; Tool shelf: 10kg/22lb
N.W.: 13.4kg/29.5lb; G. W.: 15.2kg/33.5lb
Thanks for your time and interest! If you have any questions or help, please do not hesitate to contact us via sales@yaheetech.shop. Welcome you to join us and cooperate.