Tips on Buying Fire Pits
Fire pits have been a more popular addition to the patio, garden, backyard, or an atmosphere maker in beach parties and camping trips nowadays. Compared with the traditional dug-in pits, freestanding fire pits are more convenient and mobile for household use and outdoor activities. But there are thousands of fire pits with various designs and functions on the market, what basics or standards you should bear in mind and stick to when looking for the perfect one for your family? I hope this article can give you some help!
What to consider when choosing a fire pit?
◆ VENTILATION
Ventilation plays a crucial role in the combustion of the fire – it not only increases the airflow to guarantee the intake of the oxygen that is essential for the burning but also helps release excess gasses that generate during the combustion from the enclosure. Therefore, well-ventilated fire pits are much safer and easier for families to use.
Vents, mesh pit wall and log grate are effective methods for increasing the airflow during the burning.
a) Vents, or vent holes, are usually located at/near the bottom of the fire bowl to increase the contact area between the fuel/firewood and oxygen, and efficiently let out the gas and other byproducts produced during the combustion to boot.
b) Some deep fire bowls are designed with cut-out or mesh walls for both aesthetical and functional purposes. The cutouts and mesh on bowl walls add a layer of dimensional vision beauty to the piece, and also greatly improve airflow for the enclosure.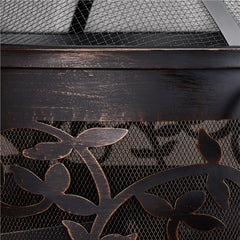 c) Log grates/wire racks hold burning wood off the bottom to reduce mess or damage to the underlying surface, and also improve the inner ventilation to create a beautiful furious fire.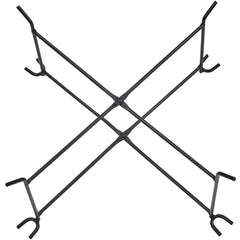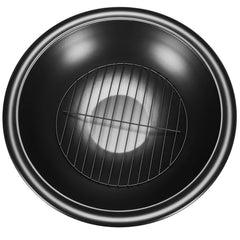 ◆ SIZE
Depending on various purposes and needs, you can find a 20-inches small basic fire bowl just for warmth or a 32-inches multifunctional freestanding fire pit for warmth and cooking on the market. Generally, small fire pits are more convenient to move, transport, and store as needed, but the function and design may be limited to some degree due to the size. The petite design makes them a unique and cute patio/garden/backyard addition. Large fire pits tend to be more versatile in function, shape, and design, but the size may get in the way if you want to take a big fire pit out for a camping or beach party or to store it in a small garage.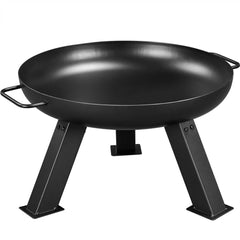 ◆ MATERIAL
Stone, brick, and metal are the most common fire pit materials. They all share the advantages of good durability, high strength, and heat tolerance. However, compared with stone and brick, metal fire pits excel in relatively light weight and plasticity, which makes them possible to transport and store easily. Metal is easy to forge and shape into all kinds of styles for aesthetics and functionality, while stone and brick may use a little effort to reach that goal.
As for the durability, stone beats the other two with no doubt. Since most metal fire pits are finished with heat-resistant paint to prolong the life span, the metal fire pit surpasses the brick one in both strength and durability.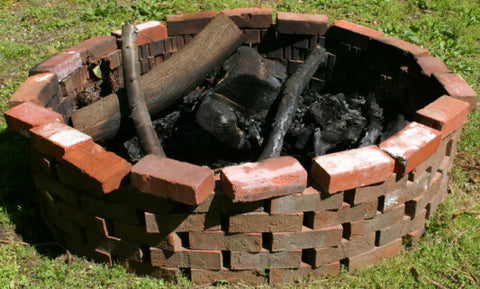 Brick Fire Pit 
Stone Fire Pit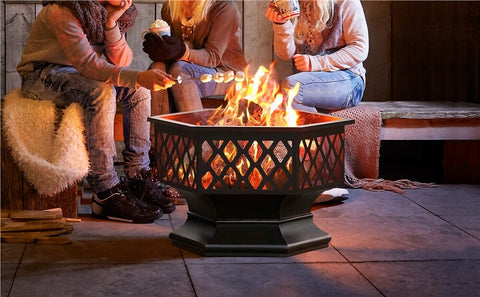 Metal Fire Pit
Strength: Stone>Metal>Brick
Plasticity: Metal>Brick>Stone
Functionality: Metal>Stone = Brick
Portability: Metal>Stone = Brick
◆

 

PERMANENT VS PORTABLE
Permanent fire pits generally include 2 types – above-ground fire pit and in-ground fire pit. In the aspects of aesthetics and style, the above-ground fire pit slightly outdoes the in-ground type. It can always be the focal point in your garden since people are naturally attracted by the ambiance it gives out. While the in-ground fire pit states itself with the unique merit of being below-the-horizontal. Its sunken design helps contain the fire in the pit and lower the risks of strays of embers or sparks spreading out to nearby combustibles. However, the most inconvenient and obvious character of permanent fire pits is their immovability. Therefore, if you're considering getting a permanent fire pit, it's always better to have a thorough construction plan.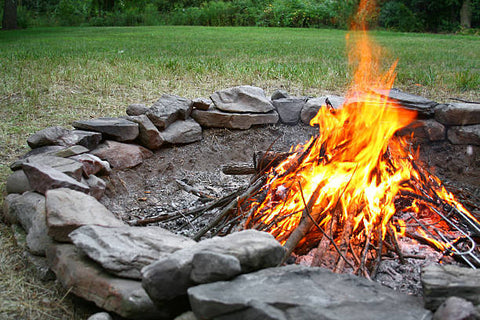 In-ground Fire pit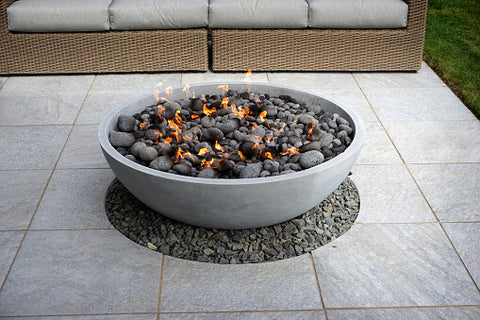 Above-ground Fire Pit
In contrast, portable fire pits are more flexible in use. To ensure convenient carrying, most portable fire pits are made of lightweight yet durable materials such as Aluminum and steel treated with high heat paint. Meanwhile, they are also designed in a foldable or easy-to-disassemble structure for easy transporting and storing in the garage or trunk. You can effortlessly take a portable fire pit out for camping and beach bonfire parties, or you can just simply set it up in the backyard for a backyard party or a cozy night with family and friends. Besides that, a portable fire pit is a more cost-effective choice. Yet, if you're looking for a long-term night companion and have enough budget, a permanent fire pit is a better option.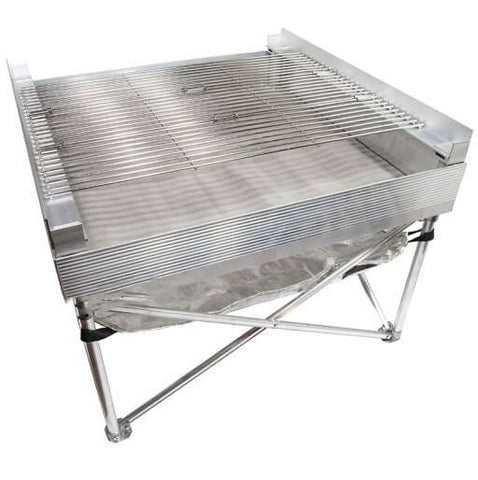 Foldable Aluminum Fire Pit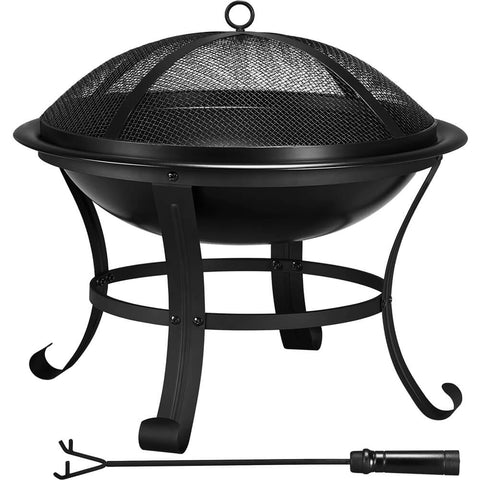 Easy-to-disassemble Steel Fire Pit
◆

 

FUNCTIONS & ACCESSORIES
Of course, the main purpose of a fire pit is to contain the fire for warmth. Other than that, some fire pits may equip with other accessories or some special designs for more functions.
Cooking Grate – turn your plain fire pit into an outside cooking option; ideal for barbecue and foil packet meals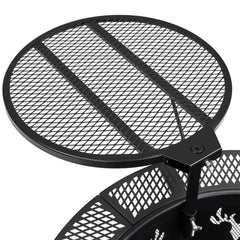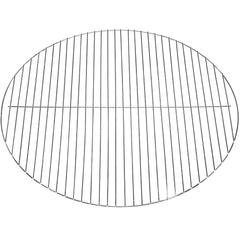 Fire Poker – helps tame firewood and flames, or remove the spark screen safely from a short distance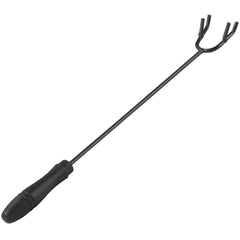 Spark Screen – protects from strays of embers or sparks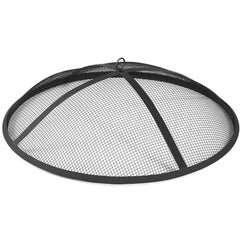 Widen Side Platform – prevents users from directly touching the in-use fire pit accidentally; offer an extra place for holding plates and trays when cooking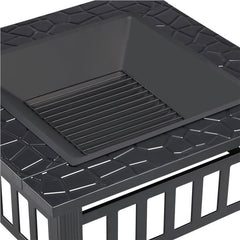 Log Rack – provide a handy storage area to stash the firewood under the fire bowl, and keep firewood off the ground and dry as well
CONCLUSION
A fire pit can make special memories for every season – Spring for hiking and camping, Summer for a backyard barbecue party, Fall and Winter for cozy warm nights. It can effortlessly create a cozy and inviting outdoor living space to relax and unwind, or it can be another cooking option if you want to switch moods. While, selecting an ideal fire pit can be overwhelming because you need to consider its size, construction, material, functionality, designs, styles…
We hope that these buying tips can ease your purchase as much as possible. If they help or you have better ideas, please leave us a comment or email us via info@yaheetech.shop. Your advice and encouraging comments are highly appreciated!