Strength Training Basics for Barbell Beginners
Still doing your homework on exercising muscle groups with barbells? Here are a few topics on barbell training to address your major concerns. By and large, you'll learn great strength training benefits, warm-up tips, foundational forms/steps and after-exercise cautions. Also, you can take advantage of 5 top pick barbell training equipment snips under $100 with rave reviews as we highly recommend for beginners for a smooth start.       
Why You Should Do Strength Training
Basically, strength training means to build up more muscles and get stronger after day-to-day exercises. Due to its swell muscle building performance, barbell lifting has gradually revived its popularity with both men and women in recent years, as getting lifetime strong becomes an awareness of all age groups. Since lifting weights is an everyday activity and hardly requires professional preps/equipment, how exactly does barbell workout enhance your life experience?  
Making life easier: As time flies, some daily physical work such as picking up grocery bags seems even harder to you than ever. This is an actual sign of weak muscles. Doesn't it occur to you that your muscles need more strength training? So, grab a barbell and make it part of your routine now. In just a few weeks, you'll find it easier to climb stairs, move furniture and hold your adorable ones a little longer! It sounds pretty cool, doesn't it?
Keeping fat off: During the muscle buildup process, it revs up metabolism to consume more nutrition and burn more calories even when you rest. Bit by bit, the excessive fat will lose its way to stay and give the shaping beauty back to you soon. Imagine how beautiful it is as you swell with pride in improved facial appearance, body composition, increased self-charm and enhanced social life!    
Reducing physical illnesses: As you get strong, all the aging issues slow down. The increase of blood circulation and muscle gain will help you get stronger ligaments/bones, so that you can stay away from fracture dangers. Studies also show that strength training could help improve the symptoms of osteoporosis, Parkinson's, multiple sclerosis, diabetes and more.
Improving mental health: You may wonder how resistance training affects your brain. Actually, through barbell lifting exercises, you'll gain not just more muscles but also hormones/hormone substances. All these could lead to a better provision of oxygen and essential nutrients for your brain. With improved mental state and energy level, you won't suffer from much anxiety/depression or bad sleep/memory.
Fulfilling sense of achievement: As long as you can do barbell exercises on a regular basis, the muscle workout will bring you strength growth as well as fitness beauty. Most importantly, you will deliver a good sense of achievement throughout the training process. You can also make more fun out of it online. Given a home gym, some professional apps and the persistence to make progresses, you can shoot your own barbell exercise videos and become a star of yourself to wow people. Just imagine!
Above all, lifting weights can affect our life in significant ways. Getting strong is a lifetime work for everyone. As you stay healthily fit/strong, a good life will come back to you soon. Ready to start your strength training with a few warm-ups now?
How to Warm Up for Weight Lifting
Without proper warm-ups, it is more likely to get easy injuries, which sucks, especially for strength training newbies. So make sure you warm up properly before the barbell lifting. Here are 5 tips to help you out.
Major patterns: Dynamic warm-up works better than static stretching for barbell training. The former usually involves with full body movements and gets all muscles/joints loose for your workout, while the latter aims to elongate certain muscle groups and push them past the point they want to go.
Length of time: Use both dynamic and static stretching to warm up your muscles for starters. Take at least 10 minutes to complete the pre-training process, i.e. 8 minutes for dynamic movements first and 2 minutes for add-on stretches.
Primary circuit: march in place (2-3 minutes), jog in place (30 reps), jumping jacks (20 reps), walking jacks (15 reps), march with pulldowns (10 sets), lateral step pulls (15 sets), opposite hand/toe touch (6 sets), lateral butt kicks (10 sets), mountain climber (12 sets), jump rope (30 reps), jump up/down/front/back/side to side (2 minutes).    
Muscle recall: By jumping around and getting your muscles loose, active, warm, and ready for action, you are putting your muscles through their full range of motion and getting them ready to start handling heavier loads (strength training). 
Serial benefits: Correct warming up can help reduce soreness after the barbell workout. Great work has been done to increase the benefits of moving through the heavy loads. By the end of your warm up you should have broken a sweat, increased your blood pressure and warmed your muscles up.        
Best Weight Lifting Exercises (The Big 4) for Starters
Bench, squat, overhead press and deadlift are known as the four essential barbell moves. They are easy to master and designed to strengthen major muscle groups, so ideal for newbies. Below illustrates each of the four forms for your reference.
#1: Bench Press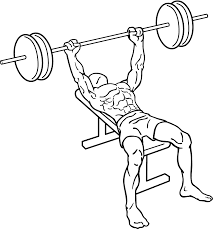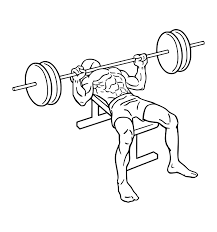 Muscles targeted: Chest, shoulders and triceps
Key steps: Lie on the bench while planting your feet firmly on the floor, press the barbell up toward the ceiling and lower it to your chest, do 10 reps a time.  
Benefits: Safe position for shoulders. Help improve overall pressing strength. When done appropriately, lower body and mid back all contribute pretty significantly.
Good to know: Besides a barbell, you'll need to have another investment in a bench to lie on and a power rack to rest the bar.    
#2: Front/Back Squat: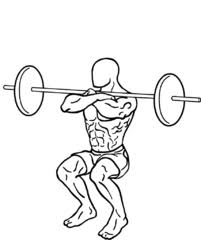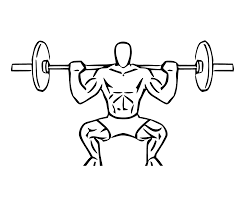 Muscles targeted: quads and core for front squat; hamstrings, glutes and lower back for back squat
Key steps: Rest a barbell on your collarbone for front squat or against upper back for back squat, do squats with feet out about 20 to 30 degrees from there for 10 reps one time.
Benefits: Barbell squatting is one of the most functional, efficient and athletic way to exercise your lower body.  
Good to know: Might be tricky for people who can hardly control their body stability/mobility.
#3: Deadlift: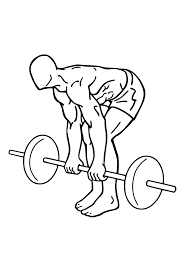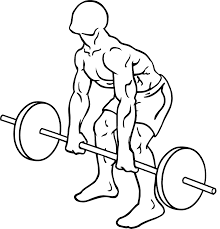 Muscles targeted: Lower back
Key steps: Bend your knees and press them out to the sides, lift the barbell bar close to your body with hands shoulder-width apart, then lower it to the floor, do 8-10 reps one time.
Benefits: Deadlift engages overall muscle groups and presses them to grow. It is one of the best strength training patterns on your lower back, so that picking up something heavy on the floor/ground/couch/bed could never be an issue in your life.
Good to know: Seems tough to learn during the first few times.   
#4: Overhead press: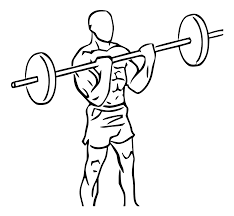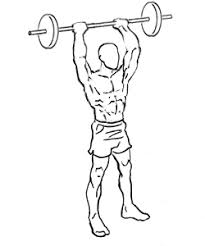 Muscles targeted: shoulders, triceps, core, upper back and lats
Key steps: Keep foot stance and grip width shoulder width apart, rest a barbell on your collarbone, lift it up overhead and lower it down to your chest again. Do 8-10 reps one time.  
Benefits: Overhead press builds strong and healthy shoulders. It also body stability One The overhead press will build stronger, healthier shoulders while also providing much-needed stability for the shoulder joint due to the synergy required among the bodies muscles to properly perform the exercise.
Good to know: Keeping shoulder stable and back straight is the key throughout the exercise.
Must-have Equipment under $100 for Beginners
If you are setting up a home gym for barbell training, getting proper equipment becomes essential. Here is your bonus for reading through this article. To save you time and money, we have done a careful research on the market and picked the following equipment with rave reviews on Amazon. From straight/EZ curl bars to squat/storage racks, they can serve your primary purposes for bench/overhead press, deadlift and front/back squat.
Straight Olympic Barbell Bar with 2 Clips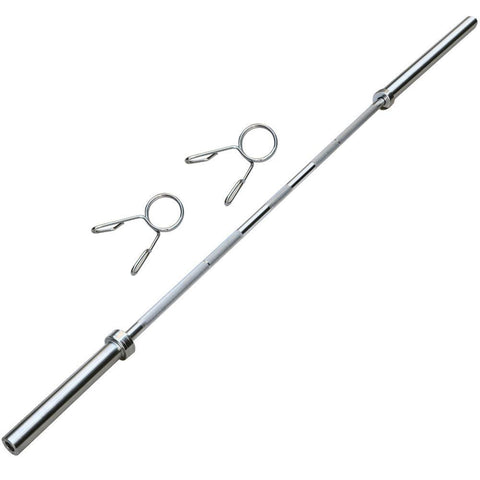 Description:

This 2.2m/86.6"/7.2' barbell bar is a perfect integration of value and quality for your home gym. It comes with 2 spring clips to make weights secure in place. The ergonomic knurl design aims to prevent sweaty hands for easy and comfortable grips. Ideal for deadlifts, overhead pressing, rows and bench work. 

Features:

Specifications:

Olympic weight plates: 2" dia. center hole fitting

N. W.: 16kg/35.3lb

Heavy-duty iron construction: Solid anti-rust finish

G. W.: 18.2kg/40.1lb

Comfortable: Diamond knurl for better grip and safety  

Material: electroplated iron

Extra-thick paper wrap package: 2 spring clips included

Load capacity (max.): 150kg/330.7lb

Versatile: Ideal for all barbell moves on biceps, triceps, back/chest muscles and more

Length: Bar: 218cm/85.8"/7.2'; Shaft: 141.5cm/55.7"/4.6'; Sleeve: 34.6cm/13.6''/1.1'

Assembly & Care:

No assembly needed.

Wet/dry cleaning is acceptable for much convenience.

Pros

Cons

Classic muscle training bar type;

Could bring better bicep growth than curl bars;

Working with nearly all resistance workout moves;

Less comfortable than EZ curl bars;

Might cause injury if for long-term exclusive use;
EZ Curl Barbell Set with 6 Weight Plates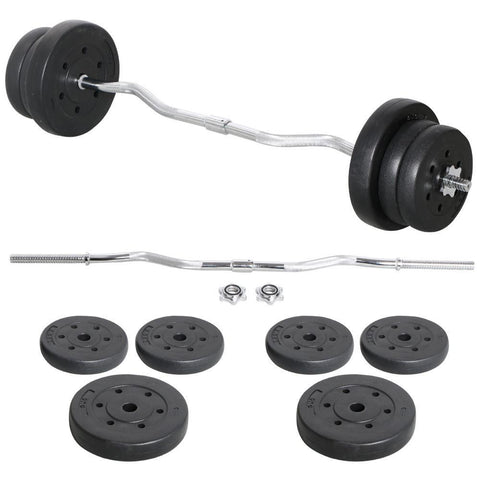 Description:

This EZ curl bar set comes with 4 weight plates of 2.5kg/5.5lb for each, 2 weight plates of 5kg/11lb for each and 2 star ring clips for you to adjust/set the plates in place. All the plates are of a flat design, so you can stack them up wherever you like for storage. Ideal for muscle strength training on your legs, glutes, back and more.

Features:

Specifications:

6 weights included: 4pcs x 2.5kg/5.5lb plus 2pcs x 5kg/11lb

N. W.: 25.6kg/56.4lb

2 clips included: Star ring design for your easy/safe adjustment

G. W.: 25.8kg/56.9lb

EZ curl barbell: Reducing wrist pressure for extra grip comfort

Material: iron, plastic resin

Targeted muscle groups: Ideal for bicep muscle growth and more

Load capacity (max.): 25kg/55lb

Quality materials: Solid iron barbell with rubber/concrete plates

Assembled length: 119.8cm/47.2"

Assembly & Care:

Simple assembly: A screw driver is only tool you need to set it up.

Easy to clean: Wet/dry cleaning is acceptable for much convenience.

Pros

Cons

Ideal for bicep muscle buildup;

More comfortable than straight bars;

Safer when intended for long-term use;

Less muscle activation;

Not suitable for squat/bench/overhead press;
Dumbbell/Barbell Squat Stand
Description:

These metal stand racks are sold in pairs. Each features overall measurements of 54.5/21.5"L, 50.5cm/19.9"W and 114-179cm/44.9-70.5"H to comply with standard/Olympic barbells and dumbbells. Each rack comes with a lock peg to help you with 14-position height adjustment at everyday home gym use.    

Features:

Specifications:

Multiuse design: Ideal for home gym squat/bench/overhead press

N. W.: 18.5kg/40.8lb

Adjustable heights: Can be easily adjusted to your ideal heights

G. W.: 19.9kg/43.9lb

Durable materials: Quality metal frame of 50x50mm section with fine finish

Material: solid iron with black finish

Safe foot pads: Reducing floor wear/tear/scratch/skid for added safety

Height: 114cm/44.9"-179cm/70.5" with 14 adjustable positions of 5cm/2" spacing

Steady construction: Capable of load capacity up to 200kg/440.9lb

Overall dimensions: 54.5x50.5x(114-179)cm/21.5x19.9x(44.9-70.5)" (LxWxH)

Assembly & Care: 

Simple assembly: A screw driver is only tool you need to set it up.

Easy to clean: Wet/dry cleaning is acceptable for much convenience.

Pros

Cons

A must-have for squat and bench press;

Multiuse design for both barbells and dumbbells;

Steady construction with a wide range of adjustable heights;

Taking up space;

Only available in black color;
Bar/Weight/Plate Storage Rack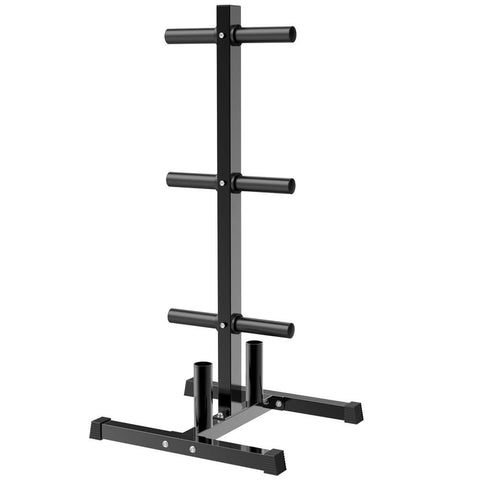 Description:

This durable barbell tree rack stand is built of a heavy-duty iron structure coated with 1.6mm/0.06" thick wear-resistant finish. It has a load capacity up to 400kg/881.8lb. The space-saving vertical design is ideal for you to sort out your home gym training weights of 5cm/2" diameter and barbell bars of 6cm/2.4" diameter.

Features:

Specifications:

Multiuse tree rack: Fit for dumbbell/barbell weights/bars

N. W.: 12.4kg/27.3lb

Adjustable weight holder: Can accommodate weights of different sizes

G. W.: 14.2kg/31.3lb

Compact vertical stand: All-in-one storage solution ideal for small spaces

Material: metal, plastic

Peeling-free metal frame: Durable anti-rust coating and extra wear-resistant paint

Load capacity (max.): 400kg/881.8lb

Safe for long-term use: Foot pads plus holder end caps resist frame sliding, loading shock, internal corrosion

Overall dimensions: 68.5x61x138cm/27 x 24 x 54.3'' (LxWxH)

Assembly & Care:

Simple assembly: A screw driver is only tool you need to set it up.

Easy to clean: Wet/dry cleaning is acceptable for much convenience.

Pros

Cons

All-in-one barbell storage rack;

Vertical design ideal for small spaces;

Compatible with standard Olympic bars/weights;

Only available in black color;

Heavy duty construction, uneasy to move around;
Horizontal Barbell Organizer Rack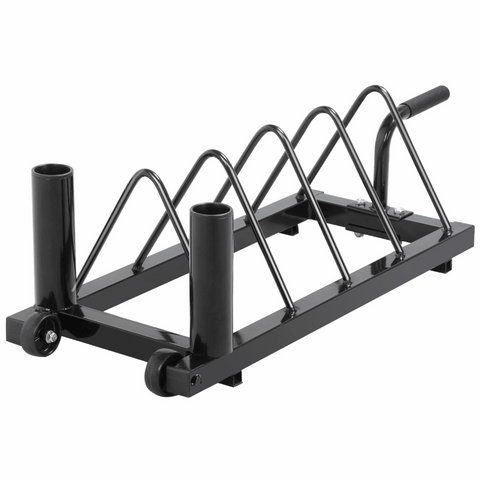 Description:

This strength training weight rack accommodates 136.1kg/300lb of Olympic plates and weightlifting bars. It comes with 2 wheels of 6.5cm/2.6" large diameter and 1 handle. You can transport your barbell bars/weights fast from one space to another.

Features:

Specifications:

Quick switch between plates: Low profile pattern improves workout productivity

N. W.: 7.7kg/17lb

Hassle-free transport with wheels: Handy rack design ideal for home/commercial gyms

G. W.: 10kg/22lb

 

Versatile Olympic weight holders: Each horizontal holder wide as 16cm/5.5" for variable plates

Material: powder-coated iron

Sturdy and durable construction: Solid metal frame secures your safety for equipment organization

Load capacity (max.): 136.1kg/300lb

Durable coating and paint: Anti-rust and wear-resistant surface finish guarantees your long-term use

Overall dimensions: 94x33x30cm/37x13x11.8" (LxWxH)

Assembly & Care:

No assembly needed.

Wet/dry cleaning is acceptable for much convenience.

Pros

Cons

All-in-one barbell storage rack;

Portable design with handle and wheels;

Heavy-duty construction compatible with different weights/bars;

Only available in black color;

Less load capacity than vertical stand racks;

 
Quick Overview on Weight Lifting Equipment
Above all is an affordable set of equipment critical to every strength training learner. They boast the best value for learners to complete their primary goals one by one. Below is a quick overview to get you familiar with the advantages and disadvantages of barbell exercise equipment.   
 

Olympic Bar

EZ Curl Bar

Squat Rack

Stand Rack

Flat Rack

Uses

Classic barbell bar type;

Working with The Big Four;

Hitting all muscle groups;

Perfect for bicep growth;

Wrist-/shoulder-friendly;

Safe for long-term training;

Must-have for bench/squat/press;

Multiuse for barbell/dumbbell;

Flexible height adjustment;

Heavy-duty;

All-in-one storage solution;

Space-saving;

Handy/movable;

Snags

Reported discomfort/injury to wrist/shoulder;

Limited effects on lower body muscles;

Space-taking;

Uneasy to carry;

Less load capacity;

Tips

When you have doubts about the differences between straight bars and curl bars, bear below tips in mind before making a purchase.  

If you intend for more muscle groups growth, straight bar is right for you.

If you care more about biceps training, EZ curl bar will give you what you want.

Actually, for starters, there is never a one or the other choice to make. You should at the very least try both, and if you can tolerate them, use both methods!

If you aim to strengthen your quads, glutes and core muscles, do squat/bench/press with squat rack.

If you are setting up a home gym for small space, horizontal pattern storage rack is made for you.

If you have more options for large space, vertical design stand rack organizer is more practical.

If you require a rack with more portable features, an ergonomic handle and smooth wheels are what you need.
Frequently Asked Questions about Strength Training Recovery
Q1: What is DOMS?
A1: DOMS is short for delayed onset muscle soreness, typically a stress response of your muscle groups after a workout. When it happens at strength training, you might have to struggle with large resistance to force output and motion flexibility. Don't have to panic, though, since both weightlifting amateurs and professionals will suffer from DOMS at any planned/intentional training.
Q2: Should I go to see a doctor soon as muscle soreness occurs?
A2: Well, it all depends. Sometimes, muscle soreness can be a good sign. More often than not, it means that your targeted muscles feel the stress to grow. In other cases, however, if improperly exercised, injuries like a pulled/broken muscle would happen. That's when you'd feel really bad muscle soreness and probably need professional advice if the pain is too much to take.
Q3: What more should starters know about the muscle soreness?
A3: Normal muscle soreness heals itself shortly. It is abnormal soreness that you should be alert to, as it indicates serious muscle injury. It is probably a pulled muscle if you feel more pain on a particular muscle group rather than on overall body. Also, if the pain lasts for more than 36 hours after your workout, it means something more severe is going on. For starters who only just work out, over-training is an easy danger and could lead to rhabdomyolysis which requires residential treatment for extreme cases. Make sure you consult a professional, if any of these occurs.
Q4: How can I better cope with normal muscle soreness?
A4: You can always minimize its impact by taking measures throughout the exercise. In the first place, you need enough dynamic warm-ups to revive the muscles. During the exercise, you should stay properly hydrated for compensation. After the workout, you are supposed to take a light activity such as jogging to soothe the muscles. Eating carbohydrates/protein and having a good sleep are among the healthy and helpful methods as well. Studies show that stretching, icing and using heat are less effective, though. As long as you take it right, the ache will release itself within 24-36 hours, so just give your muscles some time to heal.  
Q5: Can I continue lifting weights while suffering from muscle soreness?
A5: Yes, of course. You can still lift weights as scheduled, so long as there is no sign of bad muscle injury. The trick is to make sure you have enough warm-ups before each weightlift, water intake in the process, light-impact activities thereafter, a proper amount of carbohydrates/protein for food recipe and a good sleep for energy compensation.
About Yaheetech Fitness Supplies
Yaheetech is a growing e-commerce brand dedicated to global customers' experience for 16 years. Our fitness supplies cover barbells, dumbbells, bench press racks, storage racks, power racks, weight benches, dip stations, battle ropes, dance poles, equipment accessories and more. Quality products, fast delivery and best value are our commitments to our customers.   
If you are interested in more about us, leave your comments here. Or you can follow our social media accounts on Facebook, Twitter, Pinterest, YouTube, Instagram and LinkedIn to take advantage of the new product promotions and giveaway activities we regularly release. Join our millions of customers from all over the world now!