How to Pick Accent Chair for Home Office?——5 Trendy Home Office Decors in 2021
Nowadays, the boundary between work and life has become blurred and working from home has already been a trend. When decorating a house/apartment/studio, the home office has become an essential part of many people.
 
Whether taking an entire room or a small corner to make your dream home office, buying a suitable chair will greatly influence your work or study productivity. Someone may choose a classic office chair, while the office chair which is lack of beautiful color and good design will not go well with your home decor style. At the same time, many people prefer using an accent chair as their home office chair for its beautiful appearance and comfortable seating experience.
Why Accent Chair is Suitable for Home Office?
Accent chair, the chair which is used more for its decorating function than its practical function. The accent chair will easily become the focal point of your room and show the owner's personality and aesthetic.

Is it suitable to use the accent chair in your home office? I will say 'Yes'. Here are some benefits of using accent chairs.
Bring much comfort for a productive working day. Working at home needs a more comfortable environment because it is harder to be concentrated in the home than in the office. Sitting in the chair with well-stuffed foam and soft upholstery will bring you a good mood all day.

Create a beautiful and charming corner that will not break the whole decoration. Most office chairs come with a black finish and unfashionable appearance which may not easily match with other furniture. But the accent chair which takes various printing and colorful hues for meeting your personal home styles.
Flexible use for other places. For some people, they don't always work at home and they just take work home when something urgent or the work is not finished. Thus, there is no necessity to buy a formal office chair. As the accent chair is used now and then and it is great to use it as your home office chair and other places you like.
Accent Chair Selection: 4 Things You Need Consider
Appearance
There are many famous accent chairs, such as Club Chair, Wingback Chair, Egg Chair, Spindle Armchair which be loved by different people. You can choose the one that you like and blend with your home style from various designed chairs.

For working from home, you may select the chair which can bring you calm and you are to sit down.

Material
When considering the upholstery of your accent chair, you should think about the fabric's durability and what feeling you want to create. If you use the chair at a high frequency, you may choose a more wear-resistance and stain-resistance fabric, like linen, leather, faux leather, plastic and metal. If you just care about the outlook and touch of the fabric, you could try wool, velvet and wood.
 
For home office chairs, comfortable is more important, so linen and wool upholstery will be more suitable. Besides, the seat and backrest need to be well padded for better body support.
Color and Pattern
Color is very important for an accent chair, as many people will choose bold colors and patterns to make a statement for their rooms. There are 3 ways to select the color for your accent chair:
Try the complementary color with colors already existing in your room.
Choose the color coherent with other furniture.
Pick a stand-out color and playful patterns.
 
As for the home office, it is recommended to use natural colors which can make you calm down and inspire productivity, such as brown, blue, white, gray and green.
Size
Measure the width, depth and height of the space you will place the accent chair so you know approximately what size can fit there. Do not forget to leave some room for walking around. For the home office, you should consider if the chair can make you sit in comfortably even all day. Seat height is one of the most important dimensions you should pay much attention to. There are 2 principles to calculate the ideal seat height:
when you sit down, your feet should firmly touch the floor;
when you sit in front of the desk, your forearms are at the same height and parallel to the desk, with your elbows ensuring an open 90 - 110 degrees open angle.
Besides, the backrest should be enough tall to hold your back and the seat should be big enough for sitting comfortably.
5 Trendy Home Office Decoration Style in 2021

Farmhouse Home Office
The beauty of a farmhouse style workplace exists in the use of weathered wood, natural fabrics and white or oatmeal palette. As shown in the picture below, the oatmeal-colored wood desk blends in well with the padded wood chair, which creates a quiet and peaceful working atmosphere. The built-in drawer offers extra space for storing and organizing some small stuff, which makes your home office tidy and clean.
Industrial Home Office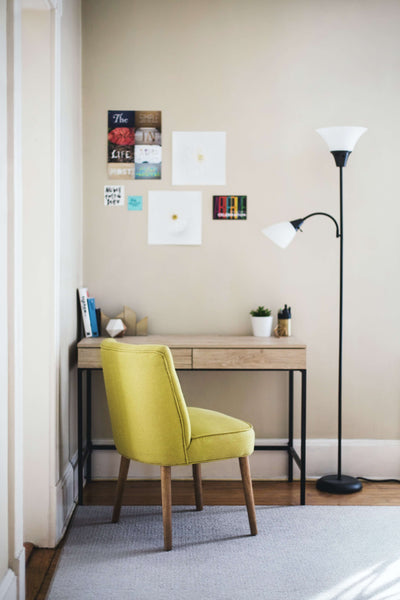 If someone asks me to choose my favorite home office style, I would say: the Industrial style! It's so easy and affordable to build such a workspace with an industrial console table and an armless accent chair. With a clean silhouette and a mix of wood and metal, this console table will easily make a sleek and stylish tone. On the contrary, the soft upholstery chair gives you ultimate comfort for releasing your tiredness when working.
Minimalist Home Office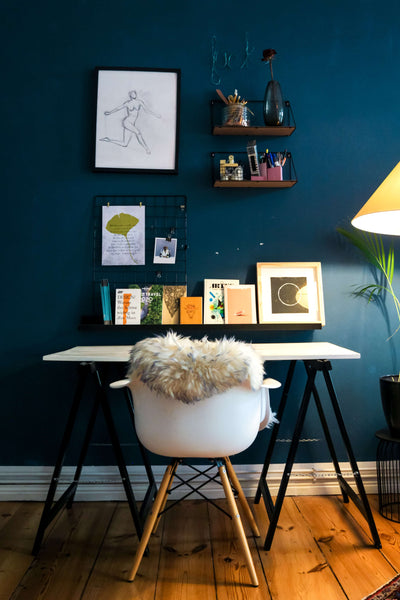 A minimalist home office favors clean and simple lines, neutral palette and practical uses. People who love this style would choose a white simple desk and chair to avoid distractions. For a temporary or small working space, this style will perfectly meet your practical and aesthetic needs.
Boho Home Office
The principle of Boho style 'More is More' has attracted more people around the world in recent years. A Boho designing home office would be full of colors, plants and decorative accessories. You will find this styled working space not as tidy as other styles, on the contrary, clutter and colorful. But guys love this style find that the clutter and colorful decorations would stimulate their ideas and let them relaxed when meeting tricky problems.
Blue Home Office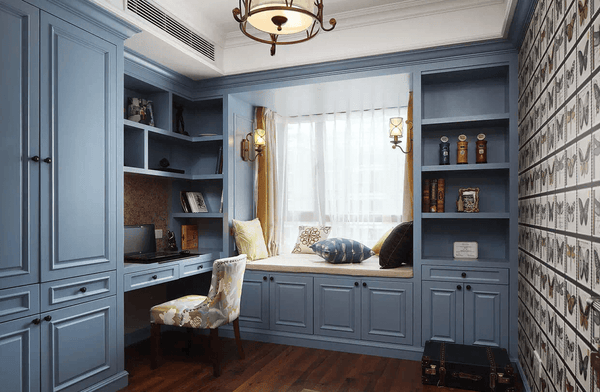 Blue is one of the colors which can make people feel calm and peaceful, which could make you be more concentrated. To build a blue home office, picking blue furniture or painting the wall blue will bring elegance to your room.
What's your home office like? We will be happy if you share your fantastic home office ideas with us!