Choosing the Best Outdoor Pop-up Canopy Tent for Upcoming Spring
Do you have any travel plans for this upcoming spring? Speaking of camping or traveling, what is your necessity? For me, I put outdoor pop-up canopy tents in the first place. Everyone who goes camping needs a good canopy tent as a sun-shading shelter.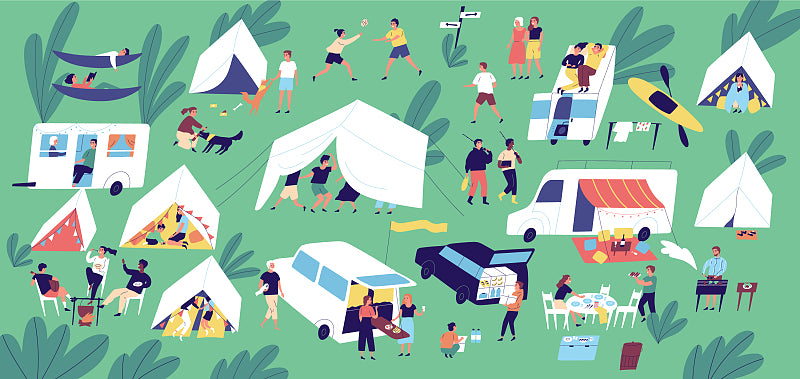 How to choose a suitable outdoor canopy tents for upcoming spring? I would like to share some thoughts, tips, and advice to help you choose an ideal pop-up canopy tent for a spring outing. Without further ado, let's begin with the pros and cons.
In this blog, you will learn about outdoor canopy tents from the following aspects:
1. Advantages of pop-up canopy tents
2. Common uses for pop up canopy tents 
3. Different types of pop-up canopy tents and popular features
4. 3 Major factors when buying an outdoor pop-up canopy
5. Yaheetech's 5 best pop-up outdoor canopy tents of 2022 
6. How to set up an outdoor canopy tent
1. Advantages of pop-up canopy tents
You will be protected by this shade tent from direct sunlight or rainwater when you have outside events. The products under the shelter can also be protective. Thanks to this shade tent, your outdoor activities will not be spoiled by bad weather.
Pop-up canopy tents are easy to set up and take down. Generally, they have quick-release buttons to realize easy installation. Some canopies have one-handed operation systems. Just one person can finish the installation by pushing the canopy roof up.
Considering the purpose of the outdoor instant canopy tents, most manufacturers make pop-up canopy tents to vehicle-mounted size, therefore, customers can put their canopies into the car trunks for convenient travel.
If outdoor canopies are too heavy and big, it will be tricky to make them vehicle-mounted. These two features of being lightweight and vehicle-mounted shall be complementary to each other.
If you think an outdoor canopy can only be used for camping, you will be surprised by its wide range of uses. The outdoor pop-up canopy is also a good helper for marketing, trade shows, parties, simple carports, etc. Anywhere you need a shade shelter, the pop-up canopy tents can help.
2. Common uses for pop-up canopy tents
If you and your friends are going to watch your favorite team's game, a canopy tent can be a great spot to deal with changing weather. You can gather a crowd or throw a party under the canopy tent, a piece of necessary equipment for tailgate parties. The pop-up canopy is portable, easy to operate, and doesn't require too much complicated professional design and construction. All the users need is a shaded place where people can enjoy food, share expectations, and thoughts about the game.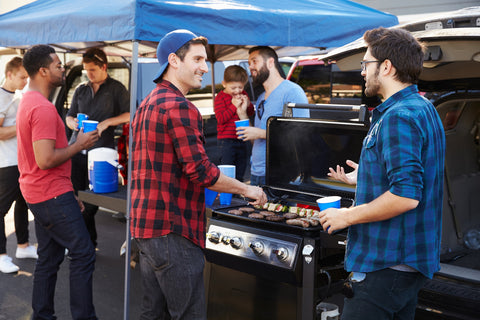 Outdoor tents can be used for camping. Depending on the type of camping and location, you need to choose different tents. If you plan to hike, then small tents will be convenient. If you are going to camp or picnic in the backyard or near a park, the bigger canopy tent is good, with more space for more people.
In the open air, instant tents can give you a place to spend a night and have a good rest. Tents also keep you away from direct sunlight in the daytime. Since they are used outdoors, tents used for camping will have higher requirements for materials and functions, such as water resistance, sun protection, and so on.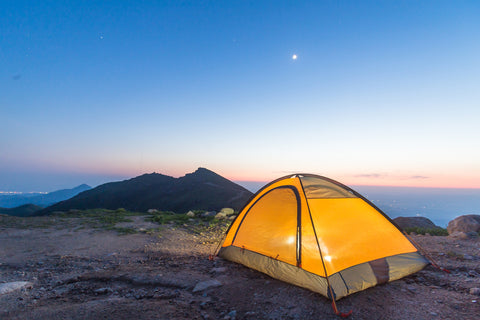 Tents are frequent in outdoor weddings. There are two main kinds of tents for weddings: pole tents and frame tents. A sense of design and aesthetics are required to adapt to those beautiful people and happy time. The pole tents need to be inserted into the ground and the frame tents need to be assembled patiently. No matter which kinds of outdoor instant canopy tents, they can always meet the users' needs for the wedding. People sit under the big tent and witness this wonderful moment together.
Small business, & Craft shows
Outdoor canopy tents have multiple uses more than you can imagine. We can say that as long as you need shelter in the open air, get an outdoor canopy tent. Do you need a temporary spot for this weekend's show? Get an outdoor tent. For any commercial activities like a commercial show, marketing display, etc, or a miniature storefront, canopy tents can help you to have limited space for trade shows or other commercial events.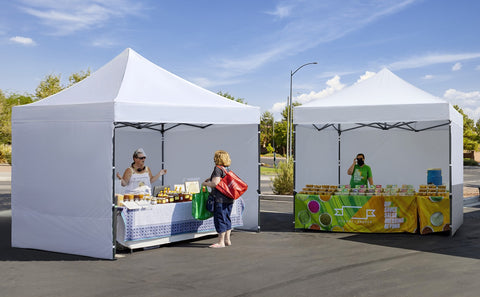 As for parties, I think any tent that can be used for the above purposes can also be used to throw a party. Pop-up canopy tents will provide you and your friends with a nice shelter outdoors.
As a versatile outdoor canopy tent, there are many types, now let's discuss some different kinds and some typical features.
 3. Different types of pop-up canopy tents and popular features
The tents with only a cover cloth on the top. I guess this type is the most common canopy. It is easy to set up; just unfold the frame and cover the top cloth. The structure is simple and the usage is wide.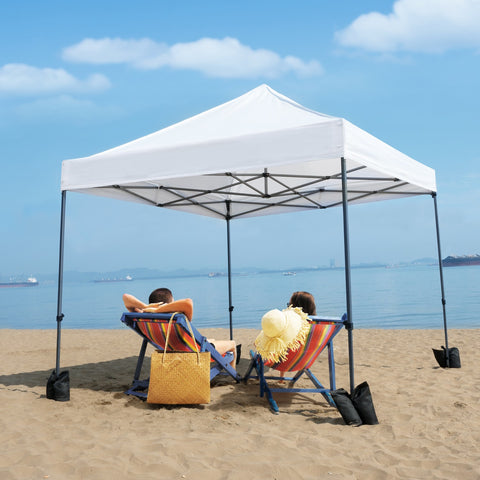 For vendors, a commercial canopy tent works better because this type is more professional; some commercial canopies have a front valance so you can hang a banner and some commercial canopies have an extended awning in the front.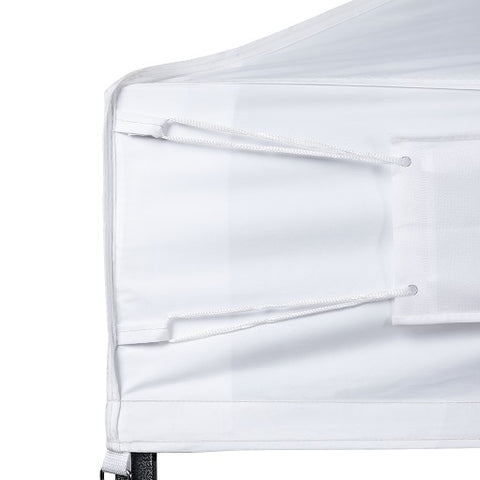 If you need a relatively enclosed space in the open air, the outdoor instant canopy tents with sidewalls can meet your needs. They can give you an enclosed space and also the sidewalls can be removed if you just need an open canopy. Also, the tents with sidewalls can keep bugs and flies away from you. Integrate practicality and aesthetics on one instant canopy.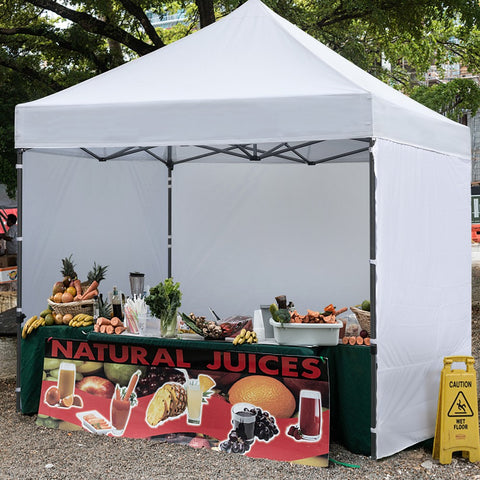 The materials play a critical role in functions, mainly including UV protection, water resistance, and also sturdiness of the frame. The canopy tents with good water resistance can keep rainwater away when you are outside. Some cheap materials have poor water resistance. The water may infiltrate through the canopy cloth.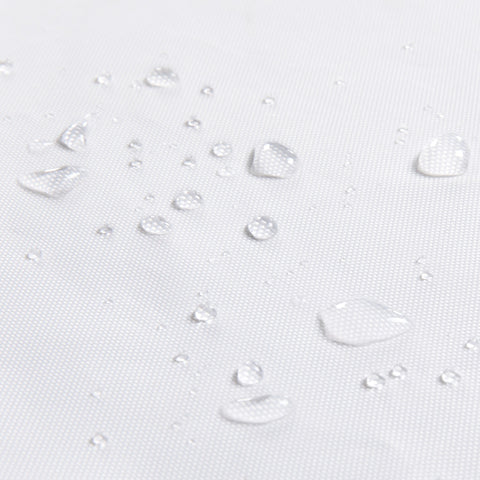 Do you know how an outdoor pop-up canopy realizes UV protection? It is a PU coating or silver coating on the cloth surface. The outdoor pop-up canopy with UPF 50+ can protect you from harmful ultraviolet radiation when you are under the shelter.
Not all canopies have UV protection; some canopies are just sun-shading. If you see some vendors tell you that this 420D silver-coated canopy cloth has UPF 50+ UV protection then you can rest assured.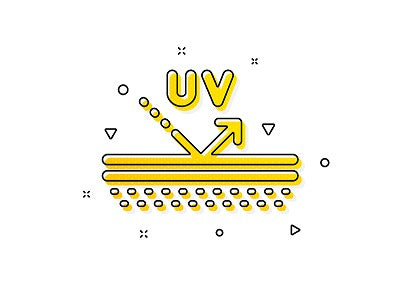 If you want an outdoor canopy tent with good wind resistance, you need to pay attention to the accessories, including sandbags, stakes, ropes, etc., the weight itself, and materials. The thicker the canopy fabrics are, the more windproof they are, So does the structure. The stronger the metal frame is, the more windproof it is.
After we knew about their advantages, common uses, and popular features, what should we think about when choosing an outdoor pop-up canopy tent? Let's keep reading.
4. 3 Major factors you need to think about when buying an outdoor pop-up canopy
Outdoor canopy tents are generally made of polyethylene, polyurethane, polyester, and vinyl. What makes them different is how fine the threads of the fabric are (denier rating) and the coating on the surface. In simple terms, the thread of the fabric is denser, the canopy cloth is more durable. For example, the 500D oxford cloth is more durable and sturdy than the 300D ones.
For cover cloth, there are generally polyethylene, polyurethane, polyester, and vinyl. According to my experience, in the aspect of UV protection and water resistance, they go as follows: Vinyl > Polyethylene > Polyester > Polyurethane. In a word, I think the thickness and density matter a lot. Plus a layer of protective coating, the canopy cloth will be durable and protective enough.
The common frames of the canopy tents are aluminum and steel. The aluminum is lightweight, easy to carry but less strong, and steel is more strong but heavy. It appears you need to find a balance between weight and portability according to your actual use.
The instant canopies I usually see in the market are 8x8ft, 10x10ft, 10x15ft, 10x20ft, 12x20ft, 20x20ft, etc, and they generally are square or rectangle. Some garden canopies have a round top but the frames are still square considering easy assembly. However, outdoor canopies are a must for our outdoor events, so many manufacturers have made canopies multiple and various in color, shape, and size. You can always find a suitable canopy that meets your needs.
Compared to the size itself, I think what's more important is layout and capacity. How many square feet can this instant canopy cover? How many tables and chairs can this pop-up canopy accommodate? I'm going to throw a party for 20 people, which size should I pick? Here I found a reference information chart:
Source: aapartyrental
I think the last major important factor when you choose an outdoor pop-up canopy is the accessories. I don't know about your habit. When I pick an outdoor tent, I would like that the tent has all the parts and accessories coming to me; so that I can install and use them directly. I don't have to spend time and effort to buy matching parts. Generally, an outdoor canopy should come with sandbags, stakes, ropes and a carrying bag.
Next, I will introduce 5 best pop-up outdoor canopy tents from Yaheetech, and take them as examples to let you better understand the relevant information about tents, and hope you can succeed in getting an ideal canopy.
5. Yaheetech's 5 best pop-up outdoor canopy tents of 2022
#1 3x3m/10x10ft Commercial Pop-up Canopy Heavy-Duty Frame Waterproof Cover Cloth Adjustable Height Instant Shelter Tent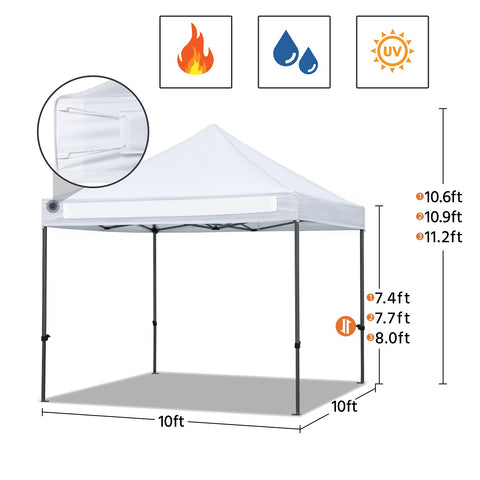 Notable features:
There are three holes for height adjustment on each tubular column of the pop-up canopy. Freely change the height of the canopy. 
Durable, waterproof, and UPF50+ ultraviolet-proof.  
Come with 4 sandbags, 4 ropes, 4 stakes, 1 wheeled carrying bag, 1 assembly manual, and other necessary fittings.
The sandbags are attached to the steel pipes by hook and loop fasteners, easy to assemble and disassemble. Metal rings are for tying the ropes at four corners.
The steel pipes are equipped with footpads at the bottom and each footpad comes with two holes for securing stakes.  
10cm/0.4inhook & loop fasteners secure the canopy firmly to the frame, preventing it from blowing away.
Specifications:
Material: 500D oxford cloth, PU coating, and the metal frame
Net weight: 24kg/52.9lb; Gross weight: 25.3kg/55.8lb
Overall dimension: 300 x 300 x 323-341cm/118.1 x 118.1 x 127.2-134.3 inch (L x W x H); The adjustable range: from 227cm/89.4inch to 245cm/96.5inch
Carry bag size: 162 x 25 x 25cm/63.8 x 9.8 x 9.8inch (L x W x H
#2 10x10ft Pop-Up Canopy Sun Protection Shelter Outdoor Tent with Back Sun Shade Wall Lightweight Backpack Bag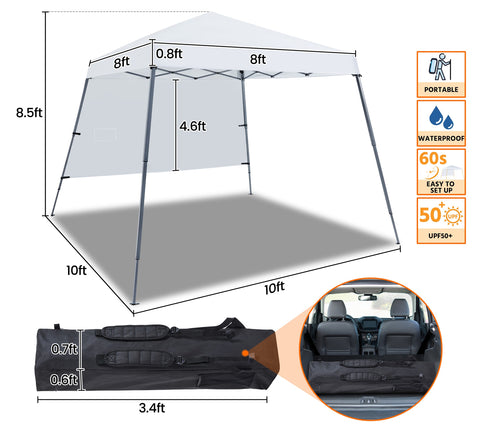 Notable features:
Featuring an inclined design, the 4 legs are tilted yet stable when fully supported.  
Easy to set up due to its one-handed design. Just one person can push and set up the canopy in seconds, timing-saving and effortless. 
One of the sides has a sun-shading wall. This sidewall ensures that sunlight will not slant down to you when you sit under the canopy. It has a small storage pocket for your phone, battery charger, sunglasses, etc.
Available for puttingin the car trunk after being well folded in the accompanying backpack. One side of the backpack has a mesh pocket for small items.
The 4 legs are telescoping with 3 positions. This telescoping design makes assembly and disassembly effortless. Just one person can finish the work easily. 
Made of silver-coated oxford cloth and plastic-sprayed iron. The metal frame gives the canopy strong support, and the protective coating on the tubes and cloth make sure thatthe canopy can last for years outdoors. 
The 150D silver-coated canopy cloth has UPF 50+ UV protection to keep the damage away from your skin.  
Provide a metal frame, a cover cloth connecting a sidewall, 4 sandbags, 4 ropes, 8 stakes, and 1 backpack.
Specifications:
Material:Silver-coated oxford cloth and plastic-sprayed iron
Net Weight.: 13.1kg/28.9lb; Gross Weight.: 14.4kg/31.7lb
Upper overall size: 234cm L x 234cm W x 260cm H/8ft L x 8ft W x 8.5ft H; lower overall size: 300cm L x 300cm W x 260cm H/10ft L x 10ft W x 8.5ft H
Bag size: 105cm L x 22cm W x 20cm H/41.3inch L x 8.7inch W x 8inch H 
#3 10x10ft Commercial Canopy Waterproof Large Tent with 4 Removable Sidewalls Sandbags/Stakes/Ropes/Mesh Window Bonus Wheeled Carrying Bag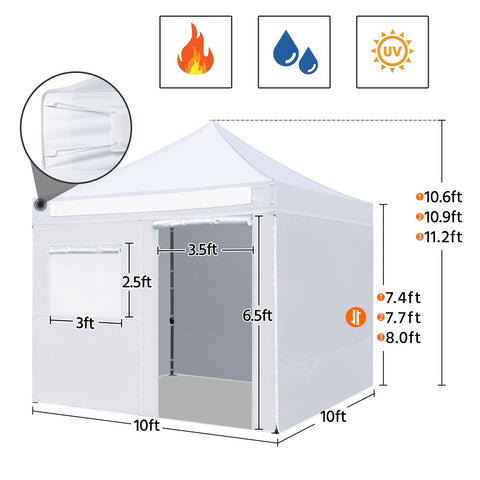 Notable features:
Enclosure with a mesh window,fully-enclosed sidewalls and one of them has a mesh window.
Adjustable height, you can adjust the steel legs from 227cm/89.5inch to 245cm/96.5inch. 
Include 4stakes, 4 ropes, 4 sandbags, and a carrying bag, and the wheeled bag has two wheels, a handle and a small bag, very convenient. 
The short sides of the front have belts for hanging banners. Make your market stall eye-catching with a banner.  
Removable sidewallsso that you can both own a fully-enclosed canopy and a simple gazebo as you need.  
Specifications:
Material: Steel, nylon plastic, 500D oxford cloth, PU coating, and polyester cloth
Overall size: 300 x 300 x 323-341cm (L x W x H)/118 x 118 x 127-134.5inch (L x W x H)
Net Weight.: 26.2kg/57.7lb; Gross Weight.: 28.4kg/62.6lb
Window size: 91 x 85cm (W x H)/36 x 33.4inch (W x H); Curtain size: 90 x 85cm (W x H)/35.4 x 33.4inch (W x H); Sidewall size: 300 x 203cm (W x H)/118 x 80inch (W x H)
#4 10x10ft Canopy Tent Adjustable Commercial Tents with Mesh Curtain with Wheeled Carry Bag Sand Bags 4 Stakes 4 Ropes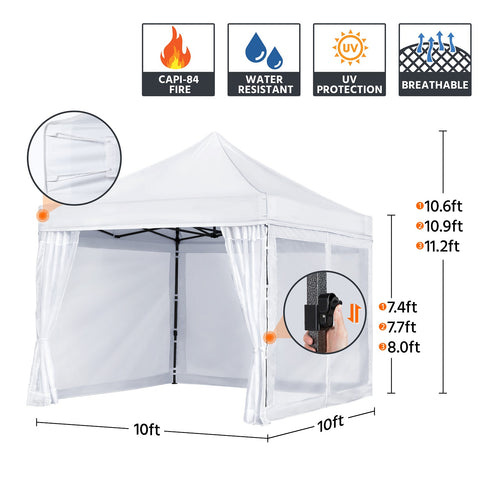 Notable features:
With protection mesh sidewalls, four sides are mesh and one of them is a zip door. 
This commercial canopy also has detachable mesh walls so that you can both own a fully-enclosed canopy and a simple gazebo.
Four corners have four rings to hang the ropes individually. Plus, four stakes, four sandbags and four ropes are for steadying the canopy.
There are three different adjustment heights for your various needs. Each short side has two woven belts for hanging a banner. 
Portable with a carrying bag for storage and transit.
Specifications:
Material: Steel, nylon plastic, 500D oxford cloth, PU coating, and polyester cloth
Net Weight.: 25kg/55lb; Gross Weight.: 27.2kg/60lb
Overall size: 300 x 300 x 323-341cm/118 x 118 x 127.2-134.5inch (L x W x H)
Sidewall size: 300 x 203cm/118 x 80inch (W x H); Door size: 121.5 x 168cm/48 x 66inch (W x H)
#5 10x10ft/3x3m Outdoor Canopy Pop up Gazebo with Sidewall Windows Enclosed Instant Tent Shelter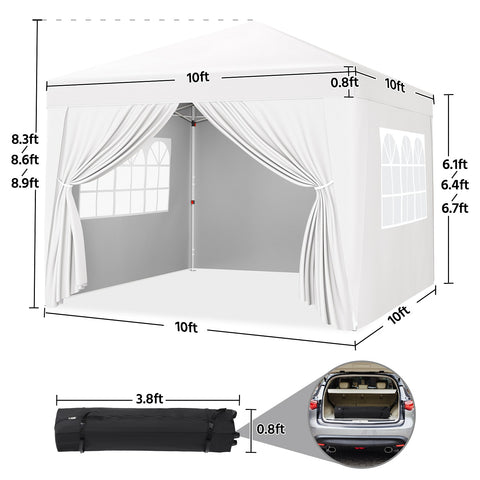 Notable features:
The metal iron is costed with plastic and the oxford cloth is coated with silver, which gives better durability, sun protection and water resistance. 
This outdoor canopy tent has three sidewalls and a door curtain, which provides great privacy protection. Two of the four sidewalls have windows to give you nice lighting. 
The whole height of this patio canopy is adjustable from 252cm/8.3ft to 272cm/9ft, with three different positions.
Package content: There are 1 canopy, 1 metal frame, 3 sidewalls, 1 door curtain, 1 wheeled bag, 8 stakes, 4 sandbags and 4 ropes.
Specifications:
Material: Iron and oxford cloth
Overall size: 297x297x252/262/272cm (LxWxH)/117x117x99/103/107inch (LxWxH)/3/8.6/9ft (LxWxH)
Wheeled bag size: 115x25x20cm (LxWxH)/3x10x8inch (LxWxH)
W.: 14.6kg/32.2lb; G.W.: 16kg/35.3lb
Last but not least, how to set up a tent is also a concern of many buyers. Some of them may not be good at manual work, so I will share some installation instructions and safety tips.
6. How to set up a pop-up canopy tent
Installation instructions

   First, check
Before you start the installation, the first step is to take the canopy tent and all accessories out of the package. Go over the packing list and manual to make sure you have all the parts for installation.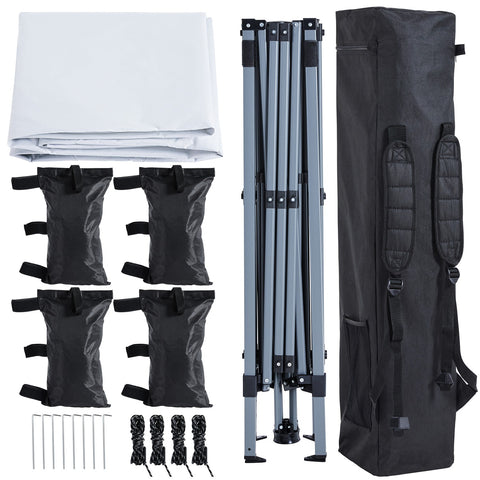 Stand the frame up and unfold the legs to make sure each leg has a certain distance, but do not be in hurry to raise the legs. You need to finish the third step first.
   Third, cover the roof cloth
Cover the roof when the frame stays semi-open. Use hoop and loop fasteners or snaps to connect the cloth and the frame. Make sure the four sides are well connected. After that, you can stretch the frame wider. Get prepared for the next stop.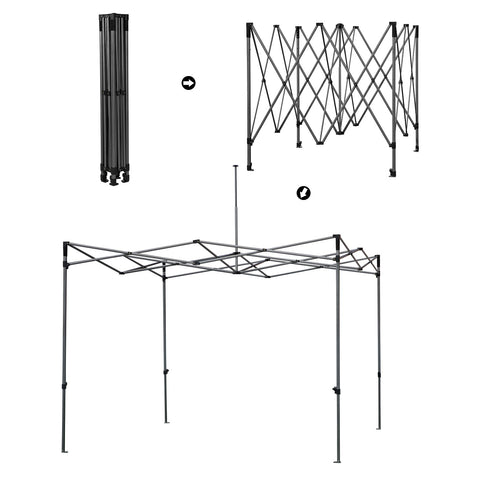 Fourth, push up the roof and raise the legs
Some canopy tents have a one-hand operation, so you can just push the support under the center roof and the whole roof will be higher. If not, you can just push four corners of the roof one by one, and then raise the legs to the height you need.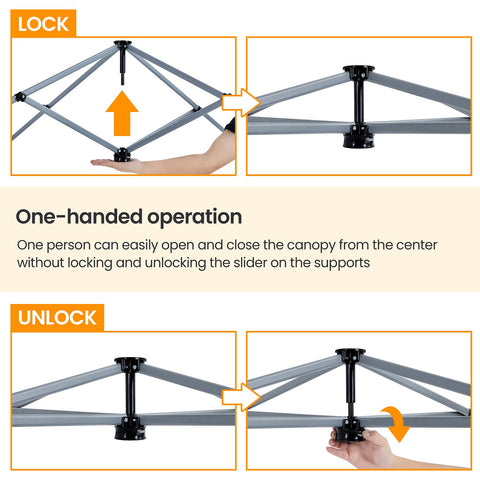 After all the pushing and raising work, the last one is to secure the canopy. Add all the top accessories to the canopy cloth, and secure the legs with sandbags, ropes and pegs.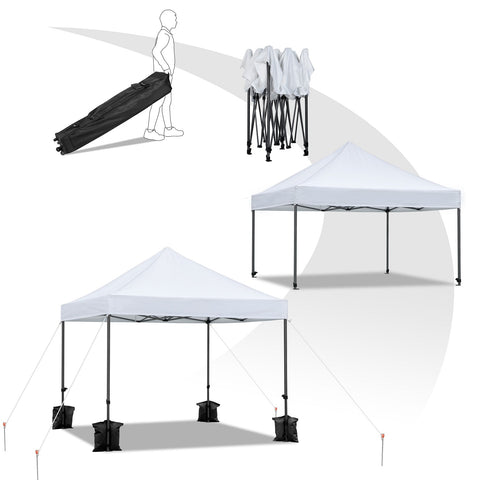 Setting up an outdoor canopy tent seems to be complicated, but once you have success, and you will be familiar with it later. Just follow the instructions and video. If you are not good at assembling work, let someone else help you. Safety is the priority.
Remember to be careful when setting up outdoor canopy tents when it's windy, raining, or when there's lightning. Always use stakes to secure the canopy and use sandbags to stabilize the canopy. 
Conclusion
Everything comes back to life with the advent of spring. Trees show new green shoots and flowers bloom again. People go outside to embrace our beautiful nature, which makes our life enriching and meaningful. It is time to choose an ideal outdoor canopy and get prepared for this upcoming spring!   
PS
If you have a memorable camping experience or something interesting about your outdoor canopy tents, welcome to comment below. You may also share your stories of life with us, finding Yaheetech on Facebook, Instagram and YouTube!