Function-based Solution for Making Your Garden into Your Second Dining Room
A garden or a courtyard, after we experienced a long epidemic, the concern of which is again brought up by us. During this time, we realized that the small garden could work as a pleasant living room, a kitchen, a dining room, an open-air cinema, a café, or even an office.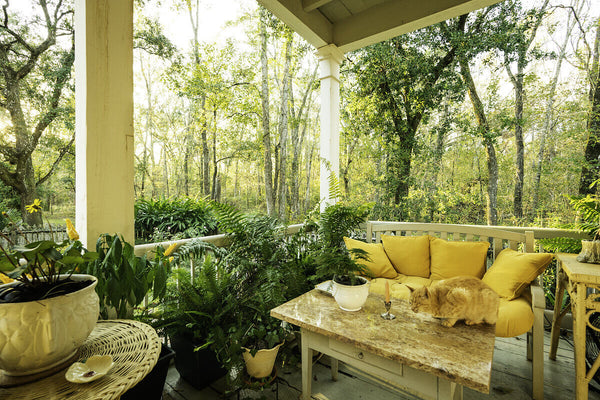 Indeed, a well-arranged outdoor part of a house could be the ideal extension of a lovely home's interior space, both functionally and aesthetically. Simply put, when it comes to designing and decorating a house, its courtyard shall be valued as important as the study, bedroom, living room, or any room in the home. Because it will work as a vital activity space for a family on warmer days, and of course, only on condition that it is appropriately designed. Otherwise, it is probably nothing but a boring lawn or a place for dusty and idle items.
So here comes one question: how to bring out the total value of our yard except for planting some flowers, vegetables, and herbs? In the last few issues, we have introduced a plurality of must-have gardening furniture and tools, like potting benches, planting boxes, and plant shelves, to help you create a vibrant garden. Today, we'll introduce a function-oriented solution to turn your garden into your second living room or any other functional area you want.
I. Function-based Garden Designing Formula
Before officially transforming the garden, I must unreservedly recommend this universal formula. Actually, not just for our garden; it can work in any space transformation or design. That is the function-based designing/ transforming solution. In fact, this formula is so much simple that people hardly think it is a formula and barely notice. However, it is so practical that novices can operate it. It can be applied to different scene designs, making it a worthy formula that deserves recommendation.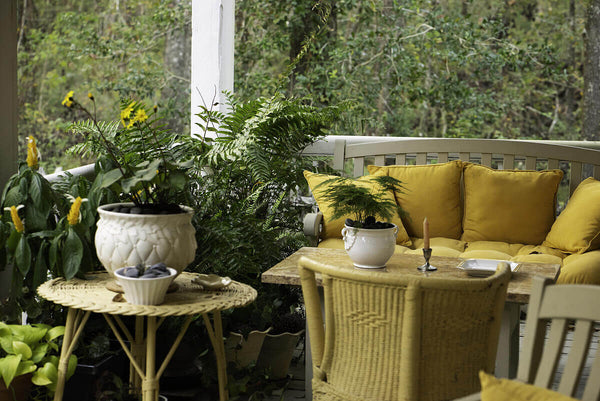 Step 1. Figure out the function you want your garden to realize.
Before you get the urge to have a lot of beautiful plants, seeds, gardening tools, outdoor furniture, and adorable accessories to create your dream garden, please hold on for a second, and consider how you want to spend your time in your garden.
To treat your friends on warmer days with tea, coffee, fruits, and snacks?
To have a romantic BBQ & beer bonfire party with your buddies?
To have a hearty garden dinner with your guests?
To have a sunbathe along the pool?
To harvest organic vegetables and fruits in a different season?
Or to get a pleasant, undisturbed natural home office to work on your creation?
Yes, these are the functions that gardens can realize. However, generally speaking, our floor-plan has a limitation. We need to decide which ones are the most important for you.
This first step is vital for house owners without any idea where to start arranging an empty courtyard. It can save them from aimlessly web-browsing and time-wasting on unattainable plans or impulsively-purchased furniture. This simple step brings you to the first step of your excellent garden project landing.
Step 2. Target the furniture based on your required function and the garden size.
The outdoor furniture category is a vast family. Thus, targeting the correct category that can realize your needed garden function will make the process less challenging.
For example, if you want to have BBQ and beer with your friends on summer nights or to have a night talk around the fire, then a fire pit with both BBQ and chilling functions can meet your needs. While if your garden is pretty small and you only want to sip a cup of coffee and read a book among your beloved roses, then a bistro set or a hanging swing chair would be an excellent option. With the essential furniture set determined, you would naturally know what other accessories you need. See? That's how logical solution work. It is just like a key to a complex question.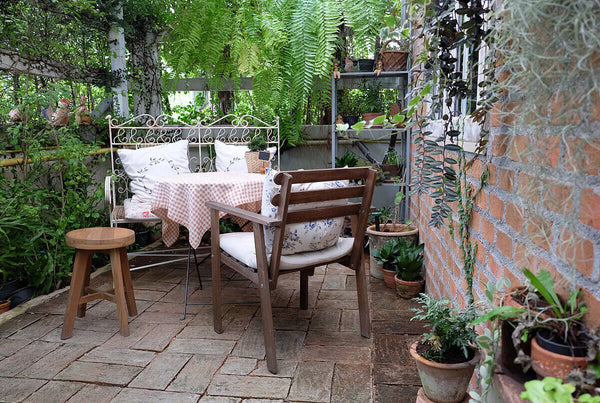 However, this is just a fundamental logic. When it comes to hands-on, it is, of course, not enough. There will be a lot of details and issues that need to consider or pay attention to. As a team focused on designing and developing outdoor furniture for 20 years, next, we'll show you how to apply this formula to create a garden into your second outdoor dining room. A lot of details and tips on outdoor furniture and accessories you have to know are included. If you are about to make your outdoor dining room or transform your garden into an excellent place to stay, just read on. You would get a lot of inspiration and practical knowledge from here.  
II. Let's transform your garden into your second dining room!
After determining to make a garden dining room, the furniture options are narrowed down to the categories of outdoor dining tables, dining chairs, accessories like rolling carts, rolling propane fire pit tables, and outdoor umbrellas. Next, we have a list of tips for choosing a dining set and other accessories that suit your courtyard.  
2.1 Tips on Choosing Outdoor Table & Chairs
Material
First, determining the material of the table and chair can make the following things easier. Because the material usually matters in furniture's price, lifespan, style, etc. As for outdoor furniture like tables, chairs, lounges, swing chairs, end tables, and coffee tables, the material options usually lie in aluminum, rattan, wood, and plastic.
Aluminum
Aluminum features light weight and excellent durability. But that's not its most significant merit. Aluminum furniture boasts superb weather and oxidation resistance, making it ideal for humid climates or rainy regions. Besides, furniture made of aluminum requires less effort for maintenance, which is a powerful reason for many people to choose it. 
The aluminum set usually emanates a romantic and chic vintage style, particularly harmonious with plants like vines, roses, etc. As for the price, such furniture is in the middle of the price range among all the four models.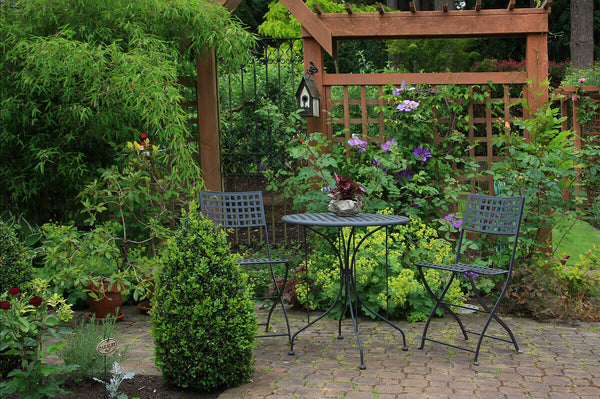 Rattan
Rattan, wicker, or faux rattan furniture is a timeless choice with an impressive history since it breathes an irreplaceable sense of nature. Its light brownish-yellow tone, natural grain, touch, and smell allow it to easily integrate into your outdoor surroundings, like trees, flowers, pool, deck, sky, and sunshine. Rattan also boasts lightweight, except for the nice look, making it extra suitable for outdoor use.
However, one thing must be mentioned: except for the specially treated all-weather wicker and the faux rattan, the natural rattan can be damaged long-time exposure to the elements. Besides, due to its raw porous material structure, it is also not that easy to maintain. The improper way of cleaning and storage may impact its service life.
The prices of natural rattan furniture are relatively high among the four modes, which is also one of the reasons people turn to faux rattan instead of natural ones.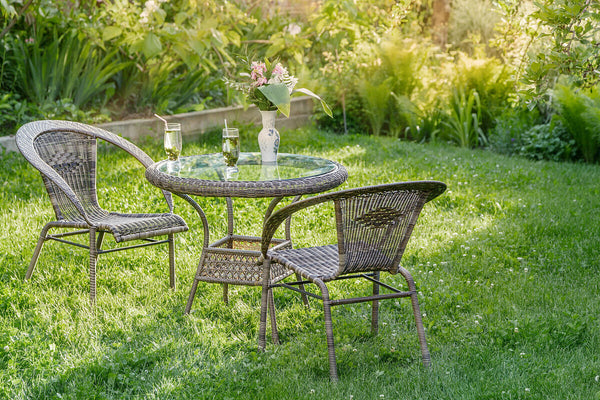 Plastic
Outdoor furniture made of plastic has the lowest price among these four modes. It is lightweight, easy to maintain, and comes in diverse colors and styles. Like its advantages, this kind of furniture's cons is also apparent.   Compared with its wood, rattan, and aluminum counterparts, plastic furniture may not last as long as them. Long-time exposure to the elements would make them fragile and fade. Therefore, for a longer life span, use them under an outdoor umbrella or store them in cool places when not used. To be noticed not every plastic piece of furniture is fragile. You can look at ones made of recycled plastic polyethylene, recycled plastic components, or UV-stabilized pigments, which are also pretty durable.
Wood
Wood outdoor furniture is the most expensive of the four material options. Outdoor furniture made of wood is solid, sturdy, and nice looking as its natural color and grain. Generally speaking, the higher the timber's density, the longer the life span is, such as teak, eucalyptus, and acacia. The well-treated high-density wood usually has excellent weather- and insect resistance.
However, high density also means a more significant weight. Moving wood furniture set or storing it in your garage every year can be a big headache. Therefore, it is not suggested to place them somewhere uncovered or unprotected.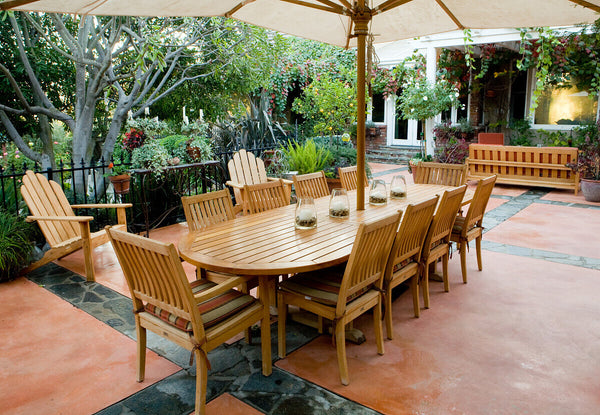 Other Important Factors
Size
The table size depends on your yard's available space and your family's needs. A too-big table would occupy too much of your valuable space and make your garden look crowded. Measure your courtyard by yourself, and leave a particular area for your dining table before shopping can help things go well.
While sometimes, if you have the chance to treat your whole family or friends occasionally. A foldable dining table is also a good option.
Storage
For many regions, not every season is pleasant for people to stay outside, adding that most of us would want our outdoor accessories to serve us as long as possible. In this case, the storage issue lies in a have-to-consider problem. As for small-sized furniture, if you don't want to move it, a blackout rain cover may solve your problem. While as for some large-sized heavier sets, the foldable design or castors are necessary. Another word of advice, stackable stools can save you lots of trouble if you don't have too much space to store them.
Maintenance
Another thing you need to pay attention to is the maintenance. After all, we get those outdoor fittings to enjoy the excellent weather and breathe fresh air. Spending a lot of time caring for them looks like putting the cart before the horse. Therefore, ensure the set is easy to clean before bringing it home.
Table with Umbrella Hole
Some tables are pre-drilled with a hole in the tabletop center for better matching an umbrella. Such a design allows the canopy to shade everyone at the table better. Before buying this kind of dining table, figure out the diameter of the hole so that you won't buy an unsuitable umbrella.
2.2 Umbrella & Base
An outdoor umbrella is almost a must-have accessory for any outdoor place. As a fundamental outdoor dining room element, here we also provide a list of tips on choosing a suitable outdoor umbrella for your garden dining room.
Pay attention to the quality & function of the umbrella materials.
Umbrella Pole & Ribs Material: poles and ribs made from aluminum and steel are preferred choices.
Aluminum, as a versatile pole material, boasts excellent durability, rust resistance, and high strength. It is suggested to look at the easily open and foldable types, such as the crank lifts and pulley-system types. Such a design makes operation more manageable for one person to get the umbrella ready. More importantly, it will be constructive when encountering sudden harsh weather. The rapid umbrella folding is safer for you.
Steel structure umbrella also has excellent strength. It is heavier than aluminum structures, which means higher stability. However, compared with its aluminum counterpart, it has less rust resistance, which makes it less expensive.
As for the canopy fabric, durability, water resistance, UV resistance, and weather resistance are important factors as they matter the sunscreen effect and the service life of the canopy. Also, these are the aspects we care about in designing and developing our outdoor umbrellas. Therefore, when choosing an umbrella, pay particular attention to the performance of the canopy fabric.
Tilt Function
An umbrella with tilt functions can provide users with all-day UV protection. A push-button mechanism on the umbrella pole achieves the classic tile operation. Such a mechanism is solid and easy to operate.
Size & Suitable Base
Which size is suitable for my garden table is the most frequently asked question. It should be depended on the size of the area an umbrella will shade. Therefore, you need to figure out how big your dining table is. Then there is a good rule: the umbrella should be about five feet bigger than the table. Here is a table for you take reference:
| | | |
| --- | --- | --- |
| Table Size | Umbrella Size | Umbrella Base |
| Up to 30″ | 6-6.5 ' | 35 lb |
| Up to 48″ | 7.5-8 ' | 40-60 lb |
| Up to 54″ | 9 ' | 50-65 lb |
| Up to 62″ | 10 ' | 65-75 lb |
| Up to 84″ | 11 ' | 75 lb |
This function-based garden design/ transforming solution can be applied in many places. We hope this fundamental dining table & chair set and the outdoor umbrella selection tips can inspire you to arrange your garden. The following blogs will introduce more information about other outdoor necessities.