Can This Top-selling Outdoor Canopy Suit Your Needs? ——Everything You Want to Know is Here
It is summer again! Along with the rising temperature comes people's increasing demand for outdoor canopies. Are you also seeking a durable outdoor shade for your garden, roadside stall, or camping? Do you know that outdoor canopies of different materials and structures can be roughly divided into commercial grades with higher performance and residential grades for unpredictable weather conditions? Sometimes the various features and properties of canopies are so confusing that our users have many problems to ask.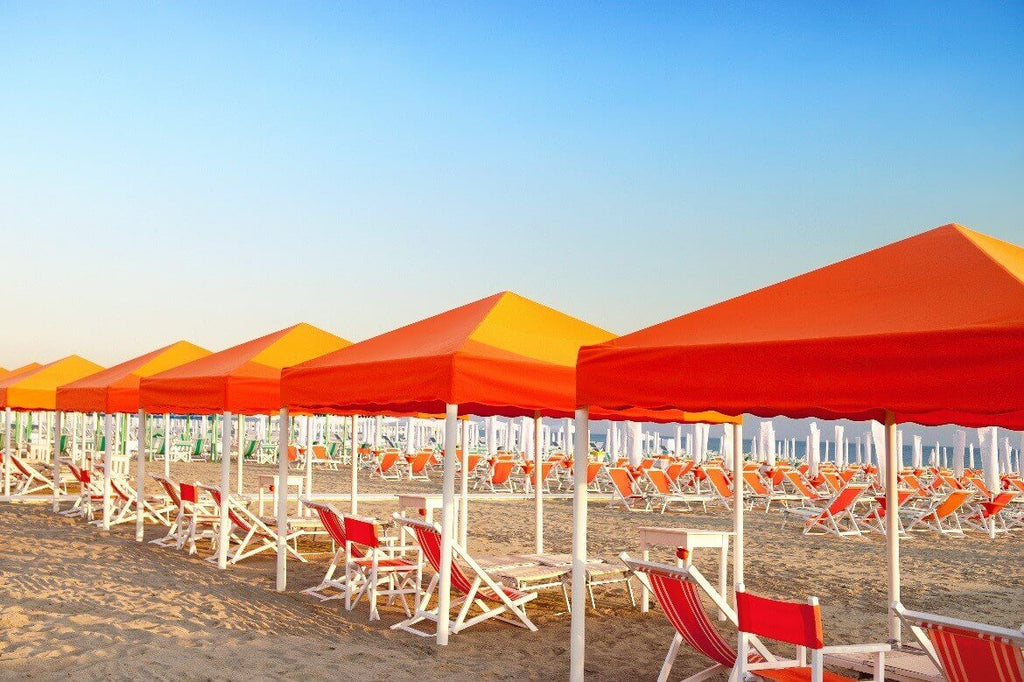 In this issue, we will break down the various materials and functions of outdoor canopies that may confuse you combined with our top-selling 10 x 10ft Pop Up Straight Legs Canopy. At the end of this text, we also round up answers to some of our user's most frequently asked questions about this 10 x 10ft Pop-Up Straight Legs Canopy. Read on, figure out what kind of Canopy can meet your needs, and check if this top-selling Canopy can be your ideal choice.
I. Materials
The primary materials of a canopy tent are the frame that supports the Canopy and the Canopy part, which significantly decide the performance of this outdoor shelter.
1.1 Frame
Most of the canopy structures are made of steel and Aluminum. So, what's the difference?
Steel
Most home or leisure use (not frequently used) canopy frames are steel.
Steel is 3 times heavier and lower in strength than Aluminum. Simply put, a steel canopy frame will be heavier but less robust than an aluminum frame of the same weight.
Steel tent frames are thinner than Aluminum, making them easier to move or store away. And also, the price of a steel-framed canopy is lower than an aluminum one.
Please note that the lower in strength and heavier weight are relative to that of Aluminum. Steel is robust and portable enough to serve ordinary outdoor usage. In a word, if you are not going to use your Canopy very frequently all year round, then a steel one can be a more cost-effective option.
Aluminum
Aluminum structure framed canopies are always for commercial use.
Because compared to steel, Aluminum features:
lightweight and higher rigidity as its wall is more thickly extruded;

excellent rust and corrosion resistance, keeping the frame as good as new for years;

significant thermal conductance that doesn't hold heat, making it cool fast at high temperatures.
If you need to frequently set up your Canopy for a long-time, an Aluminum framed canopy is worth investing in.
1.2 Canopy
After determining whether you need a commercial-use or home-use canopy, now it's time to look at the canopy fabric.
Fabric Strength
First, let's determine how strong the fabric you need.
Denier, a term that describes how thick and robust a material is, measures the thickness and durability of a material. What's neat about Denier is that it tells you the weight of each tiny fiber or thread in the fabric. So, the higher the Denier, the heavier and sturdier the material will be.
Many residential tents may have less than 100D, and many commercial-use ones usually choose a denier of 200D or more. But if you want your canopy tent to be durable standing up to the elements, the fabric of higher Denier, like 150D or more, is suggested.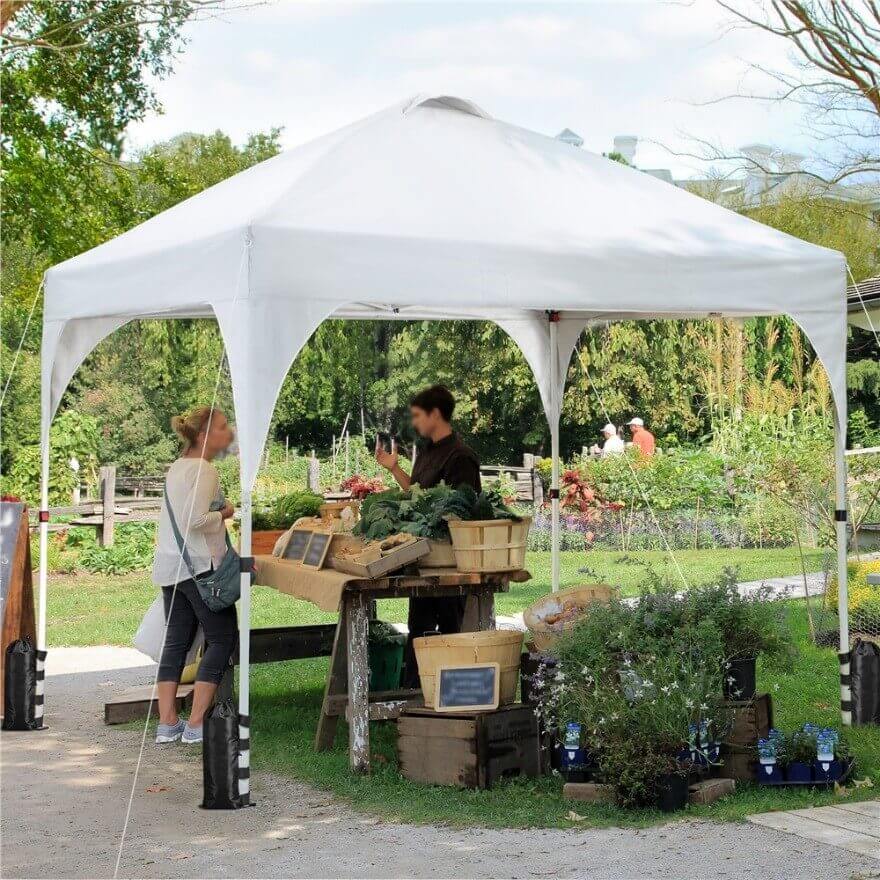 Material Options
Like the frame materials, the commercial and regular-use canopies also have different cloth preferences. Oxford cloth is ubiquitous in general-use shade, while commercial types prefer Polyethylene terephthalate.
Oxford Fabric
Oxford fabric is the general term for Polyester and Nolyn, which boasts excellent wear and tear resistance, lightweight, and water resistance. But they also have slight differences.
 
Polyester is the most common fabric used for canopies. Its UV-resistance, durable strength, and water-resistant capabilities provide users with excellent cool shade and rain protection. Better yet, its lighter weight and softness make it easy to transport, store and set up. More than that, it can retain its shape when wet and is resistant to wrinkles and mildew, making it easy to maintain and reuse year after year.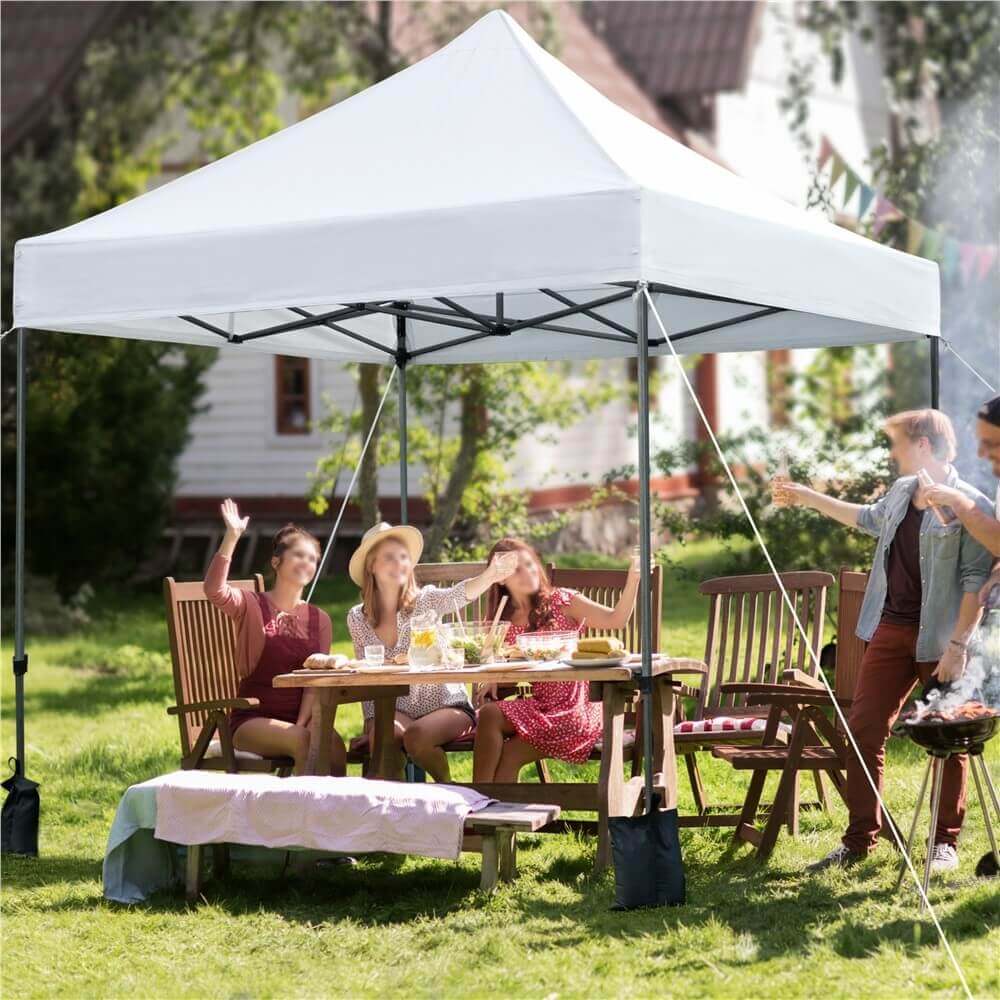 Terylene 
Terylene or Polyethylene terephthalate is a densely woven polyester fabric usually for sails, sunshades, canopies, awnings, etc., as its 100% waterproof, UV-protection, and excellent durability. As an outdoor supplies favorable fabric, it is effortless to maintain and dry quickly. Neither bleaches nor dry cleaning agents can harm it. Compared to Oxford fabric, the textile processes of Terylene make it heavier, thicker, and usually more durable, standing up to the elements. That's why commercial-use canopies prefer this fabric.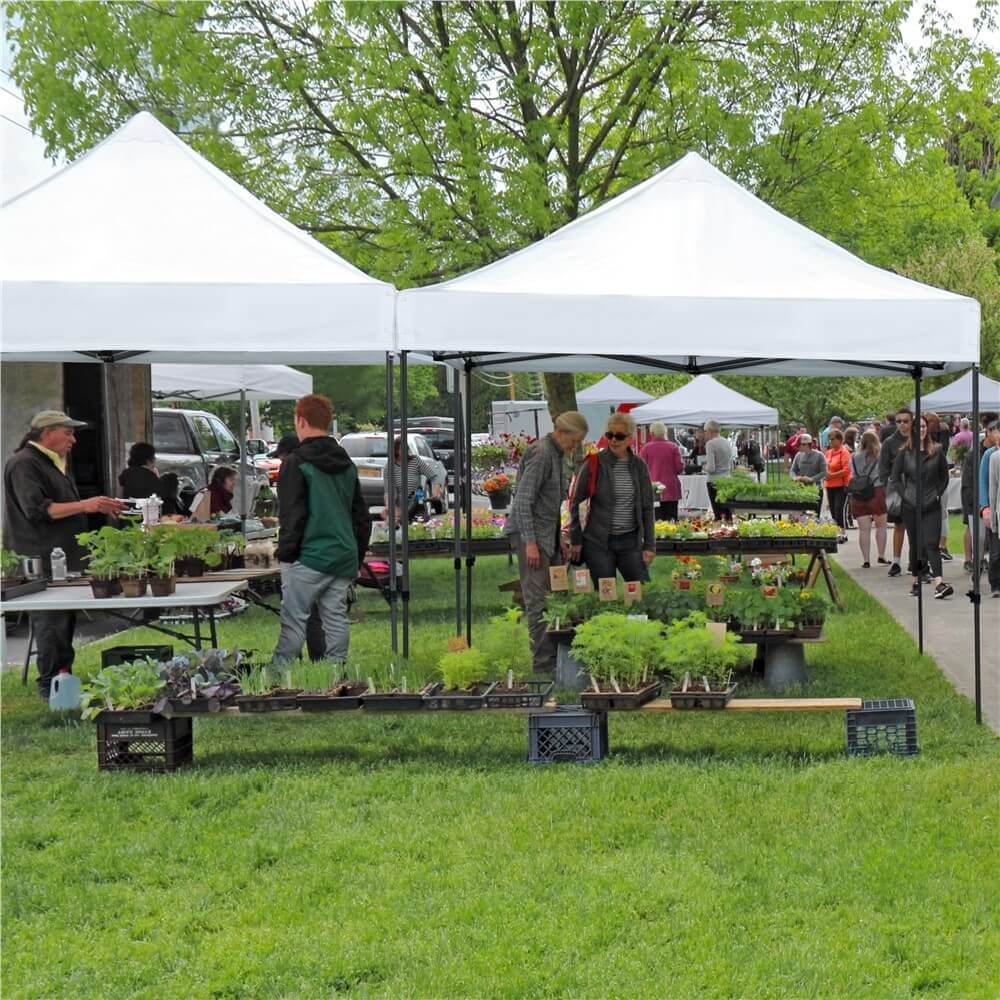 II. Straight Legs V.S. Slanted Legs
Here are two significant differences between straight legs and slanted legs.
First, the straight-leg canopies can have a larger shade coverage area than the slant-leg ones when they have the exact measurement. For example, the shade coverage of a 10' x 10 ′ direct leg canopy is 10' x 10′, namely 100 square feet. While the scope of a 10' x 10 ′ slant leg canopy only has 8' x 8 ′, namely 64 square feet.
Second, slant-leg canopy tents are usually cheaper than straight-leg tents because they use less material. This means the slant leg tents have less stability and durability. Therefore, go straight legs if your budget is allowed or you want to use your canopy tent for a little bit longer or withstanding unpredictable weather conditions.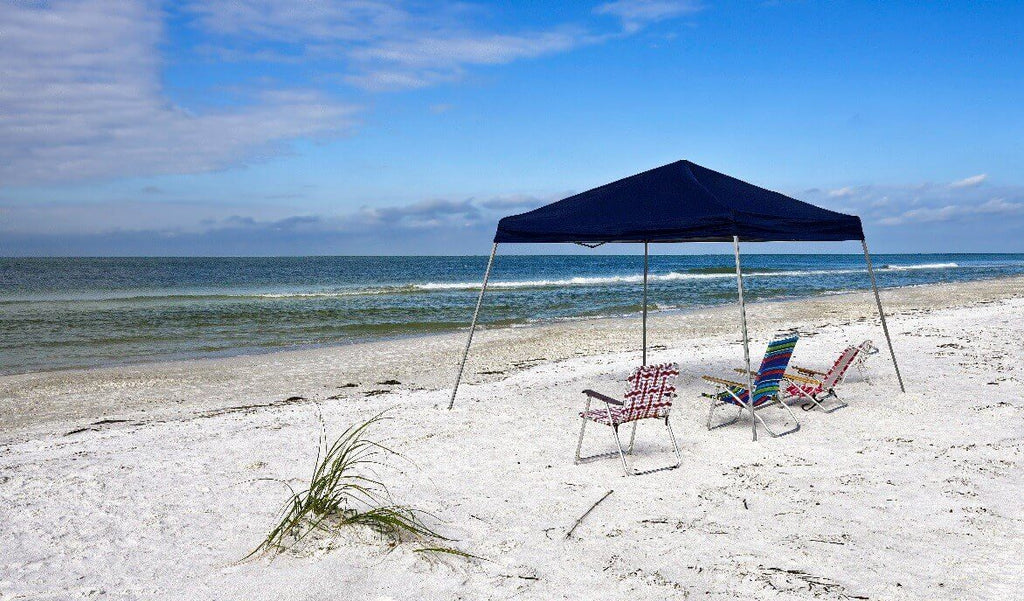 III. Q&A Yaheetech 10 x 10ft Pop-Up Straight Legs Canopy
Yaheetech 10 x 10ft Pop-Up Straight Legs Canopy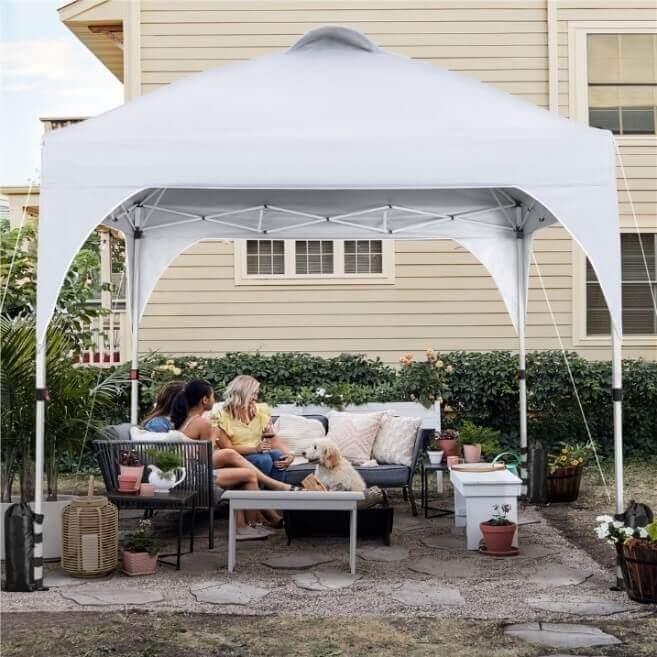 Specifications:
Material: Steel (frame), 300D Oxford cloth (carrying bag), 150D silver-costed Oxford cloth (Canopy)
Assembled Dimensions: 10 × 10 × 8.3/ 8.6/ 9 ft (L × W × H)
Shade: 100 sq ft
Wheeled Bag (up-right): 0.7 x 0.7 x 3.8 ft (L × W × H)
Item Weight: 27.2 lb 
Shipping Weight: 30 lb
All for Your Pleasant Outdoor Experience:
Heat-reflective 150D Silver-coated Oxford cloth, UV-blocking UPF 50+ & Water-resistant
Tear-resistant 300D rolling carry bag, 27 lb, 3.8 feet long, easily fits in most vehicle trunks
100 sq ft cool shade
Push-button heights-adjustment
6 parts, 5 steps, 3 minutes, 2 people, get ready to use!
Q1. Do you have to use the strings to keep the fabric on? Because I am selling at markets in town, there isn't anywhere to put the pegs.
Please secure the Canopy with stakes, ropes, and sandbags. If the place you stay is no strong winds, you can use sandbags and stakes to attach them to the ground.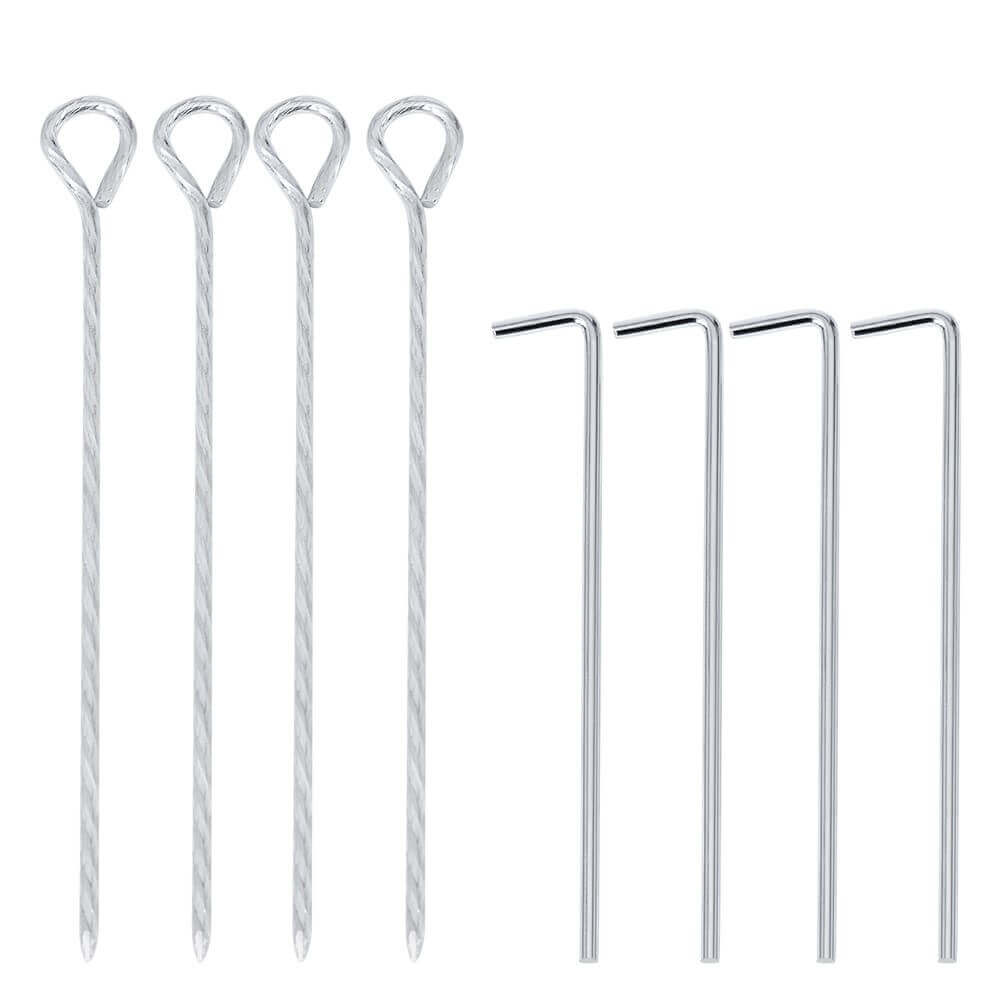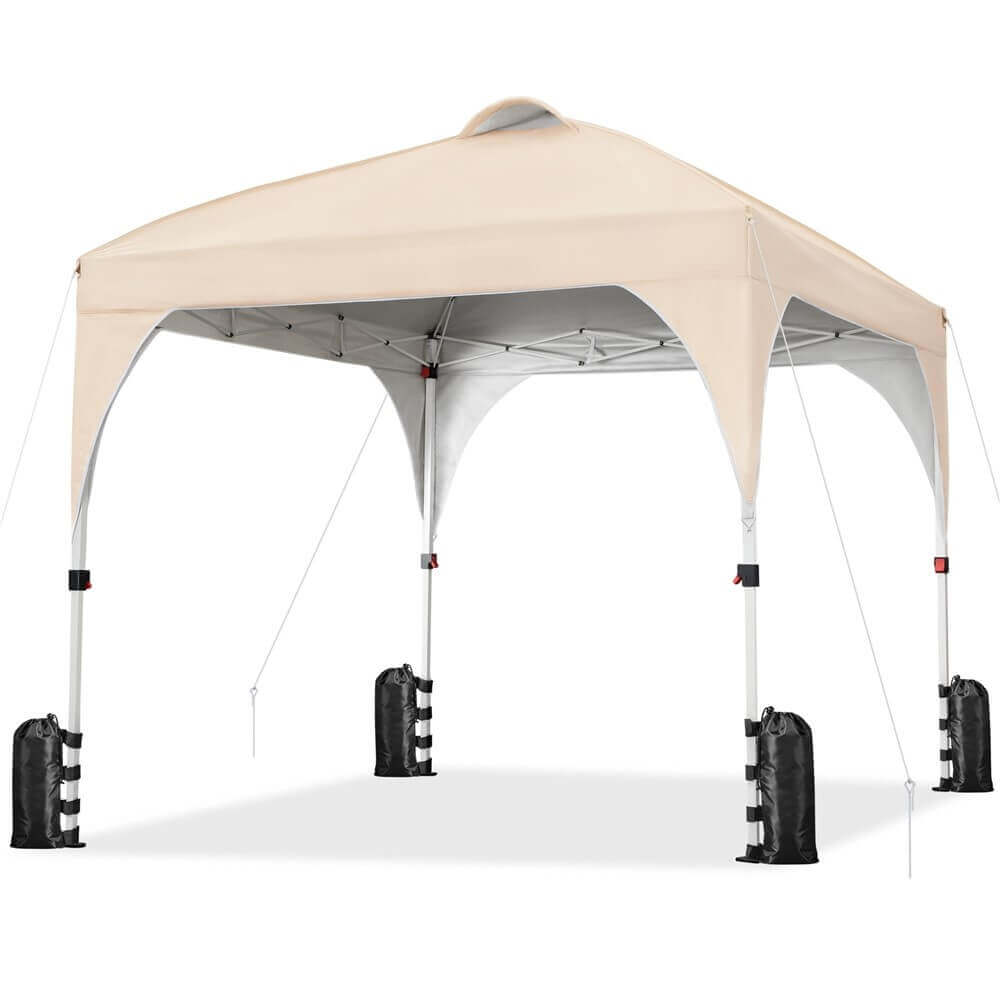 Q2. If this is sturdy enough to withstand the wind? Thank you, I don't fancy climbing into a neighbor's garden to retrieve it.
The roof of this Canopy has vents, which can help balance the inner and outside air pressure when the wind blows. Besides, 150D Sivler-coated Oxford cloth and steel are adopted to craft this Canopy, making it wear & tear-resistant, durable, and robust. However, we do not suggest you use this Canopy in the gale for your safety. After all, it is designed to block U.V., light to moderate rain, and for convenient storage and transportation, not for extreme weather.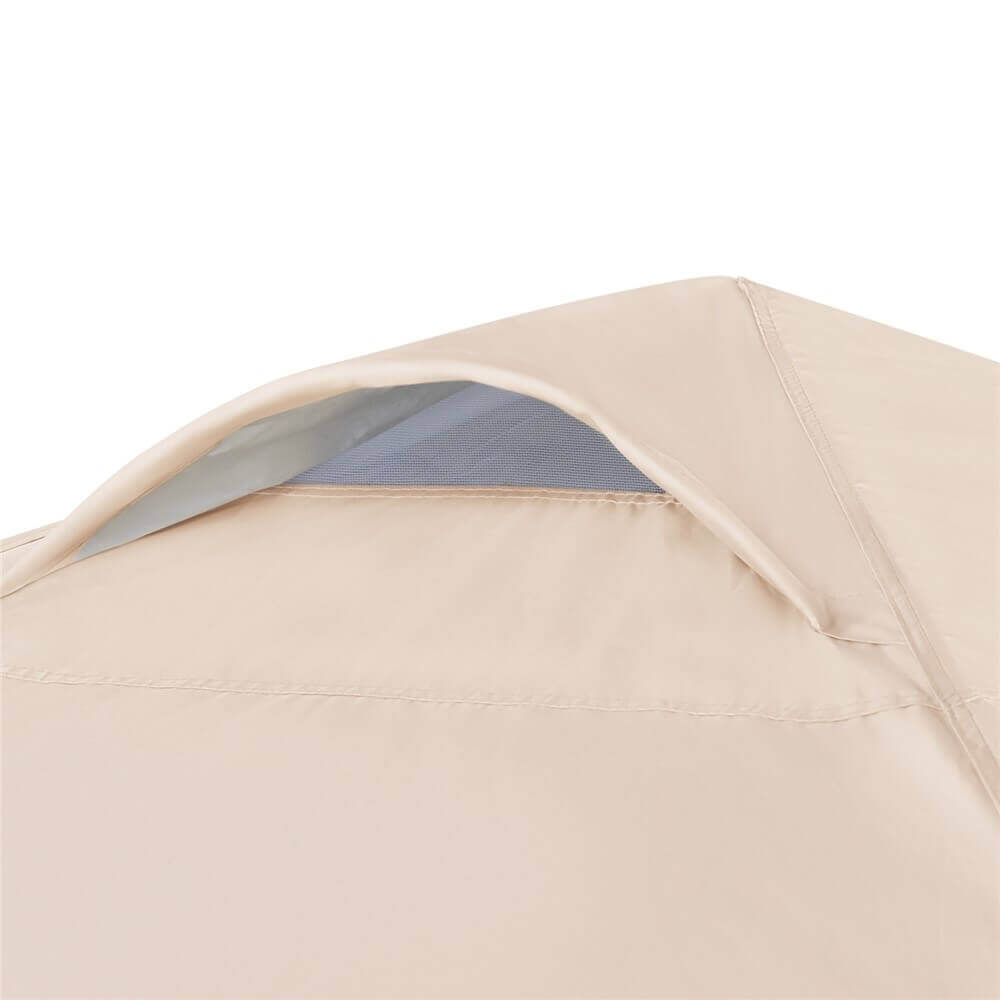 Q3. Will separately purchased sides fit onto this Canopy?
Yes, as long as the size is correct.
 Q4. Do you have to remove the cover to collapse and store the gazebo, or will it fold down with it still on?
Yes, you need to remove the cover when you fold the Canopy. But do not worry. This canopy tent is easy to set up and store and requires no tools. 4 quick-release buttons can help you fold the outdoor top easily and quickly. It is just like closing an umbrella. Just press the quick-release buttons at four corners and shorten the frame. The Canopy will be folded compactly to fit into the included wheeled carry bag.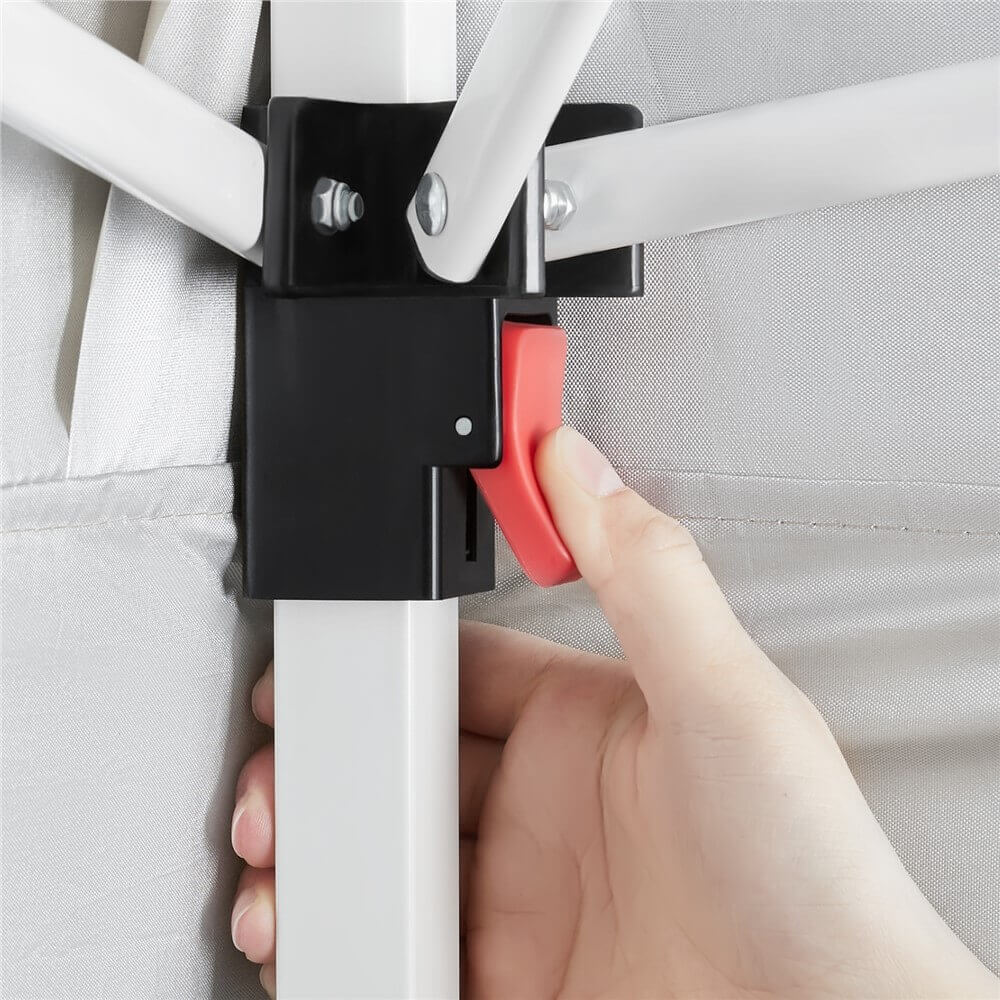 Q5. What is the weight of the gazebo? (for transportation)
The weight of the package of this Canopy is 19.3 kg.
Q6. How waterproof is it? We need one as a market marquee in rainy Wales.
The canopy is made from water and waterproof Oxford cloth with silver- coating as the second waterproof layer and is supported by a rust-resistant steel frame. Whether blazing hot or rainy, you can always enjoy your happy time outsides under this 100-square feet shade.
Q7. Is this material fire-resistant? How far should it be from a barbecue?
The material is not fire-resistant but can be used safely if not exposed to an open flame.
Q8. Does the cover stay attached, or do you need to take it off and on after each use?
Stays attached. I was impressed. We've kept ours up in Northern Scotland even in wind and rain. Put it down to the lowest level if a good storm comes in; otherwise, it stays up for 6 months of the year. It would be more sensible to put it away, but our shelter has outdoor cushions and has loads of lights and a hanging heater attached.——from a user