Buying Guide For Your First Wicker Furniture
A well-designed patio, deck or garden can serve as your secret paradise for your dearest families and friends to create your unforgettable memories in those pleasant seasons, or as your private working space that blocks out any external interference. However, different from the indoor environment, the choices of patio furniture comes with more considerations. Since the weather discourages many delicate materials, such as wood, which easily get deformed or cracked in damp air or under the scorching sunlight, and iron, which goes rusty after the protective coating peels off. Besides, for those days that are not suitable to stay outside, the storage and movement of the furniture turn into another problem as it'd be better not to leave outside, or its lifespan will be shortened by the elements. Out of these concerns, adding the unique advantages, wicker furniture has received the cult following by people around the world for hundreds of years to serve outdoor space.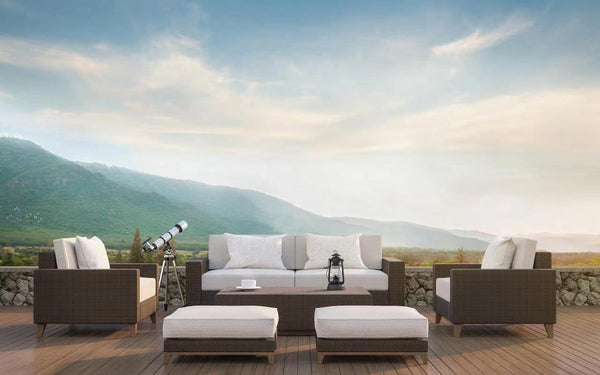 However, chances are that when merrily coming to the step of picking out ideal wicker furniture for your dream garden, you may be straightway confused by the dazzling choices in the market, various styles, sizes, colors, costs, sets or single items, models, and, especially, the materials, rattan, PE rattan and so on. Some of them look exactly the same but diverse in price. Don't be retreated, next, we will distinguish some mainstream material selections for wicker furniture and look at each of the vital considerations when comes to choosing the right one for you, helping you to turn into a wicker furniture expert in the shortest time.
I. Why wicker furniture are so much in favor of patio use?
Wicker furniture has been popular for centuries. As the most welcomed patio furniture, its unique and fantastic features make it, by now, still can't find a substitute.
1.

 

Natural Outlook
The most intuitive feature of wicker furniture lies in its instant atmosphere of nature, making it a unified entity with any gardens, patio or deck. On scorch summer days, its unartificial color, beautiful native grain and clean and regular lines can even visually make you feel cooler.
No matter how does the popular trend changes, natural elements always have huge cult followers. After all, no one would reject the magic power from great nature. Staying in the embrace of nature is always the simplest way for us to have relax and restore our energy, which makes it a classic that never goes out of style.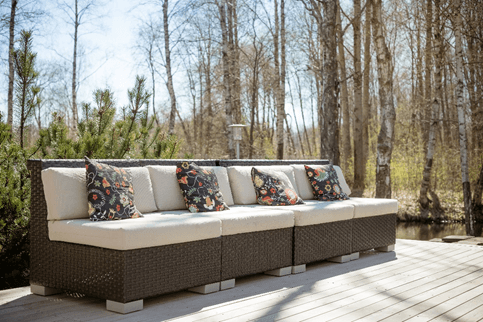 2. Cost-Effective
If the domestic space is the territory of wood furniture, then the outdoor can absolutely be regarded as wicker furniture's. From the perspectives of cost, weight, moisture resistance and maintenance, it is no exaggeration to say, once move outside, the wooden furniture will lose all of its advantages.
While wicker furniture, which seems to be born to serve outdoor space, boasts almost all of the required features to adapt to the outside conditions, and surprisingly, much cheaper than its wooden counterparts. Although the adaptability of wicker furniture varies according to different raw materials, generally speaking, it is still the best solution for the outside part of your house.
3. Excellent Weight Capacity
Excellent weight capacity serves as one of the standards when people determine whether the furniture is good or not, and it is also an orientation of efforts for material scientists and furniture designers to work hard breaking through.
Wicker, benefiting from its super-strong fiber structure of the raw materials and basketry, no matter natural or synthetic, ranks pretty high in the list of materials for furniture in terms of bearing performance. Wood ones perform not bad as well, however, as furniture for outside space, its heavyweight and water-phobic characteristics make it fall by the wayside. While, as for PVC and metal furniture which enjoy the same bearing capacity, the former can't bear direct scorch sunlight, or it will become brittle; and the latter, just like wooden ones, proves to be another water-phobic competitor.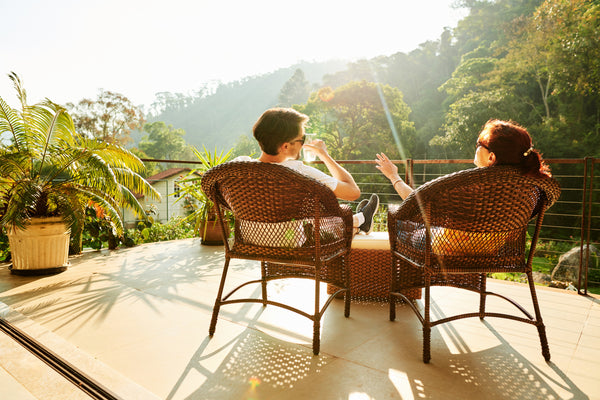 4. Low Maintenance
Unlike a relatively clean domestic environment, the complicated elements of outside weather make furniture in the patio need to be cleaned more frequently. Besides, when people use patio furniture, they are unlikely to spend that much effort on maintenance or take care like when using an expensive wood sofa or table do, which makes low-maintenance another major requirement for patio furniture.
Wicker furniture is such a type that, when you want to refresh it, all you need is gentle soap water. Rinsing with soap water, especially cleaning the stained area by a soft brush, washing out with clean water, and drying with a cloth or in a cool, ventilated place. Although wicker furniture won't be easily damaged when getting wet, for ensuring its long service life, it'd be better to not soak in the water for a long-time. Or, if it is just gathering a thin layer of dust, a wet cloth is enough to wipe it clean.
5. Durable
Durability or anti-wearing work as another advantage for wicker furniture to serve patio space. The raw materials and special basketry endow wicker furniture with a certain degree of resilience and anti-wearing, making it capable of bearing active users without deformation or damage, and thus allowing your friends, families or pets to fully enjoy your playtime on it. 
6. Lightweight for Easy Movement
Even though wicker furniture enjoys excellent performance in moisture resistance, anti-deformation and low maintenance, the best way to prolong its lifespan is to protect it from elements, so does furniture made from other materials in your patio. In this case, wicker furniture still lies in the optimal status. Since one of another super-performance of wicker furniture is its weight. The lightweight allows such furniture to be easily moved or stored without expending too much effort. Every year when the best season ends, storing the wicker furniture in your garage or basement proves to be the best way to maintain it. 
7. Water Resistance
Excellent water or moisture resistance lies in the decisive factor for artificial synthetic wicker furniture to rank highly serving patio. However, it is not to say that it can be soaked in the rain or the melted snow for a long-time without any damage. It is just said that, compared with its natural, wooden, metal or PVC counterparts, it is less likely to get deformed, rusty or cracked under the same elements. If you don't take any protective measures and just let it withstand wind, rain and scorch sunlight all year round, its lifespan can also be shortened. Here, we suggest you protect your wicker furniture according to the instructions.
8. Wide Range of Choices
Thanks to the excellent performance of wicker in almost all aspects, wicker furniture is designed into thousands of models, sofa, coffee table, side table, table-sofa set and so on to meet all kinds of people's needs. You can always find the one that is suitable for your outside space.
Boasting such terrific performances, wicker furniture is of course also suitable for domestic use. It goes well with various room decor and is capable of generating a welcoming soothing vibe for your lovely home.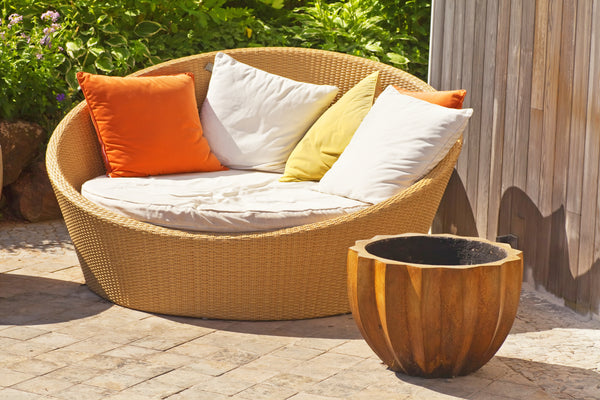 II. Uncover the secrets behind the bewildering materials of wicker furniture
1. Tell the difference between wicker and rattan
Before telling the difference between the natural rattan and those artificial substitutes, we'd better first figure out two confusing but totally different concepts, wicker and rattan. Both of these two words are usually used to describe the same type of furniture. However, the word "wicker" refers to the way that a certain material is weaved or prepared. While "rattan" comes from a climbing palm tree that is rich in Australia, Africa, and Asia. It is highly malleable and can be stained in many different colors due to its porous material structure, which is widely used to make handicrafts and all kinds of furniture supplies.
In a word, wicker is a way of weaving materials, while rattan is a material. The reason why they are always been mixed up lies in that wicker furniture and rattan furniture is usually look the same. The significance of telling the difference between these two concepts is that the said rattan furniture is usually made from the real natural rattan, but there is another synthetic rattan that is also widely adopted to craft wicker furniture. Though similar, there are many differences between natural rattan and synthetic rattans. If wicker furniture made from different materials is jointly called rattan furniture, then it may cause so much confusion like today that you can't recognize what on earth does the wicker furniture made from just from the name and thus make you miss the real suitable and cost-effective choice.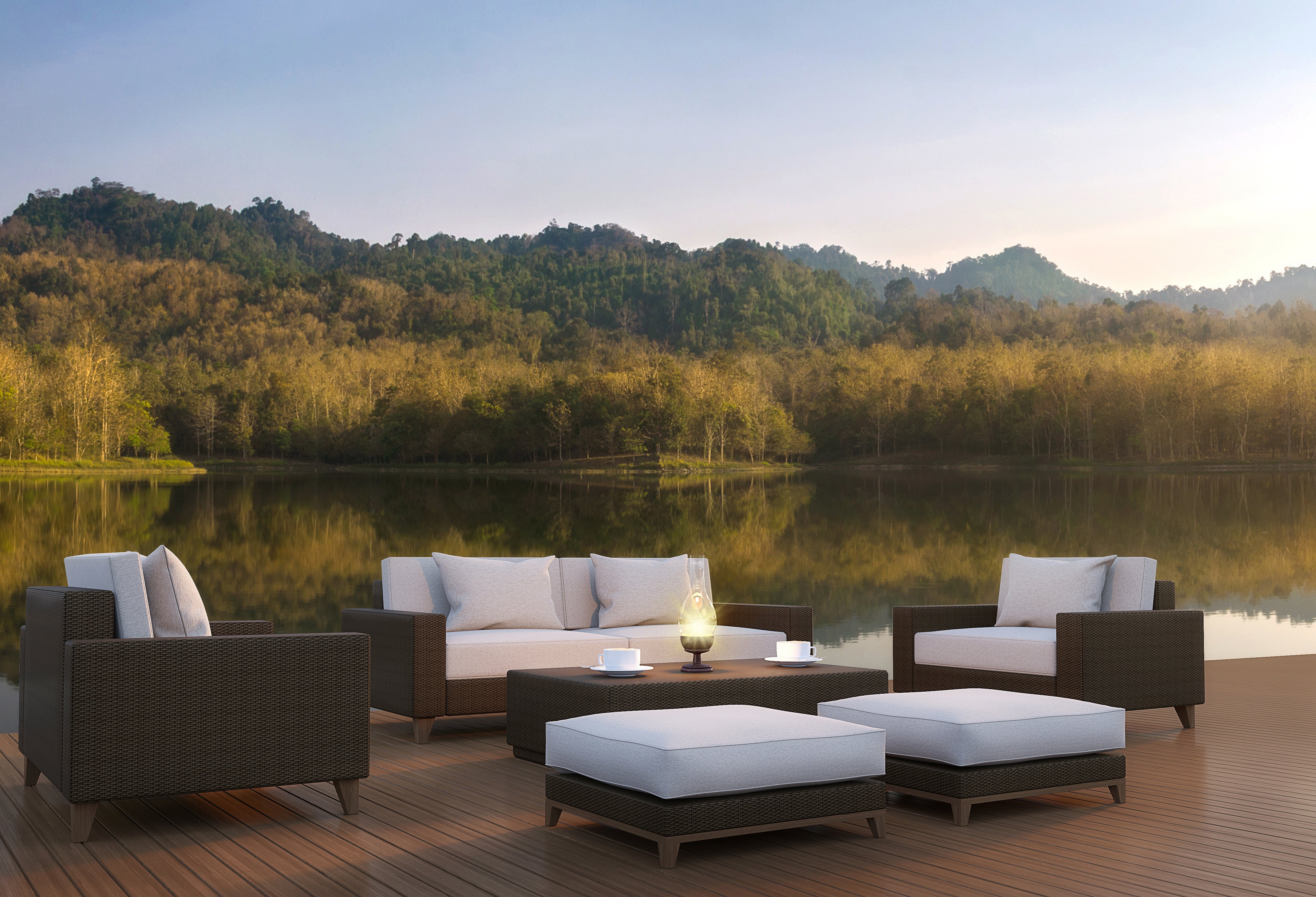 2. Natural Rattan VS Synthetic Rattan
Though boasting so many advantages, there is an unavoidable common failing of wood that natural rattan also shares, the porous material structure. Such a structure brings rattan risks of rot or damage when long-time exposed in weather. Since rain and fine dust can be gobbled up by these porous which shortens the lifespan of rattan furnishings.
Synthetic rattan products can be regarded as one of the greatest innovations in the 20th century as it replaces natural rattan to a certain degree, and most importantly, overcome the vital structural issue of their natural counterpart.
However, can synthetic rattan completely replace the natural one? Is their user's experience the same or not? How to make a wise choice between these two options?   Next, let's explore these two magic materials and figure out their true colors, which have to be clear by anyone before purchasing wicker furnishings.
Advantages of Natural Rattan
☼ Natural wicker furnishings are crafted out of various materials, such as willow, bamboo and other natural fibers, among which, rattan is one of the most typical and prime options. Great resilience lifts wicker to the top of the list of natural wicker furnishing materials. Such a feature endows its products extra-cozy user's experience that better relieves the stress from the users' body. Once you have ever experienced natural wicker furniture, you may know the feeling that each inch of your body that contacts the surface being adequately corresponded, and with that comes a light consoling "crunch" sound, the exclusive hallmark of the natural wicker.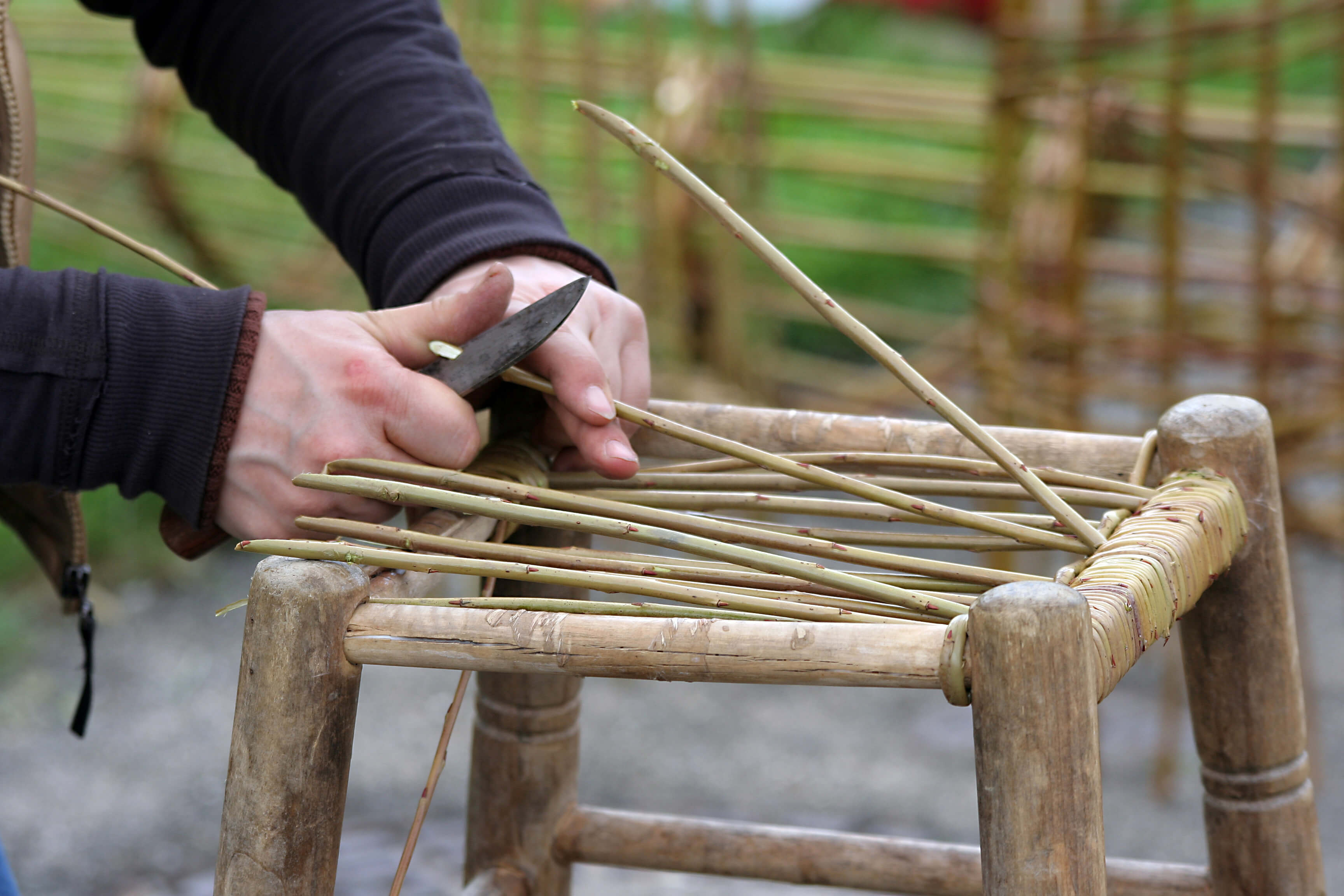 ☼ However, resilience is not the only advantage that natural wicker possesses. To be a popular choice of furniture, handicrafts, and furnishings, the success of natural rattan is nothing accidental. The moisture rattan is super pliable that can be bent at different strengths and angles without fracture. Once drying, the model can be well shaped that very unlikely to deform or be damaged even under the pressure equal to its weight.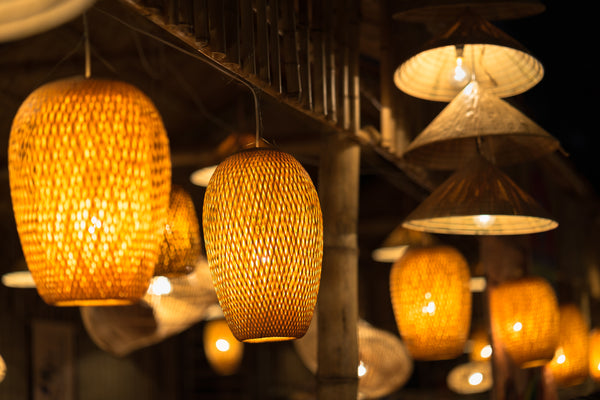 ☼ Another outstanding advantage of natural wicker is its great hand feel and charming texture, cold, smooth and shining with a sleek natural gloss. On the scorch summer days, furniture made from natural wicker usually feels cool to touch even used outside.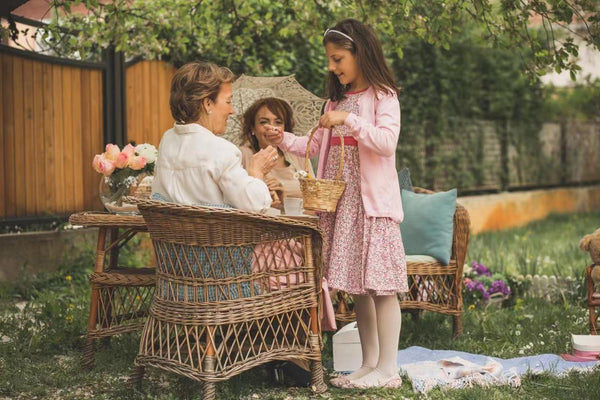 Disadvantages of Natural Rattan
☼ Though boasting many advantages, here comes a shared feature of many green materials that natural rattan furnishings also have, susceptible-to-weathering such as going rotted or moldy when exposed in the rain, or discoloring under the strong UV.
Such a feature means that your natural wicker products require more maintenance, like the storage in the rainy season or a cover for preventing direct sunlight. If you have a plan to arrange your yard with natural rattan furniture, you'd better take into consideration of the corresponding protective measures or the local climate. While, of course, if you want to apply such furniture in your house, then those adverse factors will become negligible that you can directly skip this part.  
Advantages of Synthetic Rattan
When rattan is synthesized into artificial material, two weaknesses of natural rattan are perfectly overcome, high-cost and non-water-proof, which makes wicker furniture to be further welcomed by more groups all over the world.
☼ Natural rattan, as a material that comes from natural plants in certain places in the world, requires a relatively-long growth period. Based on that, the combination of second-process, traffic expenses and the increasing concern of the environmental protection concept lead to the high prices of natural rattan furniture.
While synthetic rattan, which is mainly made from abundant and widespread plastic and other similar resources, generally tends to stay low-cost. This superiority makes users to successfully achieve the goal of creating a yard with natural elements on a limited budget.
☼ The other advantage is born for overcoming the greatest weakness of natural rattan, weather-resistance. Thanks to the high-density and porous-free material features, synthetic rattan provides users who live in wet or rainy places a perfect chance to enjoy wicker furniture. The super tough synthetic rattan can take a shower in the rain or absorb the strong UV rays without rotting, deformed or fading. In other words, the maintaining of such an artificial material is even simple that you don't need to worry too much about the potential damages to your expensive furniture caused by inappropriate maintenance.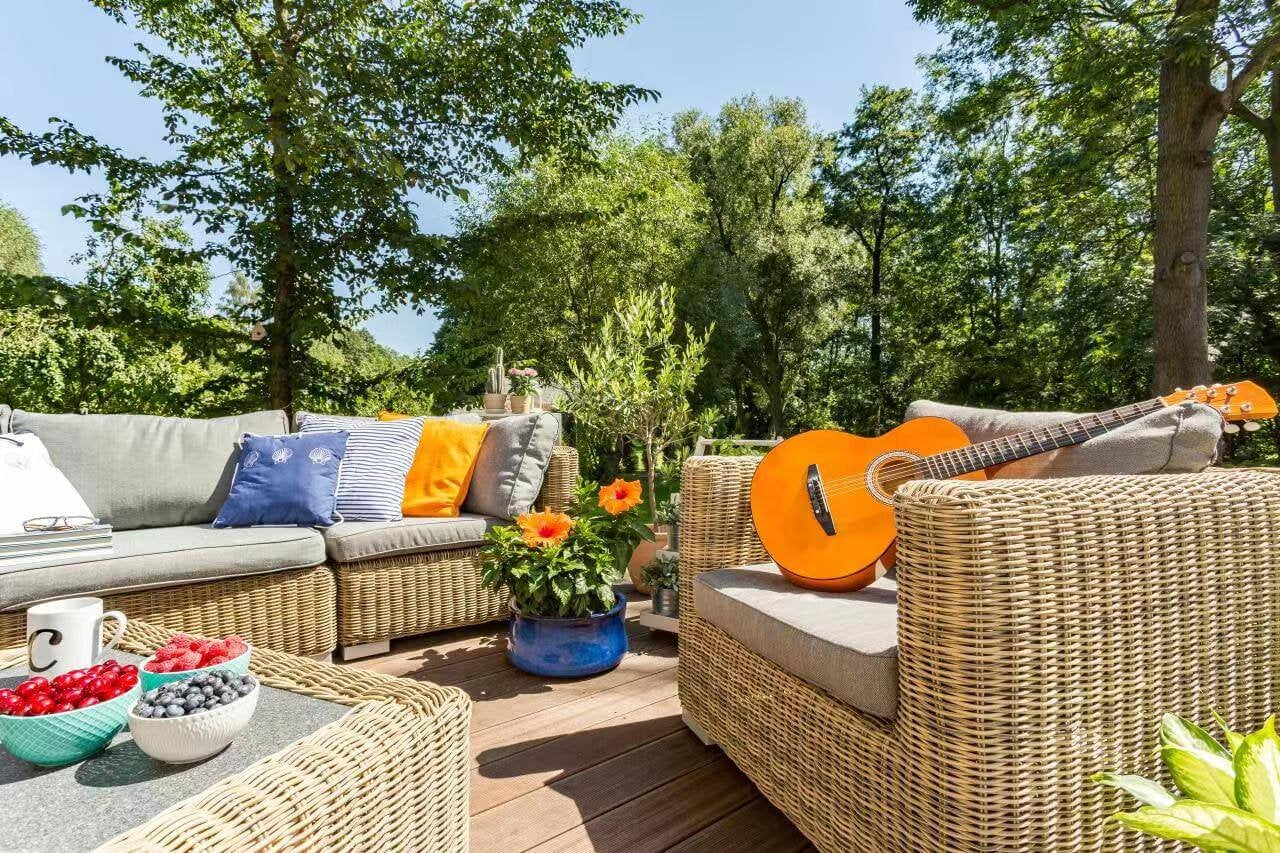 Disadvantages of Synthetic Wicker
Though tough and cost-effective, synthetic wicker can never completely replace natural rattan. That's because, first of all, people would always prefer natural materials if permitted as they believe that green materials are more healthy. Besides, made from plastic, such material has always been accompanied by doubts about the harm done to the environment.
In addition, plastic is liable to crack, especially when it dries and hardens after a period of exposure to rain or strong sunlight, which means, you also need to adopt the proper way to protect your synthetic wicker furniture or its lifespan will also be shortened.
Most importantly, though looks almost the same as its natural counterpart, there is a fact that can never be changed: synthetic rattan is just synthetic. It will never perform the same as the real thing.
In a word, natural and synthetic rattan boast respective advantages that allow different people to enjoy wicker furnishings. Some people prefer natural rattan products out of their firm belief as naturalists. While others, make a cost-effective or more environmentally adaptable option to create their private yard. It's all up to you!
III. 3 considerations
After figuring out the difference between natural and synthetic rattan, and making the final decision between these two options, the following steps are much easier. Here, we put forward 3 considerations to be aware of that can help you target the perfect wicker furniture for your yard.
1. Comprehensively consider the space limitation, furniture size and storage.
Take into comprehensive consideration the size of your yard, the usage requirement, and the storage or way to protect your furniture when spared in the season that is not suitable for going out.
A sizeable furniture set and its reasonable arrangement, sometimes, can visually expand the floor plan of your yard. You've probably seen a house which looks not that small or narrow as its actual area describes after the furniture is arranged. That can give credit to the smart adoption and arrangement of furniture to a large extent. Therefore, you need to give more thought to the selection between a sofa-side table set and a single corner sofa or other options based on the actual situation of your available space. 
In terms of the size selection, we suggest you choose the model that can meet your needs instead of the one in the largest size within the allowed bounds. Since different from the indoor space, you have to consider the storage or protective measures of your patio furniture in inhospitable seasons. Furniture in large size may not friendly for you to store in your basement or garage. Besides. sacrificing too much space that could have been used to do more things like growing plants or doing exercise is not a wise choice.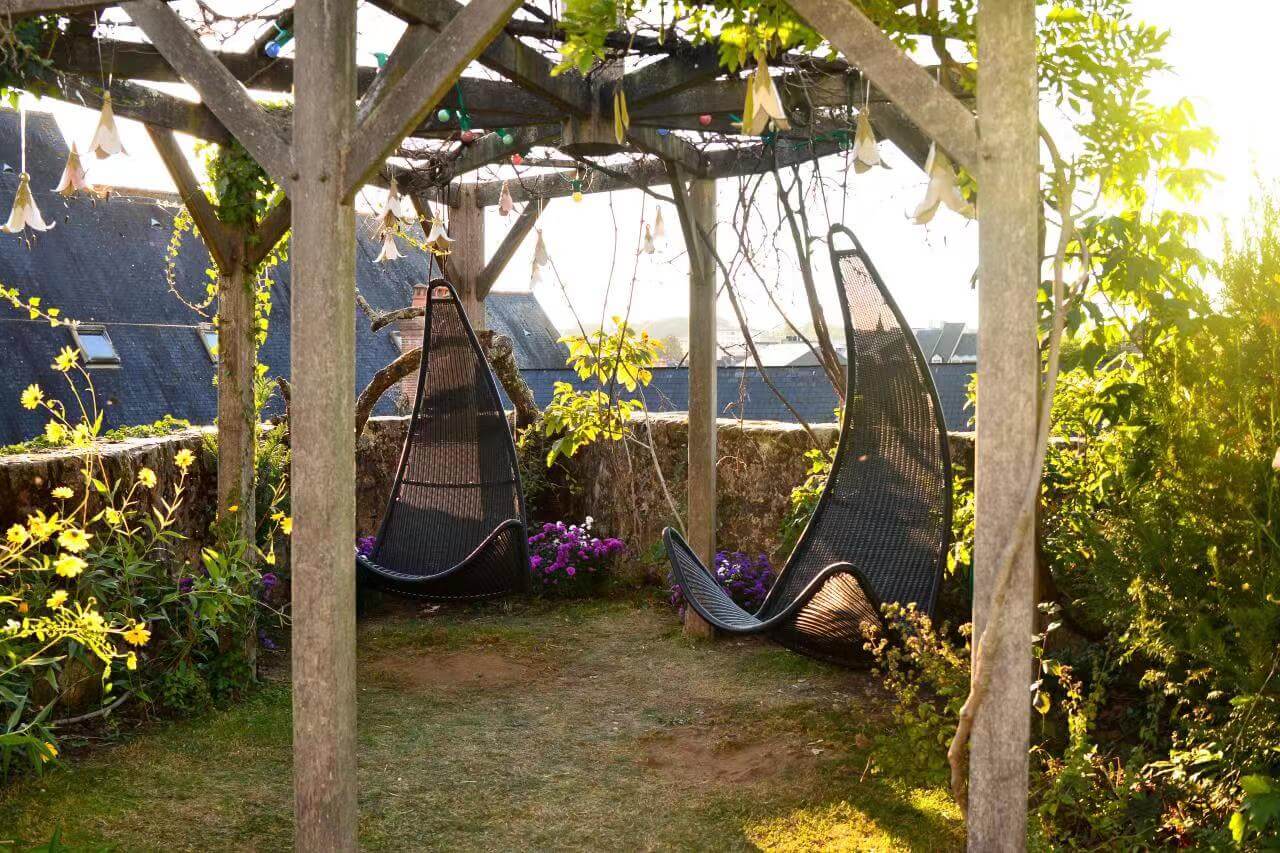 2. Never ignore the comfort level.
If it is possible, try before buying. As for furniture, the comfort level directly decides whether your cost is worth it or not. Besides, attention shall also be paid to accessories like a cushion or pillow and the cover fabric thereof, like if it is cozy or not? Or are they qualified to be used outside? Well-designed furniture is by no means about the only furniture itself, but the whole part of the design and every detail of your user experience. A professional and excellent furniture designer or producer will take all the details into account.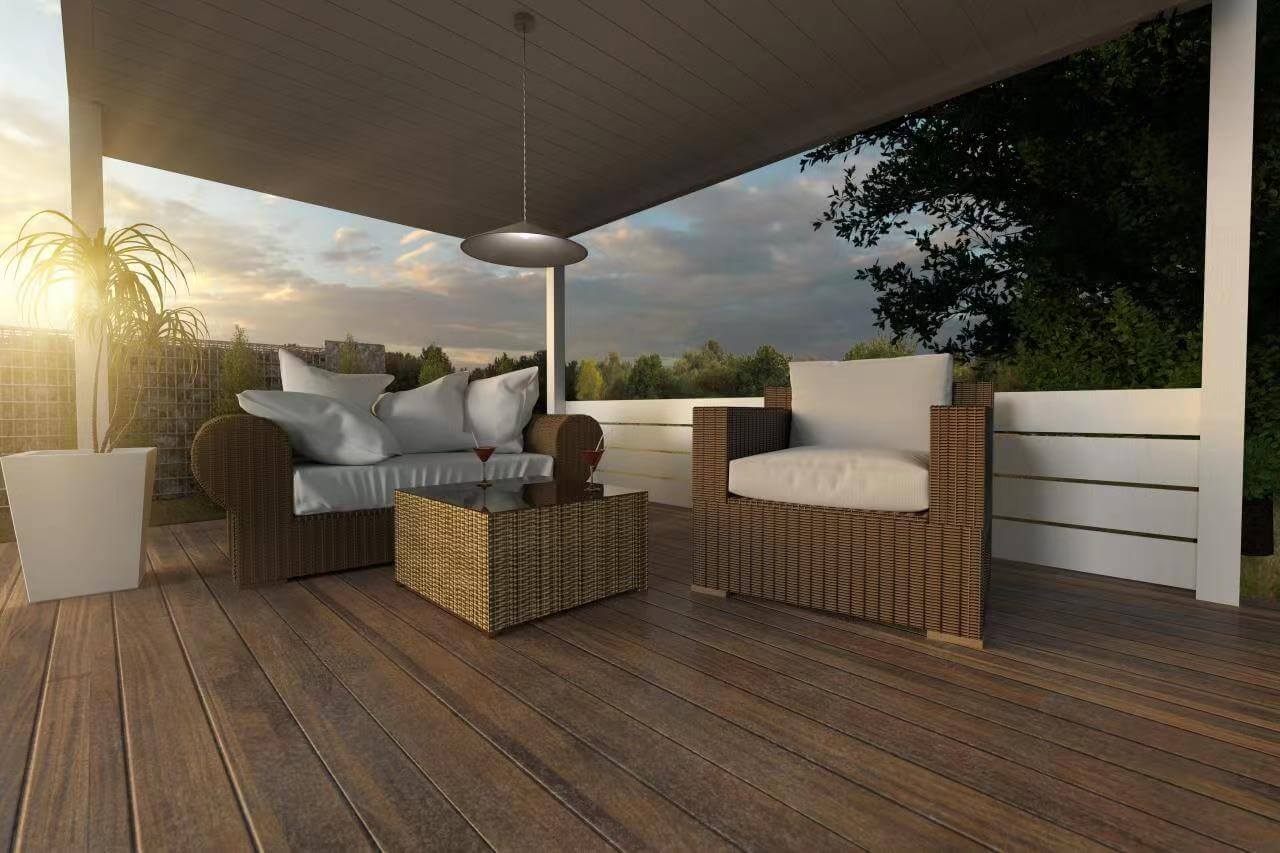 3. 6 Details shall not be ignored.
☼
 

Choose the wicker furniture that is knitted tightly and neatly.

A well-knitted furnishing can not only be smooth to touch and looks better, but also more durable and stronger for long-time usage.
If you want to choose furniture for your outside space, it is very likely that the ground is not that level as the indoor floor. Furniture with adjustable feet can better adapt to such a situation and offers a more stable user experience.
☼
 

If you choose a furniture set that, for example, comprises several separate sofas, please pay attention to the

 

connectors

 

between the 2 adjacent parts.

Since the wicker furniture is lightweight that is very likely to leave the original position if the users are pretty active. Connectors can effectively avoid such situations.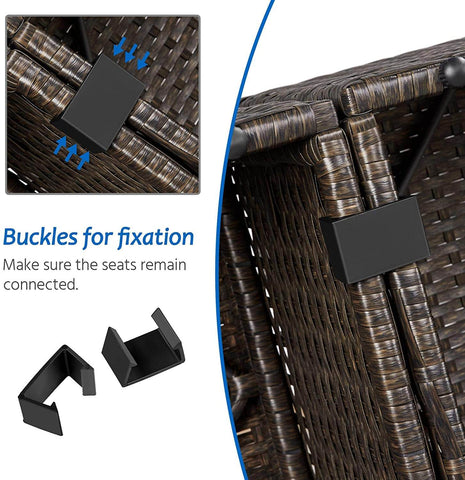 ☼
 

Pay attention to structural stability.

Choose the furniture with reinforcing members. Such furniture can have a longer lifespan.

 
☼
If
the furniture you choose is in a large size that is inconvenient to store in your garage or basement, make it clear whether a protective cover is included. If not, get it prepared. Since it is a must-have accessory if you pretend to place your wicker furniture outside.