A Complete Guide on TV Stand--- Things You Must Know Before Bring It Home
A
TV Stand
, console, or entertainment center, just like a dinning-table, writing desk, or fireplace, is a piece of furniture that largely defines the function of a room, the way you stay alone to enjoy yourself, or how you spend time with your family. Never underestimate the power of furnishing. Although we decide which and how they display in our space, they are the ones that quietly influence us in terms of mood, habits, mode of thinking, or even health and luck. The relationship between furnishings and us is by no means a fantastic talk. You can find a similar theory in geomancy.
Back to the TV console, our subject in this guide, the like of furnishing that if you make a wise decision at the very beginning, it can serve you for decades without causing any distress that sometimes you may even ignore its existence. The good news is that many options are available, and the best one for you is right there, no matter your budget. But to find it is not that easy as it is not the saying that as long as you spend enough money, you get the best one. Since there is a logic set and many details behind the intelligent choice, you can realize many of them only when the issues occur after using it for a while. This guide will talk about all these matters on choosing a perfect TV stand and the details only manufacturers or people who have suffered in this regard would know.
3 Aspects You Care About Most in Terms of TV Stands
Here are three aspects people who intend to buy a TV console would consider. Each of these aspects looks intuitive, but when it comes to making the decision, you may probably find that it is not as easy as it seems.  
1. How big a TV console should I buy?
To get the correct answer, here are 3 steps for you to follow~
Step 1. Measure your TV
When people choose the TV size, they usually refer to their TV first. That's precisely the right idea. However, here is one thing to be noticed, the TV sizes are measured diagonally, from the upper-left corner to the bottom-right corner of the screen. Please note that the frame does not count. In comparison, manufacturers measure and indicate the dimension of the TV stand horizontally. Therefore, if you want to know if a stand is suitable for your TV, you need to refer to the width of your TV, including the frame part.
Generally speaking, the top of the stand shall be more comprehensive than the TV so that your TV won't overhang and cause safety issues. Furthermore, sitting on a broader TV stand not only makes the layout looks more harmonious but also leaves space for items like vases, bonsai, and photo frames for decoration. In addition, the much wider console can accommodate your new more giant TV in the future as we all know that the TVs tend to be larger and larger.
Here is a table to refer to:
| | |
| --- | --- |
| TV Stand Size | Recommended TV Size (Diagonal) |
| 30'' | 34''-38'' |
| 35'' | 39''-43''  |
| 40'' | 44''-48'' |
| 45'' | 49''-53'' |
| 50'' | 54''-58'' |
| 55'' | 59''-63'' |
| 65'' | 70''-73'' |
| >70" | >70" |
Step 2.  Measure the place that tends to accommodate your TV Console
Figuring out the suitable TV stand size is far not enough. It also requires to make sure that the site you pretend to place your TV stand is also appropriate. Here are some rules of thumbs:
∆ Make sure that the location of the preserved electric socket fits the cable holes of the TV stand and meets the needs of your TV and other electronics.  
∆ Avoid the location with intense light, for example, near or in front of the window. Since with the contrast of bright light, it is difficult to see what is playing on the TV clearly, which may harm your eyes.
∆ Do not ignore the best viewing distance. The inappropriate distance between you and the TV may cause your neck or eyes to strain after a long-time keeping in an uncomfortable position. General speaking, if your TV is a 1080p HDTV unit, the best distance ratio lies around 1.5-2.5 times the diagonal width of the screen. While if your TV is a 4K mode, then 1-1.5 times is recommended.
Here is a table about the recommended TV viewing distance for you to refer to:
| | | |
| --- | --- | --- |
| TV (Diagonal) | 1080p | 4k |
| 40'' | 5-8.5 feet | 3.5-5 feet |
| 43'' | 5.5-9 feet | 3.5-5.5 feet |
| 50'' | 6.5-10.5 feet | 4-6.5 feet |
| 55'' | 7-11.5 feet | 4.5-7 feet |
| 60'' | 7.5-12.5 feet | 5-7.5 feet |
| 65'' | 8-13.5 feet | 5.5-8 feet |
| 70'' | 9-14.5 feet | 6-9 feet |
| 75'' | 9.5-15.5 feet | 6.5-9.5 feet |
| 80'' | 10-16.5 feet | 6.5-10 feet |
| 85'' | 10.5-17.5 feet |  7-10.5 feet |
Step 3. Confirm the proper height of the TV stand
As important as the appropriate viewing distance, the TV stand at the correct level is also crucial for enjoying the programs without getting strained. The measurement method lies in:
1. Measure the distance from the floor to your eyes when sitting on your sofa or seat.
2. The central point of the TV screen seated on the stand shall be level with your sight when you sit down. Confirm this point and record its value.
3. Calculate the height of the appropriate TV cabinet: use the recorded height value of the appropriate central point minus the height value from the TV bottom to the TV center. The tabletop where the TV sits shall be no lower than 12" below the calculated value.
 2. Wood? MDF? Particle Board? What on-earth material should I choose?!
Like other furnishings, TV stands made from different materials also have diverse performances in many aspects, such as style, durability, and price. Here, we'll discuss the three most common and easily confused material options. If you are interested in other materials, welcome to leave your comments in the bottom section; we would like to help you figure it out.     
Wood
Wood, as a timeless material, boasts irreplaceable durability, rich color, and natural textures. You can find that those collectible TV stands with the most exquisite artistry are frequently wooden.
 The woods for crafting furnishings usually come from timber forests. Timbers of different tree species feature diverse tones, smells, hardness, and textures, making them adaptable in all kinds of styles. The wood or wood-like TV stands are always the top choices of all décor styles. 
Furthermore, the high density of timber has contributed to its popularity for thousands of years. Wooden furnishings are so strong that they can last for decades.
In addition, there is another characteristic that makes wood irreplaceable. Unlike other artificial materials, an old wood furnishing with traces of time is even more appealing and unique as we can see some grow dearer as they grow old.
However, the price of the solid wood TV stand is not that friendly to our wallets, which is one of its few bugs. We strongly recommend the wooden TV stand if your budget is tight. You will find that, except for the price, they are flawless! 
Engineered Wood
If your budget is limited, but you adore the texture and vibe of a wood TV stand, an engineered wood one may satisfy you both ways! Engineered woods, such as plywood, medium-density fiberboard (MDF), and particle board, the most common ones used to make furniture, are well-accepted substitutes for genuine in the furniture industry and users.
 MDF Board
MDF boards come from recycled solid wood products by breaking recycled materials into fibers, gluing them together at high heat and pressures, and forming panels of required thicknesses. Due to its manufacturing process, the MDF board boasts an even smooth surface that allows the ideal performance of the surface treatments such as painting, veneering, or embellishing.As made from genuine wood, TV stands made of MDF feature some wood characteristics, such as natural wood tones, rich textures, and excellent solidity that breathe a restful, soothing vibe.
Although they are less robust than their solid wood peers as they have weaker density, TV stands made from MDF board are strong enough to serve you for a long time. Furthermore, in contrast with their solid wood peers, they are more affordable and environmentally friendly.
Particle Board
Particle board is another commonly used engineer plate produced by pressing waste wood, resin, and sawdust together by heat. One of its merits is that it can be drilled easily; so do cutting, milling, painting, and gluing, making this engineered plate widely used in furnishings production. However, it can not be denied that the raw materials and the manufacturing craft make this engineered board less dense than wood, MDF, or plywood, which is subject to tear or break. But do not worry about that. As long as you do not overload it, such a situation can barely happen.
The particle board is difficult to be made smooth or glossy. Thus, it usually needs to be protectively coated to perform better. We typically choose laminate or veneer to finish its surface. Such treatments can endow the board with a wood-like color, texture, or other required styles. Meanwhile, a TV stand made from this material is less weight, which is convenient for you to move.
Concerning the price, particle board can be the king of cost performance. If you don't ask for a high-end TV stand, or all you ask is a stylish design instead of one made from costly raw material, we strongly recommend you get a console made from particle board. Particle board furnishings have been relatively mature. Though not expensive, you can find a myriad of well-designed, functional particle board TV stands on the market.
 One primary concern about this plate is the safety issue. Some harmful ingredients may come along with the resin. CARB P2 (California Air Resources Board's (CARB) Phase 2, serving as a standard for formaldehyde emissions from engineered wood products (including hardwood plywood, particleboard, and medium density fiberboard), can be regarded as a safety certificate for you. Therefore, as long as a TV stand has CARB P2 accreditation, you can use it safely.
 3. More than a TV stand? What else can it do?
Besides the most basic function, accommodating TV, a TV stand can have more tasks than you thought. Check the following lists to broaden your scope of interior design or décor. 
☼ Storage Cabinets
According to our customers' feedback, storage is the most wanted function of a TV stand. Once living in a place for a long time, there are more and more belongings. Especially for limited floor plans, it is sometimes hoped that every piece of furniture can have a storage function. A spacious cabinet is pretty practical for a TV console. TVs tend to have a lot of accessories, such as game consoles, video players, voice boxes, play discs, etc. Gathering relevant items in a specific storage place makes them better accessible and free from dust or messiness. In addition, a cabinet is an excellent place to house your cups, tea boxes, play cards, or any items that can treat your visitors. In a word, a TV stand with a cabinet could not be rejected by almost anyone.
 Note
Some users would like to place electric equipment such as a CD player in the enclosed storage space to prevent dust. Ensure enough space or pre-drilled air hole behind your equipment to dissipate heat. Or it is likely for your instrument to be harmed by excessive temperature.   
☼ Displaying Shelves
 The shelf is another storage solution for the TV stand. Compared with enclosed cabinet storage, frames can also serve as a display rack for small ornaments to interpret your taste and personality. Meanwhile, a shelf of the TV stand with beautiful trinkets can well interact with the monotony brought by a whole black TV screen, adding a welcoming, romantic, or artistic spice to the entertaining area of your space.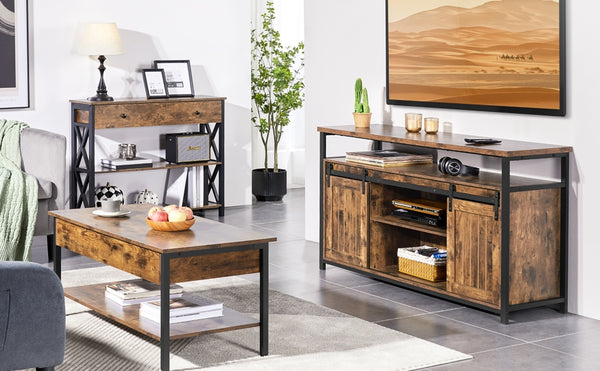 Tips:
1. Adjustable partition design: The partitions of the shelves of some TV stands are flexible so that users can change the size of the storage space to meet their specific needs. Do not miss this function if you want more free space to accommodate your belongings!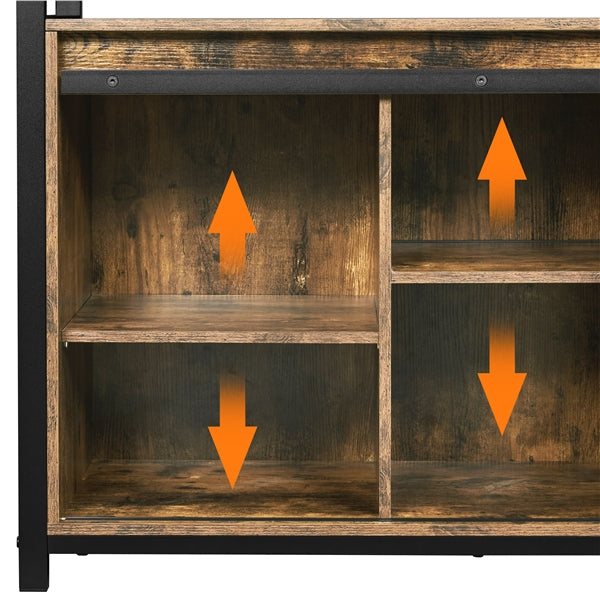 2. Do not forget the matter of infra-red remote control! Today, the remote control of electric equipment mostly still use infrared ray, which means it may give out when you keep the equipment in an enclosed compartment. So if you don't want to open the door to watch TV or play games every time, you'd better keep your equipment on the open shelf or a semi-open compartment. In a word, before placing the order, make sure that the TV stand can well accommodate all the electric devices you want it to keep.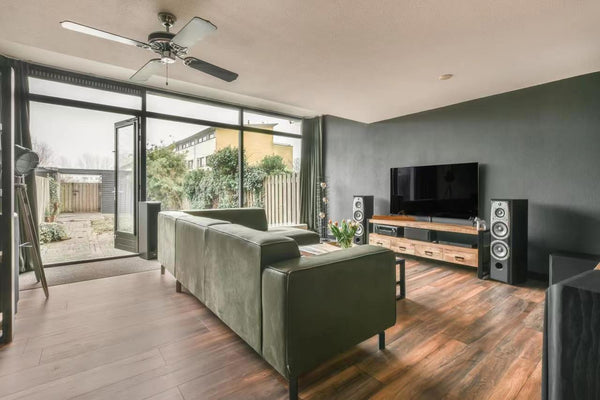 ☼  Cable Management
Pre-drilled cable holes are the basic design of a professional TV stand. Although they look simple, it is the best test of a designer's professionalism. Well-designed cable holes allow your wires to go through in order and free from dust and messiness; meanwhile, keeping all of those unsightly cables unseen. When you pick a TV stand, please pay attention to the cable holes' size and location to make sure that they can meet your needs.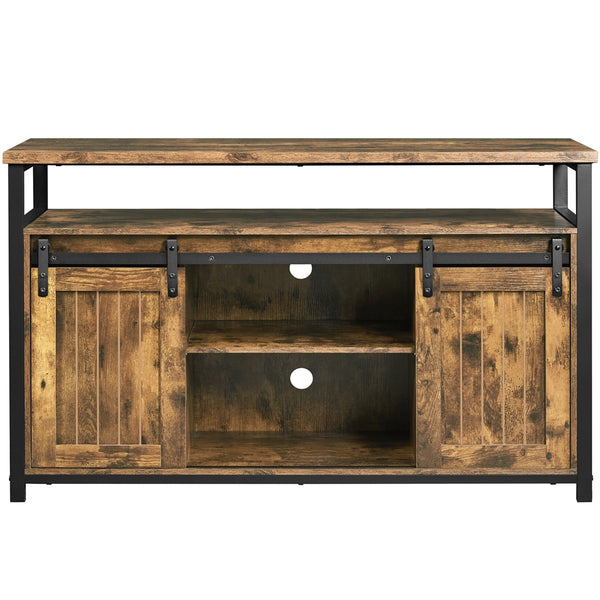 ☼  Accommodating Fireplace
A TV stand with a chamber for an electric fireplace is an ideal design for a limited floor plan. Adding an extra function to the space for accommodating your TV stand expands the entertainment area by redefining how to use the room and making it no longer a cold place when not watching programs. At the end of a busy day, this room can be your warm harbor to read a book, sip a cup of tea, chat with your friends or cuddle your beloved puppies.
☼  Stylish Addition
One another primary function of TV stands lies in the decoration. As the center of the room, a well-designed TV stand can harmoniously integrate into the environment that you may even forget its existence. However, an incompatible one can hardly be ignored. There are many styles, rustic farmhouse, vintage, classic, and industry. Just make sure that you choose the best fit for your space.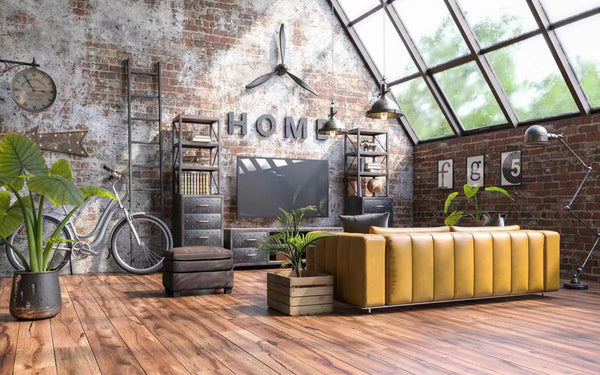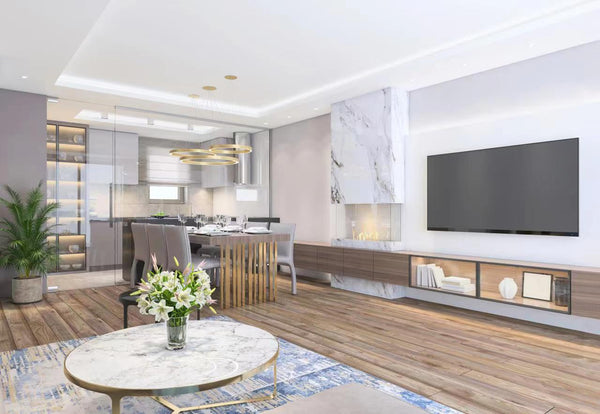 Conclusion
This guide comprises three essential aspects you may want to know and some easily overlooked details to help you target the most satisfying TV stand within your budget. As a 20-year furnishing manufacturer, we dedicate to improving people's living experience by producing nice-looking, practical, thoughtful, and high-quality household supplies. We not only deliver products but also would like to share everything we know that can help you improve your living space. Welcome to ask for help or share anything about your fantastic interior design.