6 Best Professional Makeup Travel Cases in 2021
How does make up change us
Egyptian people use scented oils and ointments to take care of their skin and eliminate their body odor; The Japanese kabuki use rice powder to make their face white, which represents beauty in their culture context; Indians use henna to dye their hair, hand and feet for big event to show class or the religious relevant beliefs. Make up was first introduced to us as a representation of class or symbol of religions, but now it has become daily routine for lots of people, especially female.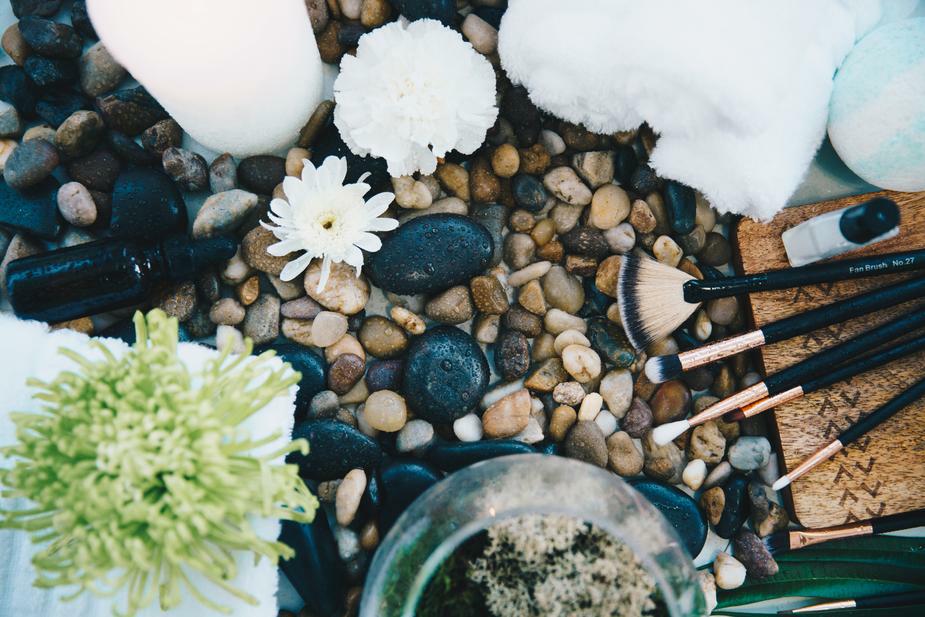 Even though personal appearance is not the most crucial thing in our lives and it is all about how to make people feel good about themselves, putting on make up still makes certain groups of people feel they are refreshed and brand new. There are studies of Psychological Science saying that good-looking people have advantage in many area of life, they tend to have more job opportunities and positive judgement than others. Make up can be a way of camouflage for those who want to be less noticeable, it can also be seduction for those who want to look more attractive. No matter in what terms that courage us to put the make up on, make up itself does have the magic of bringing up confidence for lots of people when they are in a job interview or other social events.
  With the wider application of make up supplies, make up has become an enormous industry including cosmetics, skin-care and many other departments. Development of make up industry also boost several niche and minor hobbies and bring them on the table to spread with different types of media. Fantasy movies often put make up on performers to make them look like characters that do not exist in real world like goblins, elves, wizard, monsters and so on, make up artists put lots of make up that mixed with various materials to create masterpieces and bring the character into life. Some of the minority groups also express their context through unique make up style, for example, the Gothic. Make up industry already penetrate and present in different art forms under so many areas.
Some Practical & Simple Ways To Organize Your Make Up Supplies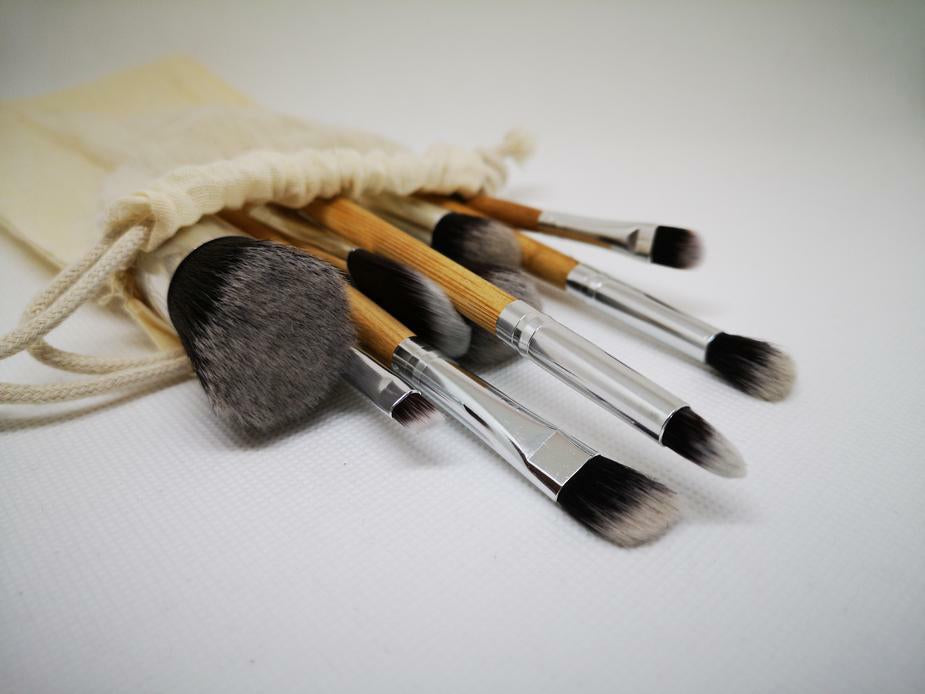 First of all, it is strongly suggested to have a dedicated space for make up supplies only. Instead of placing some of your cosmetics and skin-care products in the bathroom and some of them in your bedroom, having a special space for these products and tools is an ideal way to deduct the time for searching products. You will know the things you are searching is definitely in this certain area of your room and it saves you small amount of time each day.
The next important thing is todivide your drawers into different sizes of boxes to categorize all the cosmetic products. The dividers are convenient to put in most of the relatively small sized make up products. We can sort these products out and have an overall design in mind about how many boxes we need and what sizes should it be. Drawer organizers can be DIY through shoe boxes or cereal boxes if you have limited budget.
Choose holders for stick-shaped make up products, we can pour some coffee beans or plastic pearls inside the holder to make your make up brushes, eye liners and mascara stand upright. Holders with filler inside looks elegant and unique, this combination is a great choice to keep brushes and make a stunning bedroom decoration.
If you have lots of lipsticks from the same brand, you may need a clear lipstick organizerfor the convenience of searching the right color. Normally, names and numbers will be attached at the bottom of a lipstick, therefore, it will be easier for us to put them upside down separately in the organizer when we done using them. It is another practical tips for those who struggle finding the wanted lipstick color and always end up with messed-up table.
Book & magazine racks can be used to place your big palettes, which save space by horizontally stacking these palettes together for convenient usage. If space-saving is your priority, then hanging organizer is also a good choice for you to settle. However, hanging organizer can not hold heavy bottles, and the space for hanging organizer is limited that we may not have enough space for all of our equipment.
If you are a stylist or make up professional,a travel make up case can solve all your problems. A professional make up artist normally travels a lot for their work,a make up case is big enough to hold all of their cosmetic products and tools. If the travel make up case has wheels, it will be effortlessly for them to work throughout the city with just one case. Travel make up case is also a good choice for girls night, if you want to hang out with your friends and have a make up themed slumber party, all you have to do is put all of your make up stuff inside the make up case and visit every friend's house conveniently.
How to choose a travel makeup case?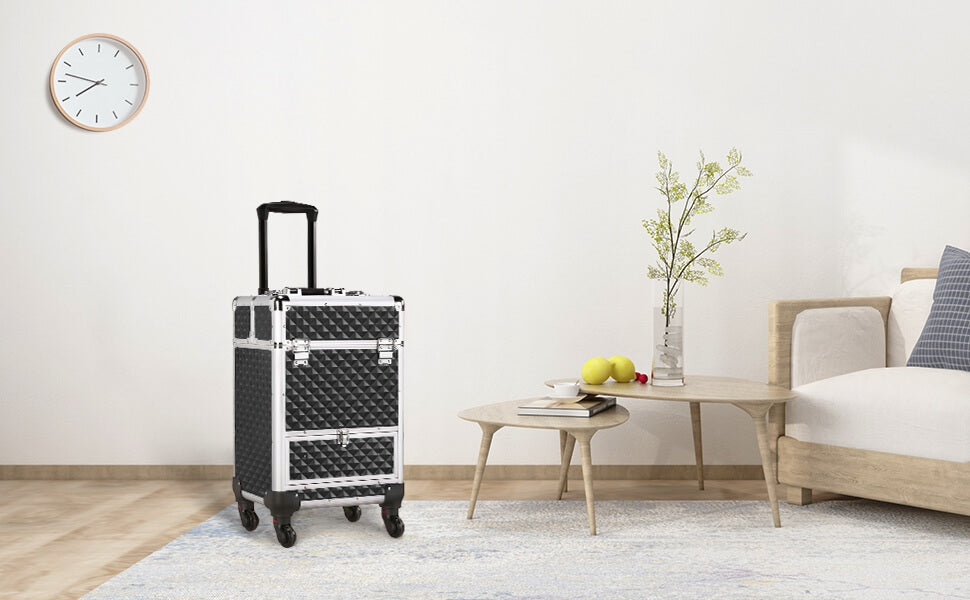 Speaking of a professional travel make up case, let us find out what are the most significant features it should have. As a make up artist, what do you dress the most over a make up case? Normally, there are several key factors that should be covered to make a make up case, durability, versatility, capacity, applicability and aesthetics. The following list will discuss about these must-have attributes for a make up trolley in details.
Durability
Durability probably is the one attribute that all products should promise. A sturdy make up trolley with good textures can make sure its lifespan is long enough, the surface does not break or having some scratches to lose aesthetics. When we are looking for a make up case, material and framing is something we should look at, including the durability of materials and level of sturdiness of framing materials.
Versatility
Versatility indicates wide range of features and functions, saying that if the rolling make up trolley has flexible features to adapt in various circumstances. For example, some make up trolleys have multiple tiers integrated together, which are detachable and randomly reconnectable. Make up artists, hair stylists and nails technician can decide the size of their case according their preference.
Capacity
Capacity is also one of the crucial thing for a make up case. Cosmetic industry has grown so big and so fast, there are large variety of brands and products in the market and each of them has their unique features.Since we can not imagine how many colors, products and tools a make up artist, hair stylist and nails technician have to carry with them . Great amount of capacity and design is necessary for any travel make up case.
Applicability
It requires thoughtful and practical design to make a make up trolley applicable. First of all the make up case should be professionally designed to fit the users needs. Space inside the case should be optimized to hold various items. Compartments and dividers should also be included in a travel make up case. Other features such as case with wheels is also practical for users to carry and transit.
Aesthetics
Most make up artists has higher standard for the appearance of the case they carry with. Overall design of a case should be in a certain style, for instance, rustic, vintage, simple, modern or looking luxurious. Appearance of artist train case depends on the pattern, texture and color of the covering materials, thus it would be better to choose a brand with multiple choices in terms of pattern, texture and color.
An in-depth research of Yaheetech make up suitcase has been done and 6 of the make up train cases with different design, dimensions, style and textures are selected for you to ease your buying steps. These 6 travel make up cases from Yaheetech meet most of the needs and requirements that might be looking for in the market. All of them are made of durable materials with sturdy framing, featuring great capacity to hold, highly versatile to adjust and customize, wide application to use and simple but edging design to look at. The following list of Yaheetech make up train case will present the good features, specifications, dimensions, pros & cons in details.
6 Best Yaheetech Make Up Case Comparison Table
Product Name

Color

Weight

Dimensions

 

 

Black and Pink

19.3 Pounds

13.4x10x39.4 Inches

 

Yaheetech Cosmetic Case 4 In 1

 

Black and Dark Green

20.3 Pounds

13.4 x 10 x 31.7 Inches

 

Black

19.8 Pounds

14.2 x 9.4 x 30.7 Inches

 

Yaheetech Makeup Train Case 3 In 1

 

Black, Pink and Silver

19.2 Pounds

14.2 x 9.4 x 41.7 Inches

 

 

Black and Red

16.7 Pounds

13.5 x 9.5 x 22 Inches

 

 

Black, Pink and Silver

14.8 Pounds

15.2 x 10.4 x 20 Inches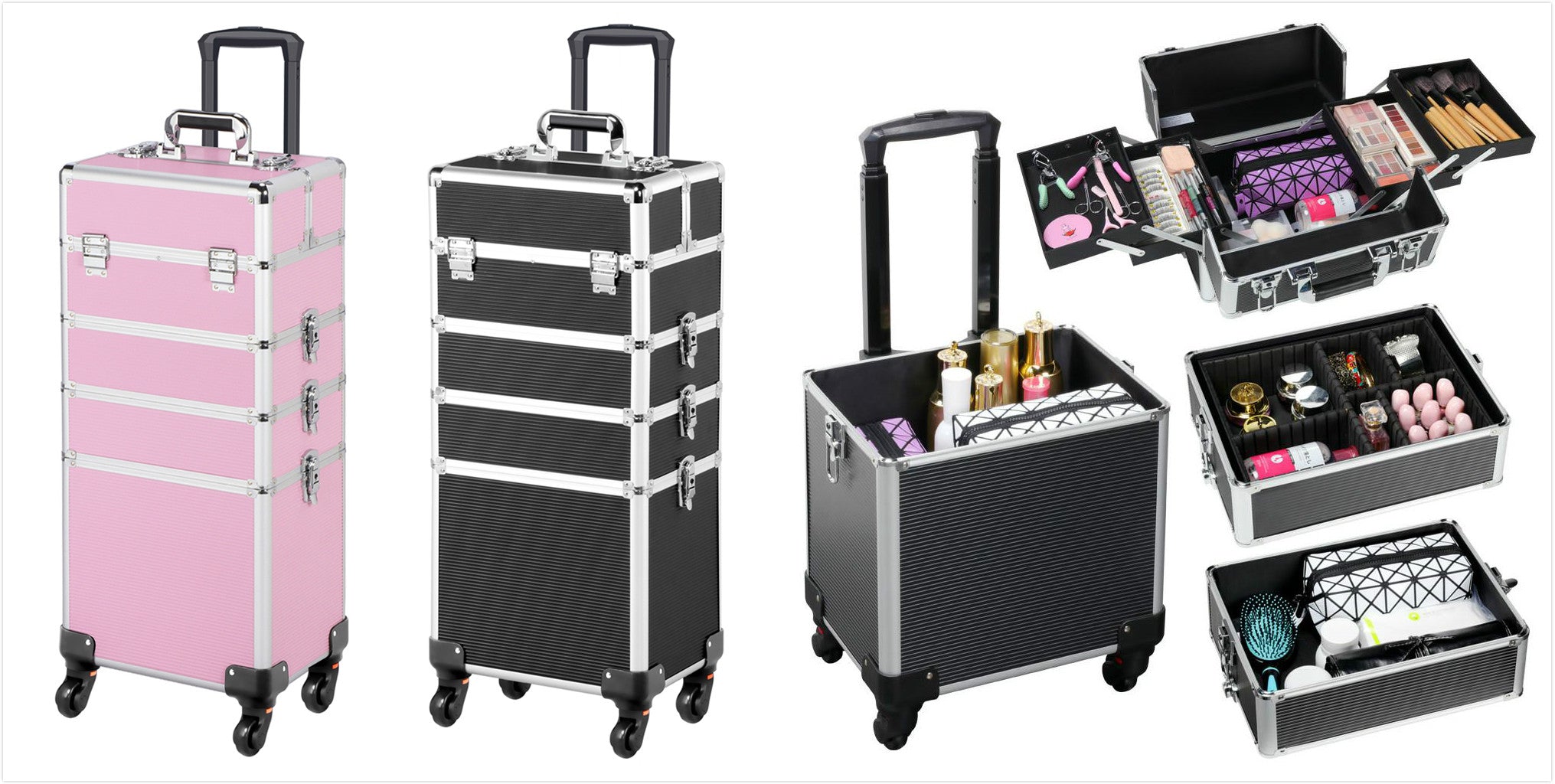 If you are tired of messed-up dressing tables with thousands of cosmetic products , this rolling cosmetic trolley might save your day. large volume multi-layer trolley cosmetic case provides ample space for you to organize your makeup accessories and skin cares, nail art tools, hair styling tools and so on. Makeup Train Case with Labor-saving Hexagonal Telescopic Pull Rod & Swivel wheels for easy mobility. Spacious design makes this make-up storage case suitable for home use, beauty center/institution and salons.
Key Features
50mm detachable multidirectional wheels.
Ergonomic handles for smooth lifting.
Metal edging design is sturdy and stylish.
Large volume 4-layer trolley provide ample and optimized space.
Coming with 2 colors including black and pink.
Specifications:
Materials: Aluminum Alloy Frame, Rust-proof Silver Iron Alloy Corner, ABS Box Surface, Middle MDF Plate, 210D Polyester Lining, Hexagonal  Telescopic Rod, Plastic Universal Caster

Case Dimension: 34 x 25.5 x 80.2cm / 13.4 x 10 x 31.6''(LxWxH)
Gross Weight: 8.75kg
Pros & Cons

Check Latest Price:
https://www.yaheetech.shop/products/4-in-1-makeup-trolley
If you are a professional/freelance MUA, you must have worried that where to store or how to transport your tons of makeup from place to place for work. This extra-large 4-in-1 makeup trolley is developed to satisfy the large storage requirement of MUA and people who possess a large amount of makeup/hairstyling/manicure tools. This cost-effective 4-in-1 makeup trolley can be transformed into a 3-in-1 case into a 2-in-1 train case by simply removing tiers. With the cost of only one case, you can have the benefit of 3 case choices: a 3-in-1 case, a 2-in-1 case, and a separated top case. Aesthetically pleasing professional makeup train case with powerful functions, don't miss it!
Key Features:
Detachable tiers that can be rearranged into trolleys in smaller dimensions.
4 silent swivel wheels allow a smooth 360°
Large storage capacity with dividers for different sized beauty products.
Reinforced aluminum edge protectors and metal corners for dual sturdiness.
Lockable latches keep your items safe and secure.
Specifications:
Material: PVC veneer & aluminum edge & MDF case & 210D polyester lining & aluminum pull rod & plastic wheel & metal hardware
Case dimension (wheel height included): 34 x 25.5 x 80.5cm / 13.4 x 10 x 31.7'' (LxWxH)
G.W.: 9.2 kg/ 20.2 lb
Pros & Cons

Check Latest Price
https://www.yaheetech.shop/products/yaheetech-4-in-1-cosmetic-case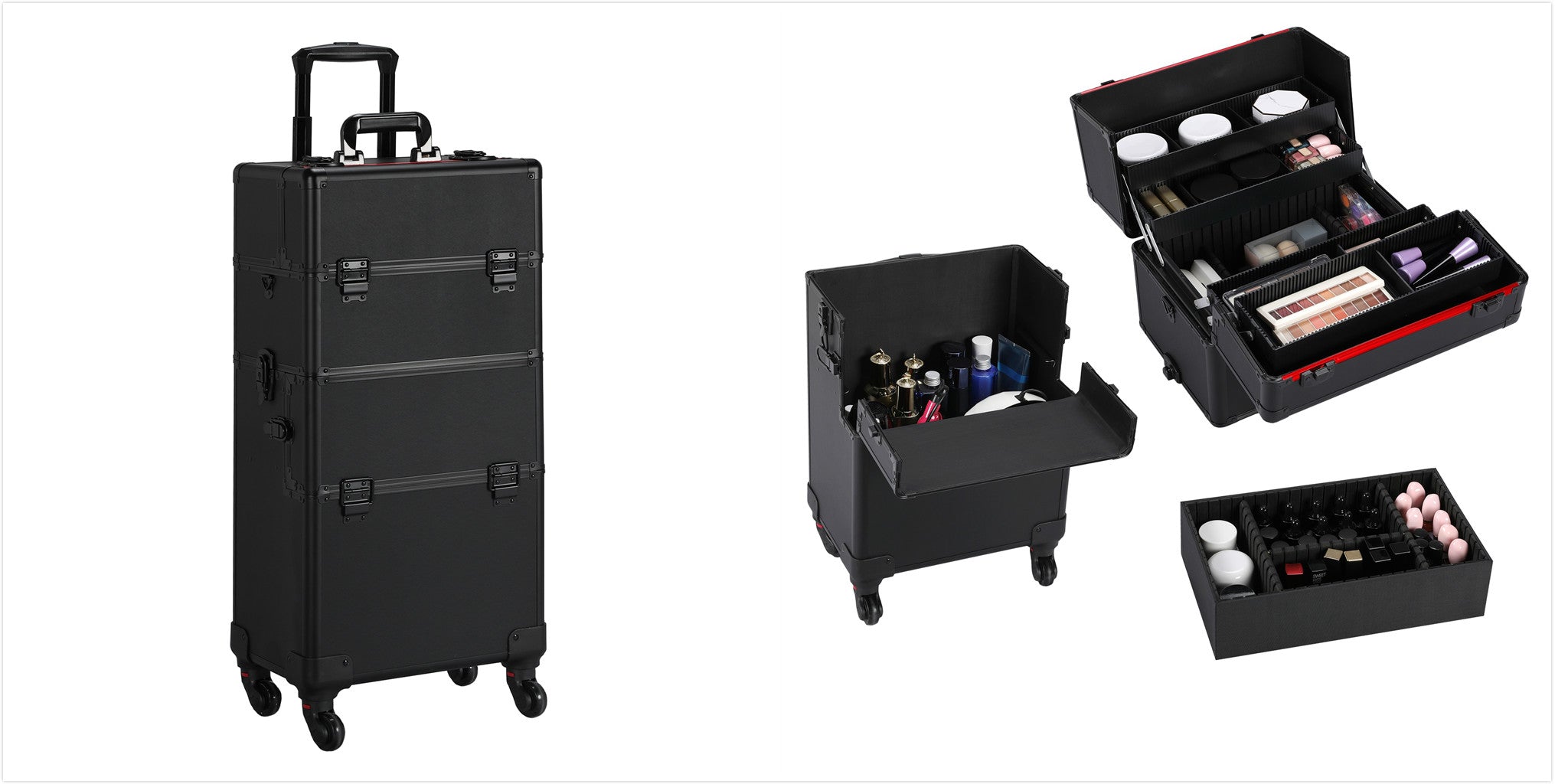 This 3-in-1 makeup case offers exclusive and customizable storage spaces for your arsenal of beauty products in different kinds and sizes. What's more surprising is that the top section of cost-effective makeup trolley can be carried respectively as a hand/shoulder carrying makeup case to meet your needs at different workplaces. With the cost of only one makeup case, you can have the benefit of 2 case choices: a 3-in-1 case and a separated top case.
Key Features
Aluminium reinforced corners and edges.
Designed with a soft plastic gripping area for comfy moving.
Multifunctional 3-tier design.
Metal hinge with triangular support structure provides strong support to the cage.
Equipped with 4 silent swivel wheels.
Specifications:
Material: PVC veneer & aluminum edge & MDF case & 210D polyester lining & aluminum pull rod & plastic wheel & metal hardware
Case dimension (wheel height included): 36 x 24 x 78cm / 14.2 x 9.4 x 30.7'' (LxWxH)
G.W.: 9 kg/ 19.8 lb
Pros & Cons

Check Latest Price
https://www.yaheetech.shop/collections/beauty-personal-care/products/yaheetech-3-in-1-cosmetic-case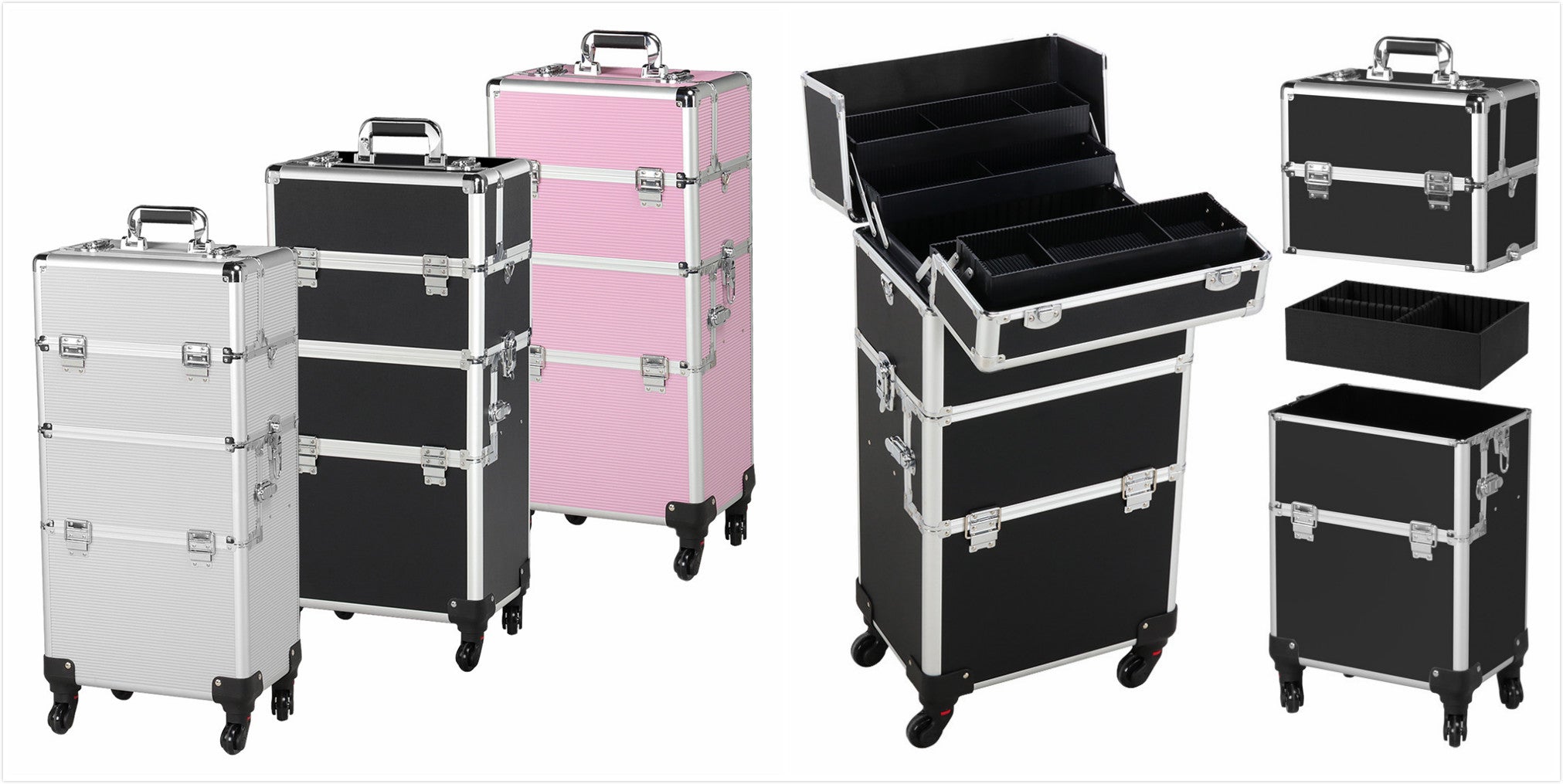 This given heavy duty 3-in-1 cosmetic case trolley is constructed of premium aluminum in solid structure with max load capacity up to 30 kg / 66 lb. It contains 2 compartments and 1 middle tray for organizing different sizes and shapes toiletry and accessories neat and in order. The detachable design allows its upper case to be used separately to meet your needs. This rolling lockable makeup case trolley features with 4 casters for smooth, quiet and omni-directional mobility and sturdy lockable latches for added insurance.
Key Features
Heavy duty metal structure with heavy bearing capacity.
Oxford cloth lining protect the items from damages and easy to clean.
6 sturdy latches, 4 lockable w/keys for added insurance, 4 keys.
The upper case and the middle tray can be removed at will.
Smooth rolling castors.
Specifications:
Material: Aluminum Alloy & PVC & Oxford Lining & Metal Hardware
Overall Dimension: 36 x 24 x 106 cm / 14.2 x 9.4 x 41.7'' (LxWxH)
G.W.: 8.7 kg / 19.1 lb 
Pros & Cons 

Check Latest Price
https://www.yaheetech.shop/products/aluminum-3-in-1-makeup-trolley
If your room is filled up with cosmetics and hair/makeup tools and you are tired of "hair band digging", you may need this rolling cosmetic organizer to save you from this situation. Our multitier cosmetics case is designed to keep your cosmetics and makeup tools in various kinds neat and handy. It has 4 slide-out side drawers equipped with antirust yet durable aluminum sliding tracks for extremely smooth operation. The large upper storage compartment can keep hair tools like hair dryer, curling/flat iron and other cosmetics that are in relatively large size. The bottom drawer can hold hair brushes and short bottles. Detachable all-directional rolling wheels are convenient to carry around.
Key Features
Detachable wheels can be easily removed or replaced if needed.
Lower drawer with slide rails makes full use of the bottom space of the case.
The handle is made of chrome finish metal and ABS plastic, glossy and sturdy to use.
2 top latches on top are lockable for security; 2 keys to the locks go along with the package.
The top trays are equipped with sliding rails.
Specifications:
Material: ABS plastic veneer + aluminum edge + MDF + metal + 210D polyester lining + aluminum pull rod + plastic wheel

Case dimension (wheel height included): 34.5 x 24.5 x 55.5cm / 13.5 x 9.5 x 22'' (LxWxH)
G.W.: 7.6 kg/ 16.7 lb
Pros & Cons

Check Latest Price
https://www.yaheetech.shop/products/22-inch-makeup-trolley-w-drawer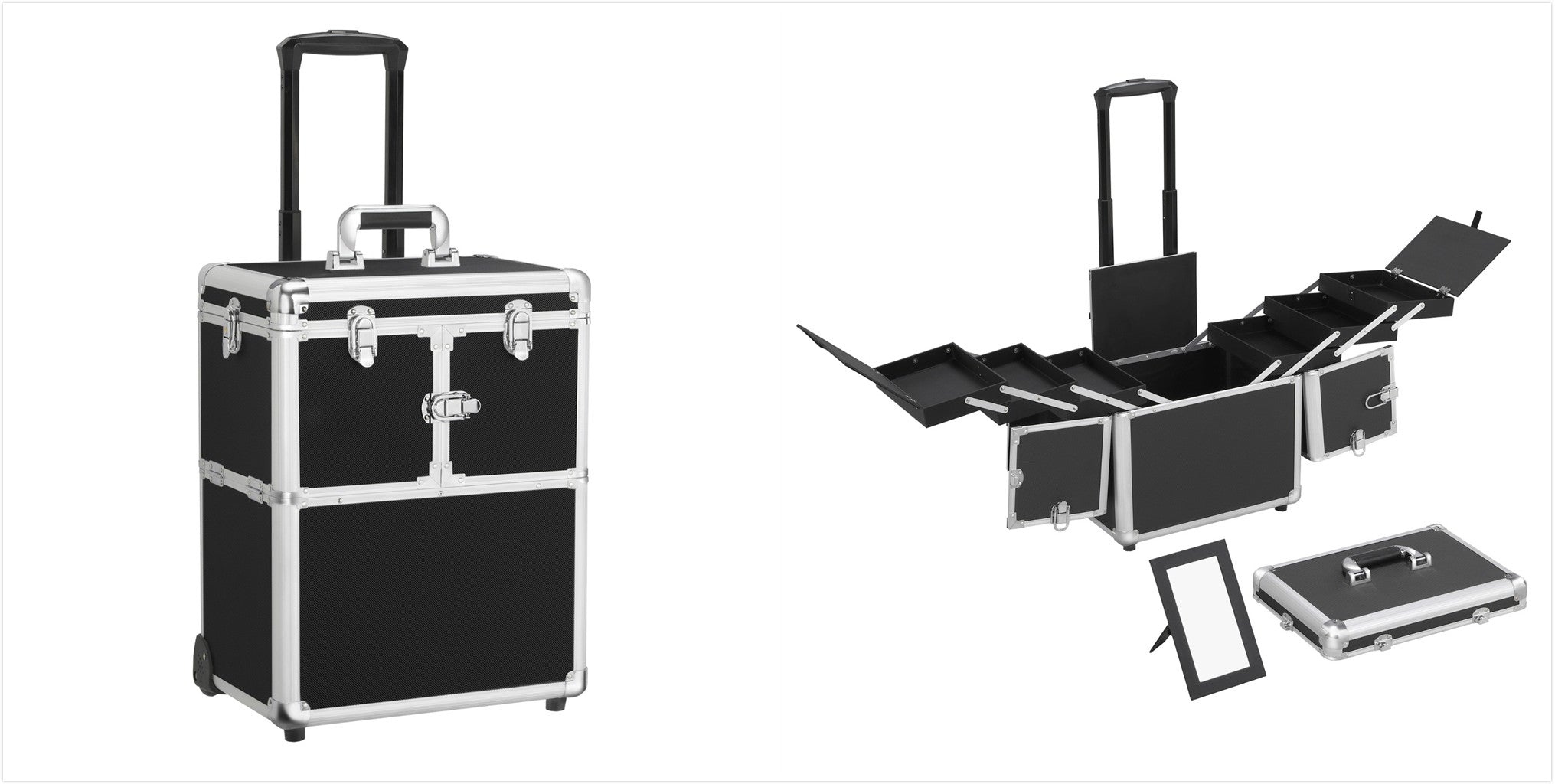 Get yourself a multifunctional cosmetic box to clean up your tons of beauty products.It has 6 accordion-style trays for small items like polish, lipstick, essential oil, hairpins, etc. The large bottom storage compartment can keep palettes, hairdryer, curling iron, flat iron, sprays, etc. Minimalist style and glossy hardware make it an eye-catching piece among all the cosmetic cases. Aesthetically pleasing professional makeup train case with powerful functions, you can't miss it!
Key Features
Silent and smooth free-rolling wheels.
Comes with a mirror for your convenience.
Hexagonal rods ensure stable and smooth operation of the handle.
Waterproof surface makes this trolley makeup case an excellent protector for your cosmetics when using outdoors.
Specification
Material: ABS veneer + MDF case + aluminum edging + metal corner + polyester lining + aluminum pull rod + plastic wheel

Case dimension: 38.5 x 26.5 x 51 cm / 15.2 x 10.4 x 20'' (LxWxH)
G.W.: 6.7 kg / 14.7 lb
Pros & Cons

Check Latest Price
https://www.yaheetech.shop/products/20-inch-rolling-makeup-case
FAQs about Yaheetech Makeup Cases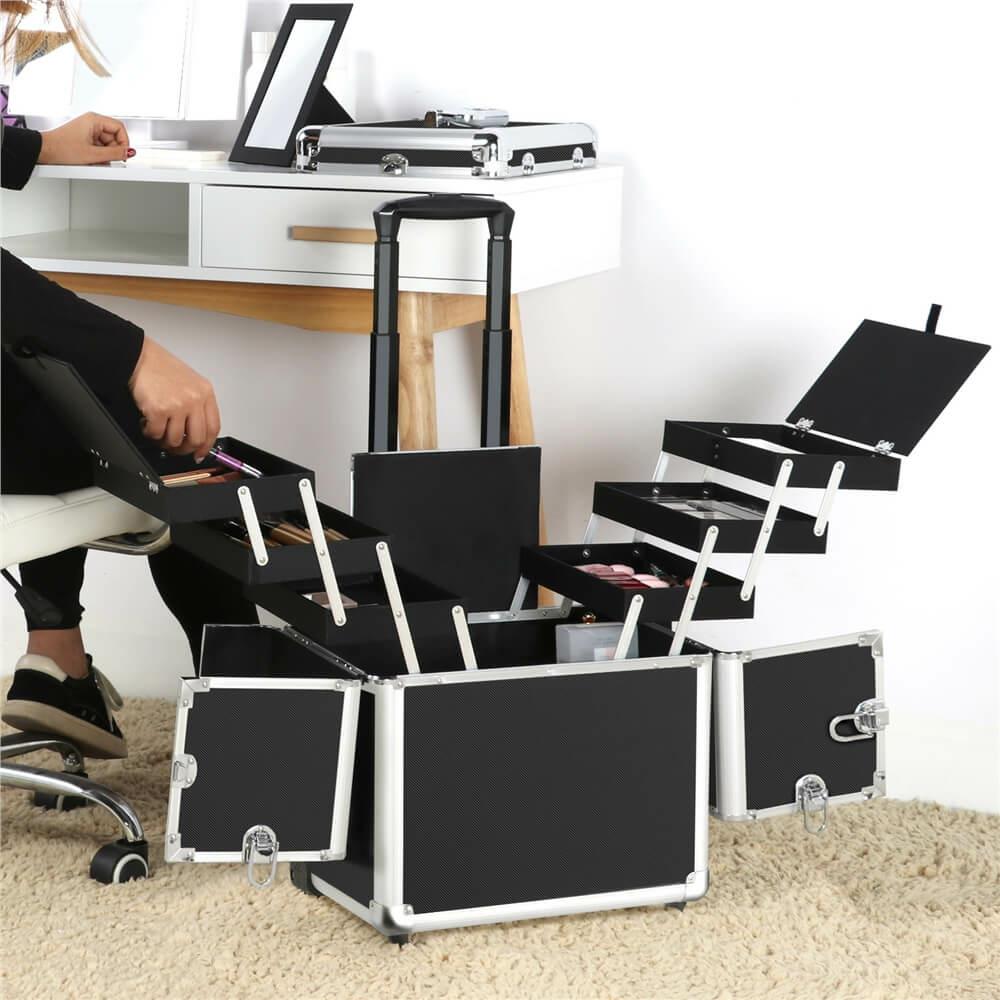 Q1. What is a makeup train case?
A: A make up train case is an aggregate collective kit box for makeup artists, hair stylists and manicurists when they go on a train. It is a cosmetic train case that hold all of your beauty products and very convenient to carry with. A makeup train case looks like a suitcase and most of them have rectangular shape and are equipped with 360° wheels. There are multiple compartments and dividers inside the train case to fit in products in different shapes and sizes. Makeup train case is an ideal container for your loads of beauty necessities.
Q2. How do I organize my makeup bag for travel?
A: There are two circumstances under this topic. One of the situation accusing you as a MUA and travel for work-related events. Then a cosmetic suitcase is strongly recommended for you to put all of your cosmetic stuff inside one particular case and go for travel. By this way the products related to your work and other necessities will be clearly separated. In another case, assuming you as a normal traveler with bunch of beauty products. The most important suggestion is to give up all the big bottles and huge palettes and always leave with small testers. We often get free samples and small testers when purchasing beauty products and it is better to keep it until the holiday to cut off your large and heavy cosmetic bags.
Since some of the beauty products contains certain amount of water, it is suggested to cover them with plastic bags to isolate them from clothes and other fabrics.
Q3. What is a make up train case used for?
A: A make up train case is used for specialists in beauty industry to hold their massive beauty essentials while traveling. The interior space is completely designed for variety of cosmetic products in different shapes and sizes. Normally, there is dividers that divide the space into small squares for nail polish and lipsticks, there is also ample compartment to place relatively big equipment such as a hair dryer. A mirror provided for convenient usage and multiple tiers for great capacity to obtain.
Q4. How do I organize my makeup in a small space?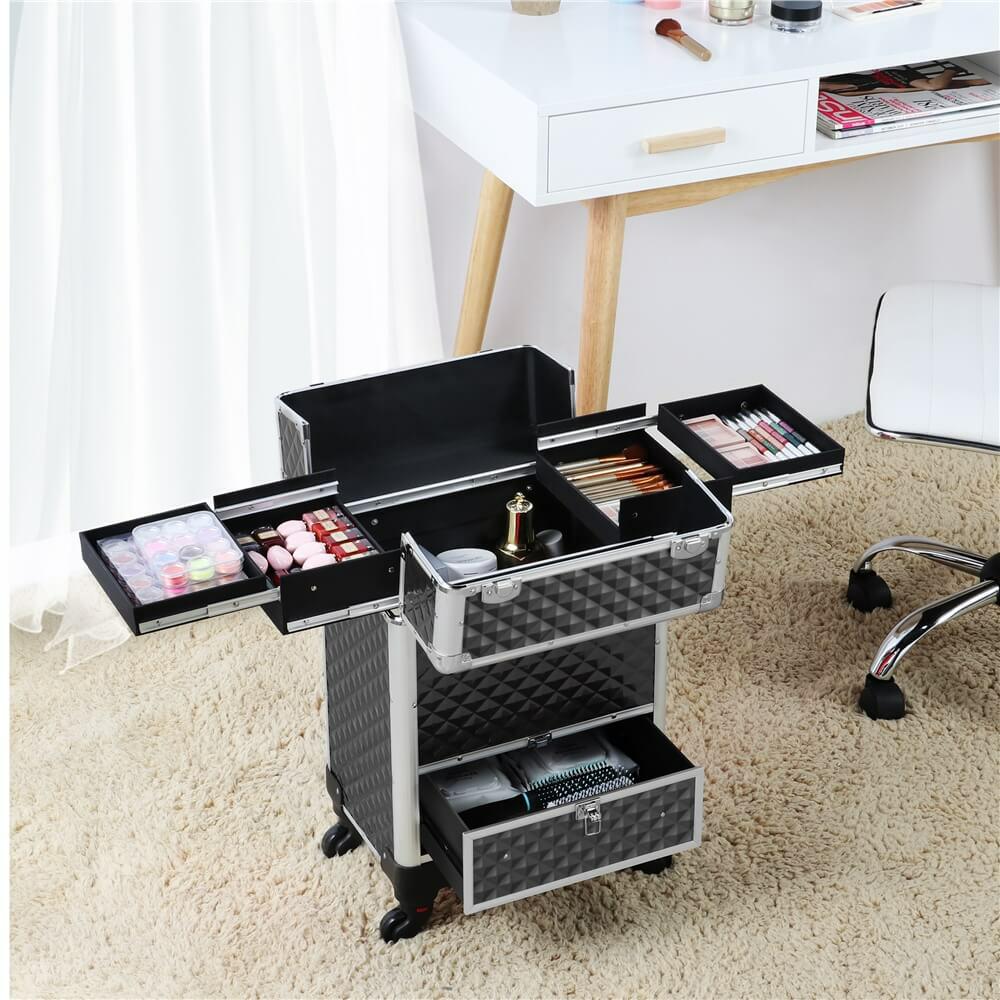 A: A travel makeup case and hanging organizers are strongly recommended for people with limited space. These two containers have one thing in common, they are able to stack things horizontally and therefore save space for other furniture. However, hanging organizers usually have small bearing capacity. Thus, we highly recommend the makeup case to people has limited space for their beauty essentials in most cases.
Customer impressions about Yaheetech makeup cases
After going through all the details about travel makeup trolleys from Yaheetech, here are some customer review that might help you get to know the insights of our customers, hope you find this helpful.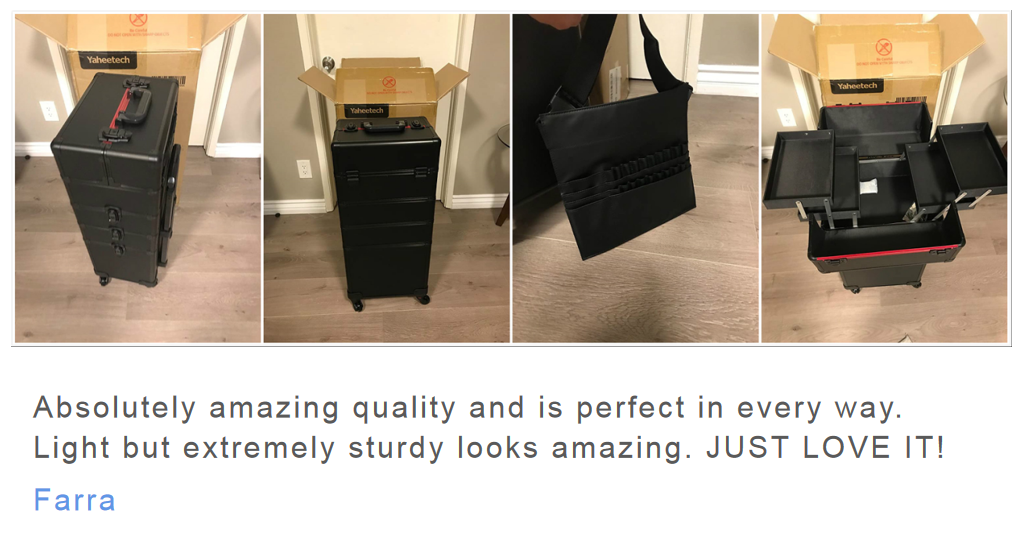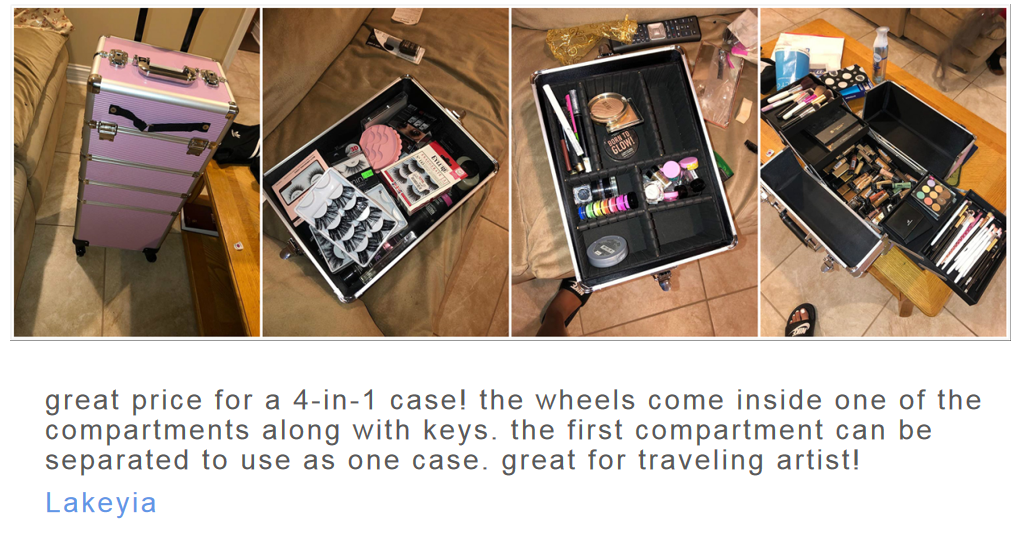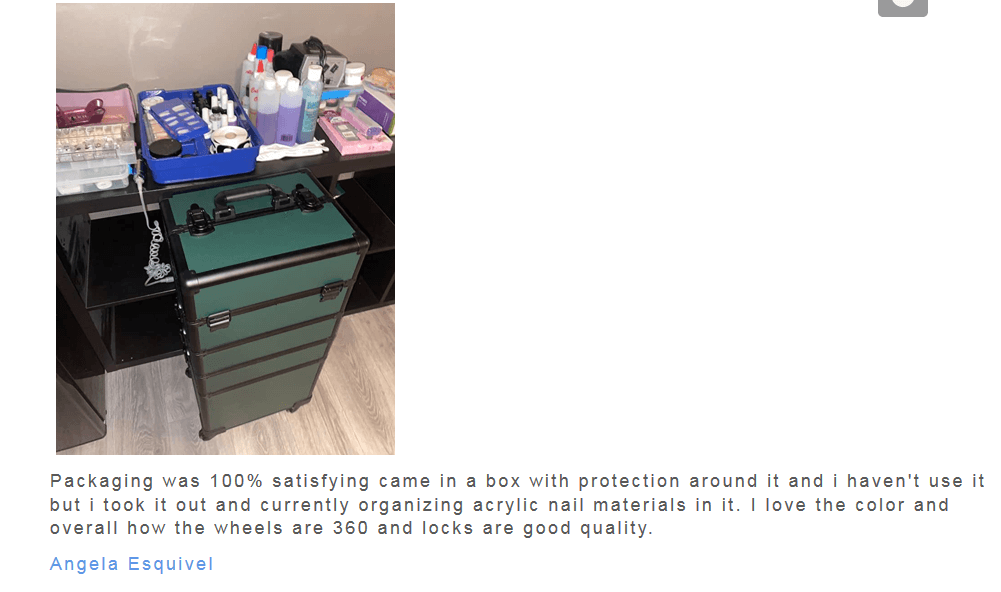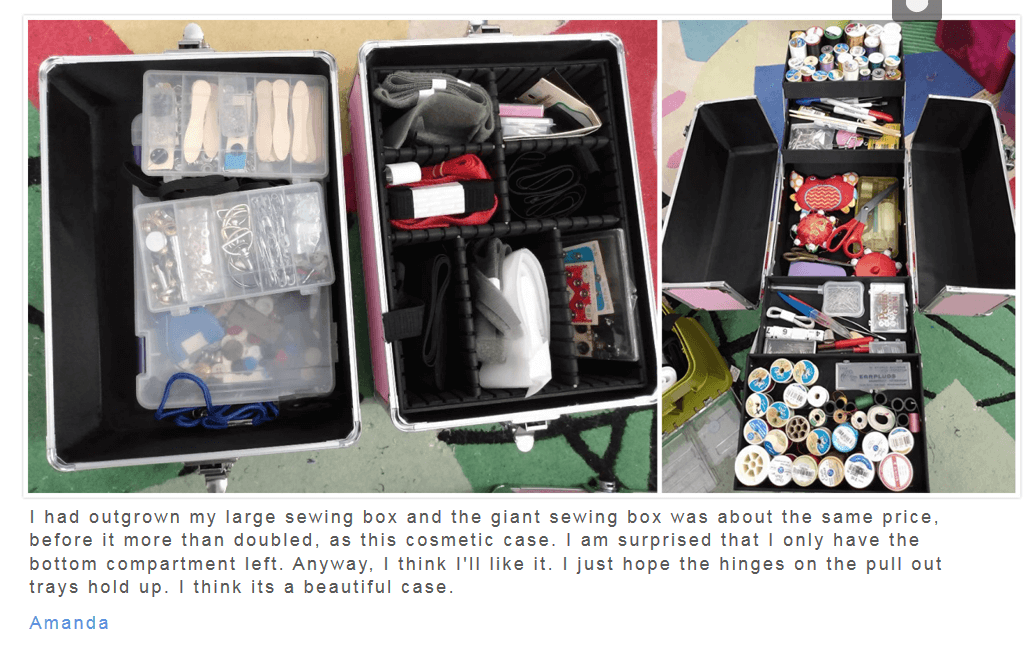 Conclusion
If you are a professional MUA, nail technician or a hair stylist, If you have tons of beauty essentials with limited living space, if you are looking for a professional makeup suitcase for travelling, if you often bothered by messed-up dressing table in the bedroom, relief yourself with a brand new travel makeup case that have great capacity for large quantity of products, sturdy reinforced framing for long-term usage, 360° mute wheels for free-mobility and highly versatile and practical to use. This article discussed about several initial features to focus on when purchasing a makeup suitcase and a list of stunning makeup trolleys from Yaheetech. All of the given products are designed with chic & modern style with multiple color selections, make sure to check out dimensions before placing an order.
If you have any further question about the product or just reaching customer service, please contact us via info@costoffs.com.