3 Backyard Additions That'll Make Your Space Look Better
Wondering about things to do at home during the pandemic outbreak? How about a simple garden makeover with additional structures and furnishings? Whether you have a small or large space, you'll love it when your backyard is thus turned into something comfortably stunning. Here are recommendations and tips that'll work well on a tight budget and help reduce pain from back-breaking work. Check them out now.
Recommendation #1: Add color, fragrance and texture to your yard with a pergola arch trellis structure.
A pergola is a lovely way to transform a yard into a vertical garden. The arch or structure usually comes with frame and roof over which climbing plants can thrive. Formed by leaves and stems of plants growing close together, it can be a very useful addition as a natural arbor shelter shade, support structure, ornamental pavilion building, archway passage entrance, engagement/wedding ceremony arch, total holiday accent with LED strips/balloons/ribbons.

Yaheetech Pergolas: A Signature Series 
Key Features:
Durable: Fine garden pergola structure.
Anti-termite: 100% selected cedar wood with fine treatment.
Easy-to-clean: Strong resistance to mildew and water corrosion. 
Hard-wearing: Four 2x1" robust posts reinforced by coated iron plates.
Fit-for-all: Approximate overall dimensions of 85" high, 24" deep, 63" wide.
About Assembly: Side panels are all pre-assembled.Easy-to-read assembly instructions will come along with each package. Read the user manual and follow the steps, you can put it together in less than 15 minutes. Just make sure the posts are set deep into the ground. This way, it could stand still in windy weathers.
DIY Tips: You can DIY the pergola color by a mix of paints. You can attach fabric to the frame for weather protection.
Pros and Cons of Garden Pergolas
 Pros

Inexpensive: Pay less and get more for people on a budget.

Space-efficient: Maximize your garden space in a vertical way. 

Protective: Get protected outdoors by natural shade from direct sunlight.

Cool: Enjoy the fragrant airflow through climbing plants especially on a hot day.

Enhanced: Have fun with family and friends by attaching fans and lighting to the frame.

Versatile: Make special moments exceptional with ornaments of roses, balloons and ribbons.

Cons

Minimum maintenance is required to keep it from weathering.

It will look different over time if there is lack of cleaning, treatment and repainting.

It won't offer protection from wind or rain as they are open on top and all four sides.

Beware of termites if you are dealing with pergolas made of some cheap wood materials.
Recommendation #2: Use wooden deck pavers for extra pattern and function.
Wood composite decking is a fast-growing material widely used in modern residential areas. It looks as warm as solid wood but outperforms the latter with great weather-resistant and maintenance-free features. Whether it is for private house renovation, garden makeover or public landscaping, the use of wooden deck pavers will add pattern and function to your space. Why not lie on a rug there with flower-draped pergola shade overhead? You'll have a cozy time with your family and friends. 

Yaheetech Wood Composite Decking: A Must-Have Series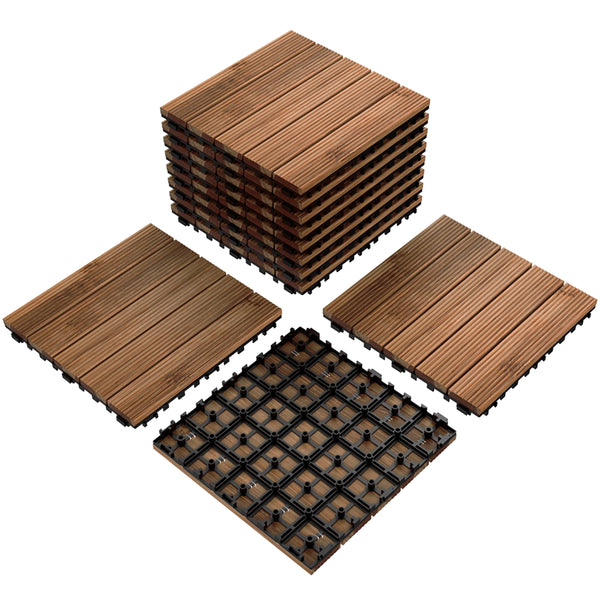 Key Features: 
Selected materials: Solid fir wood decking with natural resistance to termites.
Durable: High-temperature treated. Will stand mildew. Ideal for bathroom, patio, balcony, poolside.
Antislip: Smooth, nonslip, grooved surface and plastic backing capable of good drainage/ventilation.
Multipurpose: Wood flooring tiles for house renovation, garden makeover, landscaping purposes, etc.
11pcs for one pack: Covering an area of about 10 square feet/1m² with single square tile sized 29cm/12".
About Assembly: No tools required for setup. Follow the illustrated instructions. Find interlocking snaps on the back. Snap tile pieces together as you may need.


Pros and Cons of Wood Composite Tiles
 Pros

Warm: Solid wood easy to blend with any garden features, pergolas, etc.

Worry-free: Minimal maintenance required to keep them from weathering.

Durable: Selected wood surface stapled into plastic interlocking to secure use.

Treated: High temperature treatment for a longer life span to serve outdoor living needs.

Practical: Nonslip grooves on surface and quality plastic interlocking on back safe for use.

Versatile: Good drainage and ventilation for use in bathroom, patio, balcony, poolside, etc

Cons

More linear, less flexible.

Prone to moss and mildew growth.

More expensive than traditional all-wood tiles.

Color likely fades when exposed to direct sunlight all the time.

Difficult to find 100% matching replacement when severe scratches and deep gouges occur.
Recommendation #3: Let a Container Garden Take Care of Your Green Life
Having some backyard space is not necessarily a premise that one can infuse gardening pleasure in life. If you are living in an apartment building and don't have a yard, take advantage of the balcony or rooftop to grow your plants, and you'll transform the space into a surprisingly lovely container garden. You can define your own style of container gardens with thousands of options on the market. Whatever fits up there, pallet flower display, ladder garden planter, etc. no one would go wrong with container gardening.

Yaheetech Patio Plant Stand: A Cost-Effective Series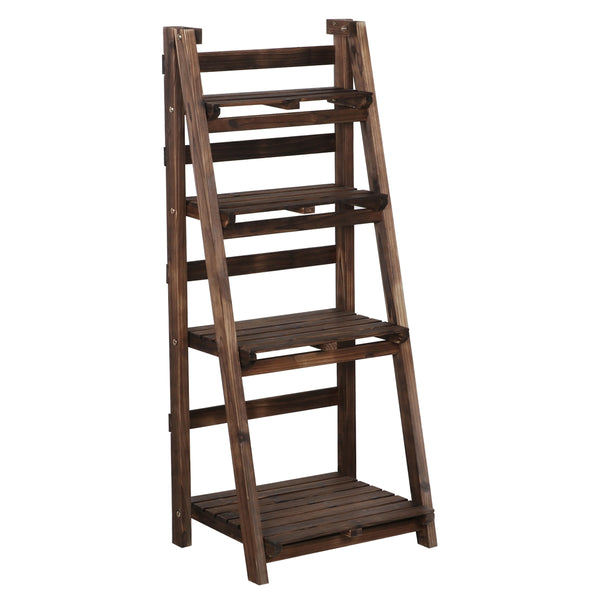 Key Features:
Foldable: Wooden shelf stand collapsible for space-saving flat storage and easy carry.
Durable: Made of selected 100% solid fir wood and capable of high load up to 35kg/77lb.
Beautiful: Charring surface creates genuinely stunning, lasting, one-of-the-kind wood look.
Spacious: Ladder-type A-frame 4-tier open storage stand rack shelf holds at least 8 plant pots.
Space-saving: Only 17.7"L x 14"W floor area needed and 42.5"H vertical space for you to explore.
About Assembly: No assembly required. Ready for use immediately after you open the package.


Pros and Cons of Container Gardens
 Pros

Small: Containers easy to access and ideal for people who have limited space.

Versatile: Wherever you need color, scent and life, you're all free to add plant pots. 

Manageable: Less weed/pest/disease spread. Less gardening time/efforts. Just so perfect.

Efficient: Containers secure productive consumption of resources, e.g. water, fertilizer, soil.

Movable: Up to you to move them around. Will survive indoors in spite of bad weathers outdoors.

All-season: Under proper maintenance with right humidity/temperature, they thrive all year round.

Cons

Theft would be an easy issue.

Suitable for a limited number of plant species.

Small space will restrict growth of some plants.

More likely to dry out, so frequent watering is needed.
Above all, if you have a large backyard, a pergola will raise your space up to a vertical level of beauty, and composite wood tiles will offer a snugly place for your outdoor time. If you have limited space, time and efforts on planting life, a container garden on a wooden shelf stand will be a great alternative. The pros and cons are already listed as well to take care of all your concerns on gardening ideas. Hope you'll find them helpful to bring out the best green life experience you've ever imagined.