How to Choose the Best Sofa Color for 2021?
Sofa is one of the most important furniture in the living room which needs us to choose carefully. We spend a lot of time on it, including watch TV, socialize, chat with family members and play with pets. There are many factors to consider when buying a sofa, such as style, color, size, material, shape, pattern and number of seats.
Today, we are going to talk about the topic of choosing the right color for your sofa. The color is important. The color you pick should match the rest of your decor or stand out as a focal piece without blending with anything.
4 Basic Principles
Principle 1: Confirm the main color of your living room before selecting the color for your sofa. The wall, floor and curtain are 3 main color parts for the living room and you should decide on the colors of them at the beginning.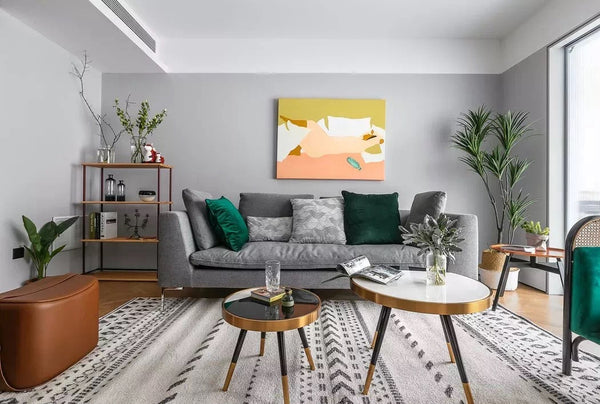 Principle 2: Follow the rule that there should not be >3 colors in the living room. The wall, floor, curtain and sofa are the biggest parts in the living room. To make the room tidy and coordinated, try to balance the selection of colors and keep the room in 3 main colors.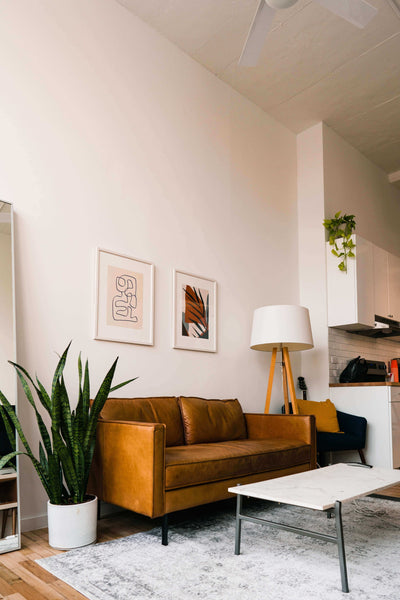 Principle 3: Match the sofa to the color of the wall. To unify the look of a living room, try to match the sofa to the color of the wall. This is great if you want to keep things unified and harmonious.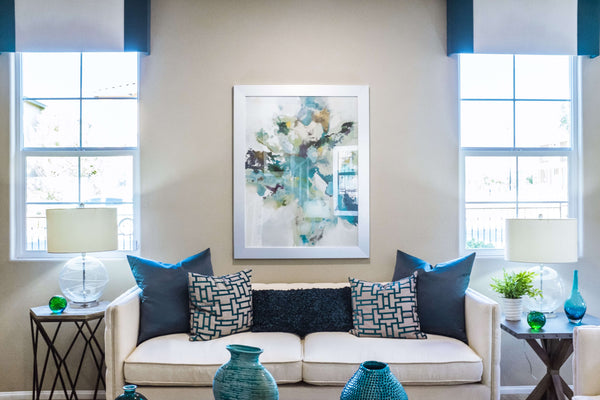 Principle 4: Match the sofa to the color of the curtain. If you do not want to match the sofa color to the wall color, choose the same color as the curtain will be a good choice.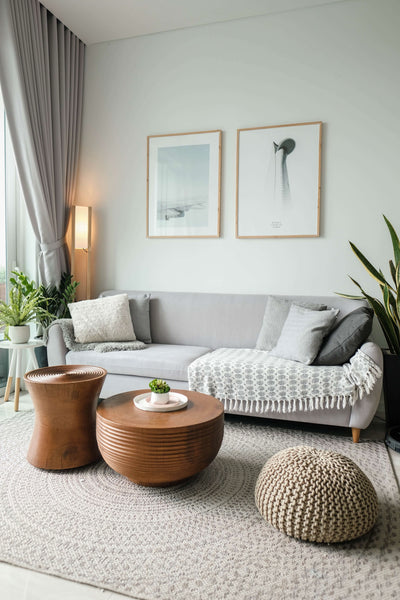 Style and Color
The decor style in some degree determines the selecting of materials, shapes, colors for your sofa. How to choose the right sofa color based on your home style? After studying a variety of design projects, we have concluded some rules of color selection for 6 trendy decoration styles.
Farmhouse style
People love farmhouse style for its practicality and comfort. This style prefers sturdy materials featuring aged finishes and large, inviting and family style furniture. To achieve a charming farmhouse flair, you may use classic colors like gray, beige, creamy, white, navy and sage. As shown in pictures, sofas of this style have some common characters:
Tufted Back

Slipcover Sofa

Creamy, off-white, gray color

Cotton or linen fabric

Skirted
In conclusion, for farmhouse fans, off-white, creamy and gray color sofas will bring a comfortable and welcoming feeling to your home.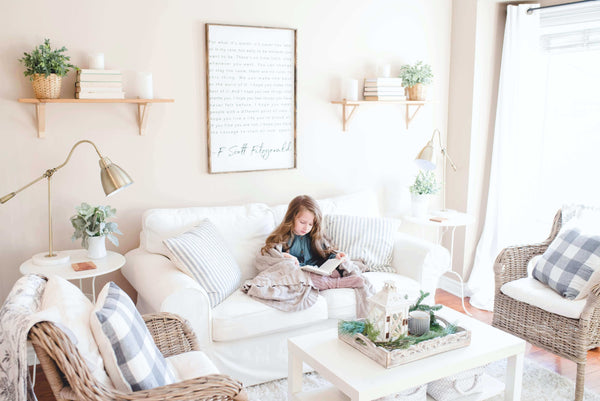 Contemporary style
Contemporary style features clean lines, soft edges and without ornamental details. Neutral color palette along with gray, black, and white are a signature of the design style and are used to define and ground a room. You can add bright and bold colors to balance the neutral tone through pillows, rugs, artworks and so on. Sofas of this kind are common in these aspects: 
Natural fabrics (cotton, leather or linen)

Sit low to the ground

Exposed legs

Black, white, gray color
In a word, choosing black, white or gray upholstery sofas will bring you a simple but timeless look.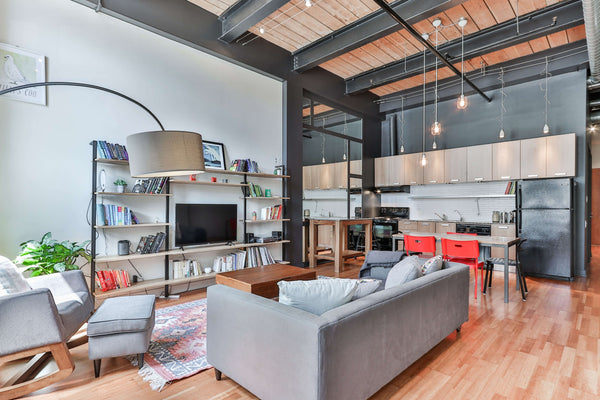 Mid-Century Modern style
Mid-Century Modern is the style known for the most iconic furniture pieces in modern design. This style reflects the design development between 1933-1965. This style favors clean lines, geographic shapes and natural materials, while it also adds new materials like plastic, plywood, steel for a distinct look. The furniture of this style always has splayed wooded legs or splayed hairpin legs. For color palette, there are many types: natural colors are most popular, and bold bright hues could bring energetic tone to your space. Sofas of this kind:
Tapered wooded legs

Clean lines

Low streamlined seating

Soft padded cushion

Earthy or bright color
For people who love the mid-century style, there are various kinds of colors for them to choose, no matter earthy tones like brown, gray, cream, olive or bright tones like yellow, green, orange.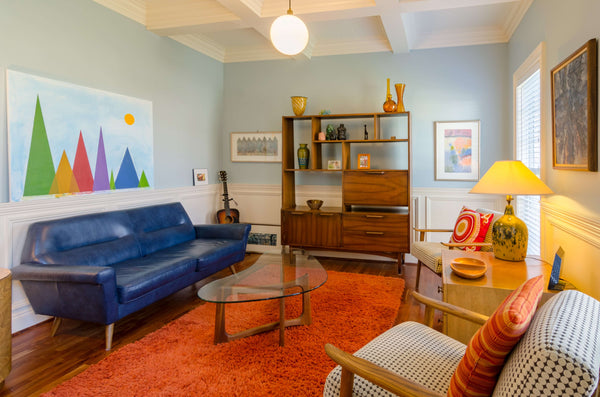 Coastal style
It noted that the coastal style is very popular among the east coast of the United States. This style is known for using of blue shades, natural materials and seaside decors. This style be loved by people for its relaxation and comfort. The color palette of this style is greatly inspired by the ocean and beach, including ocean blue, sun-bleached white, seafoam green, driftwood gray, sandy brown, coral color and crimson. The coastal style sofas are:
Natural and durable materials (linen, jute, wicker)

Relaxed seating

White, beige, blue color

Streamlined shapes

Decorated with beach theme pillows
To achieve a classic coastal decor home, white or beige colored sofa is the best choice. You can add blue beach throw pillows to perfectly reflect the coastal theme.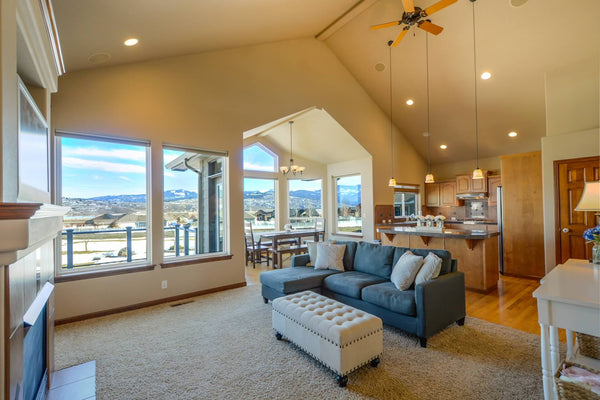 Bohemian style
If you like your space to be colorful, energetic and reflects your own personality, the boho decor deserve a try. This style mirrors that life by combining objects, colors, and patterns from many areas of the world. Color palette is very important for decorating a boho style home, combining warm earthy colors with metallics and jewel tones are very common.  Boho stye sofas have:
Plush seat

Natural frame: wood, rattan

Various finish: velvet, linen, brown leather

Saturated color: purple, orange, blue, teal

Curved shape

Decorated with tapestries and fringe pillows
Using saturated color sofa decorated with tapestries and pillows to create an unconventional and artistic home.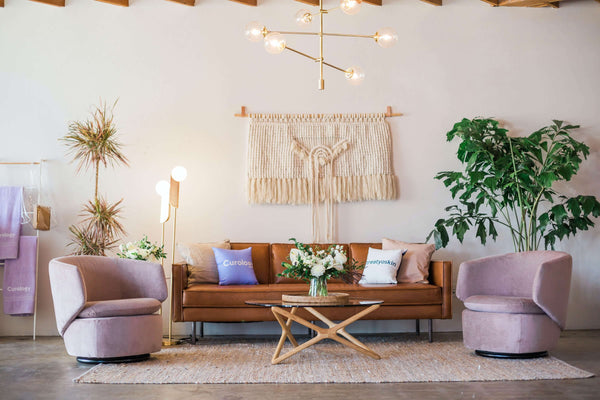 Industrial style
If you want to pick one style which is cool and functional, the industrial style could be your cup of tea. Exposed bricks, weathered wood, rusted metal and worn leather couch are very common for a sleek and stylish look. The color palette tends to lean toward deep earthy colors and neutral colors. The look of industrial style sofa is:
Worn leather or soft fabric

Large size

Clean lines

Dark earthy color or neutral color

Pair with industrial coffee table
A blown worn leather couch with big size is a regular choice for an industrial home. But you can also place a soft fabric sofa in neutral color to add a welcoming atmosphere.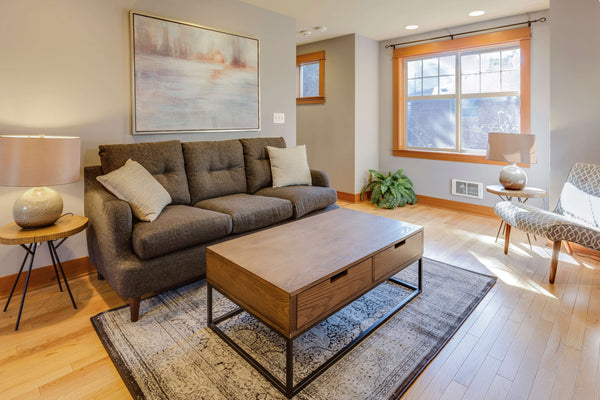 Color Palette
How to match the sofa color with the living room? Here are two ways you can try.  
Choose the sofa in same color hue with the surrounding of the sofa. For example, the combination of light blue and dark blue, the combination of royal purple and blue. This kind of color palette not only shows the layering of the same hue, also will not let you feel bored and monotonous.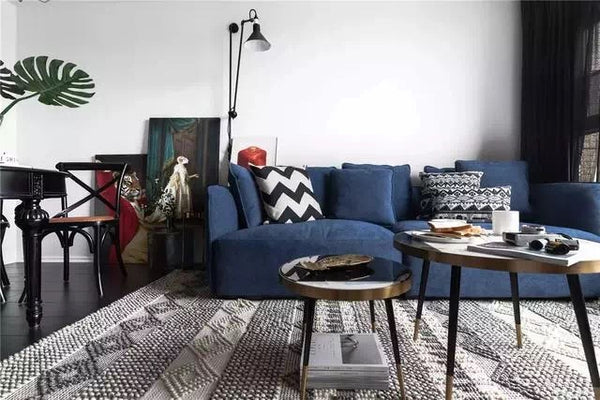 Of course, creating contrast to make your sofa color stand out will be a great choice. For example, Purple+Yellow, Espresso+Beige, Yellow+Green. In this color palette, your living room will appears as an vivid and interesting look, but do not to make the contrast too big.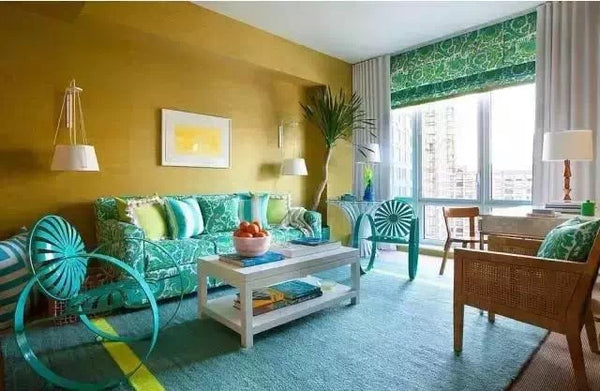 2021 Trend Color
In 2021, natural colors will stand out from other colors. The trend color includes brown, beige, green, pink, gray and blue tones and all hues that you can find in our natural environment.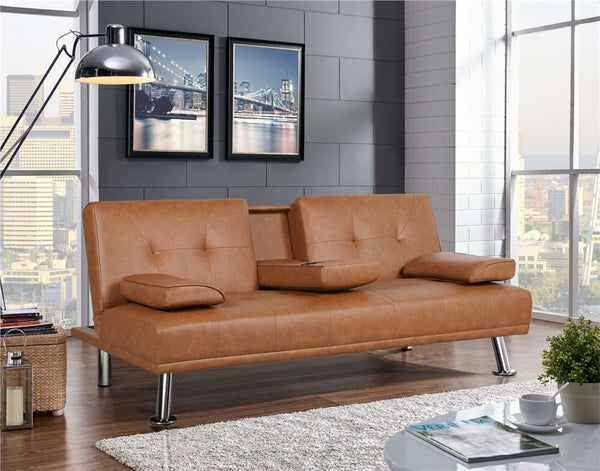 Brown Leather Sofa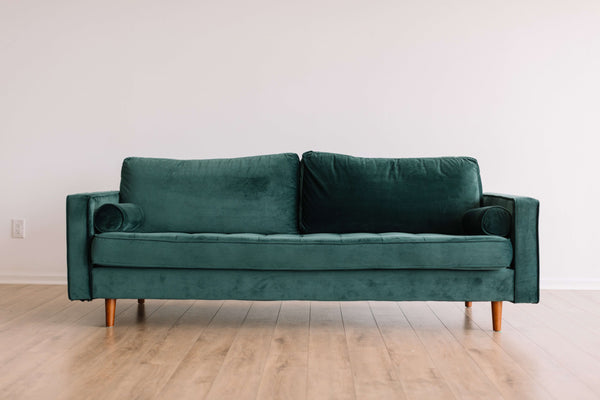 Green Velvet Loveseat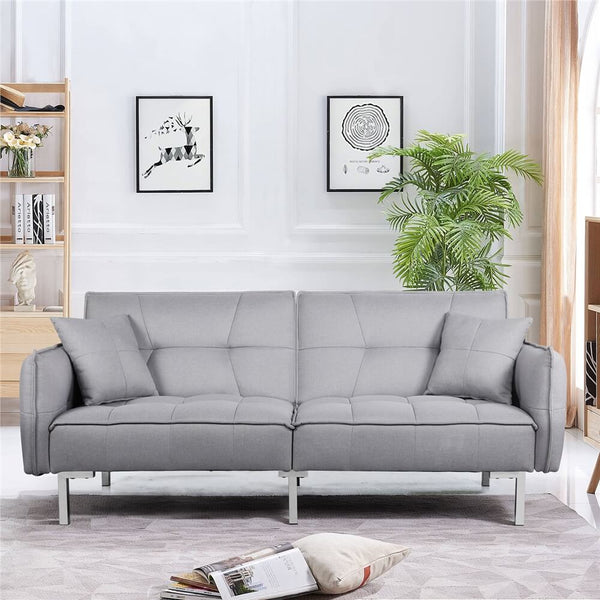 Gray Fabric Sofa
Summary
After reading this brief guide, hope you can get some ideas for choosing the suitable color for your sofa. If you have any further questions about color selection, please feel free to leave a message. We will give you our suggestions.