How to Choose the Best Lift-Top Coffee Table: The Ultimate Buying Guide (2021)
Having difficulties choosing a lift-top coffee table suitable for your home?
Don't worry, we're here to help you pick out the best lift-top coffee table with this simple yet comprehensive guideline.
Go ahead and read it!
Coffee tables can be hard to select due to their breadth and scope.
Being a centerpiece of the living room, coffee tables not only have practical use in placing and storing items but also serve as decorative aesthetic furniture pieces, highlighting your taste and enhancing the style of your room.
Versatile as coffee tables are, you must have a lot to consider and be easy to get lost among the bewildering varieties on the market when finding a coffee table that suits all your wants and needs.
For lift-top coffee tables, there's even more to think about with their more complicated construction.
Therefore we bring together all the essential things you need to know in order to get the perfect lift-top coffee table for your home.
 
What Are Lift-Top Coffee Tables?            
First of all, a lift-top coffee table might seem no different from any other coffee table.
However, it is an innovative piece of furniture vastly mergin g beauty and functionality for modern living.
What makes lift-top coffee tables stand out compared with regular types of coffee tables is their equipped lifting mechanisms that allow you to elevate the table, providing flexible ways to use as a dining table or a working desk.
In addition, underneath the tabletop of lift-top coffee tables are hidden compartments for extra storage space, where you can keep often-used stuff like laptops, books, magazines, remote controls, game consoles, board games, etc., maintaining your living room clutter-free and tidy.
There are diverse choices of lift-top coffee tables in various shapes, materials and styles, among which you can always find a proper one to complement the rest of the furniture and pull your room together.
 
Why You Need a Lift-Top Coffee Table?
Some of you may wonder, is it really necessary to have a lift-top coffee table in the living room?
We'd say YES from both the functional and artistic points of view.
Let me ask you – which room in your home do you spend most of the time in?
A lot of you must vote for the living room as it not only occupies a significant space of your home but is also a place that you can do many activities in, such as watching TV, playing video games, hosting guests, enjoying family time, working, reading, eating, relaxing, and so on.
Since you spend so much time in the living room, it is necessary to turn it into a beautiful functional space to meet your daily needs.
The presence of a lift-top coffee table is surely reasonable here.
On the one hand, it can offer you ample space for holding up things like flowers, plants, fruits, snacks, cups, glasses, drinks on the tabletop, and storing stuff like books, magazines, remote controls, game consoles, board games in the underneath hidden compartment.
The lifted tabletop can be used as a dining table or a home office desk with proper heights.
Not to say you definitely wouldn't want to miss out your favorite matches because of a lunch or a dinner.
Working desk alternative is especially an ideal choice for small spaces and those who need a complete table for meetings and computer tasks.
Besides, you can put up your legs on the tabletop while you are enjoying TV, allowing you to sit more comfortably.
On the other hand, a proper lift-top coffee table that coordinates with other furniture can be a centerpiece of art in your home, enriching the space layers and boosting a sense of harmonious charm to your home interior design.
Thus, a multipurpose lift-top coffee table is a piece of must-have furniture and decoration for your living room.
 
Things to Consider Before You Buy a Lift-Top Coffee Table
Looking for a satisfying lift-top coffee table could be a huge hassle and we're here to walk you through what you should consider before selecting one.
Be Mindful of the Size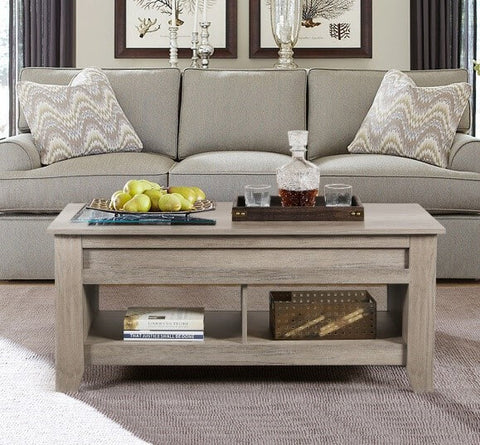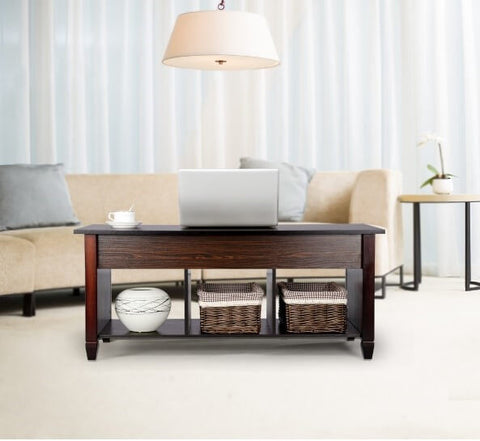 As you can imagine, it would be utterly frustrating if a coffee table is too high or too low, too big or too small, bringing you inconvenience on placing and grabbing stuff as well as making the whole room space lack harmony and balance.
Therefore, it is significant for you to make sure the size of a coffee table can fit your room before making the purchase.
First of all, you need to measure the available space of your room for a coffee table as well as the proper gaps between your sofa and the coffee table for sufficient leg space.
We recommend your coffee table to be at least 1/2 – 2/3 length of your sofa for comfortable sitting and easy walking.
In terms of the height, to ensure it's convenient for you to put and get stuff, select a coffee table that aligns with the height of the cushions of your couches or 1 to 2 inches higher or lower. Otherwise, you may feel awkward or restrained sitting on the sofa.  
Specifically, one more important thing that needs to be paid attention to when picking a lift-top coffee table is, don't forget to remain adequate leg space for coffee tables in lifted status.
As for the distance between your coffee table and TV stand or fireplace, 24 to 30 inches of space should be arranged for ample room to navigate around.
Select Your Favorite Shape
After you've worked out the appropriate height and length you should look for, it's time to choose a shape that meets your interest and suits your room décor.
There are mainly 5 different shapes of lift-top coffee table, namely rectangle, square, round, oval and irregular shapes.
No matter you have a standard sofa or a sectional with an L shape, you can always find a suitable coffee table in any shape landing in your living space.
There are no harsh restrictions on choosing which shape of coffee tables to complement your couches, as long as it matches the general style and more importantly, your personal interest.
Still no idea about it? No worries, just go through the pictures below to see how they work with standard sofas and sectionals, you may get some inspiration!

Rectangle Lift-Top Coffee Tables
You can never go wrong with a classic rectangular lift-top coffee table to fit with a traditional sofa in standard size. It can never go out of style.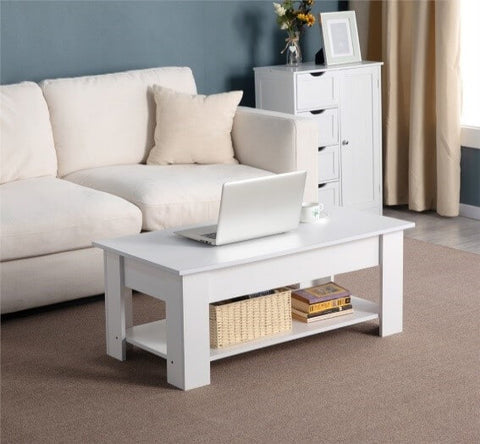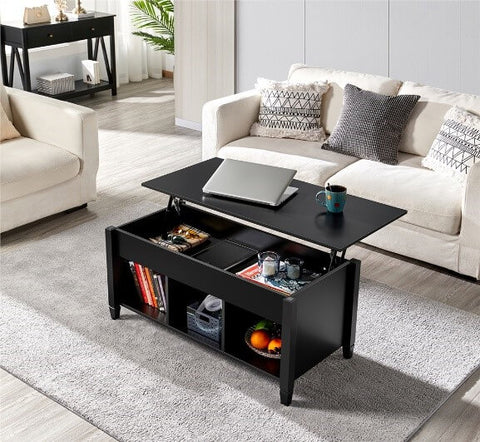 Its smooth lines and solid modeling make it look heavy-duty and reliable.
The four flat angles of a rectangle lift-top coffee table make it not only be accessible for people sitting on the sofa but also for those on the side chairs or the floor rugs.
Plus, a rectangular lift-top coffee table usually has a bigger tabletop area for displaying and a larger underneath storing space like drawers or open shelves.  
If you are looking for a rectangle lift-top coffee table for your sectional couches, you'd pay attention to its length and width to see if it has the proper amount of space between the sides of the coffee table and the edges of the sofa, ensuring one end of the coffee table does not exceed the edge of the sofa.
We'd say either for standard sofas or couches with a sectional or a chaise, a lift-top coffee table in rectangle shape is your best versatile shopping choice as it can fulfill both your aesthetic and functional demands to the maximum.
Therefore, not surprisingly, that rectangular lift-top coffee table has played a prominent part in living room furniture all year round, ranking the first choice for many people.

Square Lift-Top Coffee Tables
A square lift-top coffee table is an ideal choice for loveseats as its size is usually smaller than a rectangle one, looking more compatible aligned with a shorter length.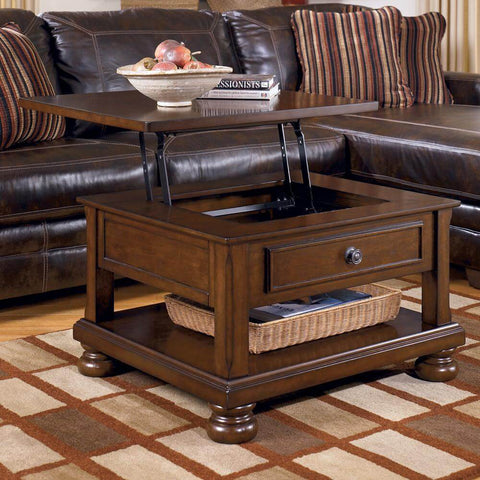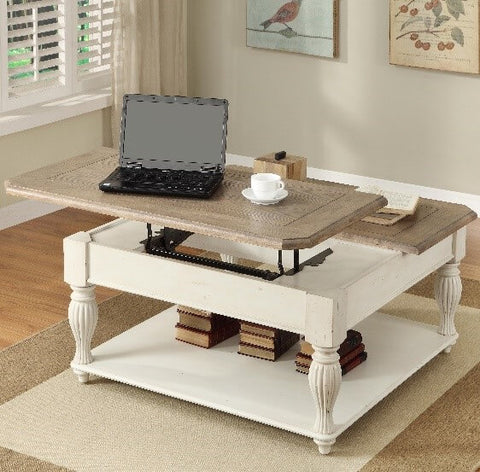 When selecting a square lift-top coffee table for a traditional sofa, we'd suggest you connect two squares side-by-side to create a more balanced and consistent combination with the couches.
Moreover, double square coffee tables can offer you a larger surface area to meet a wide range of your needs.
They can also add a more dynamic vibe to your living room with different ways of displaying it.
As you'd expect, a long rectangular sofa with a single square coffee table would make the whole room look like a sense of spatial inequality, which is surely not something you'd like to see.
When it comes to a sectional sofa or a sofa with a chaise, a square lift-top coffee table works pretty well as it echoes the angle of the sofa corner and gives you a less confining feeling yet a richer sense of space.
If you appreciate the aesthetic of neatness and symmetry a lot, then you probably are a big fan of square lift-top coffee tables.

Round Lift-Top Coffee Tables
If you are planning to increase visual interest along with creating a feeling of relaxation in your living space, a round lift-top coffee table would be your top pick!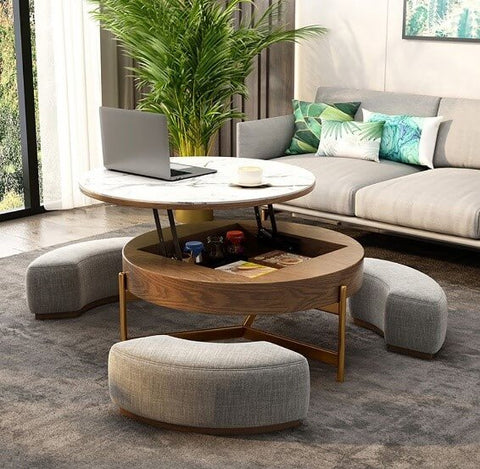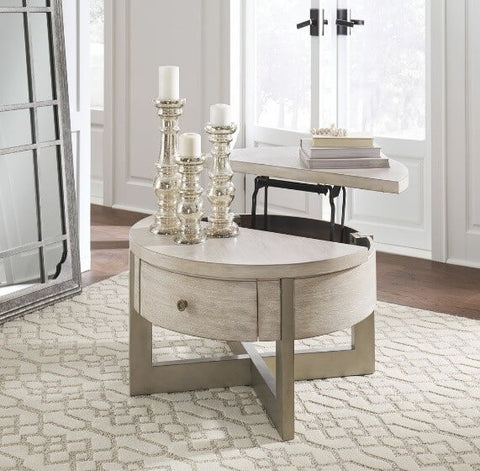 One important thing you should focus on first is to make sure the overall size of the lift-top coffee table is in balance with the length of your sofa.
A round lift-top coffee table that is too big or too small compared to your sofa is not supposed to be added to your shopping cart.
In comparison to a rectangular lift-top coffee table, the one in a round shape has a smaller tabletop dimension. Thus, you may need extra side tables for more space.
Alternatively, if you worry about insufficient space, you can also choose a set of round lift-top coffee tables, one of which can be elevated (see the pictures shown below).
The different heights of the two round lift-top coffee tables enrich the layering and increase more organic and sophisticated charm to the living room.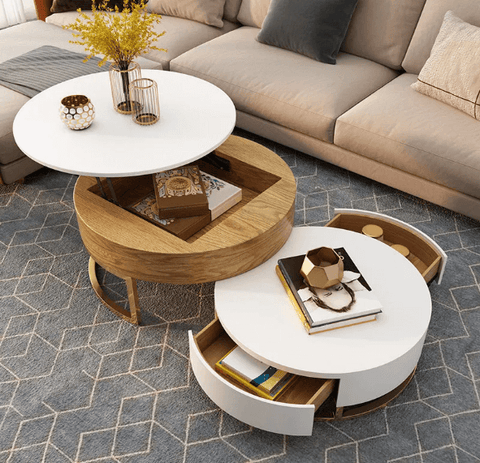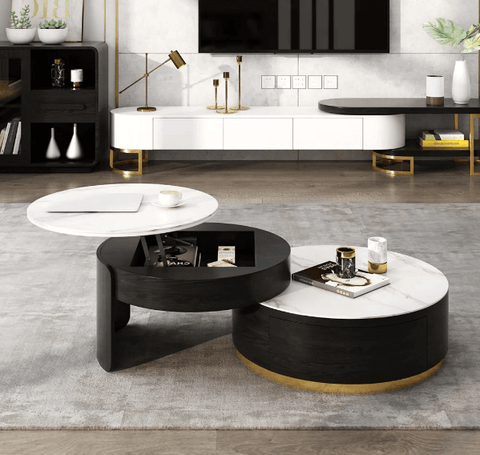 A bonus point of the round lift-top coffee table is that it has no sharp edges, friendly to both kids and the elderly.

Oval Lift-Top Coffee Tables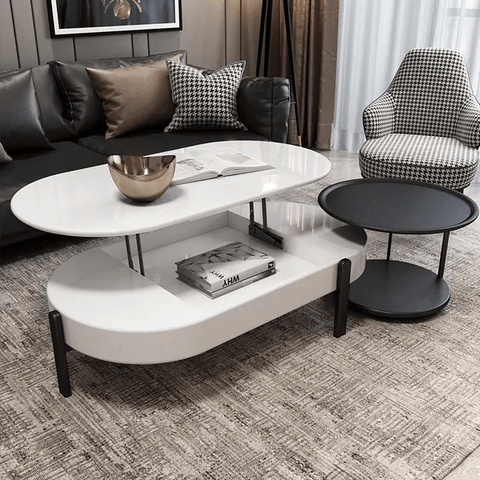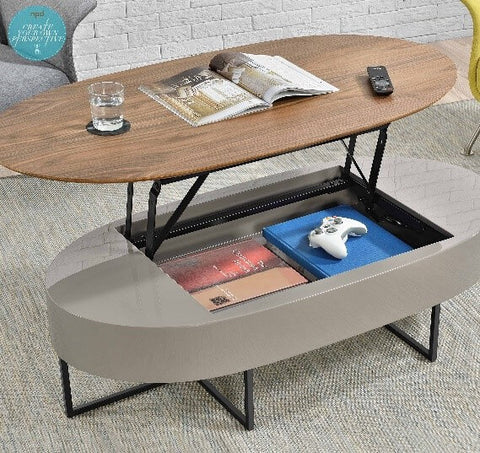 Oval lift-top coffee tables have both the great features of the rectangle and round coffee tables.
An oval-shaped coffee table has a larger size than a round one, so you can enjoy a bigger surface area for a more abundant layout.
Same as round coffee tables, oval-shaped lift-top coffee tables are safer for children and old people to use, all edges are round without any sharp corners.
Likewise, you also need to be careful about the space on each side of this type of lift-top coffee table, to ensure you have ample room to walk around.

Irregular Lift-Top Coffee Tables
An irregular-shaped lift-top coffee table is a desirable piece for those who want to highlight creativity and personality in their living room.
There are tons of various abstract or organic-shaped coffee tables and it could be daunting to pick one.
The first thing you should think about before buying an irregular lift-top coffee table is, what kind of style you prefer, or what the best style is to match your existing living room furniture.
Clean modern look, traditional design, industrial or farmhouse style…The different artistic style of lift-top coffee tables brings various vibes to your living space. Have a close look at your current or planned room décor and see what will work best.
After you figured out the style of the coffee table that best suits your decor, the next step is to consider the size and the scale of your sofa, to find your dream lift-top coffee table that pairs perfectly with other furniture in the room and shows your unique taste.

Pick the Right Material
Although it's important to choose a shape of a lift-top coffee table that you like and fit your room, we recommend you to focus more on its materials that match your daily use habits.
The main point of considering the material is to define your needs.
How durable do you need your lift-top coffee table to be?
Do you need it to be easy to clean?
Can you stand spotting dirt easily?
Will you put your feet up on the tabletop?
Does it match the rest of your furniture in the room?
Below we'd like to give you some insight about the common materials of lift-top coffee tables as well as their pros and cons.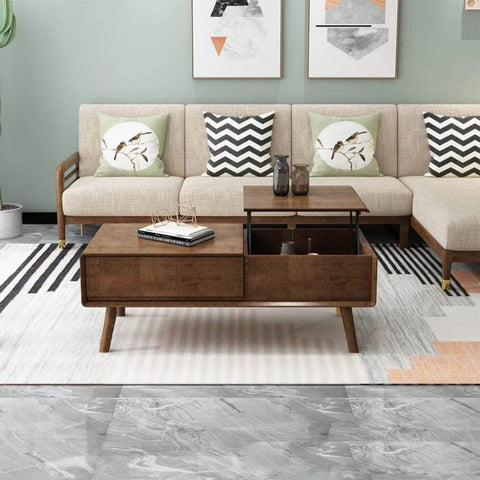 The wood material is the most widely used surface of lift-top coffee tables.
The wooden surface has a soft texture and gentle luster, which can blend effortlessly with any existing interior decoration, as well as add a sense of warmth and tenderness to space.
Whether it is traditional, rustic, industrial, farmhouse or modern style, you can always find a wooden piece of lift-top coffee table perfectly coordinates with your room design.
If you are looking for a lift-top coffee table that can satisfy your need for heavy use, a lift-top coffee table made of sturdy wood cannot be missed as it can support a large weight capacity for years.
Solid wood is the most quality yet expensive and anti-green choice of wood material.
Additionally, solid wood is hard to clean and maintain with poor water and oil resistant character.
Either dryness, dampness or high temperature can easily result in deformation and cracking.
A great alternative to solid wood material is MDF which is lightweight, eco-friendly as well as stable that's not easy to distort.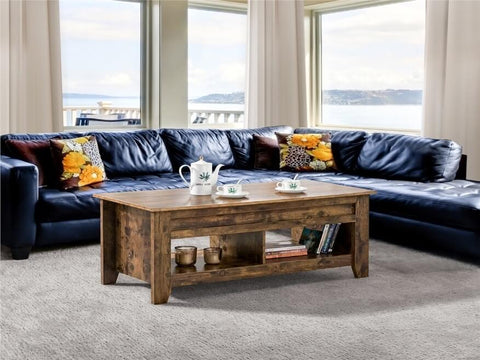 The smooth surface of MDF is usually water-proof so that it can be cleaned and maintained with ease, both brilliant for dining and working.
As MDF is of lower cost and the exquisite craft enables it to have a vivid solid wood look, it is an ideal choice if you are fond of wood appearance and seeking something high cost-effective.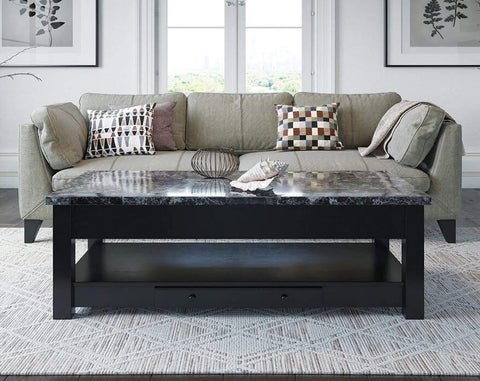 The marble surface is another common material of lift-top coffee tables.
Its smooth, glossy and polished appearance elevate the aesthetic level of the room, enhancing the sense of elegance and magnificence. The unique pattern of each marble piece exhibits various artistic beauty, offering you a superb visual feast.
The most outstanding feature of the marble lift-top coffee table is its durability of high hardness, great for withstanding large weight and for long-term use.
Plus, marble material is not afraid of dry or moist environments, so that it can accommodate a variety of weather and places.
Moreover, the marble exterior takes no effort on cleaning as it has excellent water and oil resistant characteristics, proper for dining table use.
However, the marble surface has a cold touch which is not good for skin contact for a long time. Therefore, we don't recommend you to use a marble lift-top coffee table for long-hour working.
In addition, marble is very heavy itself which brings you a great deal of inconvenience for moving around.
A high-quality marble tabletop can cost quite a lot, so it is not an ideal choice for those with a limited budget.
Also, because of its luxury feeling and sense of distance, marble lift-top coffee tables are mostly used in modern home décor style, not as widely applicable as the wood material.
Metal objects can easily scratch the surface of a marble lift-top coffee table especially when the temperature is high, like pot heat, which can be transferred directly to the marble countertop. Due to the porous feature of marble, it is easy to leave dents or permanent scratches on the surface.
If you hate to hear a loud and piercing sound, you'd better be careful when placing things on a marble lift-top coffee table to avoid them.

Upholstered lift-top coffee table is also a popular choice, most of which are upholstered by fabric or faux leather.
Its soft and comfortable touch looks amazing, creating a sense of warmth and nobleness, especially when in accord with premium upholstered sofa and chairs.
However, the disadvantages of an upholstered lift-top coffee table are quite noticeable.
As you can imagine, fabric texture is hard to clean, definitely not a practical option for holding food or drinks.
Then it sort of loses one of the biggest advantages of a lift-top coffee table, that it can be lifted to be a dining table.
Even though faux leather is easier to wipe clean, its surface is not as flat as wooden and marble ones.
Heavy stuff may not be held up stably on it. An uneven tabletop is also not convenient for working.
Besides, neither fabric nor faux leather is anti-scratch.
Appliances with sharp edges are not recommended to use on an upholstered tabletop.
Another thing you may have noticed is, the structure of an upholstered lift-top coffee table is usually boxy, which may add a serious feeling to space.
We suggest you consider if this feature can go well with your overall room décor.
Single Tabletop or Separate Tabletop?
There is 3 most common design of lift top coffee tables, with the main difference lies on whether the tabletop is complete or divided.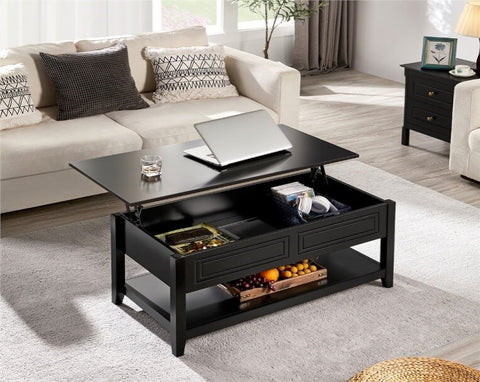 A lift-top coffee table with a single tabletop has only one upraised surface, perfectly fits standard sofa and long couches.
The wide tabletop is great for displacing decorations, for example, a vase of flowers, a stack of books, a couple of candlesticks, or small potted plants, making your living room lively and vibrant.
Under the raised table surface is a large hidden compartment where you can easily get access to your frequent-used items like laptops, game consoles, board games, remote controls, magazines, etc. when not in use, keeping them handy and organized.
Specifically, this roomy storage space is friendly for large items.
One particular style of lift-top coffee tables with separate tabletop is the kind with one lifted top and one sideways sliding surface.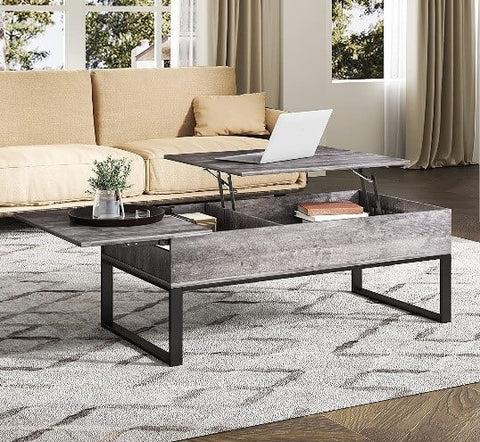 Under the two divided tabletops are two independent compartments, which is convenient for you to store different stuff, one side for larger items and the other side for smaller ones.
The other popular style of lift-top coffee tables with separate tabletop is the kind with two lifting sections, which enables people sitting on the two sides of the sofa can use the lifted surfaces for dining or working at the same time without leaning forward, perfect for L-shape sofa couches.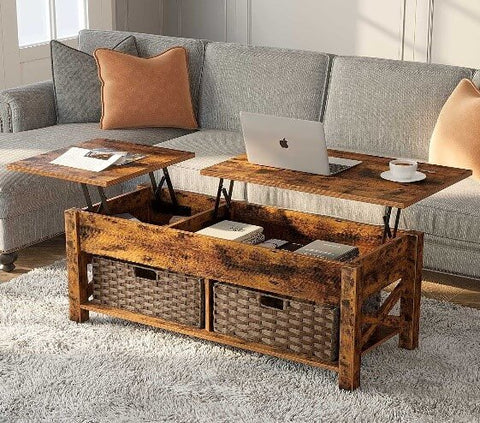 Similarly, it also comes with two divided compartments for separate storage.  
How to Install a Lift Top Coffee Table?  
Wrap It Up
With an amazing combination of aesthetics and practicability, the lift-top coffee table is gaining striking popularity in recent years.
Any living room or guest room should not miss a furniture piece like this full of intelligence and sculptural quality.
When choosing a lift-top coffee table, we highly recommend you to first think through what can work well with your current interior design style and the existing furniture shape.
Next, narrow down your choices from several aspects' full consideration: size, shape, material, tabletop models.
As long as it fits your room décor and your personal preference, you are on the right path!
We sincerely hope you have benefited from this article and select the best lift-top coffee table for your home.
Let us know what other things you're greatly interested in and stay tuned for more upcoming interesting information and useful guides.
All the best!