Houseplant Optimized Solution to Refresh your Home
How do you arrange your houseplant? Plants and flowers are always essential in home design and decoration. Not only can they decorate our home, but also purify the air for us.
Some people put houseplants on side tables, some take care of them on the balcony, or some let climbing plants like ivies grow along with the rails or windows. These are normal and well-known ways, but have you ever thought about a new fresh method to organize your plants, thereby refreshing your space? If you ask me, I will answer with using multilevel plant stands.
Different from single plant stands, the multilevel plant stand can be a great new addition and helper for organizing and tidying your various houseplants and flowers! So multilevel plant stands will be today's leading actor.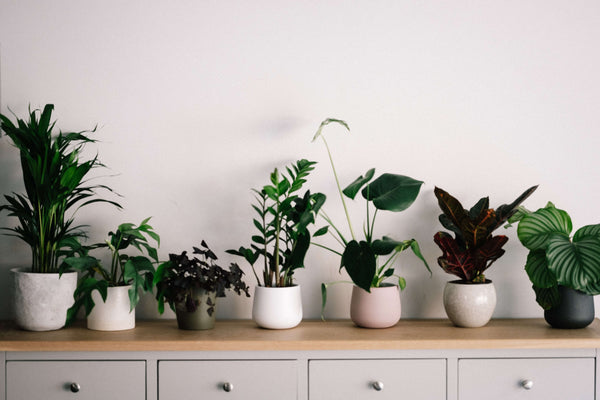 In this post you will know well about the multilevel plant shelving from the following aspects:
Why do you need a multi level plant stand?
How to choose a desirable multi levelplant stand?
Top 5 popular multi level plant stands from Yaheetech
How to assemble a multi level plant stand?
If you have never used a multi tier plant stand before, this blog will enlighten your idea for houseplants and home decoration. It also shows you how to purchase a suitable multilevel plant stand, and introduces several samples to to show you advantages, differences, and multiple functions. Let's get started!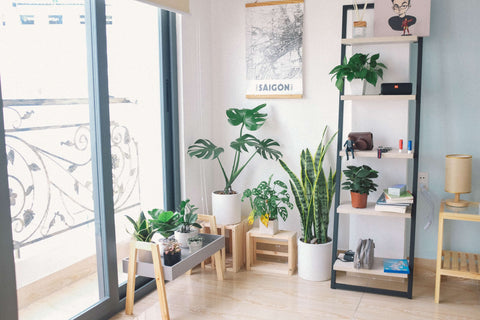 Why do you need a multi tier plant stand?
With a well-designed flower stand, you can keep houseplants and tools in order. Watering and caring for the flowers will be effortless. This is friendly for the homeowner who has plenty of plants at home. You do not need to move around in the house, just standing there and water plants once for all. Once things are in order, the available space will be larger. So the second advantage of using a multi tier stand is space-saving.
The plant stands can help save space because the flowerpots are placed on the shelf neatly. The occupied area will be cleared out. Move the plants and flowers from the floor to the upper shelf, and make full use of lengthways space. The multiple tiers provide ample space for houseplants to stay, also create an extra sense of beauty.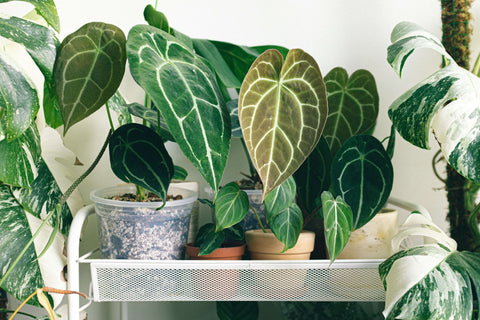 Since the plant shelving unit helps you sort out houseplants and you have more available space, you can have more plants and flowers in the house. Let your house be filled with your favorite flowers. This is also gratifying for gardening enthusiasts. If you want to grow more plants in less space, indoor multi level plant stand can help!
A multilevel plant stand lets plants grow healthily because
heliophilous
 plants can be higher to enjoy light and sciophilous at the lower shelf to stay away from direct sunlight. The indoor plant stands will get the plants off the floor, like Pothos & Philodendron Vines, and meet different needs for positions.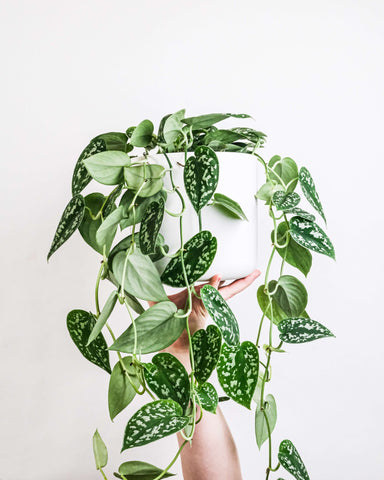 You can realize indoor garden DIY by utilizing a indoor plant stand. The stand gives you a way to design and array your flowers, potting, and plants as you wish. Various flowers, colors, and layout, it is your fairyland to design and arrange freely. After your creation, this indoor plant stand will serve as a nice artwork. 
Multiple functions are another shining point of indoor plant stands. I saw some people found a new usage as a showing stand; except houseplants, you can put some tools, decoration, books and small items on that stand.It is not only a piece of garden furniture but also a big decoration in your room. The tiered stand with several potting plants on it will be a decorative screen. You can put it to the place where you need a separation. How to make the best use of a indoor plant stand varies with each individual.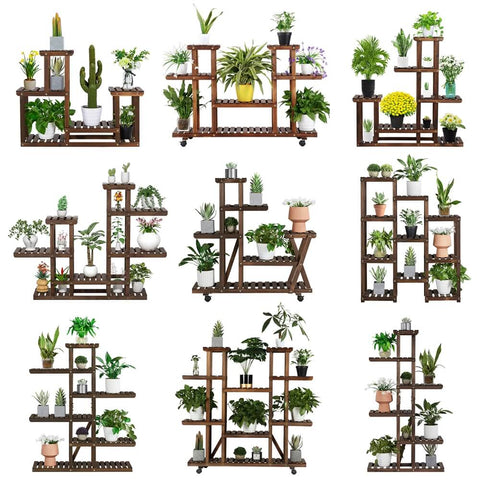 How to choose a desirable multi level plant stand?
Different from single plant stands, multi tier plant stands are bigger and more functional. It may take some time and thought to find a suitable one. How to choose the best indoor plant stand? I will explain this question from the following aspects, material, appearance, assembly, and price.  
I found generally there are wooden, plastic, and metal indoor plant shelves on the online shops. The wooden plant stands are natural and do no harm to people, the plastic stands are light and the metal ones are sturdy. Some plastic stands are cast into various shapes, interesting and unique. If you want a big strong stand, the metal stand is a better choice.
For indoor houseplants, I would like to choose wood indoor plant stands. They are made of natural eco-friendly material, with less harm to people's health and earth mother. It is safe for indoor use. I think the wooden plant stands are more suitable for my houseplant. I plan to put it in my living room where it has a wooden floor; considering color, texture, and feeling, they as a whole are all from nature.

This is a personal hobby and habit. What kind of style would you prefer? Or which one will go well with your other furniture? I believe various and dazzling plant support furniture on the market will finally meet your needs.
I like multilevel plant stands most. On the one hand, they are very different from the single plant stands. It is a piece of nice and practical furniture. On the other hand, some changes to the plants and the stand will also change my room style. I would introduce some of my favorite types in the latter part and show you the reasons.  
Multi level plant stands need some effort to be set up. If you do not want any assembly work at all, you can go to offline stores to get a ready-made stand; but most products bought from online stores need to be installed by yourself. Finding an easy-to-assemble plant stand will save your time and effort. A big indoor plant support comes with all hardware and a detailed manual will be nice as well.
What is your budget? Do you want an economical and practical plant stand, or will you need an expensive and luxury one? The price for a indoor plant stand generally ranges from $20 for a single flower stand to $300 for a big plant shelf. A basic good rule of thumb is to shop around and take the time and trouble and compare the products according to your needs.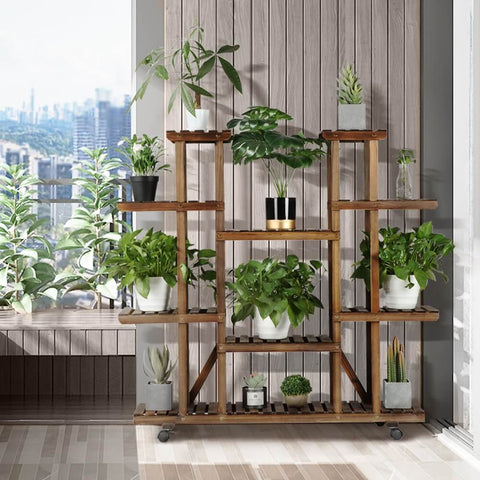 Top 5 popular multi level plant stands from Yahteetech
#1: 6-Tier Wood Rolling Flower Stand
This flower stand is crafted out of 100% fir wood finished with varnish paint; fir wood is a sustainable natural resource known for its strength and durability. The surface of the flower rack is treated with carbonizing, which increases the stability of the structure and expends the service life of the plant stand.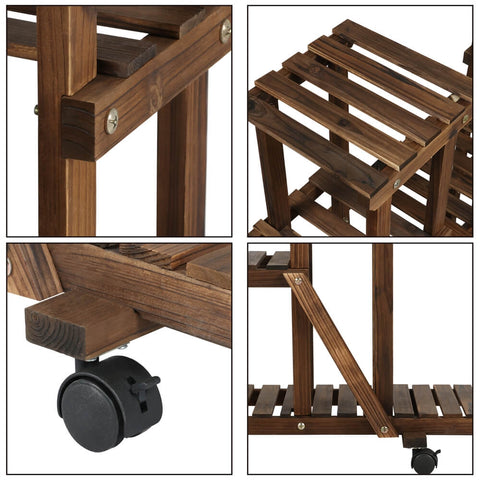 The slat intervals on each tier allow adequate airflow and sunlight running through the shelves for better photosynthesis. Open shelves provide enough room for the natural growth of your potted plants.
It sits on four universal wheels, which is convenient to move around for decoration and cleaning. Two wheels with brakes allow it to be locked in place. These wheels can be disassembled with a screwdriver, so you can choose to use this shelf with or without wheels.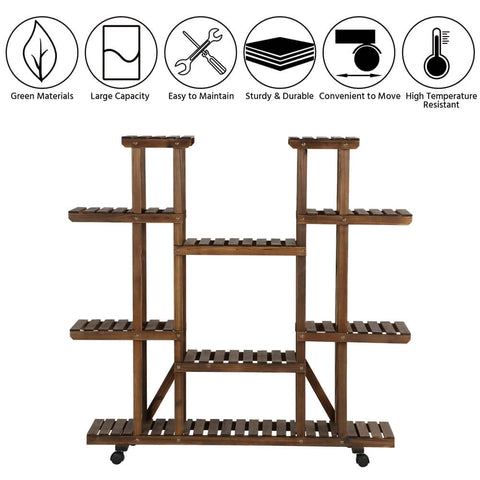 This multi level plant stand measures 47.2 inches high, 49 inches long, and 13 inches wide, and features a total of 9 platforms in 4 tiers, providing adequate space for the utmost 17 potted plants and sparing much space in your balcony. Decent height is suitable for growing drooping-type plants. Reinforced crossbars are for double safety. This flower rack can hold up to 60kg/132lb.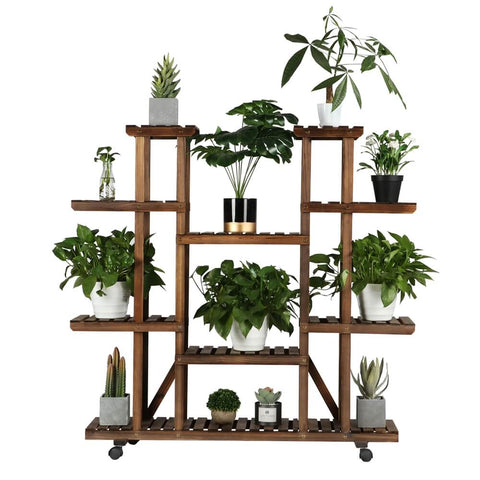 It can be a display stand for photos, handicrafts, books in the living room, or a beautiful flower rack for succulent plants, narcissus, cactus, roses, lilies, tulips, and daisies on your patio and balcony. It also serves perfectly as a fancy storage rack for toiletries, towels, shoes in the bathroom, bedroom, hallway, etc..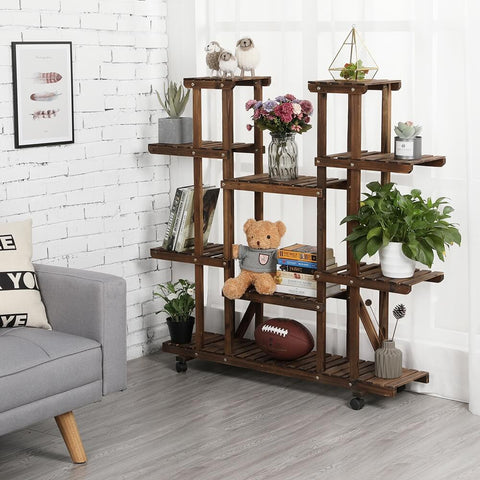 #2 4-Tier Wood Rolling Flower Stand
This indoor plant stand is similar to the first one, and they have the same design. The only difference is that the number of the tier. This is built in a stable structure with a total of 6 platforms in 4 tiers. It provides ample space to display the utmost 12 pots of plants of different heights and shapes.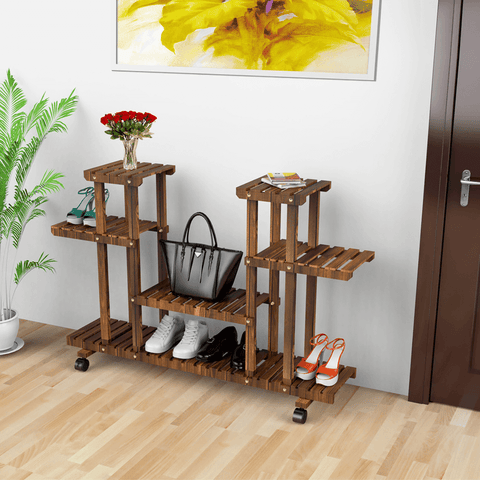 #3 4-Tier Wooden Foldable Ladder Flower Stand
 The foldable flower stand is also crafted out of 100% solid fir wood, and covered with varnish paint. This solid plant stand is capable of holding up to 35kg/77lb. It features a ladder shape and the space of each shelf is gradually varied. You can put small plants on the top and put heavy potting on the bottom.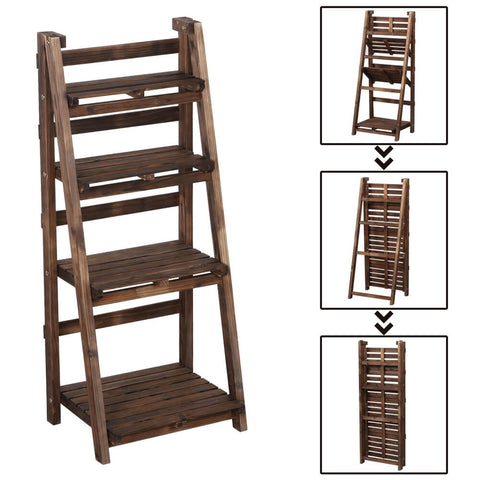 Flexible flip-up tier panels and the collapsible frame can be folded into a compact and thin size that will only take up a little space and be kept in any narrow place. This design also makes it very convenient for transport.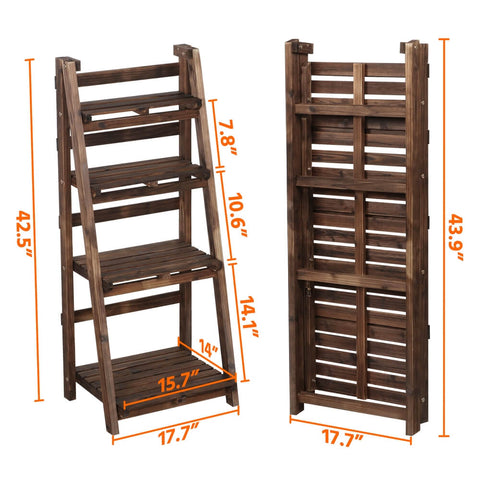 This flower ladder shelf measures 42.5'' high, 17.7" long, and 14" wide, and features 4 tiers, providing adequate space for more than 8 potted plants and sparing much space on your balcony. Decent height is suitable for growing drooping-type plants.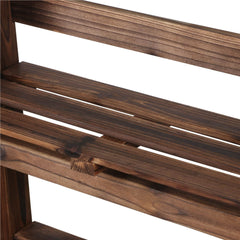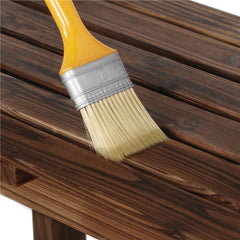 The carbonization treatment gives this shelf a distressed coloring for a touch of rustic appeal. And the natural irregular wood grains make every plant shelf one of a kind. It can be cleaned with a damp cloth.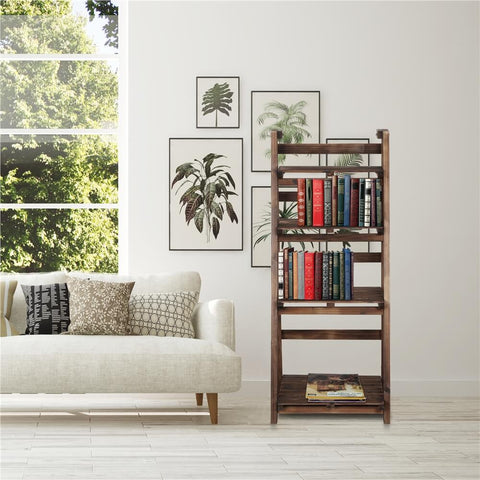 Also, it can be a display stand for plants, photos, handicrafts, books in the living room, patio, balcony, and also serve perfectly as a fancy storage shelf for toiletries, towels, shoes in the bathroom, bedroom, hallway, etc.
 #4 3-Tier Folding Wooden Flower Pot Stand
This indoor flower stand can hold 30kg/66lb weight in total. Built in a stable structure with a total of 3 platforms, this plant ladder stand provides ample space to display plants. Same as the third one, this stand can also be folded into a compact and thin size that only takes up a little space and can be stored in any narrow place when not in use.
Except severing as a plant stand, it can be a small unique storage shelf. Putting storage baskets and other items as the pictures show is also a good usage.
 #5 2-Tier Metal Plant Stand w/Tray
 Different from the previous four stands, this plant stand is made of metal. What attracted me is that this metal rack stand can be used to display planters, flower pots, garden decorations, books, shoes, kitchenware, and more.
It is completely not like the wooden stands. This plant stand is ideal for both indoors and outdoors, such as in the entryway, living room, bathroom, screened patio, kitchen; for outdoors, you can use it in the garden, pool area, balcony, flower shop, etc.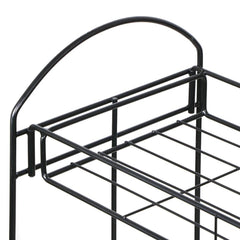 The 2-Tier outdoor flower stand is made of high-quality iron. Its steel construction provides much durability. Powder-coated finish will last for years, and the two levels enhance the versatility of this piece.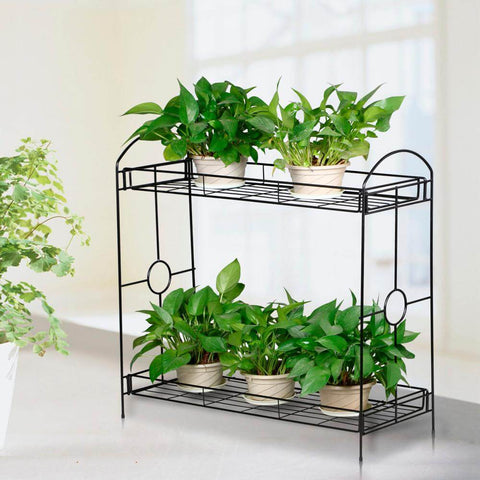 How to assemble a plant stand?
Assembly may be the last concern. After I receive my expectant indoor plant stand, how do I set it up? Can I finish assembly on my own since I am not good at handwork. Don't worry. In this part, I will visually show you how through an instruction video.
You can follow the accompanying instructions to set up the plant stand. Most multi level plant stands are largely identical but with minor differences. Hope this video can help you a lot.
 Conclusion
After these discussion and sharing, you may find that actually multi level plants stands can sever as a storage shelf, a book shelf, or a big screen, which can be moved to divide a room or to keep one area hidden or separate. Once get a desirable indoor plant shelf, you can make full use of it and your space. Just some changes and rearrangement to your plants, your home will be refreshing and bright!

Do you have other interesting, creative, or practical ways to renew the house? Let us know in the comments section below!
To learn more about Yaheetech's garden supplies, click here.