Things to Consider When Buying a Fire Pit
Things to Consider When Buying a Fire Pit
Things to Consider When Buying a Fire Pit

If you are planing to upgrade your garden or backyard, fire pits are good accessories to make your places special. Bring beauty and elegant to you at the same time provide you with much warm in a cold night. The popularity of fire pits is getting wider and raised. You may dazzled when you browse through the various kinds of fire pits on the market. To  simplify this purchase, there are several factors you need to consider before you buy a desired fire pit. Let's follow the questions below to find a suitable fire pit, meeting your budget and needs.
#1 Where do you locate a fire pit?

A good location for fire pits will not only beautify your yard but also improve functions of fire pits. Fire is dangerous and safety is the priority. Fire pits should not be put at random. Firstly consider the surface. The surface where you put a fire pit on should be fire-resistant and flat. The grass, wood, or carpet are not allowed.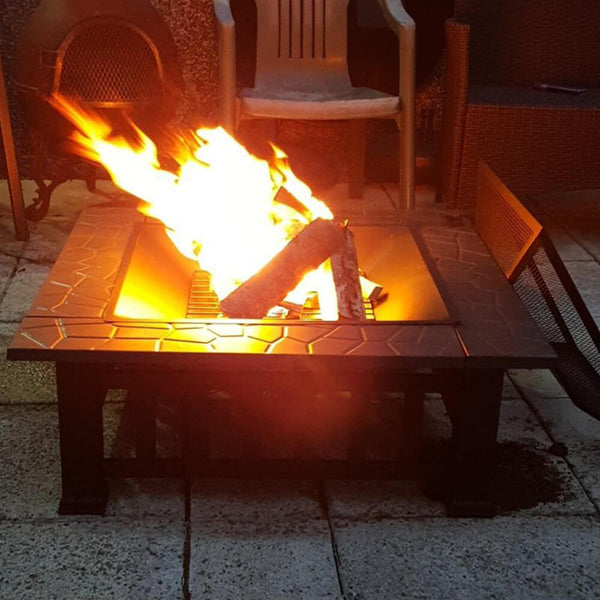 Secondly it is space. Fire pits shall be placed in an open place and avoid trees, bushes, and other combustible. The wind is also an influencing factor when they are in an open. Do not use in windy conditions. A shelter might help but still keep the fire hazard in mind.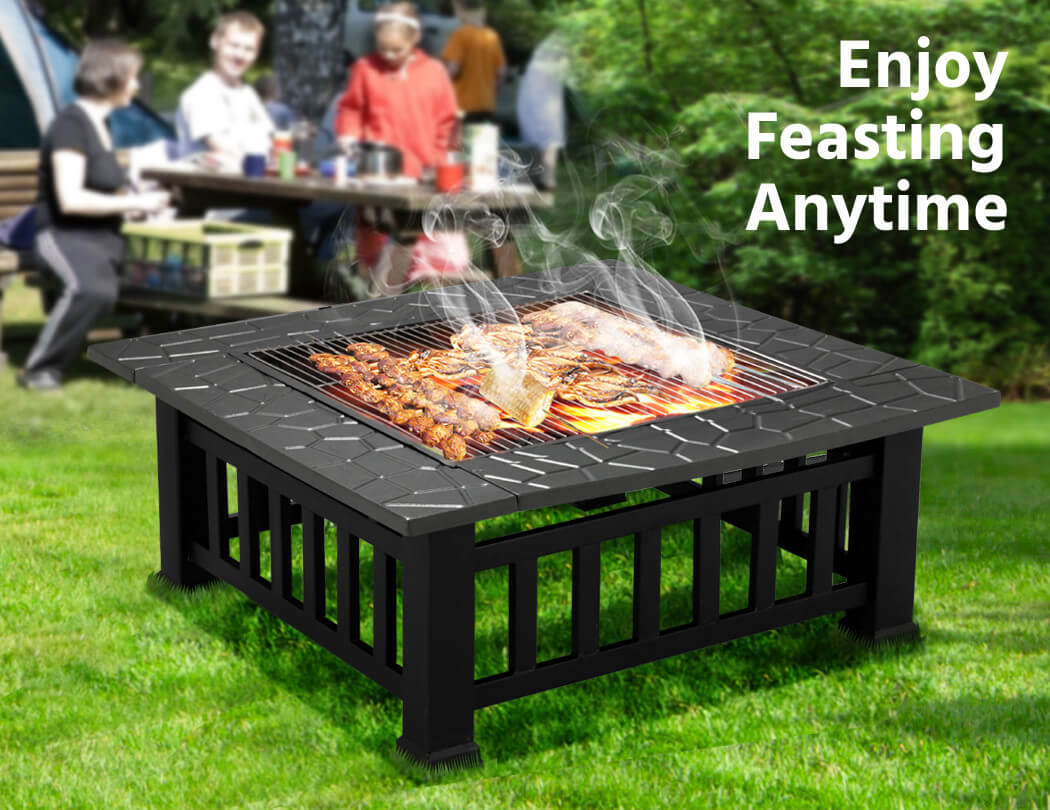 #2 What is your budget for a fire pit?

The variety of fire pits on the market is dazzling and the price varies according to their performance. Make a budget before you buy. Let's have a look at following popular outdoor fire pits for reference.
 

Outdoor Fire Pit 22'' Patio Fire Steel BBQ Grill Fire Pit Bowl with Mesh Spark Screen Cover

$59.99

 

Outdoor Fire Pit 36 Inch Large Bonfire Wood Burning Patio & Backyard Firepit

$199.00

 

Firebowl Cypress Outdoor Portable Propane Gas Fire Pit with Cover & Carry Kit

$337.49

 

Pop-Up Fire Pit Portable and Lightweight Fullsize 24 Inch Weighs 7 lbs

$99.89

 

28" Propane Gas Fire Pit Table 50,000 BTU Square Fire Bowl Outdoor Auto-Ignition Fireplace

$179.99

 

Wood Burning Fire Pit Backyard with Cooking Grill

$165.69

 

Yaheetech 32" Outdoor Metal Firepit for Backyard Patio Garden Stove with Spark Screen Poker & Cover

$126.99
#3 Is this fire pit permanent or portable?

Fire pits can be permanent or portable. Each type has its advantages and disadvantages. Which kind of fire pit do you need? A permanent fire pit requires more manpower, material and financial resources and efforts. You need to prepare, measure and make all necessary materials to build a just-right fire pit. Of course, you might also find a professional contractor to get a custom-made fire pit. If you think about getting a fire pit so that you can move, store or take it along with you travelling, a lightweight portable fire pit is your option, which costs less efforts.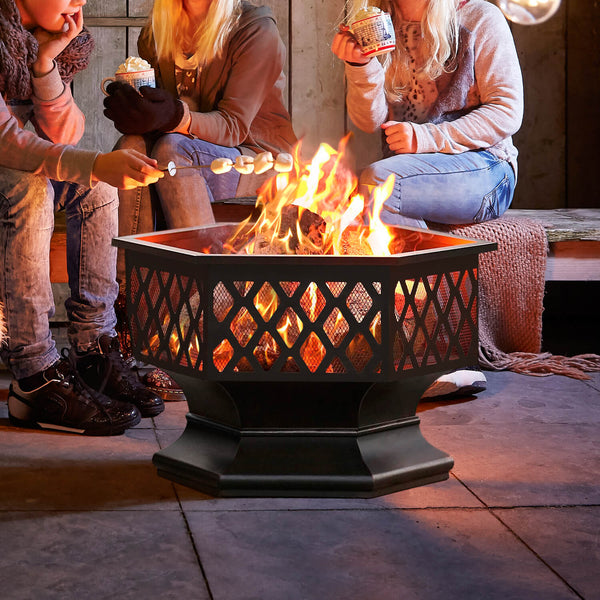 #4 What are you going to do with this fire pit?

Some people need fire pits for BBQ; some people want fire pits to get warm at a cold night, and some just want them as garden decoration. So be aware of what your purpose is before you buy it. If you want a fire pit for BBQ, you need to make sure this fire pit you buy comes with a grill. If you are looking for a nice fire pit to decorate your garden or backyard, then this fire pit shall be stylish and matching your garden style. Generally, fire pits come with pokers and mesh cover.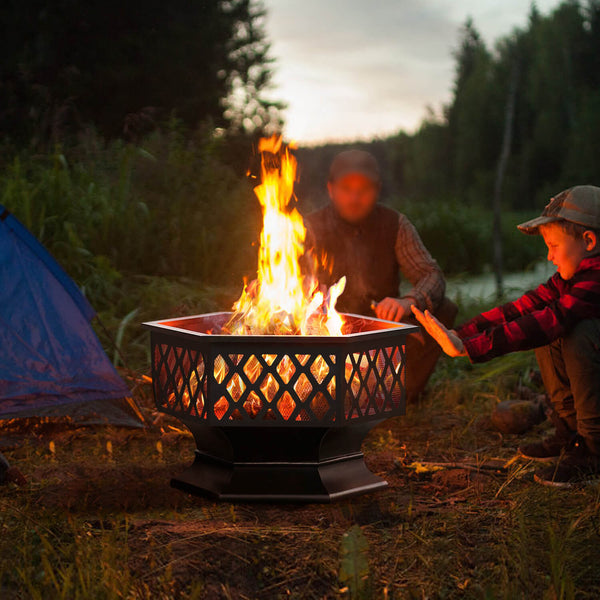 #5 What kinds of materials of fire pits will you choose?

Fire resistance is the most important factor which influences the service life of fire pits because they should be fireproof enough for long-time burning without damaging and rusting. This depends on the materials of fire pits. Normally, fire pits are made from aluminium, steel, stainless steel, copper, iron, etc. These materials are sturdy, heavy and can be cast into regular shapes.
Aluminium fire pits are affordable and lightweight. They are easy to move and will work well for a long time. Steel fire pits are durable but easy to get rust, however, stainless steel fire pits are better. Copper fire pits are more expensive and look elegant. If you require more vintage atmosphere, a copper fire pit is your choice. Iron fire pits are also common among various choices. They are hard and not easily bend.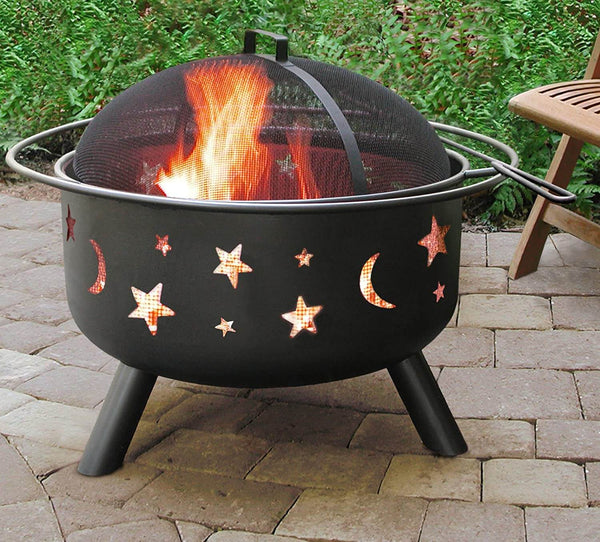 #6 What kinds of style & shape do you prefer?

Outdoor fire pits come in many different shapes and styles, That choose which kind of style and shape depends on your preference and the style of the destination. The following types of fire pits are for your reference.
Conclusion
Hope the above are helpful for you to pick a desire fire pit. Plus, after you get a suitable fire pit, the maintenance is also important. Correct and professional maintenance will make fire pits work well for a long time. When you use a fire pit, always keep safety in mind. Never leave the fire unattended. For safety, keep a bucket of water, sand or an extinguisher nearby in case there is a fire. If you have any questions, welcome to comment and share more!