The Things You Should Know About Bathroom Cabinet
When you talk about a house, one thing that is most important is a bathroom. It is used by everyone that too every single day of your life. But do you pay much attention to the interiors of your bathroom? You, of course, have towels and toiletry supplies, but these generally go on shelves in some zone of the bathroom, or simply a linen closet in the hallway. What if you have some cabinets for your bathroom?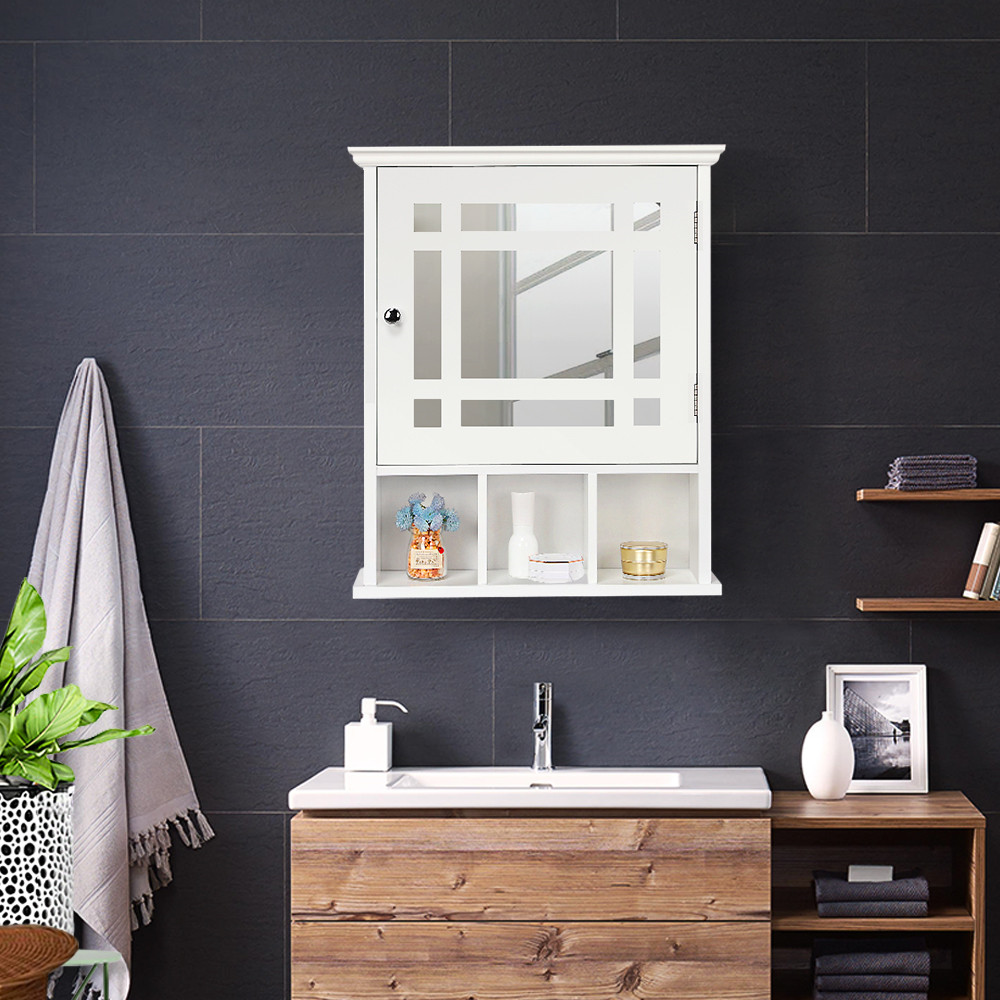 Benefits of a bathroom cabinet:
Of course, bathroom cabinets can not only maximize your space but also turn out to be really helpful and handy. You can look for different types of bathroom cabinets online and choose the ones that appeal the most to you. Bathroom cabinet is a wonderful way to make your bathroom much more functional, and it even enhances the way it appears if you choose right.
One of the biggest reasons that homeowners add cabinets to their bathrooms is to help maximize the limited space that's available in a smaller bathroom. Offering storage for things like towels, hair dryers, and other toiletries or even spare toilet paper rolls will reduce the clutter in your bathroom in an instant. Even something like a floor to ceiling cabinet will help make the most of the space available without crowding the bathroom or making the small space seem even more cramped.
A great benefit of a bathroom cabinet is keeping all your stuff safely out of sight. Shelves do allow you to store most things, but these leave them out in the open instead of behind the closed doors. It is absolutely fine if you have clean and neat piles of color coordinate towels you're your bathrobes. However, in case you possess jumble of rolls of toilet paper, old towels, hairdryers, deodorant, hair irons, hair products, and so on, you might want to have them out of sight right?
Having at least one or two cabinets in the bathroom will open up valuable countertop space and well help the bathroom counters stay cleaner and give the bathroom a cleaner look overall. Cabinets are must more easily to organize than shelves are. You can easily put in baskets and pull-outs, and even hooks within the cabinet doors to keep all the items in place.
What kind of bathroom cabinet should you choose?
Two popular categories of bathroom are wall-mounted and freestanding cabinet. They both have advantages as well as drawbacks to consider.
Wall-mounted cabinet have become the trendy cabinet for people who want to maximize space in a sleek, modern feel in their bathroom. These cabinets are attached to the bathroom wall and do not touch the floor. Wall-mounted cabinets take up less floor and visual space than traditional vanities. They can also be great options for small bathrooms. Wall-mounted cabinet have a more contemporary appearance. Without legs, the cabinet becomes more streamlined and slightly more minimalistic in design. In addition, wall hung cabinets give the illusion of a larger room. Technically, they take up the same amount of room, but they fit small bathrooms better from a visual standpoint.
A freestanding cabinet rests on the ground and can stand without added wall support. As a freestanding cabinet stands directly on the floor, there's no need to clean underneath it. This cuts down on your bathroom cleaning time, leaving you free to spend longer having an indulgent soak in the bath!
Overall, most freestanding cabinets can provide more storage for the same amount of wall area than a wall hung cabinet.
Here are some popular cabinets of different sizes and appearance, you can choose the right bathroom cabinet based on your own need.
1. 4 Drawers Bathroom Cabinet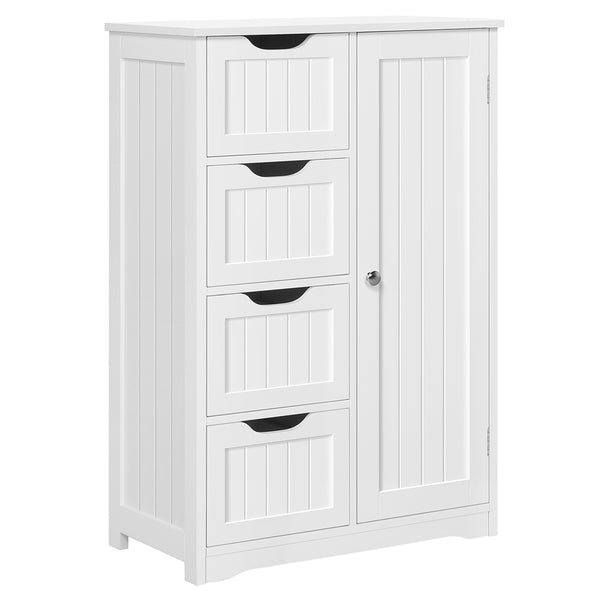 This bathroom storage cabinet showcases a sleek rectangular design with beadboard panels on the faces of drawers and door, making it an aesthetically-pleasing fit for any home décor from traditional to modern. Four drawers with cutout handles and one cupboard with a customizable shelf for you to organize different items like cosmetics, toiletries, towels, toilet paper, etc. A great option for tucking away bathroom clutter.
Specifications:
Material: P2 MDF
Overall dimension: 56 x 30 x 82 cm / 22 x 12 x 32.5'' (LxWxH)
Drawer interior size: 22.3 x 24.5 x 10 cm / 8.8 x 9.6 x 3.9'' (LxWxH)
Shelf size: 25.5 x 25.6 cm / 10 x 10.1'' (WxL)
Adjustable distance between shelves: 16 cm/ 6.3''; 22.5 cm/ 8.9''; 28.8 cm/11.3''
Maximum load capacity:Tabletop: 40 kg / 88.2 lb; Each drawer: 5 kg / 11 lb; Each shelf: 15 kg / 33 lb
2. Free Standing Drawers Cabinet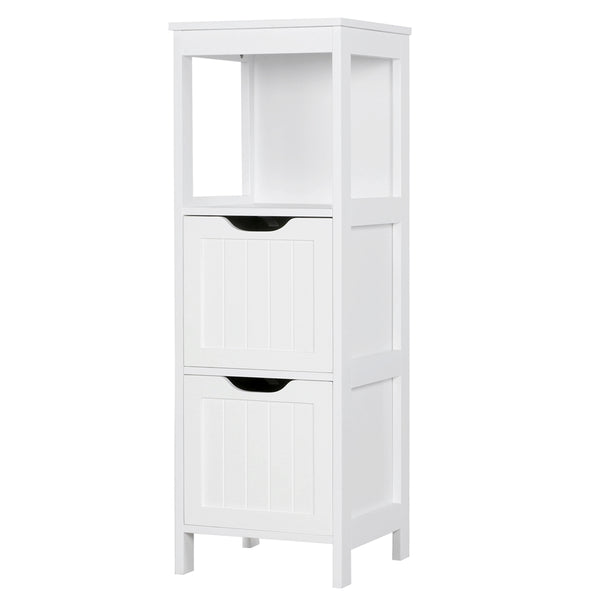 This bathroom cabinet comes with a no-hardware drawer pull design and a switchable drawer racking system. You can have more options to organize your bath items, i.e. cabinet top display, easy rack shelving and out-of-sight drawer storage. Its simple and modern style also fits for a variety of home décor. You can leave any of the three shelves open for things you want close at hand while keep the rest two shelves inserted with drawers for things you want to hide away. Such a versatile cabinet will surely make your life more comfortable!
Specifications:
Color: white
Material: MDF
Dimension (LxWxH): 30x30x89cm/11.8x11.8x35"
Load capacity: Cabinet top: 12kg/26.5lb; Each drawer: 5kg/11lb; Layer board: 8kg/17.6lb
3.
Bathroom Wall Storage Cabinet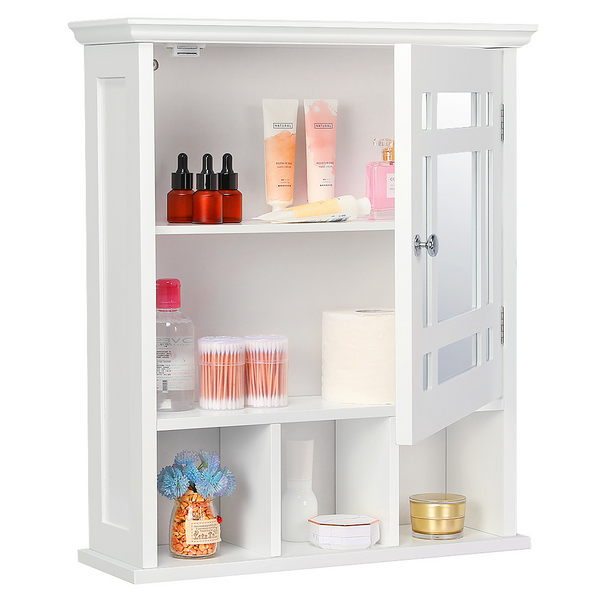 Our storage cabinet is made of high quality material, sturdy and durable to use and waterproof.  The cabinet features 3 bottom compartments for your toothbrush, soap, toiletries and other stuff. The higher part behind the door is for your additional stuff, which can protect your essentials from dust and water. And with adjustable shelf, you can store different items in it, which will make your items neat and tidy.  This cabinet is the perfect storage solution for home. Its design maximizes the space of your room. It can be mounted on the wall or above the toilet to save space and provides additional storage space without taking up valuable floor space.
Specifications:
Material: P2 MDF & Glass
Dimension: 51 x 16.5 x 60 cm/ 20 x 6.5 x 24in (LxWxH)  
Shelf Adjustment Height: 13cm/5.1'', 20cm/7.9'', 26cm/10.2''
Color: white
In this article, we discuss the benefits and the classifications of the bathroom cabinets and introduce several popular cabinets. You can choose your own bathroom cabinet based on your own need!